In:
It will probably cost you more going forward to book a suite on a Royal Caribbean cruise.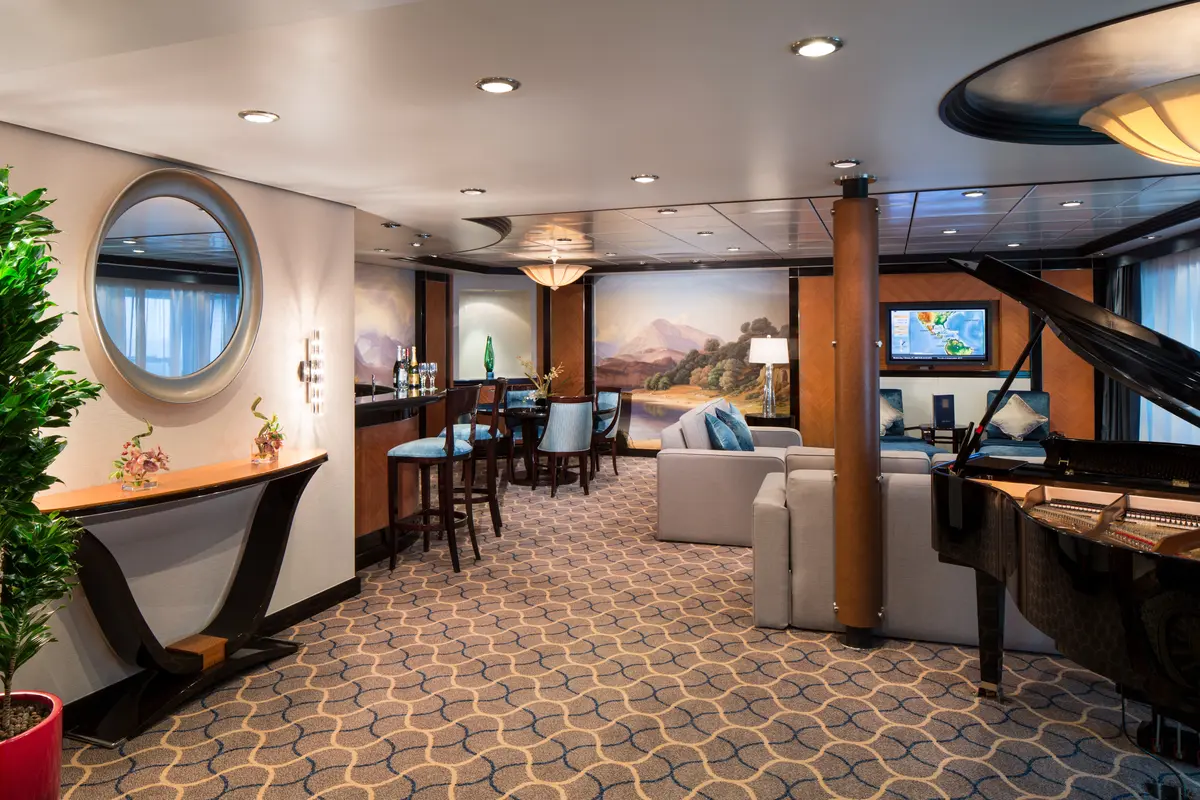 Royal Caribbean announced a new deposit program for its largest and opulent cruise ship cabins. It applies to sister company Celebrity Cruises as well.
Beginning June 1, 2023, Royal Caribbean is adjusting the deposit requirement for new suite bookings confirmed on or after this date.
The new suite deposit requirement will be calculated as 10% of the cruise fare per guest and is applicable fleetwide.
If the 10% value is less than the standard deposit amount, the required deposit amount will then revert to the standard deposit amount.
Bookings made prior to June 1st, 2023, will not be changed, even if you change the booking to another ship or sail date.  The only reason your deposit amount will change is if you cancel a booking made before June 1st and make a new booking on or after June 1st.
This policy change will apply to all suite categories, including suite guarantees.  This change will apply to all markets and all sailings.
In addition, Junior Suites will be treated like other suites in terms of bookings and deposits.  
Junior Suites will be nonrefundable for new bookings created on or after June 1, 2023.
At this time, deposit requirements for balcony, oceanview, AquaClass, Concierge Class, Veranda, and interior accommodations will remain unchanged.
How the 10% deposit is calculated
The 10% deposit is calculated based on cruise fare after all applicable discounts and promotions have been applied.
In doing some "back of the napkin" math, this appears to affect someone booking a suite over $2,500 per person because the deposit reverts to the $250 if the 10% is less than $250.
Kids Sail Free
If you're taking advantage of the popular Kids Sail Free promotion, the 10% deposit is calculated off the full booking's cruise fare split amongst the number of guest in the booking.
If the deposit, on a per person basis, is lower than the per person standard deposit, standard deposit will be collected per person.
For any fifth or more guest that are eligible for Kids Sail Free will be charged the standard deposit amount.
Suite deposit cancellation policy
As of June 1st, 2023, all suite bookings, including Junior Suites, have non-refundable deposits.
As such, the full 10% deposit per person will be withheld upon cancellation. If your clients downgrade from a suite category to a lower category which has a lower cruise fare, the higher deposit will still be held.
What if you upgrade your cabin?
You might be wondering what happens if you book an interior/ocean view/balcony stateroom and later upgrade into a suite.
After June 1st, 2023, your deposit amount will be changed from the standard deposit to 10% of their new cruise fare and they will need to pay any difference at the time of upgrade.
NextCruise bookings
All NextCruise Suite bookings made on or after June 1st, 2023, will require 10% of cruise fare, per-person deposit.
Deposits for Junior Suites will now be nonrefundable deposits only, will no longer be reduced and will be calculated on the new percentage rules.
Why is Royal Caribbean making this change?
In the announcement to travel agents, Royal Caribbean did not explain why it is making this policy change but it almost certainly has to do with demand for suites.
Historically, suite cabins are the most sought-after type of staterooms on any Royal Caribbean cruise ship.
Earlier this month, Royal Caribbean Group CEO Jason Liberty, mentioned the fact suites always sell out first on most sailings, "We used to kind of put everything out there and all the suites would be sold basically right off the bat. And then you would kind of work your way down to the inside cabins."
Over the last few years, Royal Caribbean has updated the suite booking policy to ensure suites booked were going to people that actually wanted them, rather than people that booked them on speculation and subsequently cancelled them later.
Royal Caribbean made suites non-refundable only a few years ago because of the high demand for them, especially when new sailings were announced.
Prior to the non-refundable fares, suites would be booked up early by cruise fans and later decide if they would sail or not. To deter the practice of dumping suites closer to sailing, Royal Caribbean changed suite fares to non-refundable.
This new change is likely partially aimed at ensuring a likely higher deposit amount dissuades someone from booking up a suite unless they know they really want it.
The other very likely reason for this change is because demand for cruises is so high, they can get more money up front now.
Royal Caribbean is seeing record-breaking demand for cruises right now, and the forecast for the rest of the year appears equally positive.
It caught the company off guard, as Royal Caribbean Group CEO Jason Liberty noted they had expected a slower first quarter, "The fact that demand for the coming nine months is so much stronger than our already robust expectations says a lot about the strength of the consumer and the strength of our brands."
How strong were these bookings? The company says bookings in the first quarter of 2023 outpaced 2019 levels "by a very wide margin" throughout the entire first quarter and into April.
By increasing the suite deposit amounts, Royal Caribbean can get more money up front and potentially more money if someone cancels later.  For a company swimming in billions of debt while enjoying unparalleled demand, you can see why they may have gone in this direction.
Refundable vs non-refundable cruise fares
Just like non-refundable fares found with airfare, rental cars, and hotels, these rates come at a reduced rate as an incentive to lock in plans.
With a non-refundable fare, guests get a lower price while the cruise line gets more protection against a last-minute cancellation.
Refundable cruise fares cost more than non-refundable, but allow more flexibility when cancelling a cruise.
The exact price difference between a refundable and non-refundable fare can vary depending on the sailing.
Read more: Royal Caribbean refundable versus non-refundable cruise fares