In:
Royal Caribbean Group had such a strong first quarter results for 2023 that the company dramatically updated its expectations for the rest of the year. The cruise company's executives talked about what drove these kind of big numbers.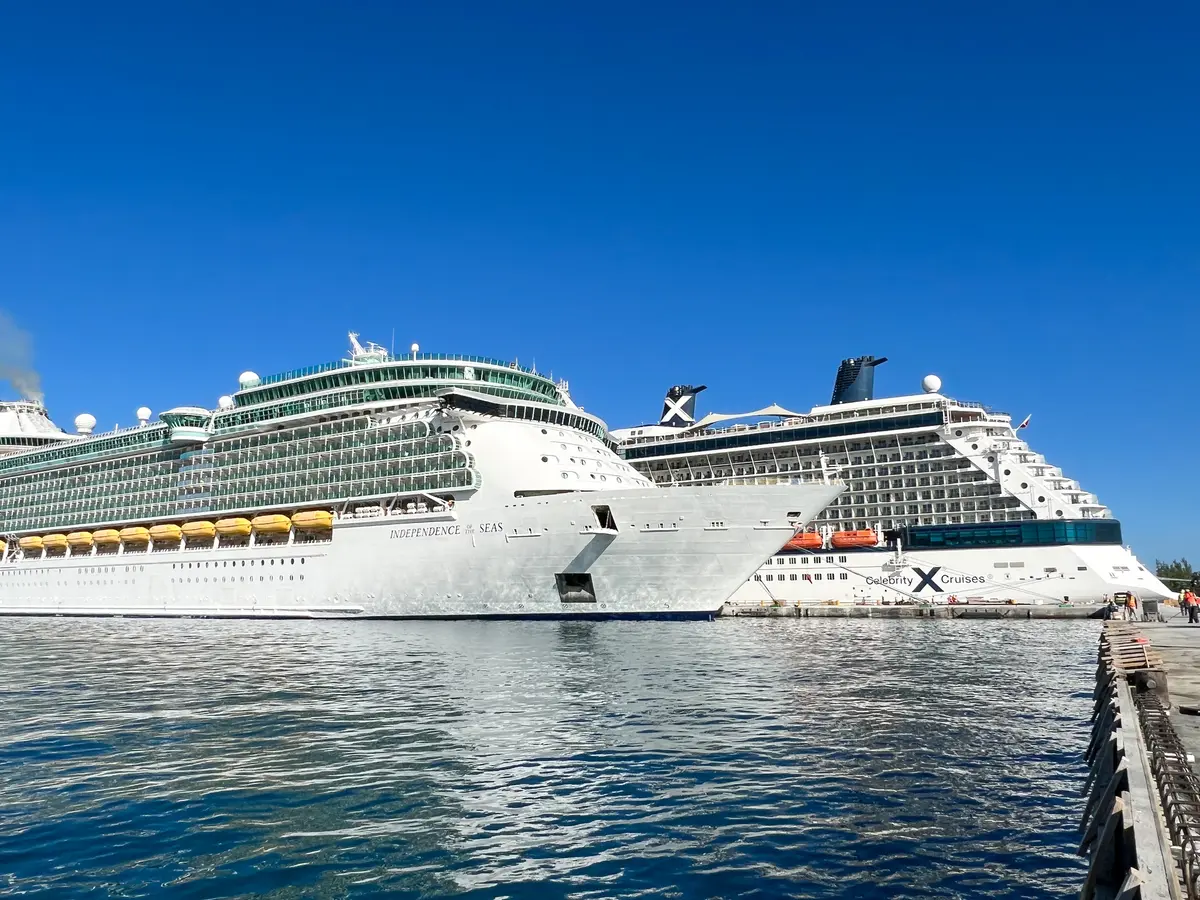 Royal Caribbean bumped its full-year adjusted earnings forecast by nearly 50%, which would result in best year ever.
As per usual, the top executives at Royal Caribbean Group spoke with Wall Street analysts to go over the results, and there's some interesting facts and statements for cruise fans.
Over the course of the hour-long call, Royal Caribbean Group talked about Utopia of the Seas, the opening of Hideaway Beach, how popular their product is right now, and what to expect with the China cruise market.
Here's what stood out to us in the earnings call.
North America is dominating the cruise market right now
If you want the 10 second summary of why Royal Caribbean had such a good quarter, it's that people from North America are booking cruises at a pace and price never before seen.
There was such high demand for Caribbean cruises in the quarter that it translated into more people sailing on each ship, while paying more for cruise ticket prices and spending more money onboard their ship.
It caught the company off guard, as Royal Caribbean Group CEO Jason Liberty noted they had expected a slower first quarter, "we thought the first quarter would be a transition period, we always expected the rest of the year to be strong. The fact that demand for the coming nine months is so much stronger than our already robust expectations says a lot about the strength of the consumer and the strength of our brands."
"While demand has been strong across all products and markets, we continue to see exceptional strength from the North American consumer. This strength, in combination with the incredible perfect day at CocoCay has resulted in record yields for our Caribbean sailings.
How strong were these bookings? The company says bookings outpaced 2019 levels "by a very wide margin" throughout the entire first quarter and into April.
Moreover, Mr. Liberty said the booking window "is now completely back to normal", meaning any reluctancy to book a cruise following the pandemic has eroded.
Europe is doing well too
While Caribbean cruises are super popular, European cruises are doing well too.
Royal Caribbean Group CFO Naftali Holtz talked about the numbers, "European bookings are nicely outpacing 2019 levels, with peak summer sailings trending particularly well in recent weeks."
He mentioned Odyssey of the Seas' European season in particular is, "attracting quality demand and rates."
Bookings for Europe might have been something the company worried about, but it's proving to be a great bet. Mr. Liberty shared, "for Europe, I think we were a little bit concerned going into the year, but because of our of our global and nimble sourcing model, we really have seen a surge in European bookings and we feel very good on how Europe is going to play out this year, but not to the level that we saw in the in the Caribbean."
Is Royal Caribbean holding back cabin inventory?
At the very end of the call, Mr. Liberty seemed to say that the inventory of cabins when a new sailing is released is not necessarily all the cabins at once.
A question was asked about how booking and inventory will be handled in the future, and Mr. Liberty talked about their process.
"We used to kind of put everything out there and all the suites would be sold basically right off the bat. And then you would kind of work your way down to the inside cabins," he said in answering the question.
"While now, we we hold back inventory, and we release it based off of our what are much more sophisticated revenue management models that we have today."
He did not get into any kind of specifics, but it's an interesting comment for consumers if indeed every cabin is bookable at once or not.
Utopia of the Seas will sail the Caribbean
Royal Caribbean has not announced where Utopia of the Seas will be homeported or where she will sail to, but we did get one tidbit that could point to where Utopia will be based.
Utopia of the Seas will be Royal Caribbean's sixth Oasis Class cruise ship, and will launch in 2024.
In talking about Perfect Day at CocoCay, Royal Caribbean International President and CEO Michael Bayley spilled the beans on one fact we can expect about the new ship.
"We haven't announced the deployment, but Utopia will also be going to Perfect Day," he said during the call.
This means Utopia will almost certainly be homeported somewhere on the east coast of the United States.
Royal Caribbean's ships don't visit CocoCay typically when based in Galveston, so that likely removes that possibility.
Mr. Bayley also said Utopia will be "coming online in June."
Royal Beach Club will open around summer 2025
Speaking of things we didn't know before, Mr. Bayley said when the new Royal Beach Club will open.
The Royal Beach Club at Paradise Island will be the first Royal Beach Club, which offers a curated beach day for an extra cost.
We knew it would open in 2025, but now it appears to be closer to the start of summer.
"Our intention is to have the Royal Beach Club open in towards the end of the spring, summer of '25."
The beach club's capacity will be around 2,500 to 2,750 passengers per day.
More passengers booking pre-cruise than ever before
It's not your imagination: people are booking more shore excursions, internet, dining, and drink packages than ever before.
According to Mr. Liberty, about two thirds of guests are now booking pre-cruise add-ons before their cruise begins. Compare that to 48% in 2019.
You can expect more features and updates to both Royal Caribbean's website and app in the near future, "while we have made a significant leap in our commercial capabilities, we are still in the early innings of our journey and will continue to add features and capabilities to our app and commercial engines."
New cruisers
In the first quarter, the percentage of guests who were either new to brand or new to cruise surpassed 2019 levels by a wide margin.
Mr. Holtz said customers new to Royal Caribbean Group brands as well as customers first-time cruisers all together "significantly exceeded 2019 levels."
Moreover, he emphasized that it's important to keep those cruisers, "at the same time, we also focus on making sure that they stay there and increase repeat rates."
China reopening in 2024
The one cruise market that Royal Caribbean has not resumed service yet is China, but the company is looking at mid-2024 for that to occur.
China was a major market for Royal Caribbean International before the cruise industry shutdown. According to Mr. Bayley, Royal was the top brand in the Chinese cruise market by volume.
"We're now more encouraged by all of the signals that we've had for our reopening in China in '24", Mr. Bayley said.
"We've now started to rebuild our sales organization in China and we expect hopefully by late spring, early summer to be back operating out of China '24."
"Our expectation is that this market will return to how it was pre pandemic."
"The value of a Chinese customer is very high when you look at their their the net revenue from a from a Chinese consumer it's typically around the same level as an American and slightly higher."