In:
To kick off the summer, I boarded a 7-night Alaska cruise on Quantum of the Seas. In true budget-traveler fashion, I booked an interior cabin for this sailing, for which I paid $1,856.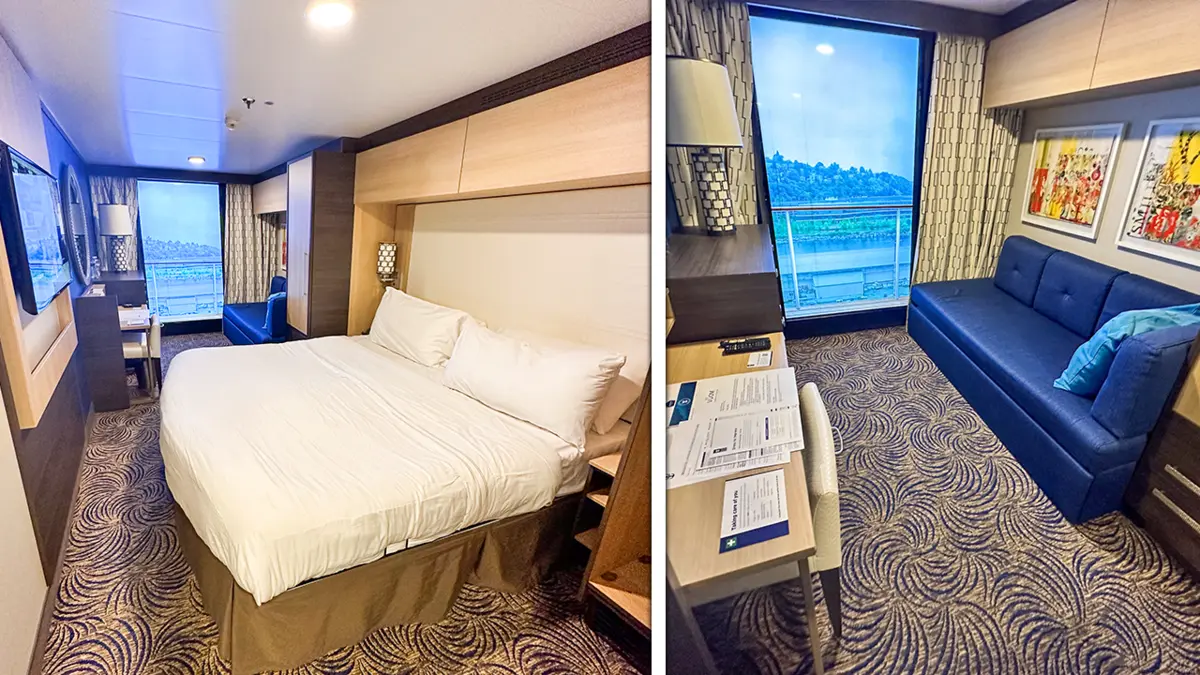 I'm cruising to Alaska with my mom, bringing the total price per person to $929, or $132 per night. I booked this cruise just two months before the sail date, so prices were steeper than I expected for an interior cabin. Nonetheless, I found the price reasonable for a cruise at the start of Alaska's peak summer season.
Royal Caribbean's Quantum Class ships are my favorite vessels in the cruise line's fleet, so I was excited to sail on Quantum of the Seas from Seattle this week. The elegance, size, and wide range of itineraries on the Quantum Class ships makes them a perfect choice for an Alaska cruise vacation.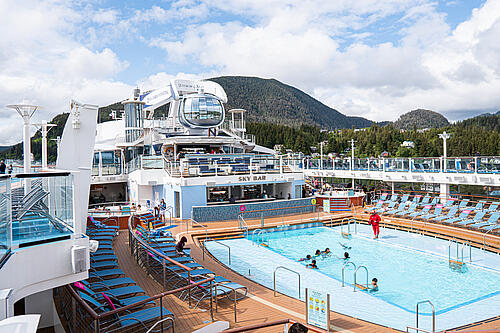 Not only are the ship's public areas top-notch, but the cabins are as well. Cabins on older Royal Caribbean ships often lack storage space, outlets, and stylish room decor. Those on newer ships—like Quantum of the Seas—are a major improvement with modern decor and design features.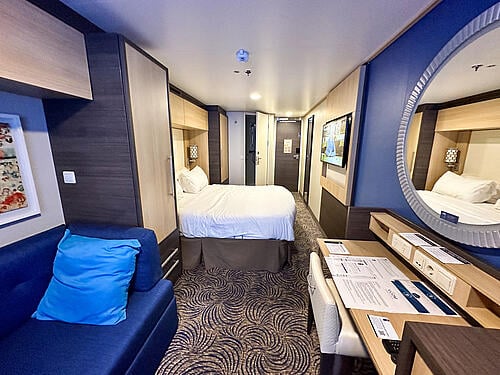 Take a tour of my tiny, windowless cabin on Quantum of the Seas for my Alaska cruise. While not as luxurious as a balcony room or suite, staying in a cabin like mine is the best way to explore Alaska on a budget.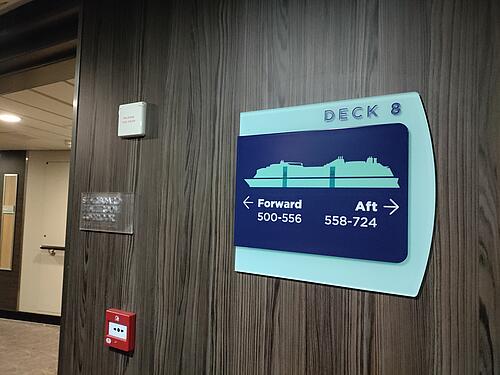 My cabin is located on deck eight just a short walk from the elevators, and conveniently located between the daytime fun on the pool deck and evening activities in the Royal Esplanade.
Being on deck eight means I have been taking the elevators more than usual, however, as the cabin is relatively far from the pool deck on deck fourteen. I don't always feel like climbing six flights of stairs to get to the buffet or pool, but waiting for the elevators isn't ideal either.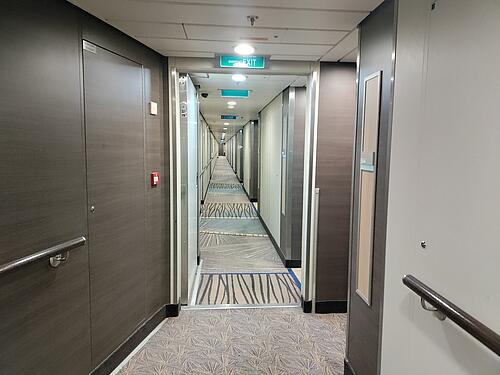 Regardless, I appreciate not being below a loud deck—the decks above and below my cabin are also staterooms. On a prior Alaska cruise, my cabin was located directly below Adventure Ocean, Royal Caribbean's child programming, and was subject to loud sounds coming from the program's (frequent) dodgeball competitions.
Related: The 5 best cabin locations on a cruise ship
One of the first things you'll notice when walking into the cabin is the virtual balcony, and no, it's not a real balcony!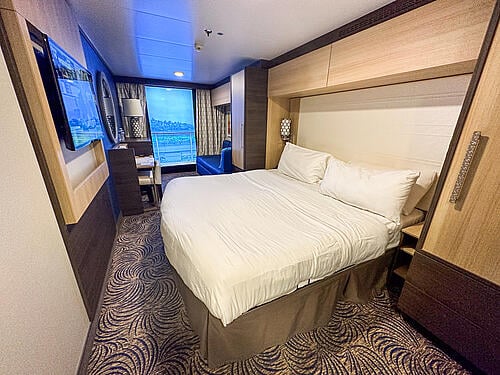 Interior cabins on Quantum of the Seas have a virtual balcony, a floor-to-ceiling television screen depicting a live video feed from outside the ship. While not technically a balcony, this added perk means you can see what's happening outside the ship.
So far during our sailing, the virtual balcony has proved useful when we're deciding what to wear into port. If it looks foggy and rainy, we make sure to pack our warmest jackets and umbrellas.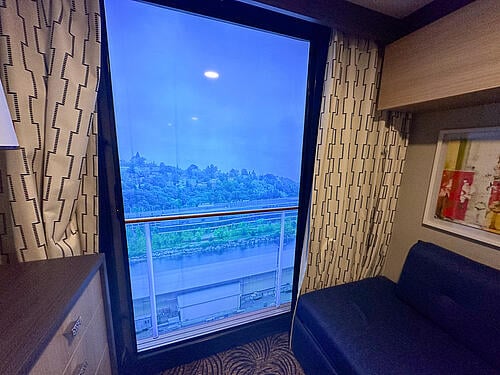 It also helps us see whether it's day or night outside. Without checking your phone, it can be confusing to know what time it is when staying in a windowless cabin, especially if you wake up in the middle of the night.
Our cabin has a king-sized bed, although we called our cabin attendant shortly after embarking in order to have the beds separated into two twin-sized beds. As I'm traveling with my mom, I prefer having the beds separated so we each get our own space.
The cabins on Quantum of the Seas certainly have more outlets than Royal Caribbean's oldest ships, but unfortunately there's only an outlet on one side of the bed. I always prefer having outlets on both sides of the bed for convenience when charging electronics during the night.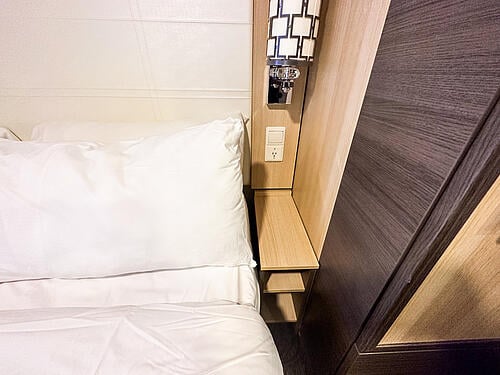 Across from the bed is a television, where you can watch live TV, on-demand movies, check your account balance, order room service, and watch a map of the ship's current position.
Also by the bed is a full-length mirror.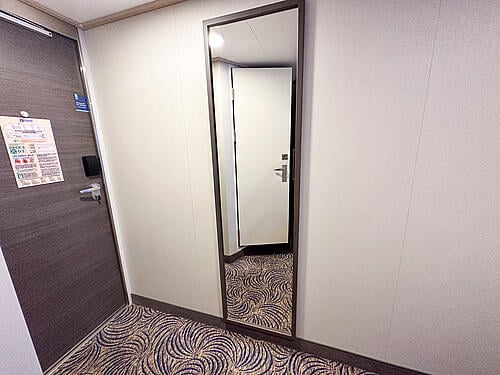 In the back of the cabin is the living room, so to speak, which includes a sofa, desk, and dresser.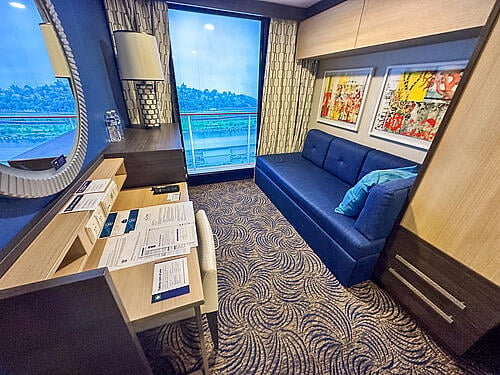 The desk is an excellent place to catch up on work for Royal Caribbean Blog! It also functions as a vanity and has a large mirror.
At the desk are two North American style outlets, two USB ports, and one European style outlet. I packed a European outlet adapter so that I could make use of all outlets in the cabin.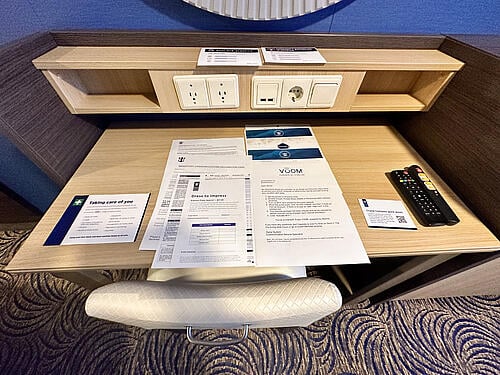 Related: I tried the best inside cruise ship cabin hacks to see how well they worked
Having a couch is nice when cruising with two people in the cabin. Some interior rooms only have a small chair, which makes relaxing anywhere except the bed difficult.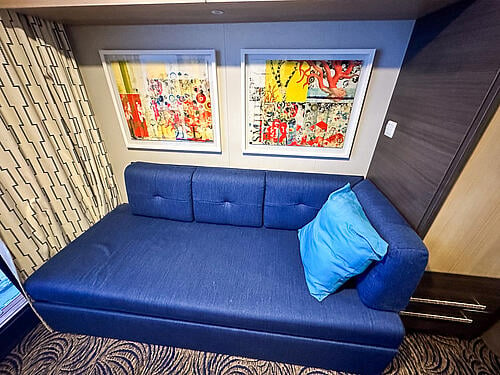 The dresser has five drawers and is the most convenient place to unpack belongings during the sailing.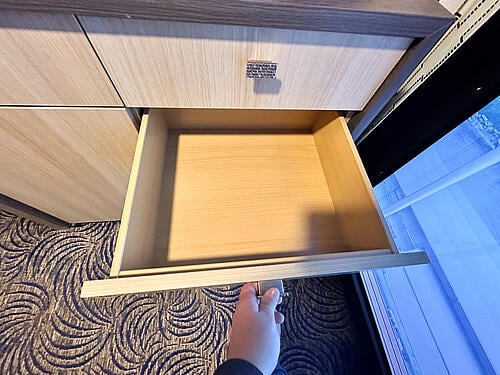 There is also a mini cooler in the dresser where you can place drinks and snacks.
I love the layout of our interior cabin and it feels spacious, even for being such a small room. Having a couch instead of a chair adds more living space, and it feels more like a balcony-sized room compared to many interior rooms I've stayed in previously.
If I had to change one thing, I would move the bed to the back of the cabin so we didn't have to constantly walk around a small passageway by the bed to get to the rest of the room.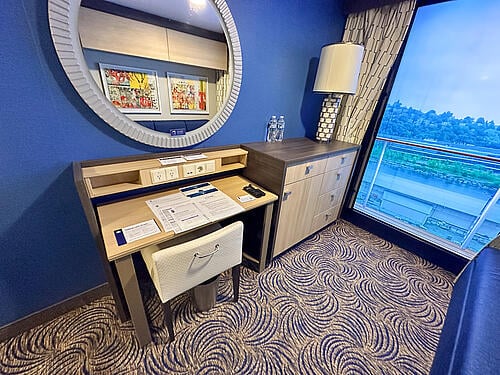 The amount of storage space in the cabin is impressive. There's more than enough room to store belongings throughout the sailing. Each side of the bed has a closet, one of which has shelves, drawers, and the cabin's safe.
On the other side of the bed is a wardrobe-style closet meant for hanging clothes. The closet door has two small shelves attached to it, which has been useful for keeping miscellaneous belongings organized during the cruise.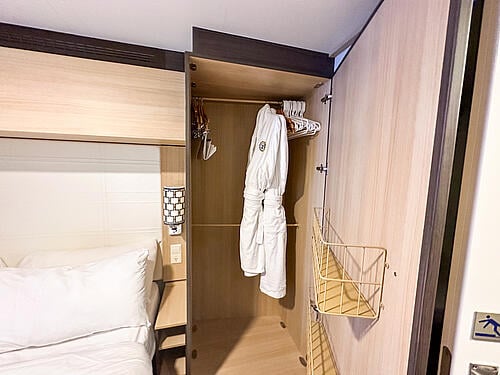 Additionally, there are two storage drawers above the sofa, two more above the bed, and shelves on each night stand. We have not found all this extra storage necessary, although it would be useful if sharing the cabin with three or more guests.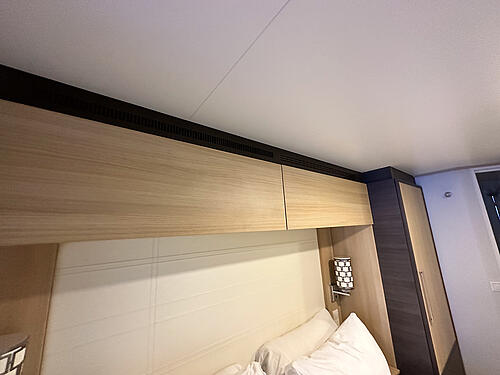 My tiny interior cabin comes with an equally tiny bathroom. Inside the bathroom is a toilet, shower, and sink as well as shelves and hooks for storage.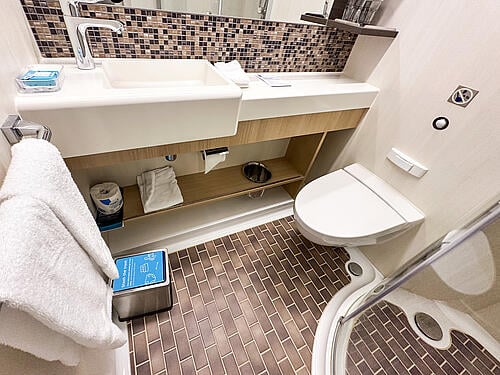 The shower has a detachable shower head. All showers come with a 2-in-1 body wash and shampoo combo, and the shower has two shelves for storing additional bath products.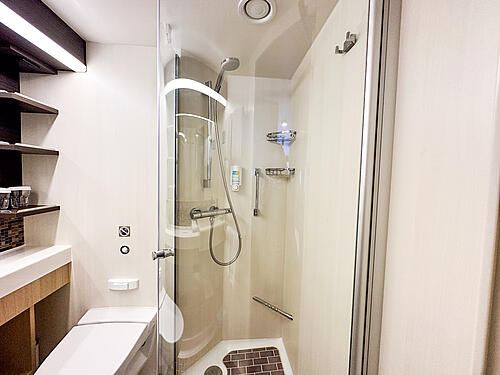 While not quite as opulent as a suite, balcony, or even oceanview cabin, I find my interior room to provide everything I need for an enjoyable week onboard. While we're only three days into the sailing, our cabin has already become a home away from home, and I have no regrets about booking the cheapest cabin available.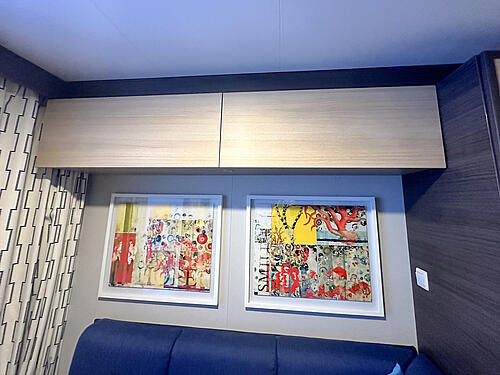 When choosing which type of cabin to book for an Alaska cruise, the correct answer will ultimately depend on your budget. Although booking a balcony cabin is not necessary, many passengers appreciate having a private outdoor area to enjoy the views.
Similarly, booking a suite is a wonderful way to splurge and celebrate such a remarkable, beautiful cruise itinerary.
Ultimately, there's no right or wrong cabin to book for an Alaska cruise. While I might consider splurging on a more expensive stateroom in the future, for now, my cozy interior cabin is all I need.