In:
These days, the latest and greatest Royal Caribbean ships are the Oasis and Quantum class cruise ships and if you are trying to choose between them, it can be difficult to know which is the best choice.
Royal Caribbean has put so much into these amazing new ships, so here is what you need to know about both classes of ships and how they differ.
Quantum class benefits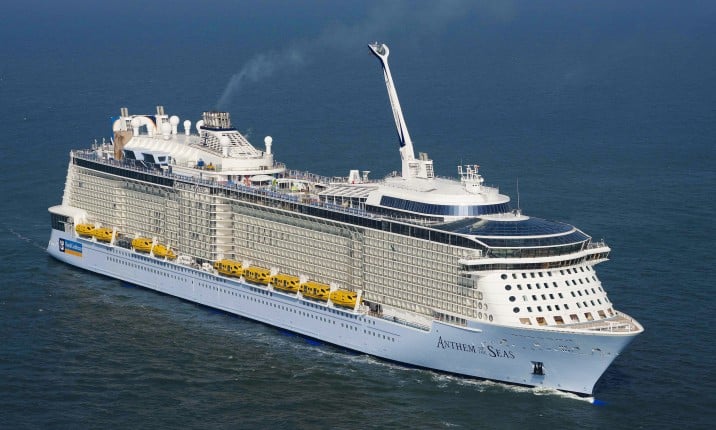 Royal Caribbean's Quantum class ships are the newest class of ships and have been largely associated with being the most technologically advance cruise ships.
There are three Quantum class ships in service, with two more on order.
Quantum of the Seas
Anthem of the Seas
Ovation of the Seas
Unnamed Quantum class ship (to debut in 2019)
Unnamed Quantum class ship (to debut in 2020)
The Quantum class ships are best known for excelling in two specific areas: entertainment and dining.
The Quantum class ships offer a great variety of entertainment on its ships. Impressive shows, amazing venues and one-of-a-kind experiences.
Royal Caribbean designed the Quantum class ships to offer some impressive new experiences that stand out.
North Star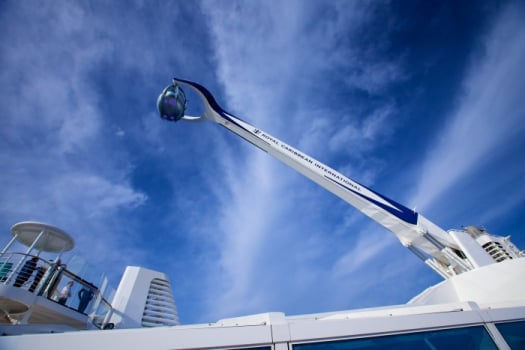 North Star is an observation pod that is attached to a giant arm on top of each Quantum class ship. North Star takes passengers 300 feet above the sea to see area around them.
Guests enter the observation pod and then are raised up in the air provide views all around the ship.  Whether in port or at sea, North Star offers the best views on any cruise ship.
Ripcord by iFly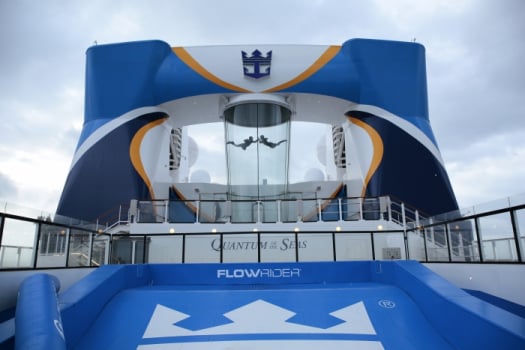 You know what is a lot of fun? Sky diving. You know what is incredibly scary? Jumping out of an airplane.
Ripcord by iFly is the perfect solution, offering a sky diver simulator for guests to enjoy without the risk of jumping out of a perfectly good aircraft.
After a short orientation, guests take turns entering a wind tunnel, where they will experience the sensation of sky diving.
Two70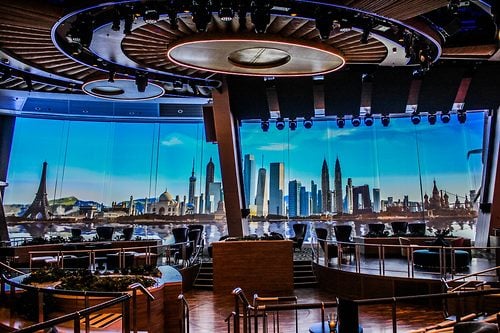 Royal Caribbean built a brand new venue not available on any other ship with Two70.
Located on the aft of the ship, Two70 offers a sweeping two hundred and seventy degree view of the ocean.  That alone might be a great area to enjoy the view, but there is much more to see here.
Throughout the day, different shows and events will take place.  Chief among them are the Roboshows that feature amazing robot screens that move, dance and synchronize together to provide the kind of show you have never seen.  
Then there's the premier evening show in Two70, which offers a multi-sensory show that combines music, visual effects, acrobats and more to deliver a one-of-a-kind show.
Oasis class benefits
Royal Caribbean's Oasis class redefined what a cruise ship could be and are the world's largest cruise ships in the world.
Everything about the Oasis class is big, and there is a ton of, well, everything to do onboard. 
Like the Quantum class, there are also three Oasis class ships in service with two more on order.
Oasis of the Seas
Allure of the Seas
Harmony of the Seas
Unnamed Oasis class ship (to debut in 2018)
Unnamed Oasis class ship (to debut in 2021)
In short, the Oasis class ships offer a lot to see and do.  These ships are the biggest in the world and are packed with entertainment, dining, activities and more.
These ships are divided up into neighborhoods to help guests navigate easily around the ship and feature distinct visual areas of the ship. There is a boardwalk, an entire park in the middle, pools, and a whole lot more.
If your definition of a fun cruise is having plenty to do, then you will love the two FlowRiders, zip line across the Boardwalk, Royal Promenade shopping area, AquaTheater and now water slides.
Slides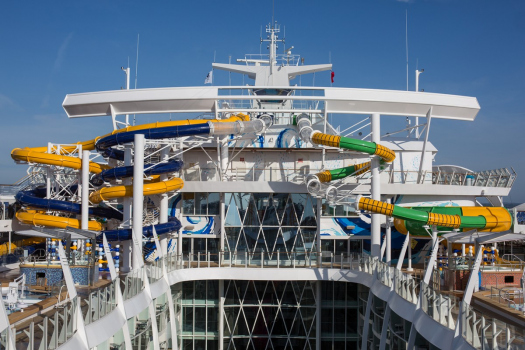 While only on Harmony of the Seas, the water slides and Ultimate Abyss slide are truly impressive (and fun) ways to spend your cruise.
Dubbed "The Perfect Storm," three water slides are a beacon for families looking for some high-paced fun.
If that was not enough, there is the tallest slide at sea.  It is 10 stories tall and is an epic adventure. Spontaneous audio effects within each tunnel create a multi-sensory thrill for daring guests willing to test their mettle while traversing 216 feet through the one-of-a-kind slide duo.
AquaTheater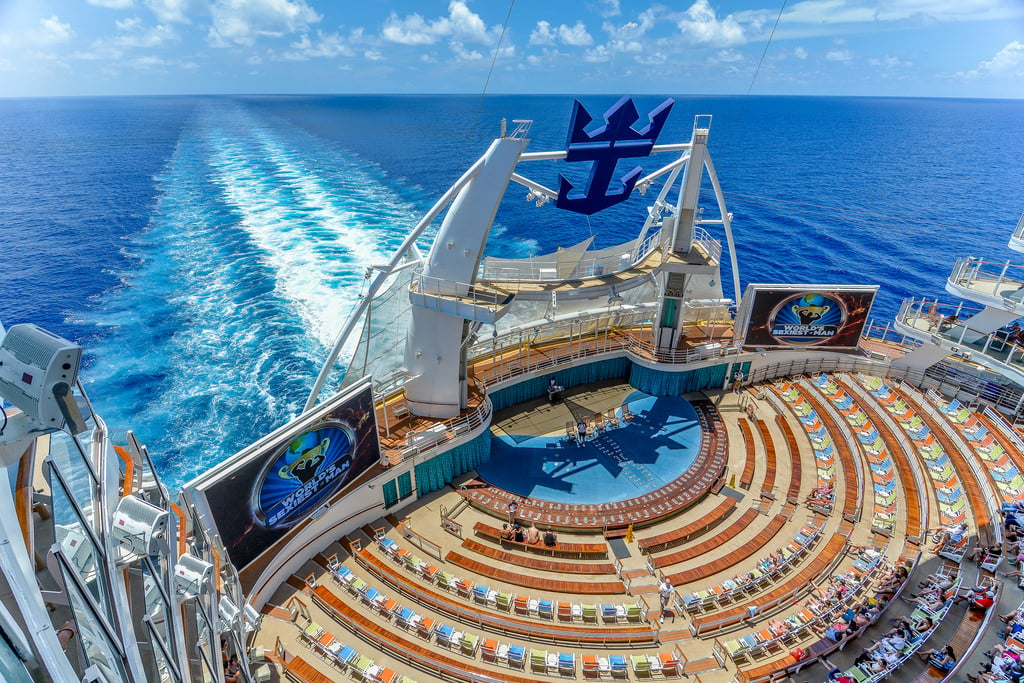 The AquaTheater is a venue on the aft of Oasis class ships that shows original Royal Caribbean productions that will take your breath away.
The AquaTheater shows feature distinct high diving, acrobatic performances with two 10-meter high platforms and hydraulic-floored pool and the largest and deepest freshwater pool at sea.  It all combines to serve as podiums for high-diving, hair-raising aerobatics that AquaTheater audiences have come to love.
It is hard to put into words what AquaTheater shows are all about, but rest assured they are fun and tantalizing entertainment.
More than 20 dining venues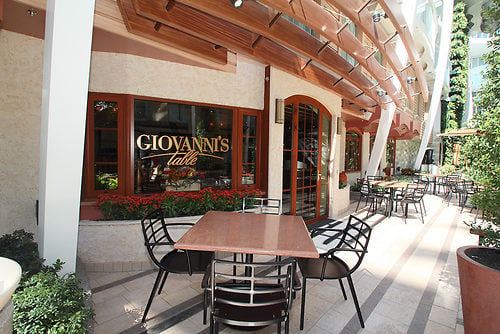 If you love to eat and try lots of different kinds of food, the Oasis class ships offer more dining venues than you can probably dine at in one cruise.
Royal Caribbean stuffed these ships with a great assortment of complimentary and specialty dining that offer something for everyone.
Italian, Hibachi, dry-aged steaks, fresh salads, Mexican are just a whole a few of the great options available.
Royal Caribbean may have added so many restaurants to Oasis class ships as a means of offering enough places for guests to eat, but the class has become a foodie's dream.
Picking the one for you
We think those new to cruising, or at least new to Royal Caribbean, will really love the Oasis and Quantum class ships because of everything they offer.
The reality is you cannot go wrong picking either class, but there are certain advantages each class offers that might have appeal for certain guests.
You should lean towards Quantum class if...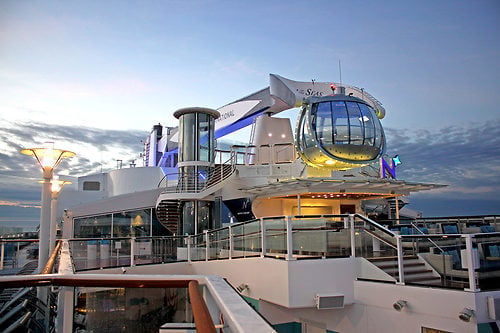 Cruising with teens
Bumper cars, Ripcord, dance clubs and more make the Quantum class a great choice for teens and older kids.  
There are a lot of great activities onboard and it seems to favor older children who want to do it all.
Where you live
If you live in the Northeast United States, Anthem of the Seas is in your backyard and not having to fly is a big deal. Quantum of the Seas and Ovation of the Seas serve China and Australia.
Not only does cruising from the a port near your home save money on airfare, but it allows for year-round escapes to the warm and exotic destinations.
Love tech
Quantum class ships offer RFID bracelets, robot bartenders, smart phone planning app, virtual balconies and other "gee-wiz" innovations.
In short, Quantum class ships are about packing in the latest technology that enhances the guest experience instead of defining it.
On the other hand, you should lean towards the Oasis class if...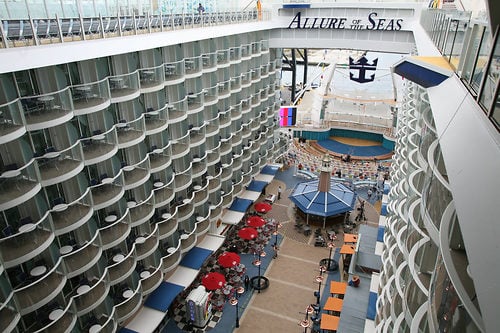 Want more to do than you can do
The sheer amount of activities and events on Oasis class ships are staggering.  They even have a day time and night time edition of the Cruise Compass, because they cannot fit all the events in one Compass, like on other ships.
If you love variety of activities and want lots of choices, then the Oasis class ships are good for you.
Love getting physical
For those that like to "get out there" and do a lot, then the Oasis class is a great fit.  Two FlowRiders, two rock climbing walls, ice skating, zip lining, mini-golf, running tracks and more are available for those that need a good physical challenge.
The sports facilities on Oasis class ships are truly impressive because of many options there are and the unique opportunities available only on an Oasis class ship.
Need (or want) lots of dining choices
While the Quantum class ships are no slouch in offering great dining, the Oasis class ships just offer a ton of dining choices that cannot be overlooked.
Bars, restaurants and lounges are found all over the ship and that means plenty of variety.  Foodies or just those that are hungry will enjoy the great selection of restaurants that are in all likelihood too many to sample in just one cruise.
Your thoughts
Have you ever set sail on the a Quantum or Oasis class ship? What do you think of it? If you've sailed other ships, how do you think it stacks up to those? Any other tips to add or recommendations? If you have questions or thoughts, please share them below and we'll try to respond!