In:
Planning a cruise as a first-timer can be overwhelming, whether you're trying to pick the right cruise ship or book shore excursions. Fortunately, the internet is full of veteran cruisers eager to share their best tips for a successful cruise vacation.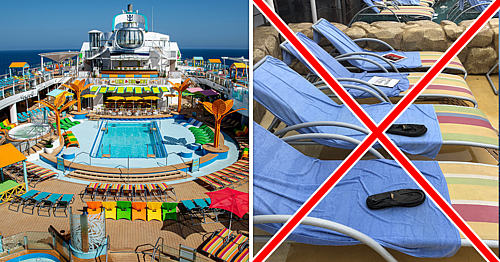 We often hear many first-time cruisers sharing remarks and regrets about their cruise experience, from wishing they packed fewer items to wishing they did more research prior to their cruise.
Even after having a wonderful cruise experience, it's common to wish you did or experienced things differently during your sailing, and these regrets are particularly common for first-time cruisers who are brand new to the Royal Caribbean experience.
To better help you plan a Royal Caribbean cruise, we asked veteran cruisers on Reddit what they wish they knew before going on their first cruise. From beating the chair hogs to asserting dominance in the elevator, here are our favorite answers.
People will try to get ON the elevator before you get off
One common pet peeve of many cruisers is the elevator etiquette (or lack thereof) you might encounter on a Royal Caribbean cruise.
Waiting for elevators is a necessary evil on a Royal Caribbean cruise, and more often than not, the elevators are more crowded than any of us would prefer.
Reddit user LevarGotMeStoney explained how, when the elevator stops at your destination, many people will try to enter the elevator before letting you leave. The solution? Assert dominance.
"Be ready for this. Assert dominance," LevarGotMeStoney advised. "Assume a 3 point stance like a lineman and when the doors ding, tackle anything on the other side."
While we don't recommend tackling other passengers on a cruise ship, it's helpful to quickly exit the elevator before you get stuck inside!
Just use the stairs
User Sonakstyle has perhaps the best solution to avoiding trouble in the elevators: just use the stairs!
Using the stairs on a Royal Caribbean ship can often get you to your destination more quickly than the elevators, especially if you're just going up or down a few decks. Not only that, but it provides an excellent workout, which can be especially beneficial after indulging in three course meals each day of your cruise!
Related: Why you should skip the elevator on your cruise
While we're not suggesting climbing ten flights of stairs from your cabin to the pool deck, taking the stairs up or down a couple decks brings more advantages than disadvantages.
Wake up early to take advantage of a quiet ship
User Rubyfisch mentioned how early morning on the ship can be a magical time.
"Watch the sunrise from the deck," they explained. "Walk around the empty ship coming to life. Take a free stretching class. Go to the Windjammer when it's quiet and still. Grab a fancy coffee before the line gets too long."
We agree with Rubyfisch in that the morning is one of the best times to enjoy your cruise ship. Many passengers prefer sleeping in on a cruise—it is vacation, after all—and this makes early morning on a cruise ship the quietest time of the day.
Of course, this rule holds true for sea days more than port days. Early morning on port days tend to be more chaotic due to passengers waking up eager to eat breakfast and disembark the ship for shore excursions.
Bring something magnetic to put on the outside of your cabin door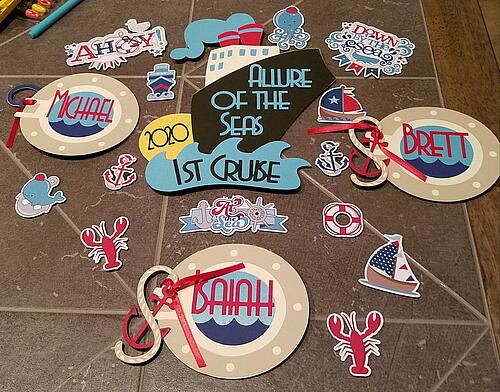 Cruise ship cabin walls and doors are magnetic, and Redditor Artandelfie advised bringing something magnetic to put on the outside of your cabin door. This will easily distinguish your cabin from others in the hallway, making it easier to find your room throughout the cruise.
This trend is popular in the cruising industry, and you can buy customized magnets on craft websites like Etsy. Customized magnets can include your family name, ship name, or be themed for a birthday or anniversary celebration.
It can be a lot of fun to decorate your cruise cabin door, and many families like to get their kids involved with picking and designing magnets. From nautical-themed decor to sea creatures, you can choose from countless colorful designs.
As another plus, it's a lot easier to find your decorated cruise cabin door after a few too many drinks at the Schooner Bar!
Do research before booking
Redditor Rockaway2018 explained how the most obvious tip for cruisers is to research their sailing before booking.
"The amount of people on cruises that say they didn't know swim diapers weren't allowed in the pool, they didn't know the MDR existed, they didn't know soda/alcohol weren't included, didn't know there weren't waterslides, etc. makes my head hurt!" Rockaway 2018 mentioned.
Knowing basic rules and information about your cruise ship and cruise line is extremely helpful. Not only can you avoid making unnecessary mistakes like packing prohibited items, but you can purchase extras like drink packages before your cruise begins for a better price.
Before boarding a Royal Caribbean cruise, make sure to have a basic idea of what's included, what activities are offered on your cruise ship, and which excursions are most recommended in your ports of call.
These tips and tricks can help you plan:
…but don't do too much research
While doing some research before your cruise is helpful, try not to do too much research.
Redditor Mgt-d said how he did too much research before his cruise, and his extensive research made it less exciting once he was onboard.
"I knew what to expect from activities, restaurants, and bars, so I wasn't as inquisitive once there," he explained. "If I went on another cruise, I would do a quick search on room locations and included food locations and then leave everything else to discover onboard."
Of course, one cruiser's travel style may differ from another's. Some passengers prefer to plan every day, hour, and second of their vacation whereas others like to go with the flow.
In general, we recommend doing at least a little research before your cruise vacation begins. This ensures you have time to book pre-cruise add-ons, understand which amenities are offered on your ship, and reserve onboard activities and entertainment in advance.
Avoid the buffet on the first day
Redditor Cdash4321 mentioned one of our favorite tips for a Royal Caribbean cruise: avoid the buffet on the first day.
The Windjammer buffet is a staple of any Royal Caribbean cruise. Open for breakfast, lunch, and dinner, the Windjammer offers the widest variety of food found anywhere onboard. From pancakes in the morning to a burger for lunch and tacos for dinner, it's no question that the Windjammer will offer a quick, casual, and delicious dining experience.
That being said, we advise avoiding the Windjammer on the first day of your cruise. As thousands of passengers board your cruise ship on embarkation day, the majority head to the buffet. As a result, it can get extremely crowded, and no one wants to start their vacation navigating around tons of other hungry guests.
Related: Where can I eat lunch on the first day of my cruise?
In addition to the Windjammer, there are several other options for lunch on embarkation day. Complimentary venues such as El Loco Fresh, Boardwalk Dog House, and Park Cafe offer quick grab and go options with far fewer crowds.
You may also choose to reserve lunch at a specialty restaurant. While this option costs extra, lunch prices are reasonable at specialty restaurants—around $20 to $25 per person—and the peaceful atmosphere of a specialty venue instead of the buffet can be well worth the cost.
Bring a lot of $1 bills for tips
Tubbis9001 gave great advice for any first-time cruiser: bring a lot of $1 bills.
"Most tips are included, sure. But a dollar for the luggage porters here, a dollar for your shore excursion bus driver there, it makes things easier," Tubbis9001 explained.
Related: How much cash should you bring on a cruise?
Gratuities are automatically added to the price of a Royal Caribbean cruise, at $16 per person, per day for those in standard rooms and $18.50 per person, per day in Grand Suites and above. However, it's customary (albeit optional) to tip crew members and other service providers extra during your cruise.
Having small bills on hand is helpful when you want to give a few dollars to porters, shore excursion guides, bartenders, waiters, and other staff onboard. $1 and $5 bills will be the most useful, and if you don't have small bills, you can always break up a larger bill by going to Guest Services once onboard.
Pick the show or activity you want to do most and do it ASAP
User Elsie78 gave helpful advice for any cruiser. If there's something onboard you're eager to try, whether climbing the rock climbing wall or watching a Broadway show, do it as soon as possible.
Most activities, including entertainment productions, are held multiple times during a cruise. Because of this, many passengers wait to try activities or make show reservations until later in the cruise.
If there's something you really want to experience onboard, though, we recommend doing it during the first few days of your cruise. Cruising is unpredictable, and you never know if unexpected scenarios like bad weather or illness will prevent you from doing an activity onboard.
Related: 15 free things to try on your next cruise
A great example of this is with Royal Caribbean's AquaTheater shows. Even though the AquaTheater shows are often performed several days throughout the cruise, we recommend booking the first show available.
Why? These shows are dependent on weather and sea conditions. If it's too windy, cold, or rainy, the performance might be canceled. If this happens on the first show of the cruise, you have plenty of other chances to catch the show before your cruise is over. If you wait to watch the performance until the last day and it gets canceled, though, you're out of luck!
It's okay to remove someone's towel and sit down on a beach chair
The most controversial answer we received on Reddit was from Melodic_Oil_2486 who shared that you should feel comfortable removing someone's towel on a chair to sit there yourself. Some Redditors agreed with the comment, but others weren't so sure it's the right thing to do.
Chair hogs—people who reserve a pool chair and don't return until hours later—are a major problem on a cruise vacation. There are only a select number of chairs in prime spots on the pool deck, and it's frustrating to see towels sitting on empty chairs for hours at a time.
Related: How to beat the chair hogs on your cruise ship
We don't totally agree that you should move someone's personal belongings from a beach or pool chair. You can, however, express concerns to a crew member, and they may take the belongings from the chair and place them in a pickup area.
Watch a ship tour on YouTube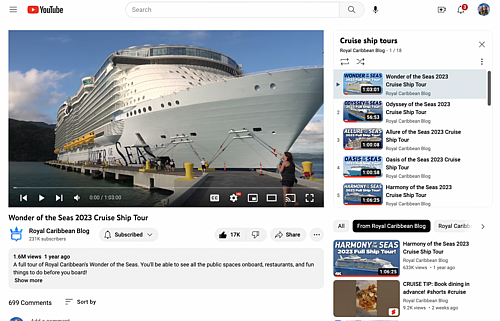 Reditor Koolaid_Jef gave the advice to watch a tour of your cruise ship on YouTube before you set sail, and this is one of the best ways to learn more about your cruise before embarkation day.
YouTube is full of detailed ship tours on every Royal Caribbean ship. These tours provide a walkthrough tour of your cruise ship while explaining helpful information about the dining venues, entertainment, and other amenities found onboard.
If there's just one thing you do during the cruise research process, make sure it's watching a tour of your ship. We have fifteen full ship tours on the Royal Caribbean Blog YouTube channel, each of which provides visuals of the ship and detailed commentary about everything to expect.
Bring a European power outlet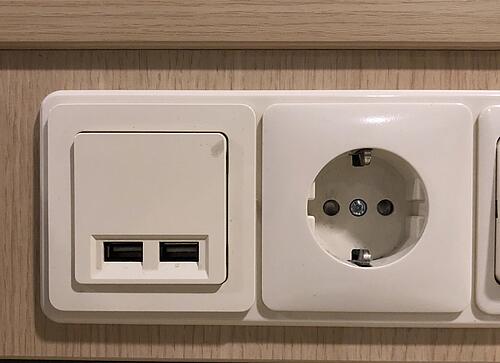 Cruise cabins, especially on older ships, have limited outlet space, and it can be challenging to charge all of your devices onboard. Reddit user Melvendestrange gave helpful advice for cruisers: take advantage of both the European (Type C) and North American (Type A) outlets in your cabin.
If you're from North America, bring your standard chargers, but also bring an outlet adapter for the European Type C outlets in your cabin. If you're from Europe, bring the opposite so you can utilize the Type A outlets in the cabin.
In addition to adapters, we also recommend bringing a USB outlet hub. This allows you to plug more chargers into the same outlet, which is helpful when cruising with a lot of electronics.
The coolest part of a cruise is meeting people
User Jumpinjamminjacks finds the coolest part of a cruise to be meeting other people onboard.
"Most people on the ship are friendly," they said. "Although there are a lot of people, you will keep seeing people. Smile and say hi; most people are trying to relax and have a good time."
Related: How to meet people on a cruise ship
We agree that meeting other passengers is always an interesting aspect of a Royal Caribbean cruise. Cruisers come from around the world—from Florida to Japan—and it's easy to strike up a conversation with other passengers.
You can join Facebook groups and forums for your upcoming sailing to meet other passengers before the cruise begins, or you can wait to meet other passengers once onboard.
Whether you chat with passengers at an onboard activity or on a shore excursion, you'll be surprised by just how easy it is to make new friends on a cruise.