In:
An Alaska cruise provides the opportunity to spot some of the state's remarkable wildlife. Luckily, the peak time to view Alaska's wildlife coincides with the cruise season.
From April to September, wildlife viewing opportunities are plentiful throughout the state. Whales, bears, otters, sea lions, eagles, and other marine and land animals can be spotted during your Alaska cruise.
The best time and place to view each animal depends on many factors including migration patterns, hibernation, and food sources. If viewing wildlife is important to you on an Alaska cruise, it's a good idea to know when and where you can view Alaska's wildlife best.
Bears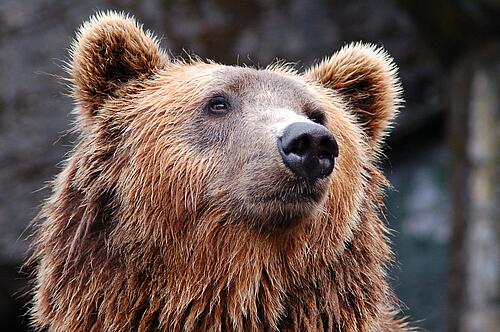 Alaska is home to more bears than any other state. Black bears, brown bears, and polar bears call Alaska home. While polar bears do not migrate far enough south to see while on a cruise, passengers may have the opportunity to spot black or brown bears.
The best time to see bears in Southeast Alaska is from July through early September. 
Each summer season, Alaska sees an influx of salmon swimming upstream to spawn. And where there are salmon, other types of wildlife are often present. Bears can most easily be spotted feeding on salmon nearby creeks and streams.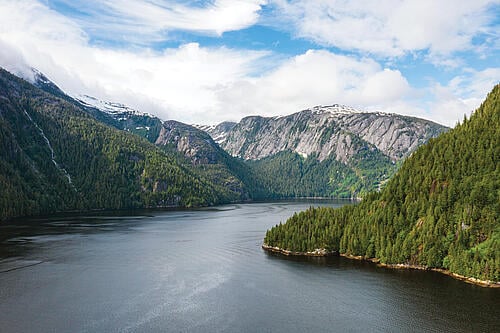 One of the best ways to see bears in Alaska is through one of Royal Caribbean's Cruise Tours. By going inland and touring destinations such as Denali National Park and Preserve, your chances of spotting grizzly bears and black bears are higher. Plus, you will have the opportunity to spot wildlife such as caribou, moose, and wolves as well.
On an Alaska cruise to Sitka, guests can book the "Best of Sitka" tour which goes to the Fortress of the Bear for wildlife viewing. This is a bear rescue center whose mission is to rescue bear cubs that are orphaned or sick and bring them back to health.
Visitors at Fortress of the Bear can get within 25 feet of Alaska's brown bears to observe the animals' behaviors and personalities.
There are more exclusive bear watching excursions available as well. Those with a high interest in seeing bears in their natural habitat can choose to visit Admiralty Island near Juneau.
Passengers will be taken to the island's wilderness via a float plane. Since the island is home to one of the highest density populations of brown bears and eagles in the world, wildlife is likely to be spotted.
Of course, those hiking in Alaska or exploring the outdoors without a guide should be extra vigilant and knowledgeable on bear safety.
Whales
The types of whales you are likely to spot on an Alaska cruise depends on the month of your sailing.
If you're sailing to Alaska in the peak summer months of June and July, you are more likely to spot humpback whales. An estimated 500 humpback whales call the Alaska Inside Passage home during the summer. 
While technically part of the dolphin family, many cruise passengers are eager to spot a killer whale in Alaska. The best time to see Killer whales on an Alaska cruise is in May and June. They are commonly found near Ketchikan, Juneau, and Seward.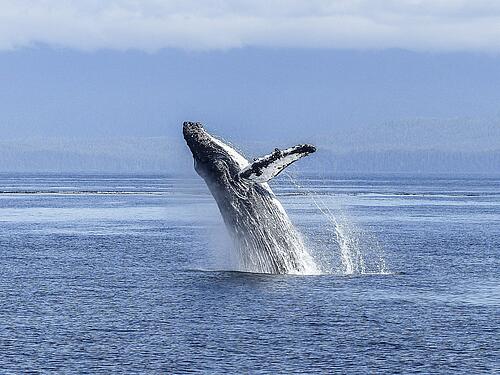 Grey whales are prevalent in southeast and southern Alaska in the late spring. Those with an Alaska cruise booked in April or early May are more likely to see these whales, as they begin migrating to the colder northern Alaska waters in late April.
Spotting a blue whale while on a cruise to Alaska is quite rare, but those lucky enough to see them will most likely be cruising during the late summer months of July and August. Blue whales tend to hang out in the open water as opposed to near the shoreline.
Sea Lions and Otters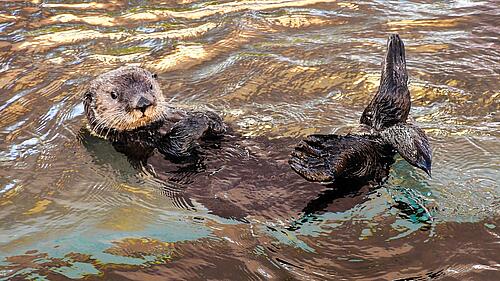 Steller sea lions do not migrate when the weather is frigid, so they can be spotted year-round in Alaska. The best time to see sea lions, though, is early in the spring until the end of July.
You can spot Steller sea lions throughout southeast Alaska, but it is recommended to take a wildlife tour excursion for the best chance of seeing these animals up close.
Both playful and adorable, sea otters can also be spotted on an Alaska cruise. Sea otters do not migrate long distances, so they can be spotted year-round in Alaska. The best place to find sea otters while on a cruise is in streams and creeks near the ocean. 
Eagles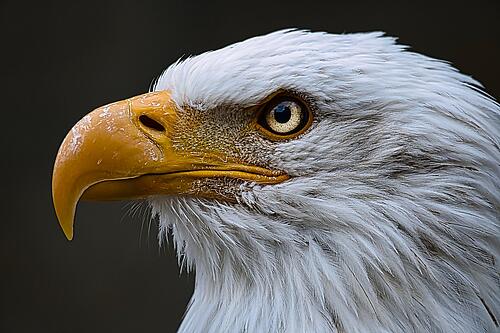 There are an estimated 100,000 bald eagles in the world, with around 30,000 calling Alaska home. A bald eagle is one of the most recognizable birds in the world, and many people are eager to spot an eagle during their Alaska cruise.
An eagle's diet consists mainly of fish, so the best place to spot an eagle is in the trees near a body of water. Luckily, an Alaska cruise means that you are nearly always surrounded by tall trees and water, so be sure to get out your binoculars.
You can spot eagles year-round in southeast Alaska, as the temperate rainforest provides an ideal habitat for the bird. They are most commonly seen during the salmon run in mid-summer, when they feed off the scraps of fish left by bears.
You may also wish to take an excursion to view eagles. The "Sitka Cultural Discovery and Alaska Raptor Center" brings guests to visit the Alaska Raptor Center, where injured eagles and other birds are rescued and rehabilitated.
Outside of eagles, there is no shortage of bird watching opportunities on an Alaska cruise. Southeast Alaska is a temperate rainforest, and with that comes hundreds of species of birds that migrate to and from the state each year. There are an estimated 470 species of birds in the state.
Tips for spotting wildlife in Alaska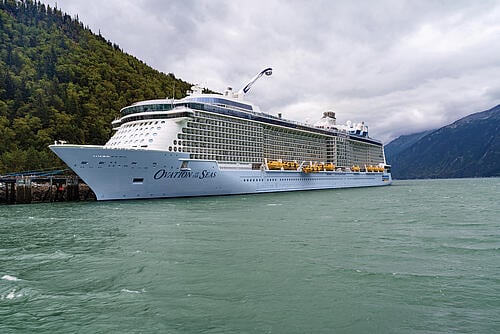 Wildlife can be found not only while exploring a port, but also at sea. Oftentimes, the captain will announce on the livespeaker when whales or other wildlife can be spotted from the ship. When this happens, expect a crowd of excited passengers to form on the outside decks hoping to catch a glimpse of the animals.
An important tip when hoping to view wildlife in Alaska is to remain flexible. Tour operators can never guarantee you will see a pod of orcas, humpback whales breaching, a grizzly bear eating salmon in the stream, or an eagle soaring through the trees.
Wildlife can be unpredictable, especially if you are cruising to Alaska in the shoulder season. However, you may also be surprised by how easy it can be to find wildlife, too.
Whether you're eating lunch on a sea day and the captain announces there are whales swimming alongside the ship, walking in Ketchikan and suddenly seeing otters playing in the stream, or traveling in a bus and passing an eagle in its nest, you never know when and where you will spot wildlife on an Alaska cruise.
The best tip we can give, though, is to pack binoculars with you on your Alaska cruise. Having the ability to view the animals "close-up" when you are technically far away will make your wildlife viewing experiences much more personal and exciting. 
Read more tips and information about cruises to Alaska: