In:
Preparing for a cruise to Alaska can seem a bit overwhelming. Whether selecting a ship or planning your time in port, you don't want to miss out on all of the outdoor and cultural activities Alaska has to offer.
It's best to research what activities fit within your interest, fitness level, and budget. Some passengers may want to view as much wildlife as possible whereas others may be looking to learn more about Alaska's history and culture.
Here's a look at some of the best things to do on an Alaskan cruise.
What to do in port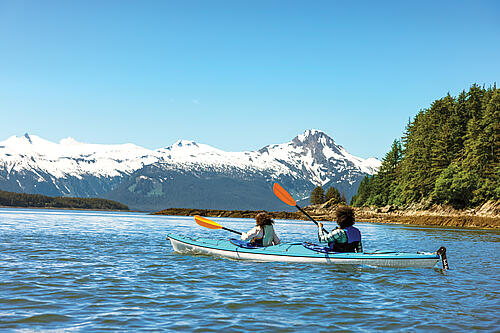 Explore nature
Alaska's nature is colossal. As the biggest state in the US, it can be difficult to comprehend just how vast the nature in Alaska really is. If you're hoping to explore the outdoors, there are excursions to fit any interest and fitness level.
In the warmer months, consider a Bike and Brew tour in Juneau, where you will bike along a series of trails through the Mendenhall Valley and Tongass National Forest with a visit to Mendenhall Glacier. And, just as the name implies, these bike tours end with a stop at a brewery in downtown Juneau.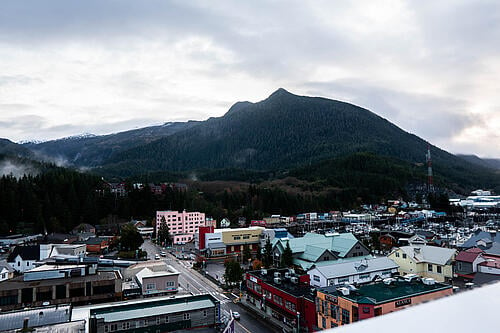 If you like hiking, check out what day hikes are available in port. Ketchikan, as an example, has several hiking trails of various difficulty. If you're up for a challenge, push yourself to reach the top of Deer Mountain. With three thousand feet of elevation change over seven miles, it is certainly not easy, but you'll be rewarded with panoramic views of Alaska in every direction.
There are plenty of ways to explore Alaska's nature without breaking a sweat, though. After all, most excursions and activities focus on exploring the outdoors. For something relaxing and scenic, book a ticket on the White Pass & Yukon Railway in Skagway. This is a train ride that travels from Skagway into the mountains, passing through dense pine forests, waterfalls, and snowy mountain clearings.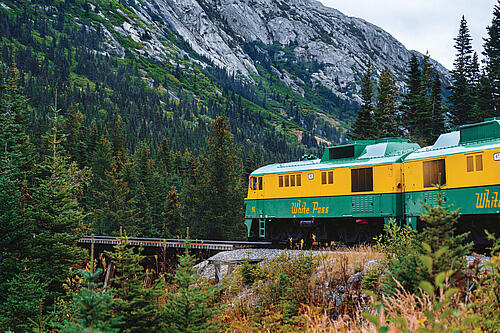 Another less strenuous outdoor adventure is a whale watching tour. Whales are commonly spotted in Alaska's southeast coast during the summer months. While you may be able to spot whales from the cruise ship, booking a whale watching tour allows you to get up close and personal with these magnificent sea creatures.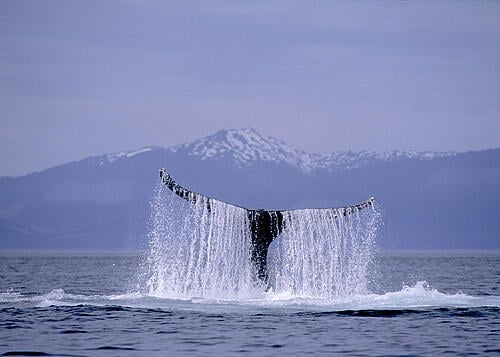 A helpful tip when looking for a shore excursion is to filter by "Activity Level" on Royal Caribbean's Cruise Planner website. You can filter excursions by mild, moderate, and strenuous. This can be helpful to ensure an excursion fits within the fitness capabilities of yourself or your group.
Grab a drink at a saloon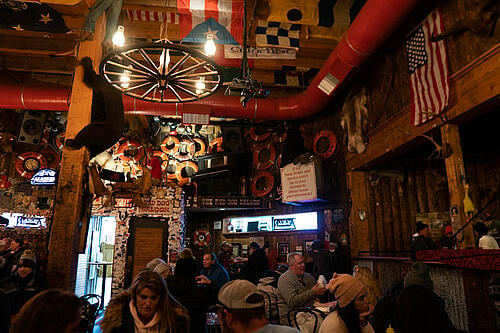 Whereas the Caribbean has tiki bars, Alaska has saloons. In many Alaskan ports you will find a historic or western-themed saloon. These establishments can be a great place to eat and drink after a shore excursion or relax in before heading back to the ship.
A popular spot to visit in Juneau is the Red Dog Saloon. The saloon was established in the height of the city's mining era and has been recognized as Juneau's oldest man-made tourist destination. Walking into the saloon is like walking back in time to the early 1900s. The establishment is eclectic, with frontier-themed decor as well as some more funky decor such as a collection of dollar bills and business cards posted on the walls.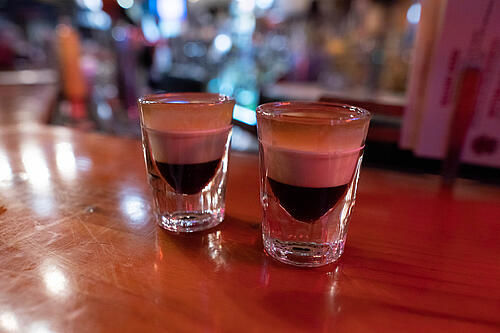 The saloon offers very reasonably priced drinks as well as standard American and Alaskan fare. Make sure to try some of the saloon's special drinks, such as the Alaskan Duck Fart shot and draft root beer. Or cozy up with a warm Irish coffee as you listen to live music from a local guitarist.
Luckily, the Red Dog Saloon is located only a few blocks away from the ship, so if you happen to have a few too many drinks, it won't take very long to get back onboard.
Consider a land tour before or after your cruise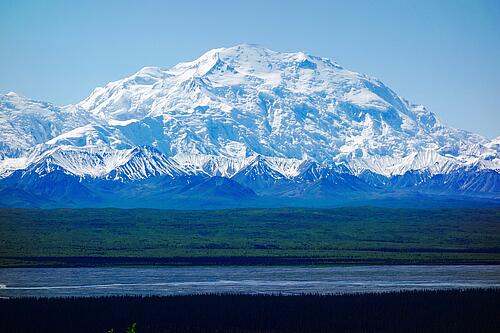 Cruises to Alaska primarily visit the state's southeast region. Many of Alaska's most iconic landmarks, such as Denali National Park, are located further inland and inaccessible by a cruise ship.
Royal Caribbean recognizes that many passengers want to visit Alaska's inland destinations. Thus, they offer Alaska Cruise Tours.
Alaska Cruise Tours are a combination of a one way cruise and a land tour of Alaska. Both pre and post-cruise tours are available, meaning that you can decide to fly one-way to Alaska, do a land tour, and take a cruise back to Seattle or Vancouver, or do it the other way around. Land tours range from an extra 2-5 nights on land in addition to your time on a cruise ship.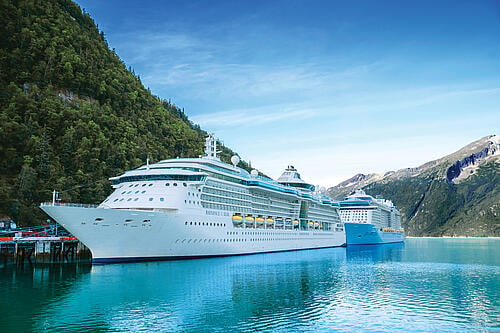 Land tours offer a mix of guided tours and independent exploring. All accommodation and transportation is organized by Royal Caribbean, making your time on land worry free. Activities and excursions on a land tour may include boarding the Wilderness Express scenic train ride to Denali, cruising the Chena River in Fairbanks, and enjoying a scenic ride on the Turnagain Arm Drive near Seward.
What to do at sea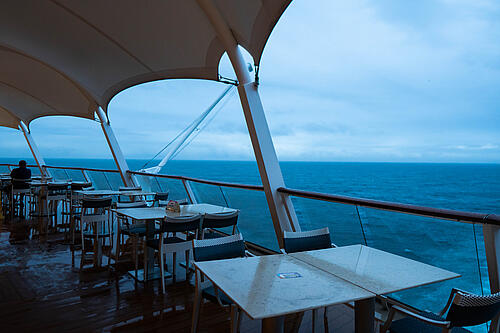 View the scenery from public areas
Many cruises to Alaska offer a few hours of sightseeing in destinations like Hubbard Glacier and Endicott Arm & Dawes Glacier. On these days, the ship reaches a glacier and slows down, traveling along the glacier and turning the ship 360 degrees to ensure that passengers will get a chance to view the scenery from anywhere onboard.
Many passengers will opt to view the scenery from the comfort of their balconies, but this is not necessarily the best spot to do so.
Balconies usually only face one direction. If the ship is sailing past Hubbard Glacier, you will spend a significant amount of time there facing the opposite direction of the glacier from your balcony.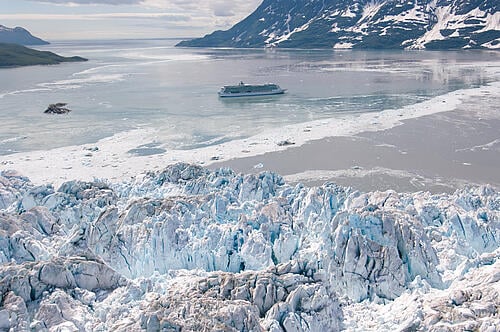 Viewing the glacier from a public area onboard, such as the pool deck, allows you to keep your eye on the scenery the entire time the ship is there. The glacier is on the ship's starboard side? Simply walk over to that side of the pool deck. Now the best view is from the aft? Take a short stroll to the back of the ship.
A recommendation, especially if you do not have a balcony room, is to scope out the ship's best areas for viewing the scenery when you get onboard. You may find a few "secret" areas, like the Solarium bridge wings or the outdoor seating area at the Windjammer, that offer fantastic views with fewer crowds.
Do nothing!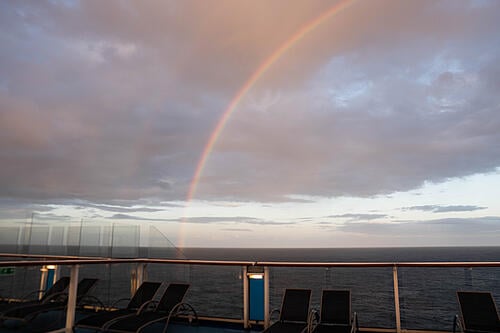 Funny enough, even though this article is about the best things to do on an Alaskan cruise, some of the most memorable moments onboard will be when you are doing nothing except relaxing and looking at the scenery around you.
A cruise to Alaska is less about the activities offered on a specific ship and more about the destination. Royal Caribbean takes very scenic routes through Alaska's inside passage, meaning that a day "at sea" can also mean a day of sightseeing.
While some Royal Caribbean ships traveling to Alaska will offer more activities onboard than others, don't let this be a deciding factor in which ship you choose. You may find that you spend less time doing activities indoors, anyway, and more time relaxing with a great view.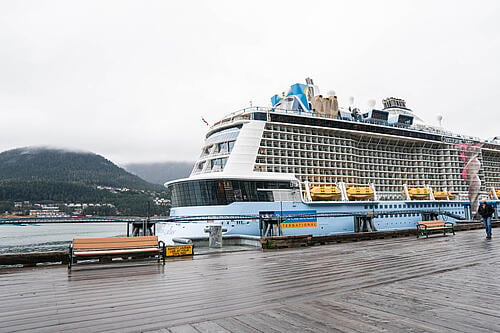 On the whole, an Alaskan cruise offers activities that fit various budgets and interests. And while the "best thing to do" on an Alaskan cruise might be relative, these options can be a great starting point for planning your trip.
If you're looking for more inspiration on what to do on an Alaskan cruise, read our live blogs from Alaska on Explorer of the Seas and Ovation of the Seas for more ideas. In addition, don't forget to check out our full ship tour of Ovation of the Seas if you will be sailing her to Alaska next summer.
Read more