In:
Alaska is an incredible destination that has just a few months in which you can take a cruise there during the short summer season.
The Alaska cruise season runs between May and September, which happen to be the most temperate times of the year in the 49th state. 
The spring and summer months are when nearly all cruise ships visit each year. You'll find many hours of daylight in the summer with long days.
It is hard to top the majestic beauty of rugged glaciers, plethora of unique animal sightings, or huge mountains. Going on a cruise to Alaska is an extremely popular kind of cruise, because it offers an easy way to see so much in a compact amount of time.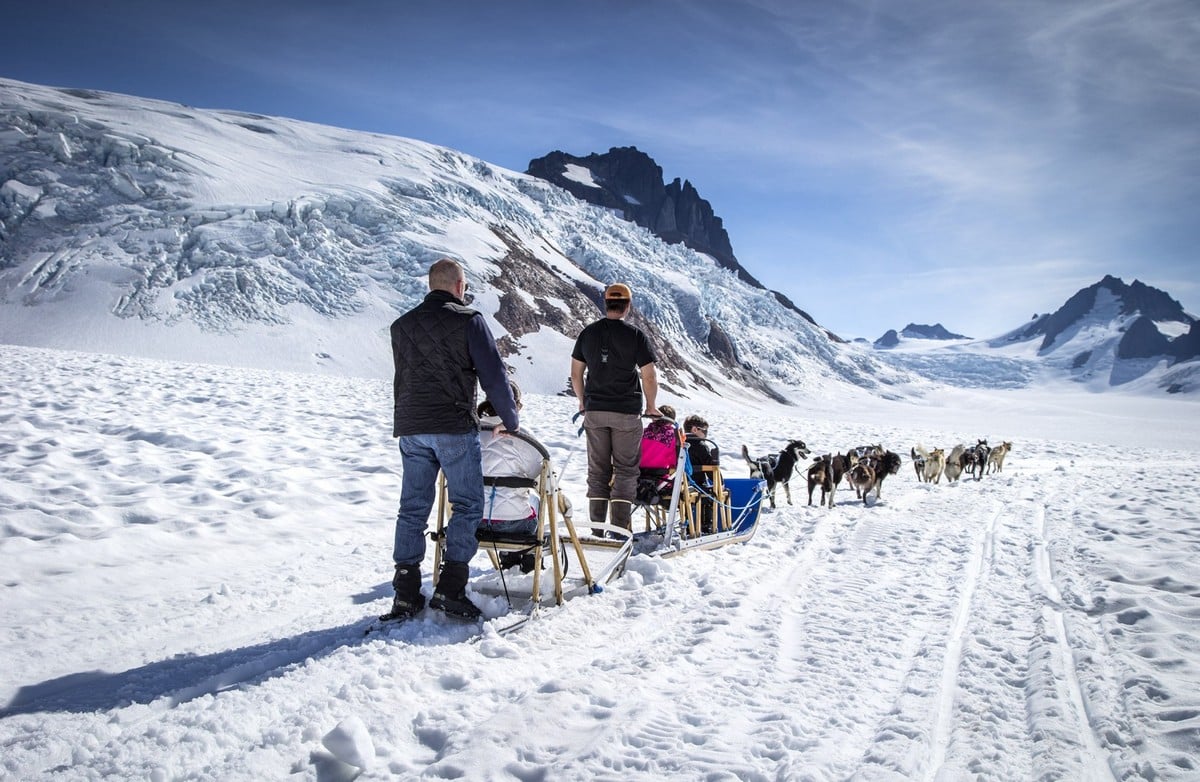 Royal Caribbean also sails to Alaska in early May and into late September or even October, where you can find some great deals.
While it is impossible to see and do it all over the course of a one week cruise, Alaska has the power to enchant even brief visitors.  So while you are stuck at home, this may be the perfect time to start planning a cruise to The Last Frontier.
There are advantages of cruising in each of the summer months, including when prices will be higher or lower.
Here is your guide for figuring out the best times to visit for your first (or 50th) Alaska cruise.
The best time to cruise to Alaska if you want to avoid crowds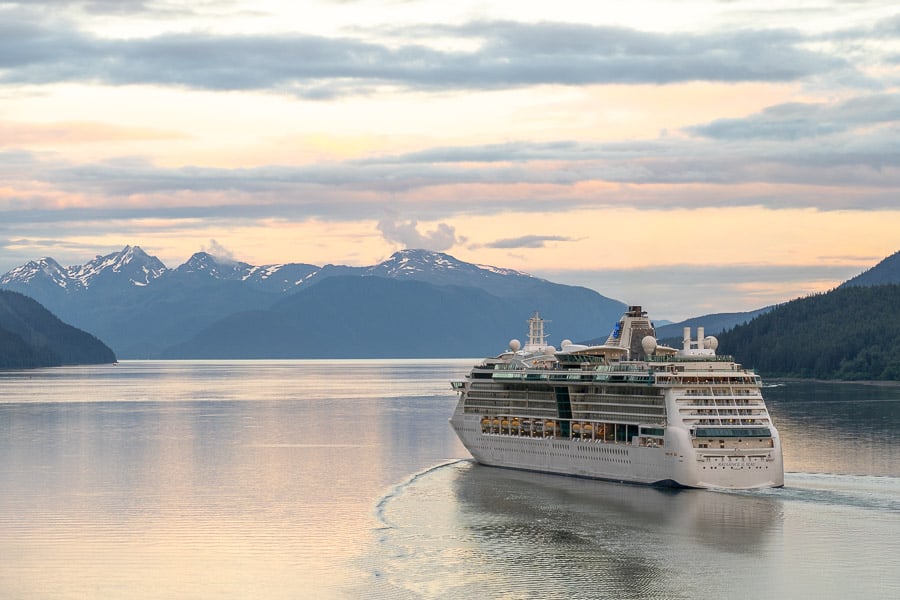 There are definite ebbs and flows to demand and crowds in the ports you will visit depending on which month you sail.
If you are looking for the months with the lowest crowds in Alaska, try for May or September.  These are the "shoulder season" months, which is when the season begins and ends, and is when you will find less people vying for a cruise. 
Moreover, going during May or September is also when most kids are still in school, which means families are unable to cruise during this period.
The downside to these months is the weather tends to be the most unpredictable, and that can be an issue with possibly impacting your shore excursions.  Most notably helicopter and boat excursions are the most at risk for cancellation.
Since Alaska cruises are so dependent on outdoor activities, your best chance for sunny days can be opposite of when the best time for crowds are each season.
Read more: What is the best month to cruise to Alaska?
The best time to cruise to Alaska for good weather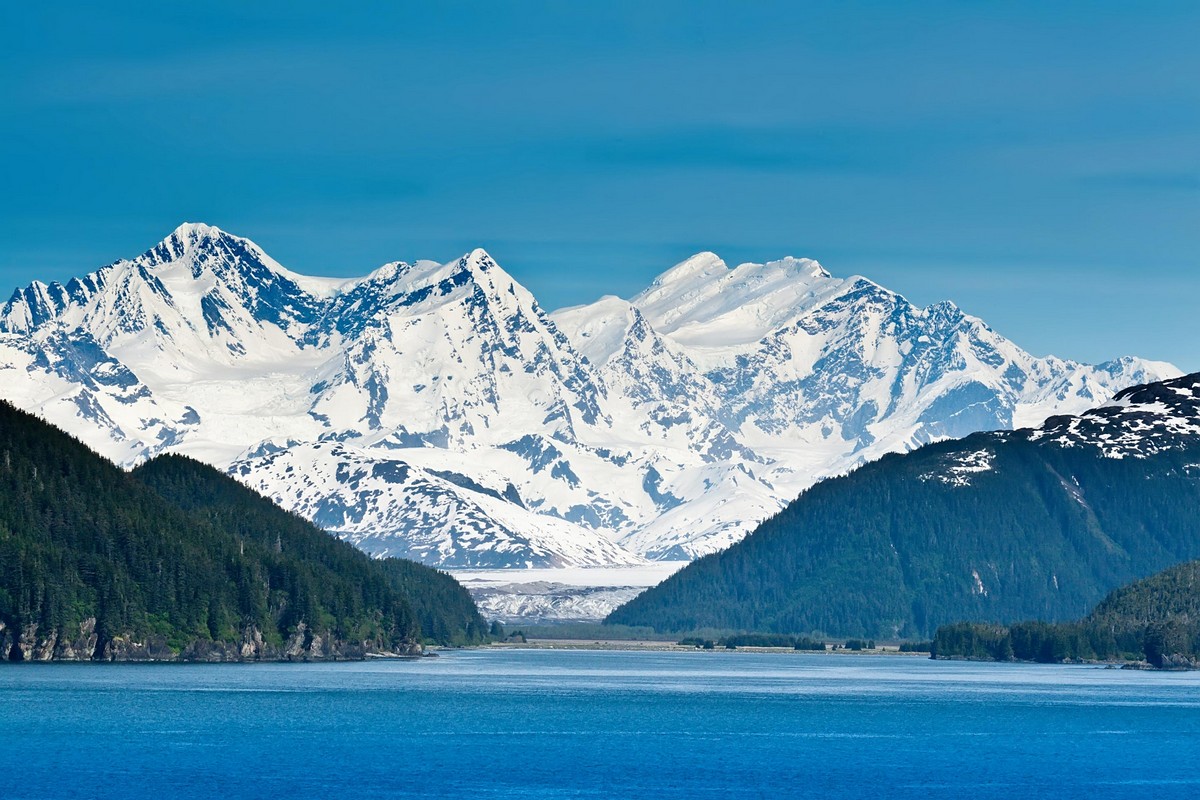 The weather in Alaska can, and will, change multiple times per day, but you will find the warmest months to be June, July and August.
The median months will see higher temperatures and longer days for touring, and it represents the limited summer that Alaska enjoys. However, July and August tend to also have higher levels of precipitation.
Here's a look at the average temperatures in Southeast Alaska:
May: average high 54 degrees and average low is 39 degrees
June: average high 62 degrees and average low is 47degrees
July: average high 65 degrees and average low is 51 degrees
August: average high 63 degrees and average low is 48 degrees
September: average high 55 degrees and average low is 41 degrees
If you do book a cruise during summer, be sure to plan your shore excursions well in advance to avoid tours selling out.
If you are willing to trade warmth for less precipitation, then go for May. In fact, the end of May and early June offers some of the best weather in the region throughout the year.
If you want to see snow on the ground, April or early May is the best month for that.
Most cruise passengers tend to avoid the early season because of the school calendar and cooler weather.  By going in the summer months, many people get to enjoy Alaska when things are in full swing and of course the warmer weather.
Read more: Comparing the Royal Caribbean ships sailing in Alaska 2022
The best time to cruise to Alaska for low prices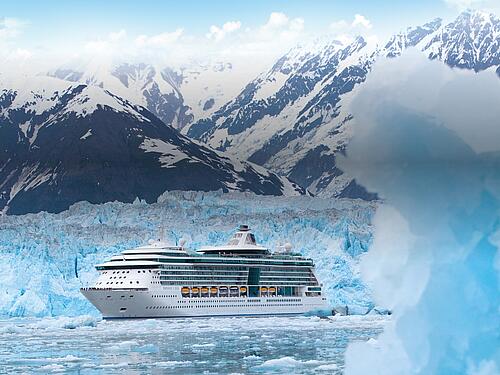 Alaska is not a cheap cruise, but if you want to save money on your cruise fare, then your best bet is May or September.
For the same reasons May and September feature lower crowds, these months see most often the lowest prices for a cruise because of the combination of colder temperatures and the school calendar.
Read more: What is the cheapest month to go on a cruise?
The best time to see the Northern Lights on an Alaska cruise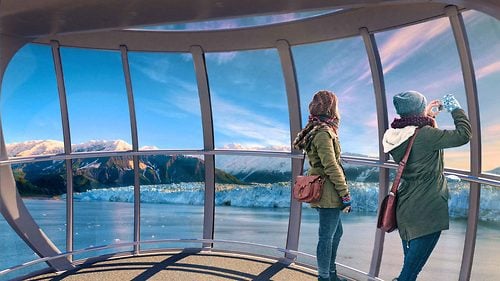 Few places allow for viewing of the aurora borealis, and the best time see the Northern Lights is in September.
September is the time of year when the sun sets earlier during the cruise season, which means the sky gets darker and makes for the most ideal viewing conditions.
Of course, temperatures during September will be lower than other times of the year, but the opportunity to see the Northern Lights is a real treat.
As mentioned in this article, not only does September provide the opportunity to see the Northern Lights, but you will also enjoy less crowds and likely lower prices on a cruise.
Read more: Top 10 tips for planning your Alaska cruise
The best time to cruise to Alaska to see wildlife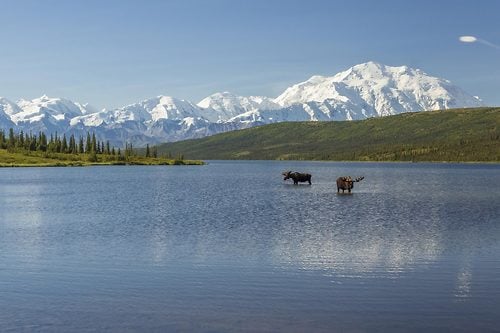 You will see plenty of wildlife during your Alaska cruise throughout the cruise season, including whale watching, sea lions, bears, & birds.
The best months to catch a glimpse of the amazing fauna that call Alaska home are the months of June and July. 
Moose: Moose give birth around June.
Caribou: June is the best month to see herds of caribou
Humpback Whales:  June and July is when the humpback whales migrate through Alaska's Inside Passage.
Black bears: Spring is ideal because the new vegetation lures back in sheep, mountain goats and black bears. July is also good because that is when salmon runs start to get busy.
Brown bears: July and August are when you will have a better chance to see brown bears since they are near rivers and streams.
King Salmon: King salmon runs start in late May.
Bird watching: June is when you have a good chance to see unusual birds migrating.
Bald eagles: You'll find eagles throughout the season, but August is a great time since they are found near the sockeye salmon spawning locations.
Killer Whales:  Your best chance at seeing Orcas is from May to the beginning of June.
Read more: What Is an Alaska Inside Passage Cruise?
Which month should I book my Alaska cruise?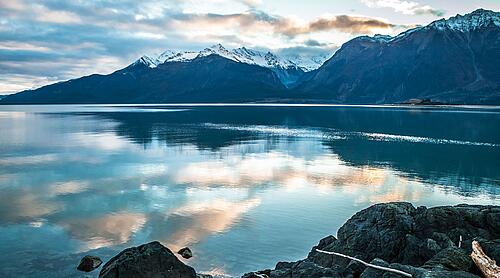 Ultimately, there is no perfect time to sail to Alaska, as each month offers its own advantages and disadvantages, and choosing when to cruise to Alaska comes down to your preferences.
If you prefer fewer crowds and lower pricing…
If a cruise with fewer crowds is important to you, it might be a good idea to avoid Alaska cruises in June, July, and August. Not only will there likely be more guests onboard during the summer, but in the ports you are visiting as well. If you are looking for a more quiet experience onboard and on shore, consider cruising to Alaska in May or September.
Plus, as prices are cheaper in the shoulder season, it can be an excellent opportunity to upgrade your stateroom category or splurge on add-ons like excursions, dining packages, or beverage packages.
A suite that costs $2000 per person in May may cost upwards of $3300 per person in mid-July. Such a large price difference allows you to enhance your Alaska cruise experience in other ways, whether booking a once-in-a-lifetime helicopter tour or kayaking through fjords.
However, it's not necessarily a good idea to pick a cruise based solely on price. While price should definitely be a consideration, it's important to consider other factors before choosing an Alaska cruise.
If you want the best weather…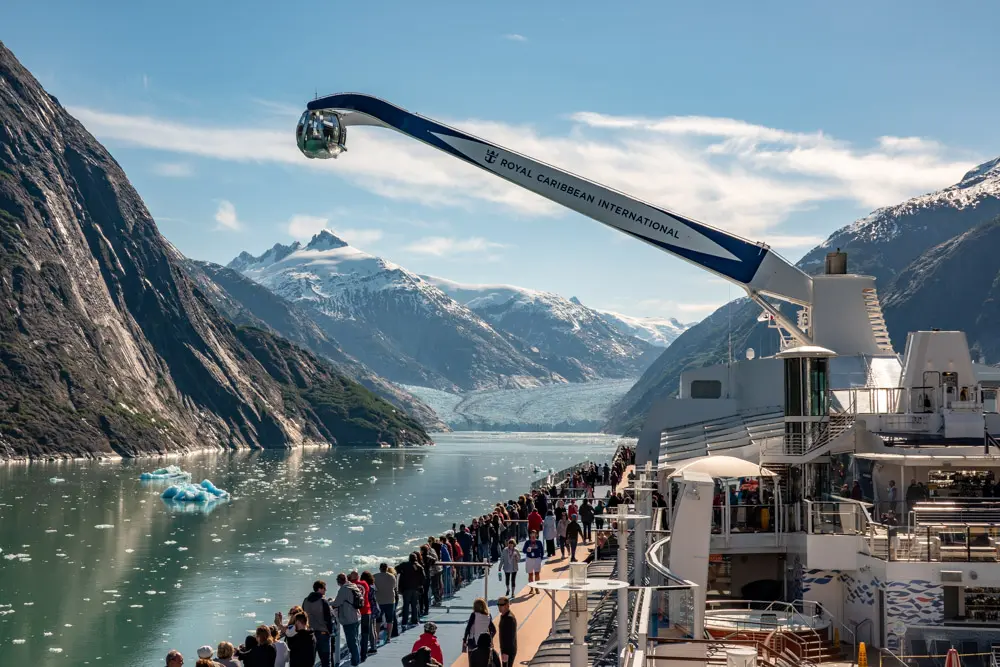 If having the highest chance of warm temperatures and sunny days is important to you, cruising to Alaska in the peak summer months is your best bet.
Weather can get fairly warm in June, July, and August, which can make port days more comfortable. It's not uncommon for the weather to be nice enough for t-shirts in the summer as opposed to the raincoats and down jackets you may have to wear in early spring or fall.
That being said, while the shoulder season in Alaska may lead to cooler temperatures and more rain, packing appropriately will keep you dry and warm when exploring Alaska's ports.
Additionally, June, July, and August may come with more crowds, but offer several more hours of daylight compared to in the fall. This can be a huge advantage for Alaska cruises in the summer.
More hours of daylight on an Alaska cruise means more time to sightsee, whether in port or when sailing through the Inside Passage. Juneau, for example, sees around 18 hours of daylight in June compared to just 12 in September.
If you're hoping to spot wildlife…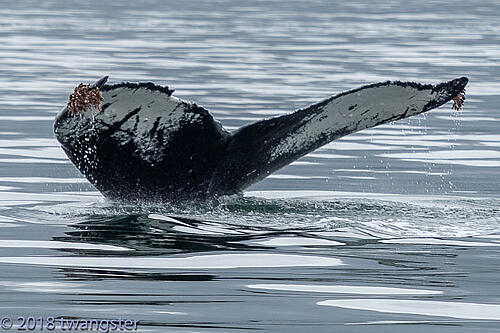 If spotting wildlife is a priority for you on an Alaska cruise, pick your sailing date carefully. June, July, and August are fantastic times to cruise Alaska to view wildlife, as these months bring the highest chances of spotting whales, bears, and salmon.
If you plan to book a whale watching excursion or want to see bears, you may be left disappointed if you cruise to Alaska at the very end of the season.
Nothing is guaranteed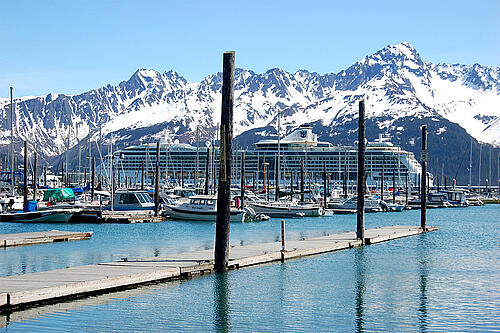 No matter how much planning you do before selecting your cruise dates, it's very important to remember that nothing is guaranteed on an Alaska cruise. Sure, it may be more common to view Alaska's wildlife in the peak of summer, but it's also possible you'll see little to no wildlife at all on your cruise, or that you will see a plethora of wildlife in the shoulder season!
Likewise, while weather should be colder during the shoulder seasons of May and September, Alaska's weather is quite unpredictable. You might be surprised with warm days in September or chilly, rainy days in July! Packing for all seasons is a must when cruising to Alaska.
In addition, sailing in the shoulder season does not necessarily mean there won't be crowds onboard. While it's possible the ship will not be sailing at 100% capacity, it's unlikely you will encounter an empty ship. Plus, Royal Caribbean will adjust prices according to demand, so if a shoulder season cruise is not selling well, prices may drop until more people book the cruise.
Whatever month you choose for your Alaska cruise, though, is sure to bring the opportunity to visit charming towns, explore phenomenal nature, and make memories with family and friends. There's no right or wrong time to cruise to Alaska, but having an idea of the pros and cons of each season should help decide which time of year works best for you.
Read more on when to cruise to Alaska:
What it's like to go on an Alaska cruise in the early season
What it's like to go on an Alaska cruise at the end of the season