In:
You booked a Royal Caribbean cruise and now you want to figure out what you are going to do at the ports your ship will be visiting.
Where do you start?
Shore excursions are a major part of any Royal Caribbean cruise because a large part of your overall vacation is exploring the ports of call you will visit.  You have just a few hours at each stop, but it should be enough to get a taste of the city you are visiting.
The concern many guests have is figuring out what the options are to choose from and which ones are a good idea and which are a mistake.
The way to be assured that you have the most options and pick the right one for you, is to do your research ahead of time.  
Many of your fellow passengers will not do much, if any, research and will rely purely on the information Royal Caribbean provides them.  In fact, most will wait to get onboard the ship and then book something.
Besides risking a poor decision, they are also wasting time on their cruise from doing fun activities.
Let's explore what you need to know so that you can research your ports properly and make all of your reservations in advance, leaving you with more time onboard your ship to do what you really want to be doing.
Learn the basics about the ports
Before you even look at one shore excursion, you should research what each port is best known for.
Typically, the individual ports you visit are best known for something and there can be a few activities that stand out among the rest.
Depending on your itinerary, you may even know what each port is known for ahead of time, such as major cites like Boston, Rome, Barcelona, or Venice.
Start off with a list of the ports you will be visiting.  
The port you start and end your cruise with is a very important place because you may end up spending the most time of any ports here.  I recommend folks arrive to their embarkation port at least one day in advance to avoid travel delays impacting your ability to get to your Royal Caribbean cruise.  
Some people will tack on extra days beyond that on the beginning or end of the cruise, so you will find that you may be spending a lot of time in your embarkation/disembarkation port.  The most important factor can be aspects like an affordable hotel, dining and transportation to/from the ship.
For your embarkation port as well as the rest of the ports you are visiting, start off with some light reading.  I recommend doing an internet search for each city and learning about its significance.  
Wikipedia articles are often good starting points, because they will quickly get to why the port you are going to is frequented and some of the major attractions.
The goal of this step is to understand if you are visiting somewhere that is known for its beaches, or for its history, or for its culture, or for something else.  
Just because a port is known for its beaches does not mean you cannot take a tour of ancient ruins or go shopping, but you want to make sure you are not missing a big draw.  A good example would be going to Civitavecchia, Italy and not knowing that Rome is a quick drive from there.
Read more: 5 quick and easy tips for finding a great shore excursion on your own
Understanding the difference the two kinds of shore excursions
Before you look at one shore excursion, it is important to know about some fundamental differences between shore excursions.
At a very basic level, there are two kinds of shore excursions: shore excursions offered by Royal Caribbean and shore excursions offered by third parties.
Royal Caribbean shore excursions
Royal Caribbean shore excursions are sold directly by Royal Caribbean to its guests, and they are group activities managed by local companies in each port that Royal Caribbean has vetted and will stand by.  
Royal Caribbean also guarantees if you take one of its shore excursions, they will ensure you do not miss the ship if you are delayed on the excursion.  Even if the ship is slated to leave, the ship will wait for your group to return or provide transportation for your group to meet up with the ship at the next port.
Furthermore, if your ship cannot dock at a port for any reason, any shore excursions you booked with Royal Caribbean directly will be completely refunded.
The price of Royal Caribbean shore excursions are set in stone and are not negotiable.  The full cost of the shore excursion will be due upon booking and if you were to book a Royal Caribbean shore excursion onboard your ship, you could use onboard credit to pay for it.
The price of a shore excursion will be no less expensive if you pre-purchase it online.  In many cases, shore excursions are more expensive on the ship than compared to buying it online before the cruise. Not to mention pre-purchasing before you get to the ship will guard against the tour being sold out.
Royal Caribbean shore excursion pros
Easy to find and learn about
Guaranteed return to your ship
Fully refundable if your ship skips a port
Royal Caribbean shore excursion cons
Tends to be more expensive than third party shore excursions
Group tours, which means tour will move at the slowest person in the group's pace
Limited offerings
Read more: What to do if Royal Caribbean's shore excursions are sold out
Third party shore excursions
Third party shore excursions are essentially any tour or activity you do on your own that is not sold to you by Royal Caribbean.  This can be a group tour or an individual tour.  It can even be you taking a taxi somewhere and doing something on your own.
With third party shore excursions, you are responsible for planning all aspects of the tour, so you will have to find a company or person, negotiate the rate and then find them in port and ensure you return on time.
The policies of what happens if your ship cannot dock at the port and refunds can vary from tour guide to tour guide.  Many will offer a refund policy if your ship cannot dock, but it is something else to consider.
Prices for third party shore excursions can sometimes be negotiated, depending on the excursion and the guide.  Some excursions will require full payment at the time of booking, but many will require just a deposit to hold your spot, with full payment prior to the excursion beginning.
Third party excursions are far less limited than what Royal Caribbean offers, and you can price shop among many competing companies to find the one for you.  
Third party shore excursion pros
Far greater variety of choices
Tends to be less expensive than Royal Caribbean shore excursions
Possibility for personalization and be more efficient with your time
Third party shore excursion cons
You are responsible for getting back to the ship on time
Requires more leg work to learn about them all
You must handle any financial dealings, including cancelations.
Start with Royal Caribbean's shore excursions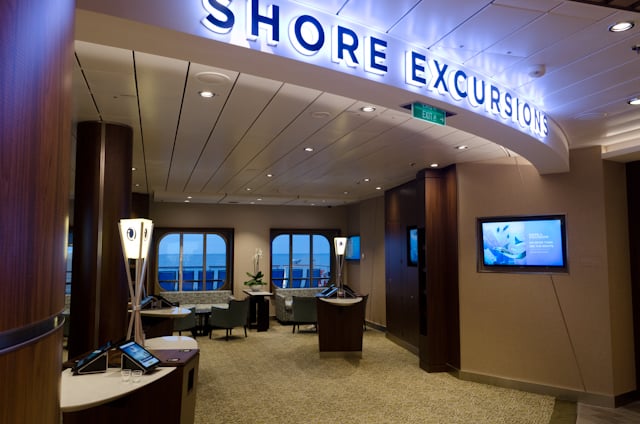 Royal Caribbean's shore excursions are a good starting point because they are simple to find and will give you a basis to compare other options later.
To find all of the shore excursions for your cruise, it is best to register your cruise on Royal Caribbean's My Cruises section and then visit the Cruise Planner.
Shore excursions are divided up by the port you are visiting and then further categorized by the type of activity (culture, culinary, family, sightseeing, etc).
Go through each port and look at the various options to choose from.  
In addition of deciding if any of these excursions look appealing, you should be considering the following aspects of each shore excursion
Cost (adult vs child)
Duration (a few hours, half day, full day)
Physical and age limitations
Be sure to read the descriptions of any shore excursions that sound interesting for all the aspects of the excursion. Often a main activity is accompanied with smaller activities, such as a zip line adventure also including a beach break and lunch.
How to find third party shore excursions
Whereas Royal Caribbean's shore excursions are nicely laid out for you, third party excursions require some leg work to discover.
Between your initial port research and looking at Royal Caribbean's shore excursions, you probably have a good idea of what each port offers but there is plenty more to discover.  There are two resources I always go to when I want to find shore excursion ideas.
TripAdvisor
TripAdvisor is a user submitted review site that has lists for hotels, activities, restaurants and more.  I find it to be a really good means of discovering popular activities as well as activities that float under the radar.
For each port, do an internet search for the port name and TripAdvisor.  If you are visiting Cozumel, then you would search for "Cozumel TripAdvisor".  The first result back should be TripAdvisor's page on Cozumel.  Going about it this way is faster and simpler than navigating TripAdvisor's site.
Click around and look at the activities mentioned.  You may find beaches, buildings, restaurants and other cultural spots listed, with reviews and photos from other people that have been there.
Read the reviews for insight into what the activity offers and what the people that left reviews liked and did not like about it.
In most cases, you will not find a vendor here, but you will discover the places you want to visit.
Message boards
Next, visit the RoyalCaribbeanBlog message boards for excursion ideas and recommendations.
Message boards are a little tricky to browse, but they are a wealth of knowledge.  What is great about this message board is you will not only find a list of things to do, but the activities here are focused on what cruise passengers will be interested in and often there are recommendations for which guides or companies to work with.
Read through the various forums for each port you will be visiting and read what others have to say.  You might even be inclined to sign up for the message boards and post your own question to get a more personalized answer.  
Like TripAdvisor, your goal is to narrow down what activities you want to do while in each port based on others advice as well as descriptions and photos you run across.
If you find individual companies at this stage, that's great but if you still have not found someone to work with yet, don't worry. The next step will take care of that.
Search for what you want to do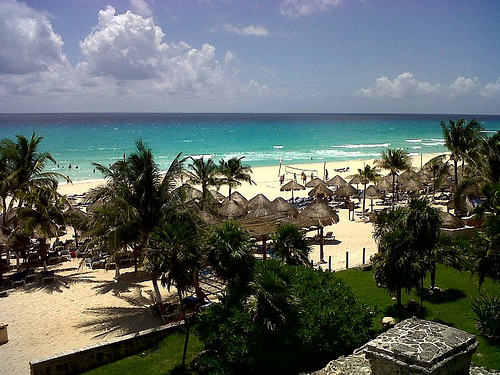 By this point you should have a really good idea of what you want to do in each port.  Maybe you know you want to spend the day at a particular beach or you really want to get a tour of a city's major historical landmarks.
For each port and activity, go to your favorite internet search engine and do a search for the port name and the activity.  Here are some examples
Cozumel beaches
New York landmark tour
St Thomas guided tour
You should find a lot of listings for the kind of tours you are looking for.  If your search is coming back with too many results or they are too vague, try adding more keywords to specify exactly what you want.
Cozumel Paradise Beach
New York midtown tour bus
St Thomas private tour
For each tour operator you find that looks promising, consider sending them an email or calling and asking some basic questions.
Is the price the same for adults and kids/infants?
What happens if our ship cannot dock in the port?
What is your cancelation policy?
Would you be willing to accept $____ instead?
Ask as many questions as you want and also consider asking for more a more personalized experience.  The worst they will say is no, but often these people and companies want your business quite a bit and will work with you.
Make the decision
At this point, you have a pretty good idea of what each port offers, the prices and options available to you and expectations for the excursions.
Booking the excursion for you and your group is now a matter of weighing the pros and cons of booking with Royal Caribbean or not, as well as between individual excursions in each port.
Decisions such as, to book with Royal Caribbean or not, or which tour sounds the most interesting will vary from person to person and port to port.
By engaging in the steps listed in this post, you should have a good understanding of what each port offers, which activities are of interest to you and the right price.
Although this may further complicate the decision, it is important to note that there is always a third choice in any of the ports of forgoing an organized tour all together and exploring the port on your own.
Many ports are conducive for walking off the ship, taking a taxi and exploring the port on your own.  
In the end, the decision can come down to price and one's comfort level with booking on their own versus Royal Caribbean.
You do not have to make a decision right away, but the longer you wait, the greater the risk of the shore excursion you want filling up.  This is especially true with Royal Caribbean shore excursions.
You should treat each port individually and not be concerned with if you book something on your own or go with Royal Caribbean across all ports. 
With this information, you should have the tools to make an informed decision and pick a great shore excursion before you set foot on your ship, leaving you more time onboard to enjoy the cruise.
Common shore excursion questions
Can you get off a cruise ship without an excursion?
Yes, in almost every port of call, you can walk off the ship with no tour or excursion booked and walk around on your own.
Depending on the port, there may or may not be much to see or do near where the ship docks.
Most ports have at least a few shops, bars, or restaurants near where the ship docks. These are usually not authentic offerings, but you cannot deny the convenience of having them so close to the ship.
Some people will walk to a downtown area, or take a taxi as well.
What are the different categories of shore excursions offered?
There are a few common types of shore excursions:
Accessible Shore Excursions
Active Adventures
Culinary
Culture
Destination Highlights
Family Friendly
Sustainable Tours
Accessible excursions are tours that are designed for parties that have wheelchair accessibility needs.
An active shore excursion refers to a tour that centers around physical activities, such as swimming, paddling, hiking, or something else requiring physical effort.
How much exertion is required truly depends on the tour, but these are not tours that are passive where the passengers take a bus tour of the area.
Culinary tours center the experience around food or drinks, usually the sort of eats the port you are visiting is known for.
Culture tours tend to highlight the historical sites and people of the country.
A destination highlight excursion will take you to the major tourist attractions your port is known for.
Family friendly tours ensure the tour is appropriate for children of all ages, which avoids any experiences that may have a height or age restriction.
Sustainable tours are certified excursions that are not hindering the local environment in anyway.
Are shore excursions cheaper on the ship?
No, shore excursions will not be any cheaper if you wait to book it onboard. In fact, it may cost more.
Royal Caribbean regularly discounts its shore excursions before the cruise on its website. So booking a tour online before the cruise will cost you nothing more.
How far in advance can you book excursions on Royal Caribbean?
Royal Caribbean will usually begin loading in shore excursions for booking up to 8-10 months before your cruise.
There is no set timeline for all sailings to expect shore excursions to be added, but you can start to look for tours once you are less than a year from your sail date.
You'll be able to book a tour up to 48 hours before your cruise begins via the Royal Caribbean website.
How much do you tip a cruise excursion guide?
It is customary to tip your excursion guide at the conclusion of the tour, but the exact amount will depend on your experience.
Tipping the driver of your vehicle is also common.
How much to tip depends on what you are comfortable with, but usually tipping per person in your group is a good plan.
More information
Do you book shore excursions through Royal Caribbean or on your own? What shore excursion research benefited you the most? Share your thoughts in the comments!