In:
Sailing to Roatan on a cruise means you are very likely in the market for a shore excursion that brings you to one of the beautiful beaches that this island in Honduras is well known for.  If a beach day, combined with optional pool time and all the food and drink you can enjoy sound like the winning combination to you, then the Mayan Princess Resort Beach Break might just be the right choice for you.
Description
The Mayan Princess Resort Beach Break is a Royal Caribbean shore excursion that will bring you to an upscale beach resort about a half an hour away by bus from where your ship docks.
Like many Royal Caribbean shore excursions, you will meet onboard the ship and be escorted off the ship to buses that are waiting to take you directly to the resort.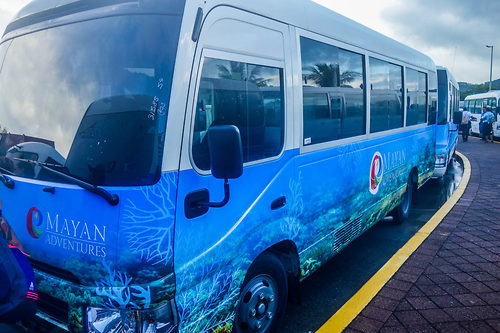 On the way to the beach, a tour guide narrates the trip with information about the history, culture and traditions of Roatan.  If you have taken group tours before in the Caribbean, this should feel quite familiar.
As you arrive to Mayan Princess Resort, you are greeted with a welcome drink and then taken on a quick tour of the resort to provide an overview of the layout.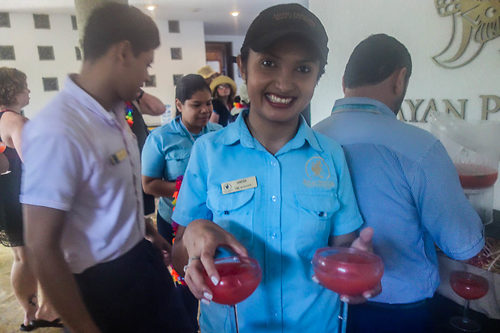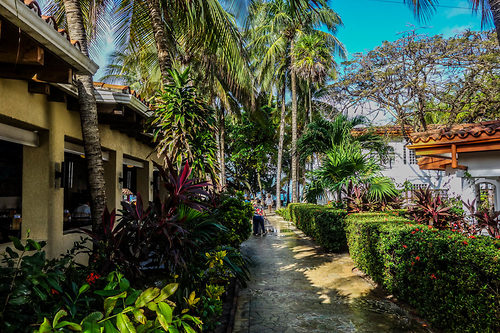 Mayan Princess Resort is a hotel resort that works with the cruise lines to offer day passes to its guests.  You have the choice of spending your time between pool area or the beach.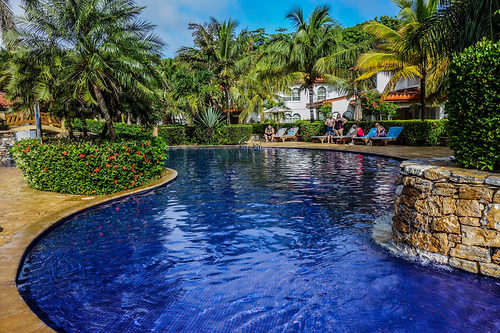 The 250-foot-long Mayan pool is quite large, and offers various depths with a lovely design.  There is some seating by the pool, but it is quite limited so if you want to grab a seat, you ought to get one quickly.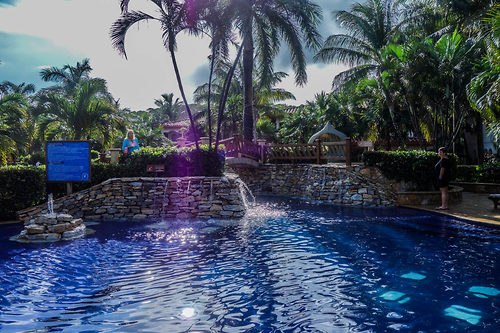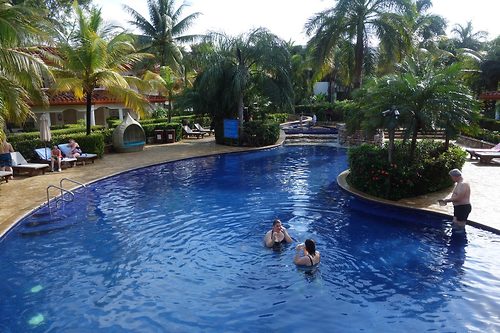 Most guests spend their time by the beach, which offers a lot of seating.  Beach umbrellas or palapas are not available, but the lush vegetation around the beach means there is plenty of shade if you need it.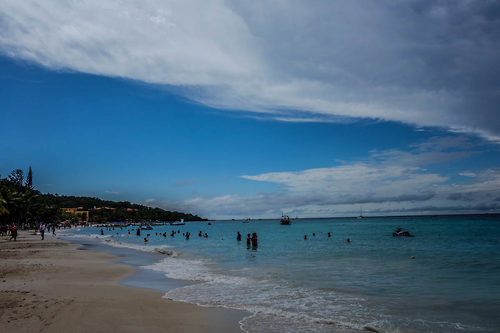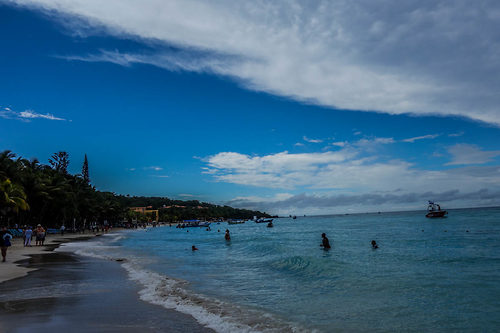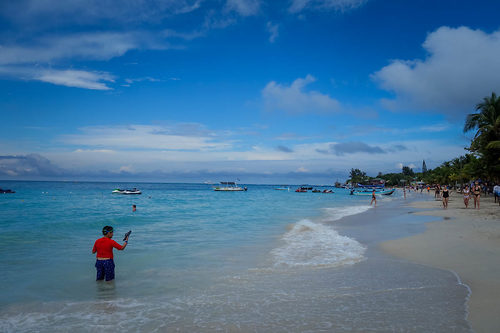 The beach itself is quite large and getting into the ocean was smooth enough that water shoes were not a necessity.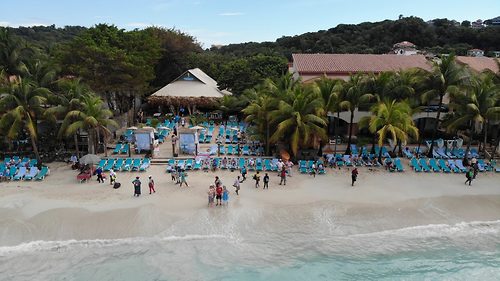 Photo by Billy Hirsch
There is seating towards the back of the beach, as well as seating along the beach itself. Despite the large cruise group visiting, there was ample seating for all.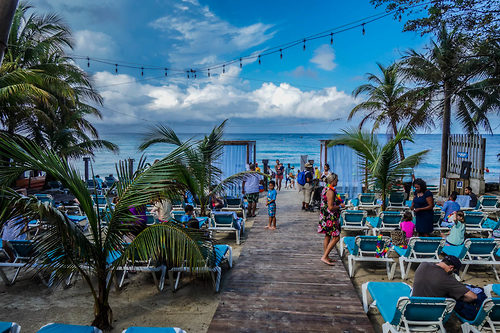 Mayan Princess offers an open bar that serves up a selection of local beer, spirits, fruit punch and soft drinks. This means waiters are happy to come around and take your drink order, or you can head to one of the bars and grab it yourself.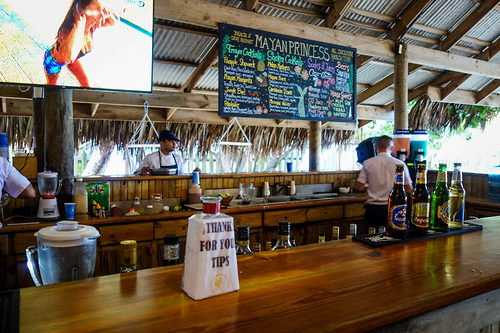 Upon arrival there was a snack area for those that were already hungry.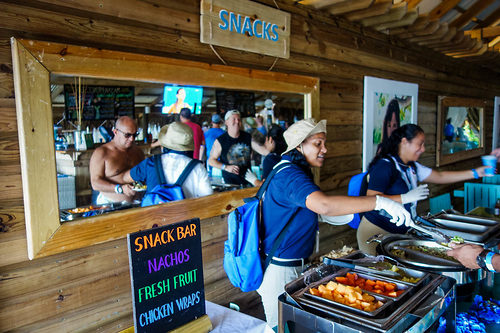 Lunch is served buffet style and featured a fairly typical island barbecue menu.  There was enough variety offered to satisfy picky eaters too.  The menu features coconut chicken and fried plantains, as well as signature burgers, fish fingers and hot dogs.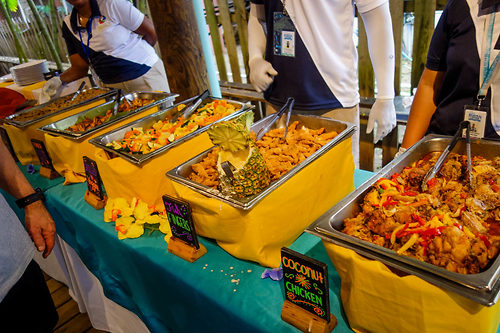 Comments
In our cruising experience, group excursions to beaches have been hit or miss for us, as often the experience can be crowded with other cruise guests to the point that it is hard to overlook.  Nonetheless, Mayan Princess broke that mold and offered a relaxing day for us to enjoy.
First and foremost, I relish excursions that offer a pool and beach option.  For families, having the choice is a great equalizer for the unpredictable moods our kids can be in, and/or weather conditions. The pool was chilly, but the kids did not seem to mind and eventually we all got used to it.  As mentioned earlier, seating by the pool is limited, so if you want to sit there, grab a spot early.
The beach was lovely and provided the kind of Caribbean vibe I think most look for in a beach excursion.  There was a band playing island tunes, reasonably sized waves, cool breeze and palm trees all around.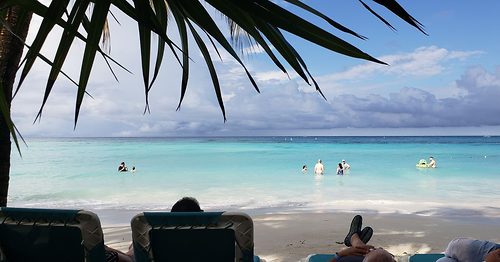 Photo by Billy Hirsch
It is worth noting that there were quite a few vendors that would walk up and down the beach selling goods and services.  This is not uncommon in the Caribbean, especially since the beaches are open to the public.  A simple "no thank you" and the vendors move on.
Mayan Princess includes drinks and food.  The waiter service was adequate, although not quite as regular as some other all-inclusives we have been to.  Nonetheless, the staff was friendly and the bar was never far away. The quality of drinks provided certainly met our expectations.  The lunch buffet was also pretty good, and I enjoyed the variety of food offered.  It is always a relief to see some basic fare (hot dogs or burgers) served up along side local cuisine, so no one went hungry on our visit.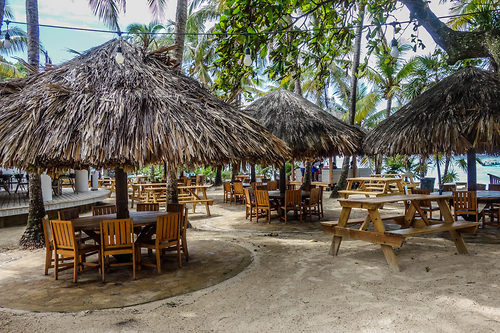 Overall, Mayan Princess Resort Beach Break was a day well-spent in Roatan.  By the time it was time to leave, I think we all wish we could have had another hour or two to enjoy just a little bit more fun while there.  That is usually a sign of a good time.
Cost: $99.00 per adult or $49.00 per child. Infants are free.