Royal Caribbean rolls out new shore excursions and offering free shore excursion sale this weekend
In:
Royal Caribbean announced today it has revamped its shore excursion offerings and to celebrate the new offerings, is offering free shore excursions this weekend only.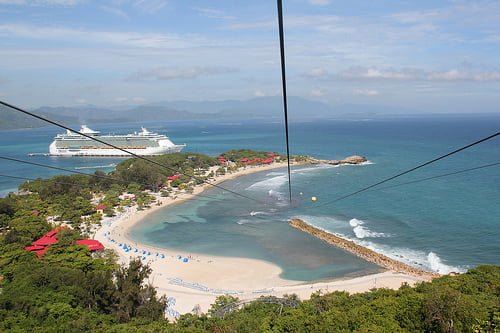 Royal Caribbean's shore excursions have been grouped into seven special interest categories designed based on guest's interest and vacation needs: Active Adventures, Family Connections, Royal Tour Challenge, Culture and Sights, Culinary Delights, Caring Discoveries, and the Royal Premium Tour Collection.  
In celebration of the new tour offerings, Royal Caribbean is offering free shore excursions on all new reservations completed this weekend, August 14-16, 2015. Bookings for sailings departing on or after September 14 will receive a credit of up to $150 to use towards the shore excursion of choice.
The new shore excursion categories group together various excursions to make it simpler to find related activities.
Active Adventures 
Guests can get their hearts pumping with activities at every level, from riding a dune buggy and boat rides to high-energy excursions that will take their vacation's adrenaline factor to the next level. From tackling six exhilarating zip lines and two skybridges in Charlotte Amalie, St. Thomas, to rappelling through small waterfalls, sliding toboggan-style down boulders and jumping off cliffs into natural pools at a thrilling watercourse in Madeira, Portugal, adventure seekers can test their metal on any one of these excursions.
Family Connections
Creating lifelong memories are what family vacations are all about. What better way to ensure those come to life with shore excursions that kids, parents and even grandparents can enjoy together. Families can share exciting experiences while attending gladiator school in Rome, Italy, where they can learn Roman gladiator combat skills with a hands-on fighting lesson and earn a certificate of Roman citizenship. Or embark into the great outdoors with awilderness kayak experience at Chilkoot Lake in Skagway, Alaska, where adventure seekers might spot bald eagles, brown bears, seals, sea lions or even whales. 
Royal Tour Challenge
In the spirit of good fun and some friendly competition, guests can spend their days in port with challenge-based activities designed especially for families and groups. Families and friends can spend some quality time together with a half-day laser tag adventure in Cozumel, Mexico, where participants will hit targets to gather points by following a jungle path filled with Mayan ruin replicas. Or better yet, guests can enjoy a five-on-five soccer game in Gijon, Spain, followed by a game of paddle tennis, a raquet sport played extensively in Spain.
Culture and Sights 
For travelers looking to explore history and culture with local experts and enrich their understanding of the world, they can select classic sightseeing tours, guided visits to archaeological sites and museums, live performances, and more. Guests can visit a sprawling Buddhist temple complex in Bangkok, Thailand, which was built in honor of two famous kings, or explore Rome, Italy, in an Ape Calessino, the little vehicle eponymous to Italian style which launched in 1948 to help with post-WWII reconstruction.
Culinary Delights 
Want to know what's on the menu, in the fields or on tap? Discover a destination's authentic, essential flavors through excursions that introduce guests to local chefs, specialties and purveyors. Visit Graycliff Chocolatier in Nassau, Bahamas, and delight in making truffles, bonbons and bars with a tropical flair, or learn pizza-making from the experts in Naples, Italy, where the Italian favorite was invented in 1830.  
Caring Discoveries 
Guests wanting to make a difference in the places they visit can select tours committed to wildlife, the environment and local communities. Whether it issaving a sea turtle in Cozumel, Mexico, where approximately 20 percent of turtles aren't quite ready to head for the seas, or meeting an Iditarod musher and their racing dogs at a dog sled camp in Skagway, Alaska, visitors will leave a lasting impression.
Private Destinations: Labadee, Haiti and CocoCay, Bahamas
These secluded escapes boast experiences that range from soaring 500 feet above the beaches of Labadee on the Dragon's Breath Flight Line, to tranquil beachside escapes appreciated through guided nature walks or lounging on the white sandy beach of CocoCay.  Exclusive to Royal Caribbean guests, the dynamic offerings in Labadee and CocoCay tantalize guest's individual craving for adventure or relaxation.