In:
If you carry an American Express credit card, you should check to see if you have a new offer to get a lot of money back for simply booking a Royal Caribbean cruise.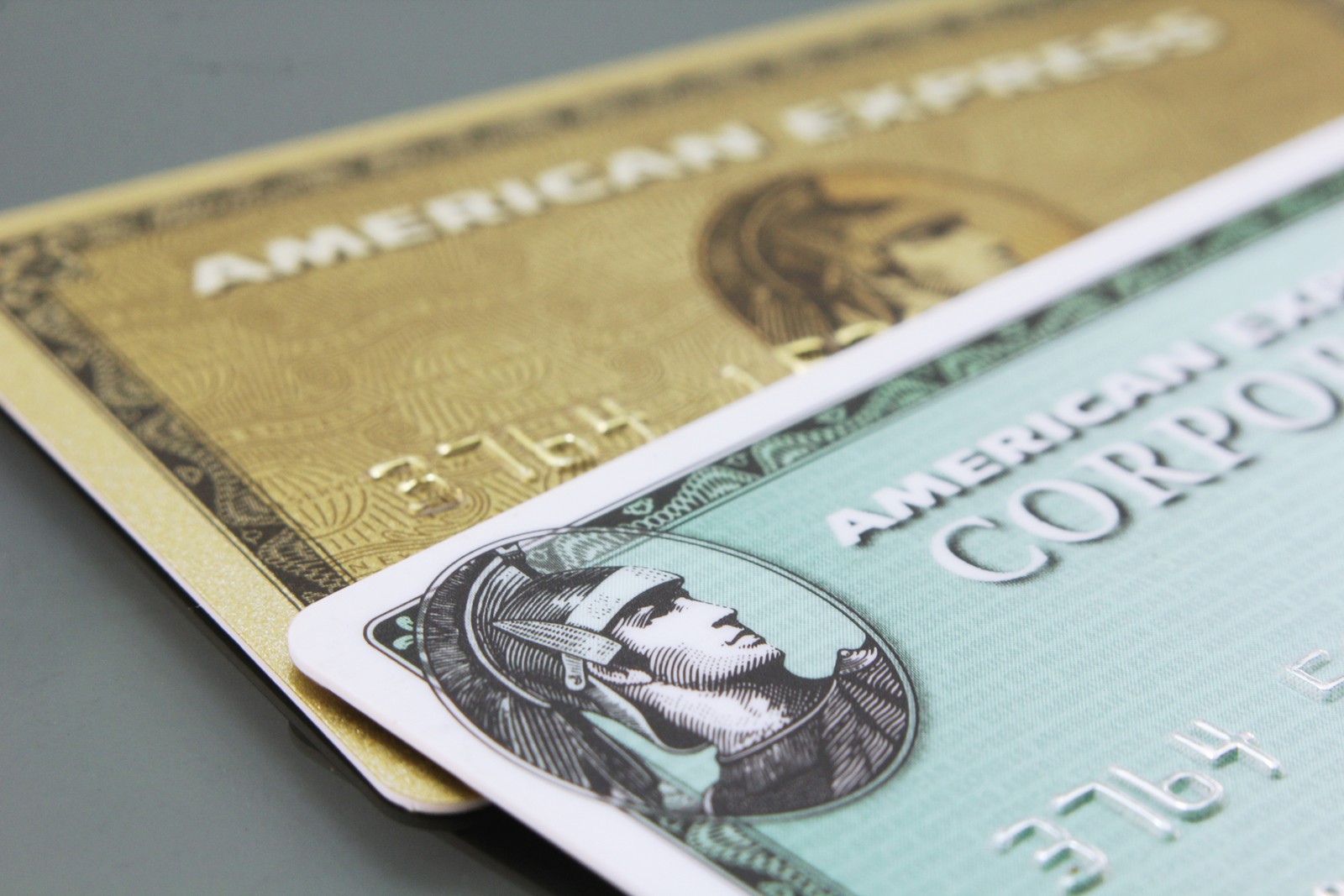 Amex Offers are an area at the bottom of the page when you log into the American Express site, where you can earn all sorts of statement credits for buying things from certain vendors.
Select card members may see an offer to get up to $500 back in a statement for booking a new Royal Caribbean cruise.
Before you can utilize an Amex Offer, you generally have to activate it on your account, so before paying for anything, be sure to do that. By using your credit card at a qualifying merchant, you can instantly take advantage of the discount, credit or bonus by using your American Express card there.
The exact offer seems to vary depending on who the cardholder is, but if you have an American Express card, it is worth checking out if the offer is for you. 
RoyalCaribbeanBlog readers reported the Delta American Express card did not offer it, but the American Express Blue and Gold cards offer it.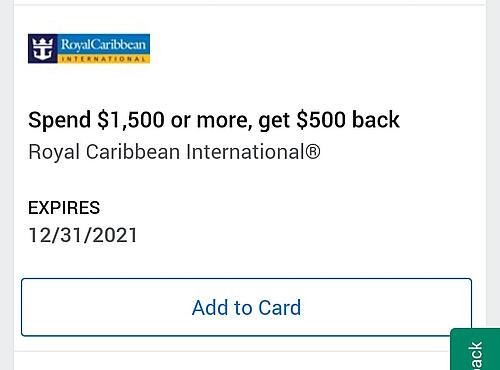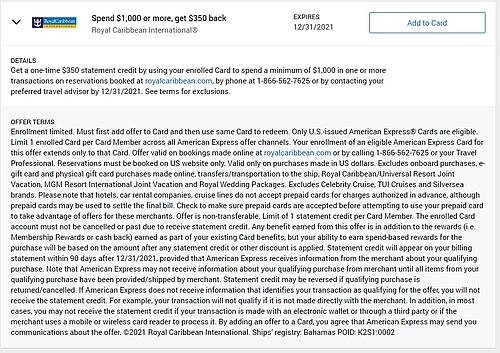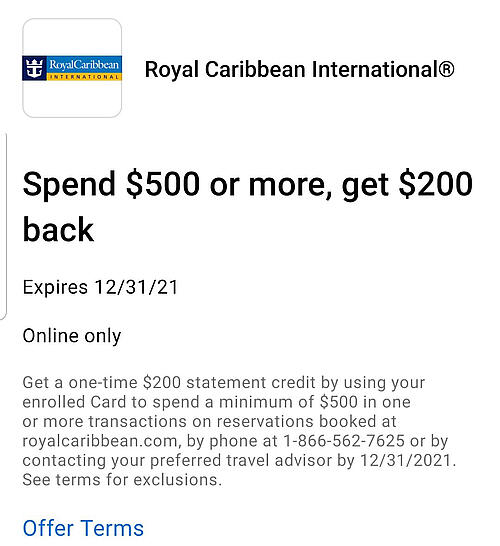 Like all Amex Offers, there is specific language about how you can redeem this offer:
"Offer valid on bookings made online at royalcaribbean.com or by calling 1-866-562-7625 or your Travel Professional. Reservations must be booked on US website only. "
"Excludes onboard purchases, e-gift card and physical gift card purchases made online, transfers/transportation to the ship, Royal Caribbean/Universal Resort Joint Vacation, MGM Resort International Joint Vacation and Royal Wedding Packages. Excludes Celebrity Cruise, TUI Cruises and Silversea brands."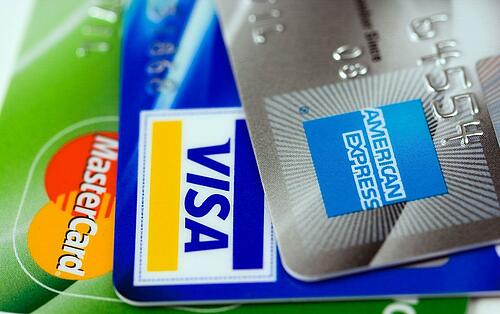 Keep in mind you do not have to spend the qualifying amount in one transaction. Rather, you can do it over the course of many transactions, but the offer kicks in once the aggregate total exceeds the threshold for the offer.
It can be redeemed once, and is open to only U.S.-issued American Express Cards.
You must take advantage of the offer by 12/31/2021.
Typically, Amex offer statements appear on your statement within a day or two, it can sometimes take several days for the statement credit to hit your account. 
How to use this if you use a travel agent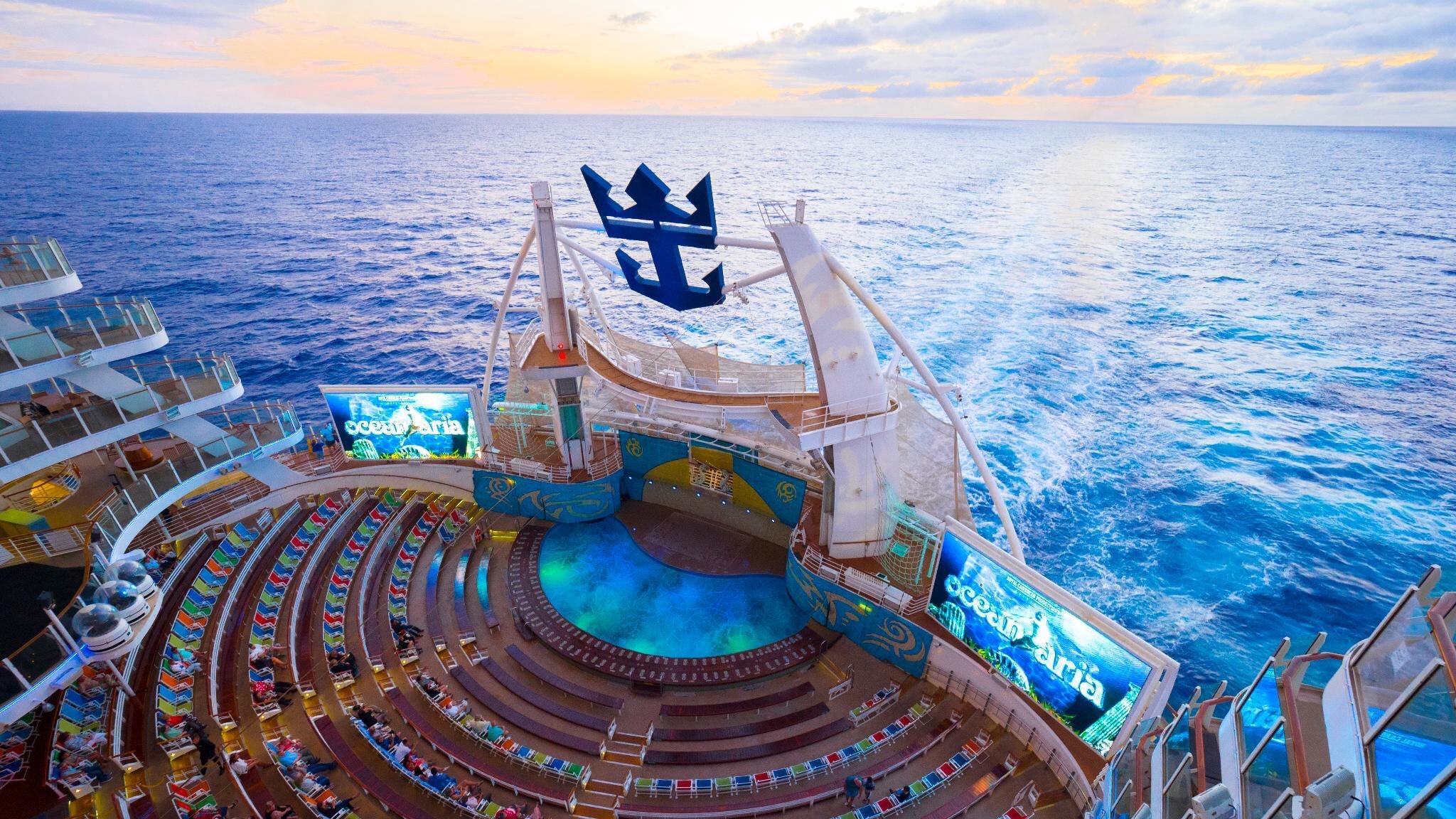 You may notice in the fine print for this offer it states it must be redeemed directly with Royal Caribbean (although some say travel professional are okay), which may or may not mean if you booked through a travel agent that may not qualify. Here is how to get around that rule and still be able to get this offer while supporting your favorite travel agent.
Even after booking a cruise with Royal Caribbean directly, you have up tot 30 days to transfer it to a travel agent after initial booking. It must be outside of Final Payment and the booking is not paid in full.
I would recommend informing your travel agent what you are doing first, so they can be prepared for the necessary paperwork to transfer it to them.
All you have to do is complete this online form and the booking gets transferred to the agent.