In:
Did you know that if you gamble enough on a Royal Caribbean cruise there is an entirely different set of loyalty rewards you can take advantage of?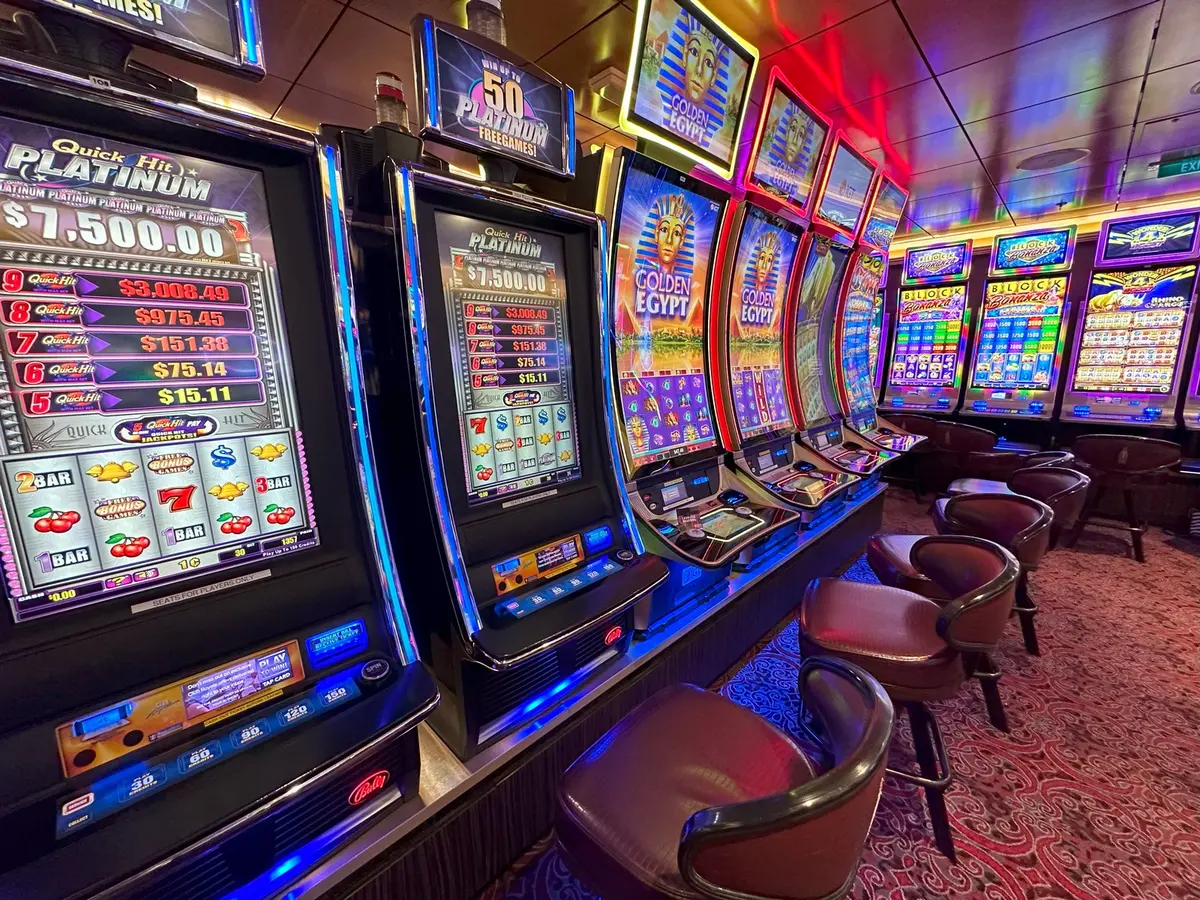 I'm by no means advocating you should gamble at all, as it's a risky endeavor.  Please gamble responsibly.
For years I was aware of the Casino Royale program, but never pursued it. My wife and I were not big time gamblers by any means.  On most cruises, we'd each spend $100 per night in the casino just to have something to do to pass the time.
I never even considered trying to get to the next tier of Casino Royale's program until it became clear I had a good shot at getting there.  A few cruises later, I earned enough points to reach the Prime tier in the program, which includes a free cruise, unlimited drinks in the casino, and a few other nice benefits.
For a lot of casual gamblers, you may be unaware of the benefits Casino Royale offers if you can play enough over the course of a year to reach the first status.
While gambling for the sake of achieving benefits isn't a financially smart investment by any means, if you cruise a few times a year already and gamble a few hundred dollars per cruise, there are some seriously lucrative benefits you could enjoy with a little planning.
Thanks to Assaf Ekshtein and Greg Brockman for assistance in ensuring the information is as accurate as possible.
About Royal Caribbean's casino loyalty program
Club Royale is Royal Caribbean Casino loyalty program. Club Royale based on collecting point from playing slots machine or table games.
Club Royale has four tiers :
Choice:  0-2499 points – This is the entry level that anyone who place even one round in a slot machine or a table gets.
Prime: 2500 – 24999 points – The prime level gives benefits like internet discount, free drinks in the casino while the casino open (limited to yourself), annual tier free inside cabin cruise that can be used for any 7 night cruise excluding holiday cruises (there are some more restrictions from time to time), and waiver on cash advances in the casino.
Signature: 25000 – 99999 points – The Signature level gives you all the benefits of Prime, plus free internet for one device, ocean view balcony for your annual free cruise.
Master: 100000+ points – Master level gets all the benefits of Signature, plus a grand suite annual free cruise, priority check in, access to access to Coastal Kitchen, free internet for two device, special lunch on the first day, drop of carry on bag, added onboard credit based on length of sailing, and more.
Annual Signature and Masters cruise: The casino, at their discretion, may offer an annual complimentary cruise just for their Top Tier Signature and Masters players. For 2023, there is already a Masters Mediterranean sailing with more possible in the future. 
Unlike Royal Caribbean's Crown and Anchor Society loyalty program which has points that never expire, the Club Royale program works more like airline and hotel loyalty programs, with points that are re-evaluated each year based on passengers' activities.
The Club Royale year runs from April 1st to March 31st of the following year. The tier benefits are valid for the year in which they were reached, as well as the following year.
For example, if a passenger reaches the Prime tier on August 30th, 2023, they will be entitled to all Prime benefits from August 30th, 2023, until March 31st, 2025. Passengers' tiers will be indicated on their cabin card, and once they accumulate the required points, they are immediately entitled to the benefits. If you got to a tier in a middle of the cruise the host can give you sticker with you new tier.
It's important to know the "catch" with the free cruises given out.  First, you still will have to pay taxes, fees and port expenses. Second, the free cruise covers two people in the cabin. Anyone extra in the cabin (such as kids) will have to pay normally.
In addition to the instant cruise certificates, Club Royale can give other offers from time to time based on your last cruise play and other parameters that no one knows.
To see which offers you have, just visit the Club Royale offers site https://www.clubroyaleoffers.com/PlayerLookup.asp enter your last name and reward number (the reward number is you Crown and Anchor number).
How to earn points
Essentially, you earn points based on how much you're gambling.  Unfortunately, the exact math for how many points you earn per dollar spent is variable based on wins and losses.  Dollars spent per point will vary from player to player based on many factors. 
Your points are tracked via your SeaPass card, so be sure you're always using your SeaPass card when gambling at slots machines or table games.
Passengers can check the number of points earned from table games by speaking to the casino host.
Remember, points and benefits are only calculated based on the money you played, and not impacted at all by the money you lost or won.
Slot machines
Every $5 you spend (accumulated) gets you 1 point. On Video Poker, it's every $10.
You can track your number of points in every slot machine while your card is inserted. Please note if you want to know the exact points you will need first to exist (or tap again until the machine button becomes from green to white/blue) and enter again.
Table games
How you earn points at table games is far more vague, and even Royal Caribbean's casino would tell you that you'll earn fewer points at table games compared to slots.  Part of the reason for this is that a slot machine is easier to track since every transaction is digital.
Points are awarded at table games based on the number of hands/time played and the amount of money wagered. However, tracking these points can be challenging, as they are recorded by the pit boss.
It's a good idea to introduce yourself to the casino staff, as they can help ensure the points are accurately recorded each day. 
Note that playing Texas Hold'em cash/tournaments does not earn points.
What do I get for points during my cruise?
As you earn points, you can qualify for short term and long term benefits.
During the sailing you're on, if you earn enough points, you can qualify for free play onboard as well as discounts on a cruise, or even a free cruise.
Using the points you earn on a sailing for free play or redeemed as onboard credit does not impact you tier points or benefits !
Discount/free cruise
By accumulating a certain amount of points in a single cruise, you can get an instant reward certificate during the cruise.
As you might imagine, the more points you have, the better discount/free cruise offers you get .
For example if you accumulate 2500 points in one sailing, you can get a free cruise in an interior cabin and $150 free play; 4800 points will get you a free balcony and $500 free play.
Please note, the exact benefits change from time to time and even from ship to ship, so always check with the casino host first. They will have a sign on their desk with the different options.
If you are not sure that which cruise you want to book, you can always book a "book later" cruise with $200 down payment.
No later than  7 days from the end of the cruise (in some cases it is now 30 days), you need to call the Club Royale number (or use your travel agent) and book the cruise using the Next Cruise certificate and the casino instant certificate.
Free Play/Onboard credit
At the end of the cruise, you can use casino points earned on that sailing as free play or to pay for several things with Royal Caribbean onboard credit.
If you decide to use it for free play, you can go to a slot machine and go to the "Personal Banker" option on the machine.
Note you need to play all the amount you took from free points before you can cash it out , so if you took $20 you need to play $20 and then you can cash out whatever you won at that point.
If you choose to redeem the casino points to used on your on board account, you need to go to the host and ask him on the last night for the same. The casino host can also apply your table points in the same manner.
How I got to Prime and started enjoying benefits
Since I cruise quite a few times per year, a little bit of gambling across all my cruises eventually earned me enough points to pass the 2,500 threshold and earn Prime status.
It occurred on a Wonder of the Seas cruise in December 2022. This meant I qualified for Prime status for the 2023-2024 year, and I got to enjoy onboard benefits immediately.
As soon as the casino host confirmed my yearly points total had reached 2500 points, I was given a sticker to place on my SeaPass card and I could get complimentary drinks in the casino.
The free cruise and other benefits would commence until April 1, 2023 when the 2023-2024 year began.
Even before April 1, I started earning cruise discount vouchers to use on new bookings.  The amounts were commensurate with how much I played, but I was able to get a $100 off and $250 off certificate in my early sailings of the year.
Once April 1 hit, Casino Royale begins the process of issuing your free annual cruise.  The certificate to redeem for a free cruise in an inside room doesn't become available immediately.  It takes a few weeks, but by the end of April, I had my free cruise.
I even got an offer for 15% off room rates at participating MGM Rewards destinations in Las Vegas. Plus, up to a $100 Food & Beverage credit to indulge in during your stay. 
How will this change my cruising habits?
It was never my intent initially to get to Prime status, but I have to admit now that I made it, the benefits are quite nice.
By far the most lucrative benefit for me, besides the free cruise, is the free drinks in the casino.
Combined with my free Diamond Plus daily drink allotment, I stopped purchasing a Royal Caribbean drink package because I had sufficient free drinks to make up for any extras I ended up buying.
Considering how expensive a drink package purchase has gotten, being able to combine 5 free drink vouchers a day from Crown and Anchor Society along with unlimited drinks in the casino is a very attractive proposition.
I haven't redeemed my free cruise yet, but that's one less cruise I have to pay for out of pocket.  
The surprise to me are the limited time offers Casino Royale gives out.  Even $100 off a new booking is a great perk, and it certainly has me rethinking how I book some cruises.
Of course, I've had to remind myself many times that while the Prime benefits in the casino are great, reigning in my gambling is still important. 
Bottom line
It's easy to get carried away with points and casino status, especially if you start eyeing the upper tiers of the program. It makes no economical sense to play in the casino with the notion you'll make money either through your winnings or through casino tier benefits.
I never play with more than I intend to lose, I would advocate not to play simply to earn points. Given the inevitable losses you'll rack up in the casino, the "freebies" you get come at a cost.
If you have the means to afford to gamble and cruise a lot, there's no reason to not at least enroll in Casino Royale and see what happens.
The important thing is to know your limits and not play purely to earn status. There are some very nice benefits, but don't put yourself in an economic bind simply to get free cocktails.
The comped cruises are great if you're a solo cruiser or sailing as a couple. Families will find the free cruises still costing them plenty in extra costs. Then again, every dollar saved in the grand scheme of things is still money they didn't have to spend.
Casino Royale may be the least well-known program among cruisers and there are a few gray areas of how it all works that stifle even the people that gamble the most. 
Personally, the fact I am lucky enough to cruise as often as I do gives me more opportunity than most to earn enough points to make it to Prime. 
Now that I've made it, it's very nice being able to redeem these rewards and enhance my overall cruise experience. If you enjoy gambling in the ship's casino, it makes sense to get to know your casino host and keep track of your points total.  But if gambling seems irresponsible or a poor decision, then skip the program entirely and rely on cruise booking tips and tricks to get a great cruise ship deal.