In:
Did you know Royal Caribbean gives away free drinks to its top tier Crown and Anchor Society members?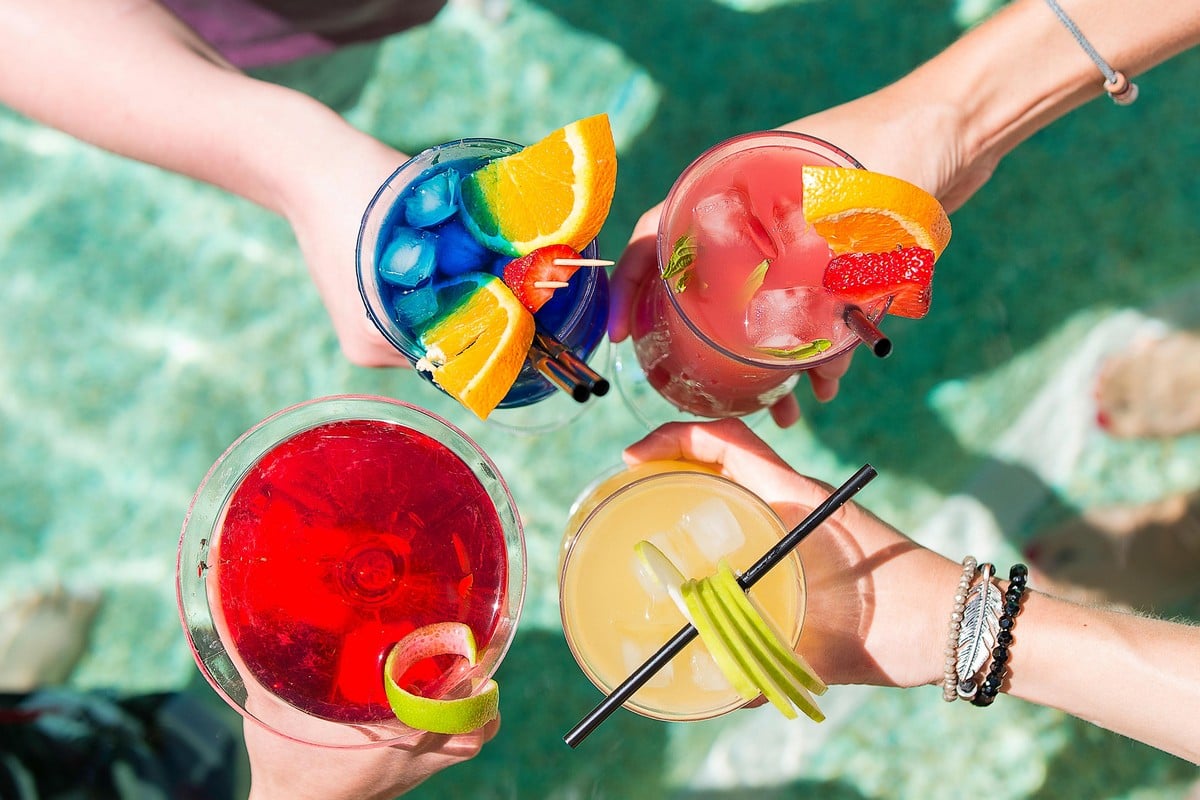 If you are Diamond, Diamond Plus, or Pinnacle, you can get a set amount of complimentary beverages every day of your cruise, which includes alcoholic beverages.
This is a fantastic perk, and Royal Caribbean recently revamped their offering by giving guests more options with their daily drinks.
So how does it work, and what can you get exactly if you are eligible for Diamond drinks benefits? Here is what you need to know about Royal Caribbean's beverage vouchers.
Who qualifies for free drink vouchers?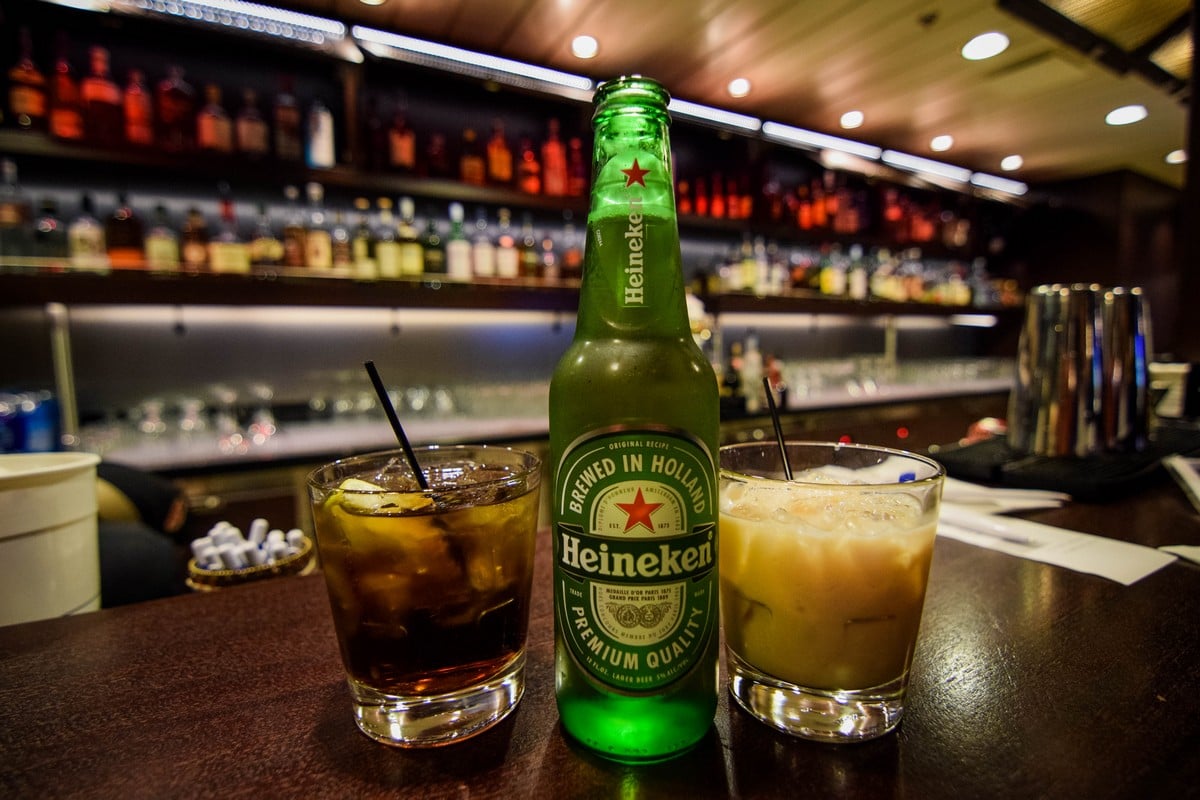 Royal Caribbean provides complimentary drinks each day to its Diamond, Diamond Plus and Pinnacle guests.
Guests who are at a lower tier of Crown and Anchor Society (Gold, Platinum, or Emerald) do not qualify for the drink vouchers.
In 2021, Royal Caribbean updated the policy to move away from a few select drinks guests can use each evening, to all-day vouchers.
Royal Caribbean has revamped its offerings to allow at least 4 beverage vouchers for Diamond and higher guests in Crown and Anchor, which are good all day and at any bar (except Starbucks).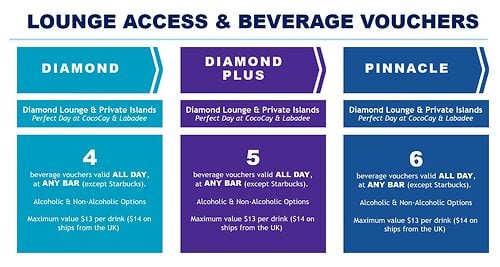 Diamond: 4 beverage vouchers valid all day at any bar (except Starbucks)
Diamond Plus: 5 beverage vouchers valid all day at any bar (except Starbucks)
Pinnacle: 6 beverage vouchers valid all day at any bar (except Starbucks)
This includes alcoholic and non-alcoholic options, and includes any beverage up to $13 per drink ($14 on ships from the UK).
How do the drink vouchers work?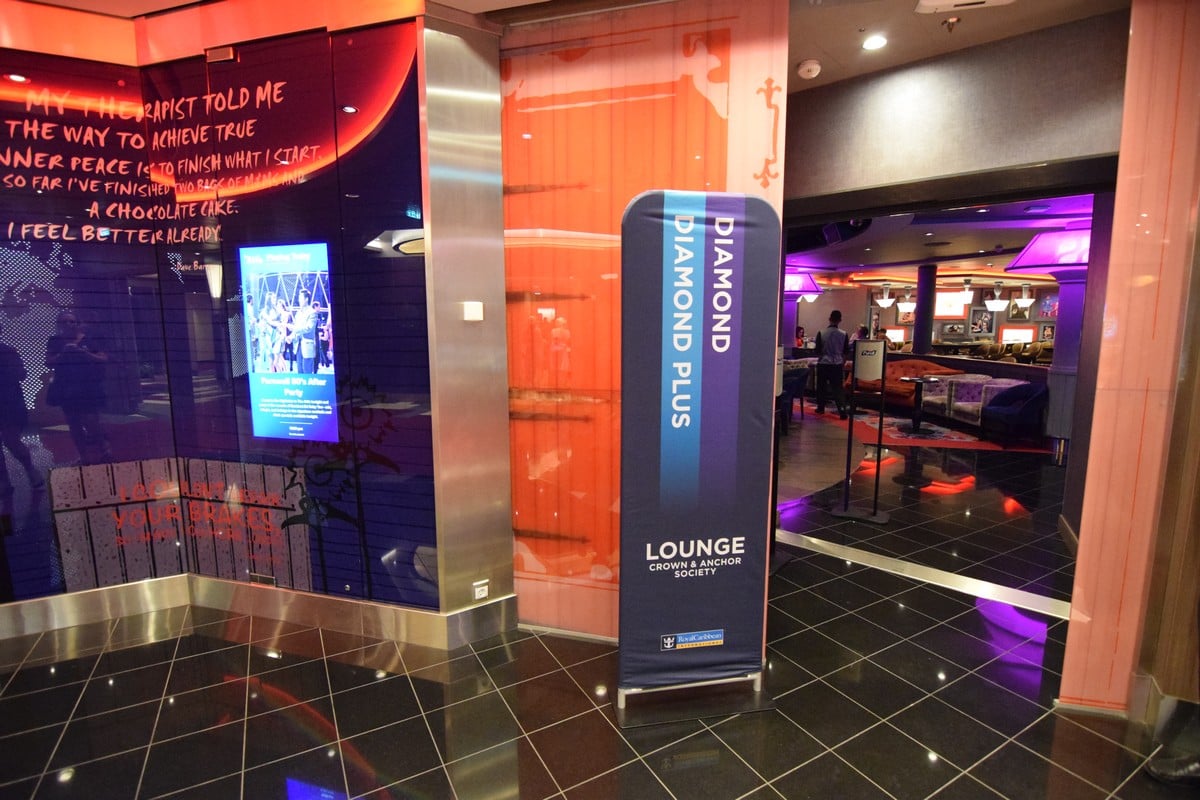 Drink vouchers are loaded automatically every day on a guest's SeaPass account. There are no paper coupons or physical vouchers to present.
Simply go to any bar, restaurant or lounge, and when ordering a drink, inform the waiter or bartender that you wish to use your Diamond drink benefit.
When you get the drink, you should receive a receipt for $0.00.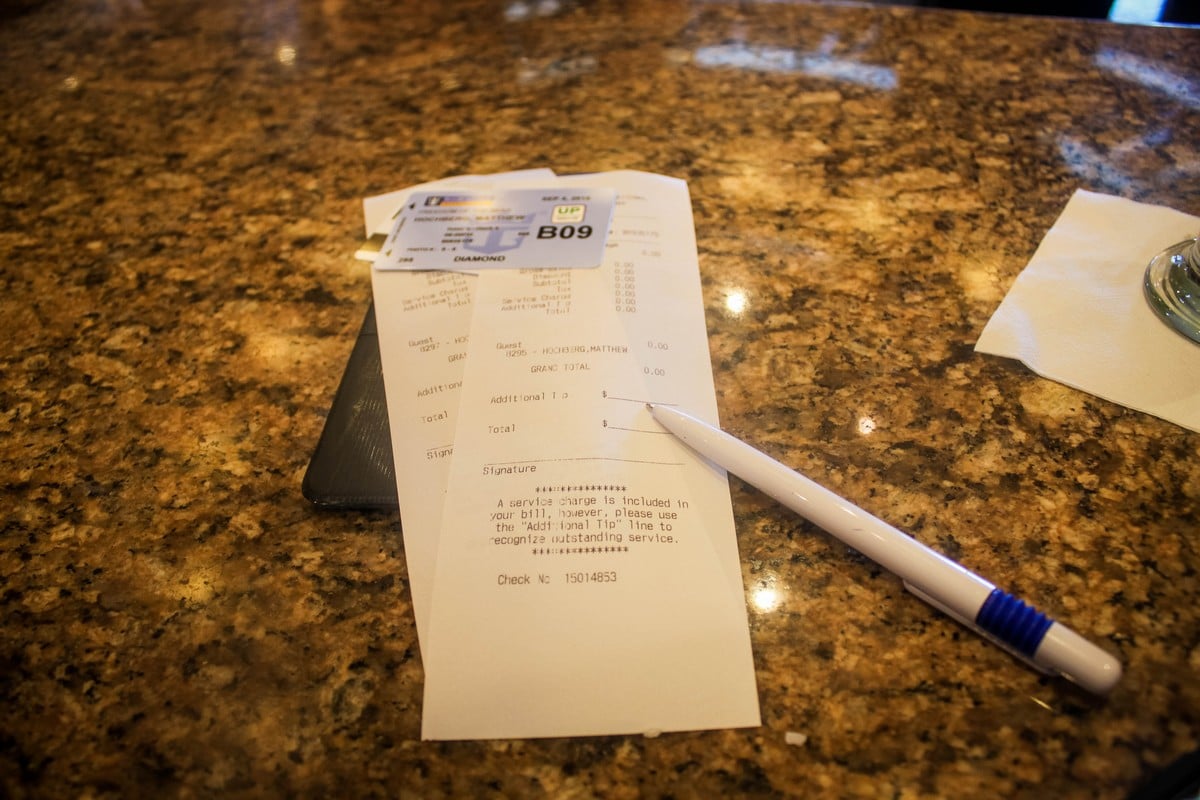 It is up to you to remember to ask to use your drink vouchers, as well as to keep track of how many vouchers you have left.
Each Diamond or higher member gets the daily drink voucher allotment, and you can use your vouchers to pay for your drink.  Think of them like a coupon that you are applying when you order.
One other change Royal Caribbean made by upgrading the vouchers to all day options with no drink menu limit is there is no longer unlimited drinks in the Diamond Lounge in the evening.  Drinks consumed in the Diamond Lounge count against your voucher count for the day.
Royal Caribbean says the drink vouchers work at their private destinations of Perfect Day at CocoCay and Labadee.
How do you get Diamond status with Royal Caribbean?
To get to Diamond status in Crown and Anchor Society, you have to accrue 80 points.
Just like a frequent flier program, you get points for every night of your cruise.
You will get 1 point for every night of your cruise, and 2 points if you stay in a Junior Suite or higher. If you stay by yourself in a suite, you can earn 3 points per night.
Your Crown and Anchor points never expire, so even if you took a cruise many years ago, it still counts.
Once you reach Diamond, you can never lose your status.
Do kids get drink vouchers too?
Yes, minors get the same amount of complimentary drinks as adults.
Unlike adults, their vouchers cannot be used for alcoholic beverages.
Can the drink vouchers be used for specialty coffees?
Yes, you can purchase a latte, cappuccino, or any other extra charge coffee with your Diamond drink benefit.
Just like an unlimited drink package, the exception is the vouchers cannot be redeemed at a Starbucks kiosk location.
Do you get drink vouchers for the first and last day of the cruise?
Yes, Royal Caribbean loads the vouchers up based on every night of the cruise.
When you board the ship, you will have your first allotment of vouchers ready to go.
Each night at midnight, new drink vouchers are replenished. That means you will have more complimentary drinks on the last morning of the cruise.
Should you get a drink package if you have drink vouchers?
The new question many loyal cruisers are trying to determine is if it is worth it to get a Royal Caribbean drink package if they are a Diamond member or higher.
Ultimately, the decision will depend on the person, but the fact the complimentary drink vouchers offer the same menu of choices as the drink package makes a compelling alternative.
Even if you use all your drink vouchers every day, and pay out of pocket for an addition 3-4 cocktails every day, the overall cost should be less than the total cost of a drink package.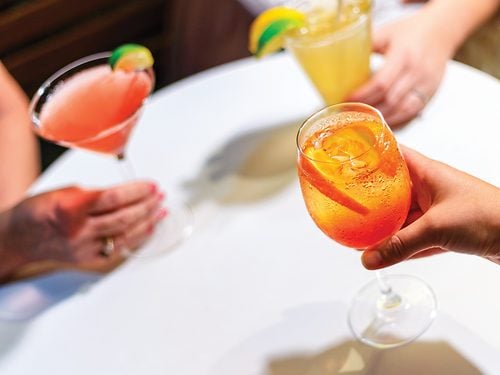 One benefit the drink package has for someone who might exceed the daily drink voucher limit is you can pre-purchase the drink package before the cruise to avoid running up your bill onboard the ship. For some cruisers, not having a big bill at the end of the sailing matters to them.
Your itinerary will also factor in the decision of which option to get. A port intensive itinerary where you will be off the ship often on tours, may make investing in a drink package not a great financial idea.
Read more: 2021 Royal Caribbean Drink Package Info, Tips, Pros & Cons