In:
Royal Caribbean has removed one benefit of its customer loyalty program for its top tier members.
One of the published benefits of Diamond Plus members has been access to the Concierge Lounge on ships that lack a Suite Lounge, including:
Quantum of the Seas
Anthem of the Seas
Ovation of the Seas
Radiance of the Seas
Brilliance of the Seas
Serenade of the Seas
Jewel of the Seas
Explorer of the Seas
Grandeur of the Seas
Enchantment of the Seas
Rhapsody of the Seas
Vision of the Seas
In case you're wondering, it takes 175 points to reach Diamond Plus status. Generally speaking, you'll get one point per night of the cruise, and suite guests get two points per night. 
In an email to Crown and Anchor Society members, Royal Caribbean it has decided to rescind access due to overcrowding in the lounge.
"While we are excited for the growth of our program, we must remain mindful of our onboard operations to ensure that we continue to deliver the award-winning experience you know and love.
In practice, this benefit had been mostly taken away anyway, since the line reserved the right to prohibit access to Diamond Plus members if there were too many members onboard.
Royal Caribbean explained this reality necessitated the change, "Access has been largely based on guest count and lounge capacity levels, which are assessed on a voyage-by-voyage basis."
"Due to high counts of top-tier members on most sailings, we have had to limit access to the Concierge Lounge altogether."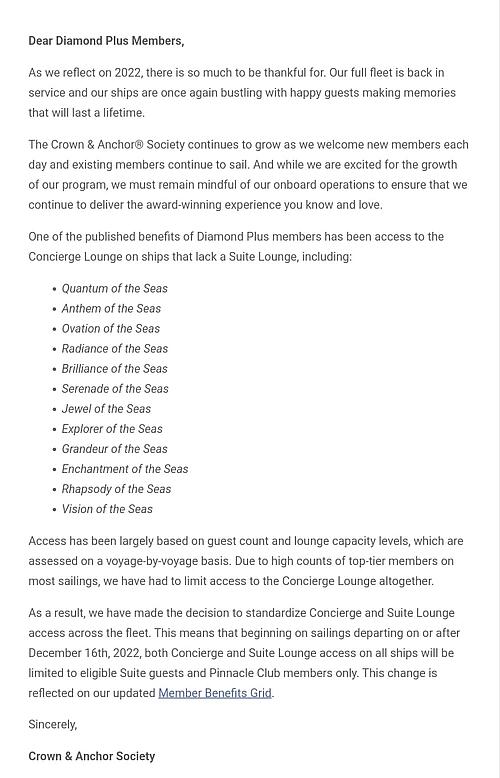 "This means that beginning on sailings departing on or after December 16th, 2022, both Concierge and Suite Lounge access on all ships will be limited to eligible Suite guests and Pinnacle Club members only."
Of course, Diamond Plus members still have access to the Diamond Lounge spaces.
Slow march to this point
While today's change on paper means less benefits than before, the reality was Concierge Lounge access had been on its way out for a long time up until today.
Whenever Royal Caribbean built a new ship or refurbished a vessel, they would add a Suite Lounge instead of a Concierge Lounge, which brought the number of ships with a Concierge Lounge down to less than half the fleet today.
Moreover, the ever increasing popularity of going on a cruise and the subsequent rise of loyal cruisers lead to more demand for this benefit than before.
As stated by the cruise line in today's announcement, the benefit had already been rescinded on a sailing-by-sailing basis for many cruises.
It's been observed by other Crown and Anchor guests that Royal Caribbean had established hard counts for Diamond Plus and Pinnacle Club guests, and once a ship has Crown and Anchor members over that predefined threshold, that level is restricted from the Concierge Lounge.
RoyalCaribbeanBlog reader twangster shared as a Pinnacle Club member, he's observed crew tracking how many people are in the lounges, "Multiple ships I've sailed recently asked all guests to badge in and out of the Concierge Lounge/Suite Lounge." 
"They were collecting data on how many guests, suites or otherwise, were actually using the facility and how long they stayed.  By gathering data they would have a basis to make additional policy updates. "
As an example, he shared a conversation he had with the Suite Concierge about the number of people onboard, "On Quantum in Alaska during the second Alaska cruise for this year, the suite concierge told me that Diamond Plus numbers were over the threshold all summer long."
"The first projected date that could allow them access to the Concierge Lounge was in September, but that is subject to change as the ship continues to book up."