In:
Royal Caribbean's Crown & Anchor Society benefits can improve your cruise experience, but points earned can also transfer to experiences on land. Royal Caribbean has a partnership with MGM Resorts, offering a tier match between the Crown & Anchor Society and MGM Rewards program.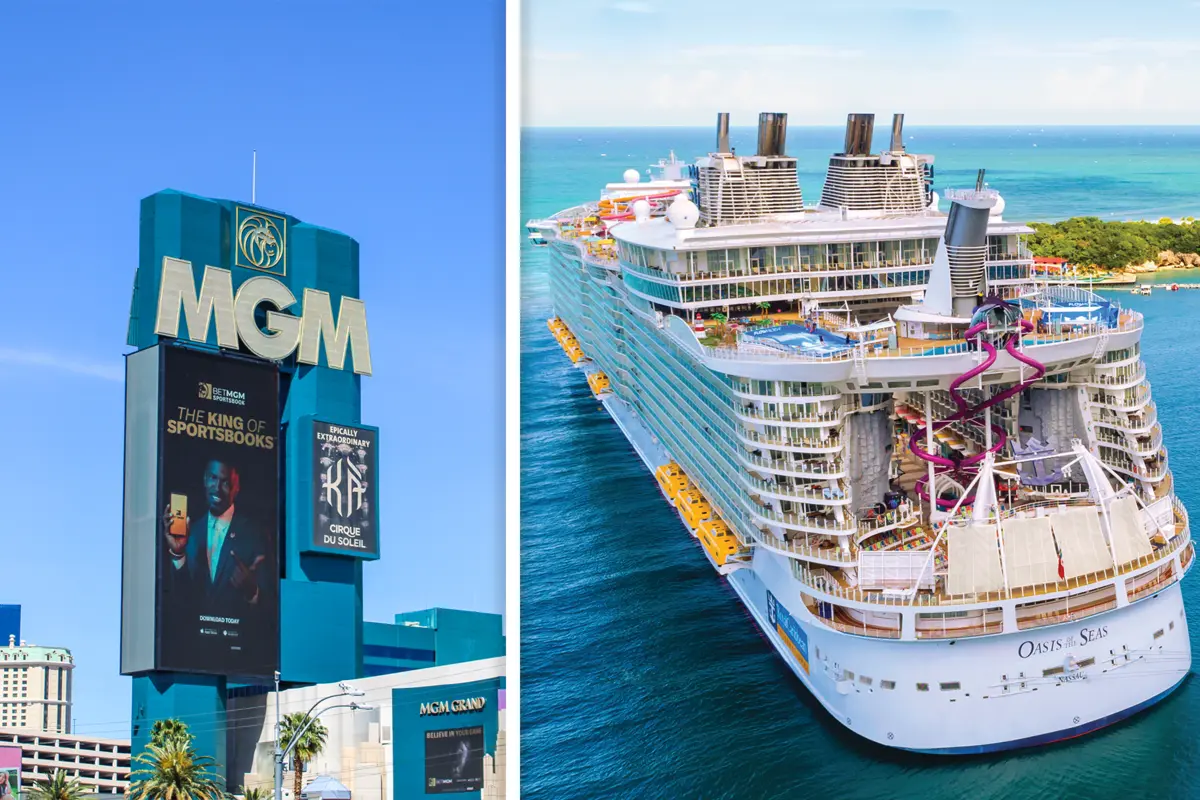 For no extra cost, you can link your Crown & Anchor level and immediately take advantage of MGM benefits including resort fee waivers, discounts on entertainment, and complimentary hotel upgrades.
I recently headed to Las Vegas to take a closer look at how linking your Royal Caribbean account with MGM Rewards can enhance your MGM experience, whether in Las Vegas or beyond.
In this article: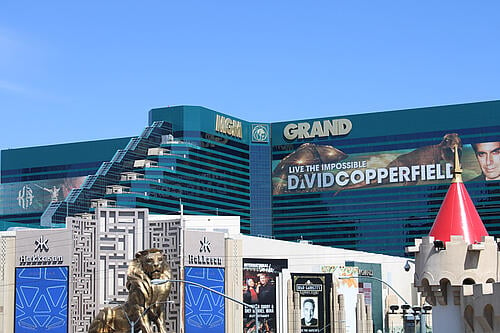 MGM Rewards (formerly known as M Life Rewards) is a loyalty program with benefits and rewards available at select MGM properties in Las Vegas and around the United States.
MGM Rewards tier points are earned through the following:
Gaming: slots, video lottery terminals, video poker, and table games
Hotel accommodations, dining, and spa (4 tier credits per dollar spent)
There are no set tier points earned per dollar spent on gaming. Instead, MGM Rewards points are earned based on time spent playing, average bet, and game type.
There are five tiers within MGM Rewards:
Sapphire (Up to 19,999 Tier Credits)
Pearl (20,000 - 74,999 Tier Credits)
Gold (75,000 - 199,999 Tier Credits)
Platinum (200,000 Tier Credits)
Noir (by invitation only)
Tier match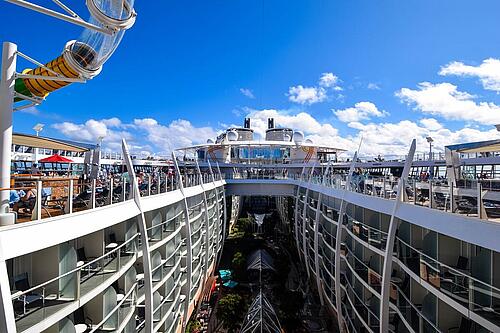 Luckily, Crown & Anchor Society members do not have to spend any money at MGM properties to take advantage of MGM Rewards. Through a tier match offered between MGM Resorts and Royal Caribbean, Crown & Anchor Society members can immediately begin receiving discounts and rewards.
The tier level you receive with MGM Rewards depends on your tier in the Crown & Anchor Society:
C&A Gold = Sapphire status with MGM Rewards
C&A Platinum = Pearl status with MGM Rewards
C&A Emerald, Diamond, Diamond Plus, and Pinnacle Club = Gold status with MGM Rewards
Linking your account
To link your Crown & Anchor Society account with MGM Rewards, first make a free account on the MGM Resorts website. Next, contact an MGM Rewards representative through phone or email:
Let the representative know your Crown & Anchor Society number. They will contact Royal Caribbean to confirm your information and link you to the appropriate tier with MGM rewards. In my experience this took only a few minutes. As I am a Diamond member in the Crown & Anchor Society, I immediately became a Gold Member with MGM Rewards.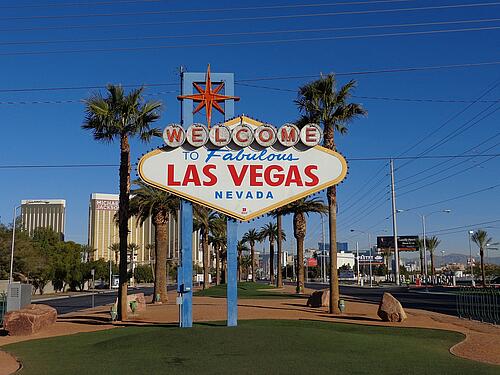 MGM Rewards can be used at the following destinations:
Las Vegas
Bellagio
ARIA Resort & Casino
Vdara Hotel & Spa at ARIA Las Vegas
MGM Grand
The Signature at MGM Grand
Mandalay Bay
Delano Las Vegas
Park MGM
The Mirage
New York-New York
Luxor
Excalibur
Regional Destinations
Beau Rivage
Gold Strike Tunica
Borgata
MGM Grand Detroit
MGM National Harbor
MGM Springfield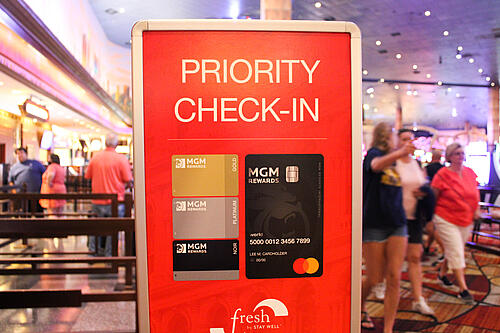 While both Sapphire and Pearl members of MGM Rewards receive a guaranteed lowest room rate when booking direct, the best hotel benefits come with Gold tier and above.
Most hotels on the strip all come with resort fees which must be paid in addition to the hotel fare each night. The majority of resort fees run around $35 - 40 per night plus a 14% tax added on the nightly hotel fare.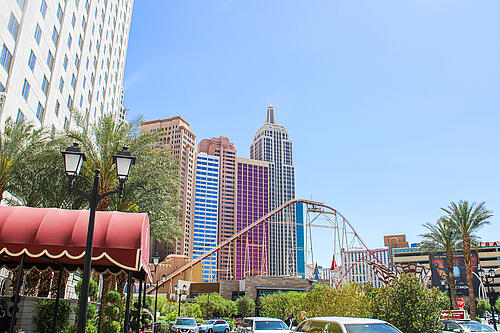 Perhaps the best benefit for MGM Gold members and above is having the nightly resort fee, along with taxes and fees, waived each night of your stay. As the resort fee and taxes can add $50+ to your hotel cost each day, this leads to instant savings no matter if you stay just one night or an entire week.
In addition to the resort fee waived, Gold MGM members and above can take advantage of a priority check-in line at the front desk and a complimentary enhanced room upgrade at check-in, based on availability. The complimentary room upgrade usually entails an upgrade to a room with a Strip view or higher floor, but if those rooms are unavailable, guests can be upgraded to a higher tier room such as a suite.
Park MGM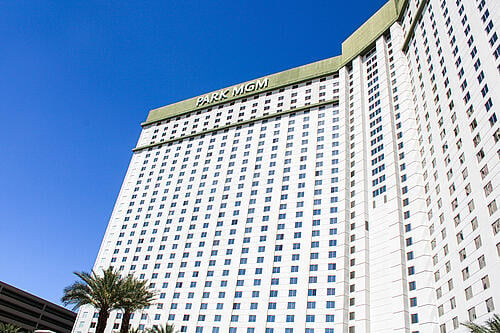 To test out the hotel benefits through MGM Rewards, I booked a room at the Park MGM. Getting the resort fee waived can only be done when booking directly through the MGM Rewards website, so I booked online and headed to the hotel on the Las Vegas Strip.
I booked a standard room with two queen beds at the Park MGM for $105.05. The resort fee and tax, which I did not have to pay due to my MGM Rewards status, would have been an additional $44.22. When you book, the website still tells you the resort fee and taxes are due upon arrival. This is waived when checking in at the front desk.
Upon arrival at Park MGM, I initially entered the general check-in line as I did not realize I had another option. As I was waiting in line, though, I spotted the VIP line for Gold MGM members and above. The VIP line had no wait and I was able to get checked in right away.
It was around 1PM, and while check-in was not officially open until 3PM, a room was ready. I inquired, however, about the complimentary enhanced room upgrade for Gold MGM members. While a room upgrade was not available at 1PM, one would be ready at the normal check-in time.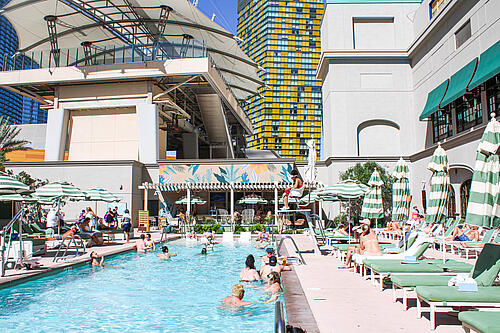 I decided to wait two hours to see what kind of upgrades MGM Rewards members can receive. In the meantime, I checked out the pool areas at the Park MGM, which are complimentary for hotel guests. The Park MGM has three pools, two bars, and plenty of comfy seating available. It definitely seemed like a great space to spend hot, sunny days in Las Vegas.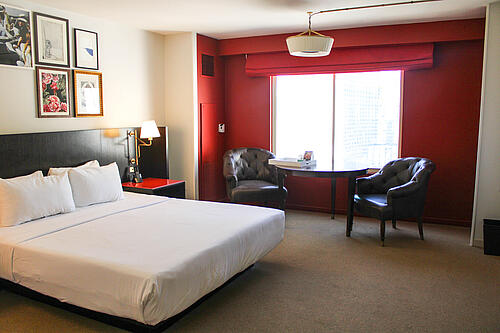 I received an upgrade to a Stay Well Two Queen room, which enhances the guest safety experience with improved air purification, aromatherapy, dawn simulator lighting, an upgraded mattress, and a chlorine-reducing shower infuser. The room was quite spacious and I enjoyed having access to the Stay Well amenities throughout my stay.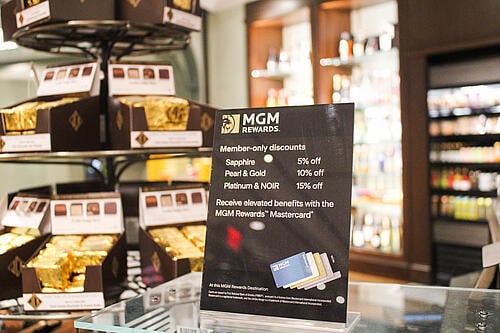 MGM Rewards members receive discounts at participating retail shops in Las Vegas. Sapphire members receive a 5% discount, Pearl and Gold members 10%, and Platinum and Noir members 15%.
"Participating retail" seemed vague, and the MGM Rewards desk did not have a list of participating retail stores available. I ended up finding an old PDF from the ARIA Resort & Casino which lists participating retail at MGM properties in Las Vegas.
The participating retailers list is quite extensive, covering both high-end retail like Tesorini and resort-themed souvenir stores such as I love NYNY. The list seemed to cover most retail stores at MGM properties.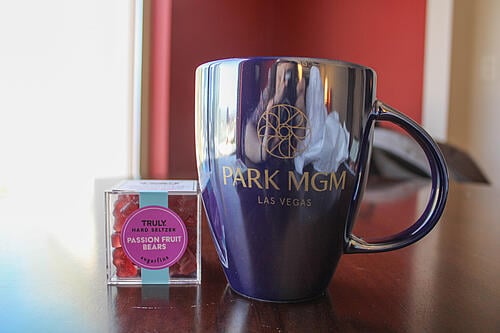 Any discount is nice when in Las Vegas, and as I was planning to purchase a souvenir or two anyway, I decided to take advantage of my 10% discount. I walked into the Shoppe at Park MGM and saved a few dollars on souvenirs to take home.
One thing that caught my eye in the (outdated?) retail brochure was the fact that certain spas were listed in participating retail. I was curious whether this discount was just for spa retail or if it could be used for spa treatments, so I asked MGM Rewards staff members, to which I received varying responses.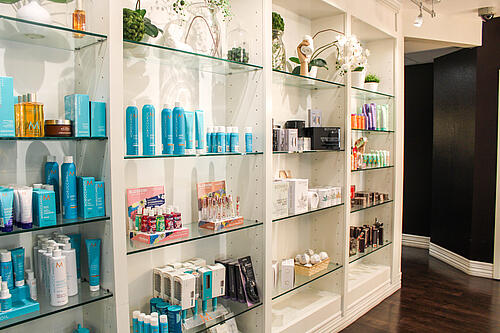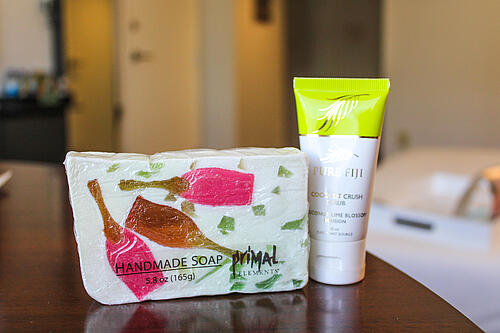 Some staff members thought spa treatments were included in the discounts whereas others were not certain. I headed to The Spa & Salon at New York-New York to check for myself where it was confirmed that the discount was only for spa retail. While disappointed I would not be booking my discounted manicure, I purchased a few retail items from the spa anyway for 10% off.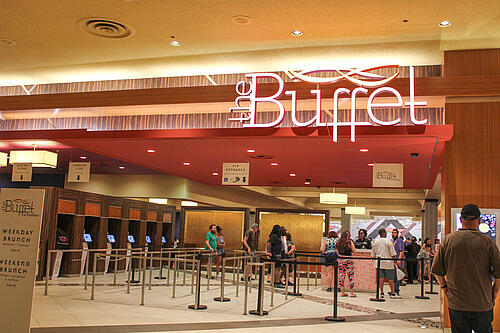 MGM Rewards properties, whether in Las Vegas or beyond, have a wide array of cuisines available, from quick-service buffets to fine dining. MGM Rewards members receive benefits for dining at MGM properties.
Dining benefits start at the Pearl tier with a dedicated line at the buffet for Pearl and above. Those with Gold status or above also receive priority reservations for fine dining and a dedicated line at participating restaurants outside the buffet.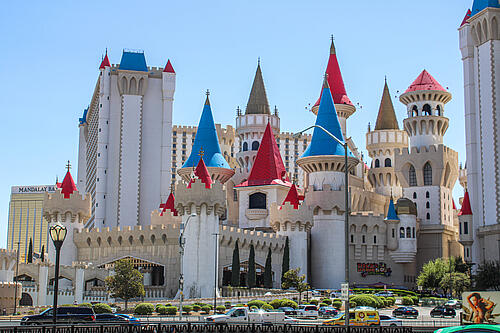 I decided to try out a dining benefit by heading to the buffet at the Excalibur Hotel & Casino, located just across the street from the Park MGM.
Upon arrival, I immediately noticed the dedicated buffet line for MGM Rewards members. While I got to the buffet near closing and there was no line anyway, I can see how this would be a fantastic, time-saving benefit during peak hours.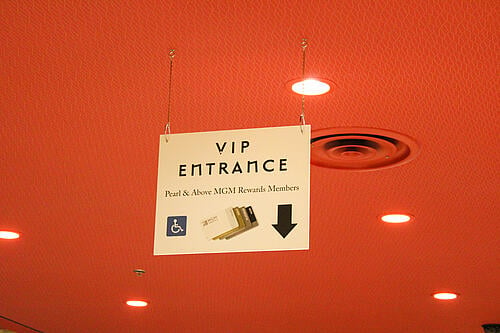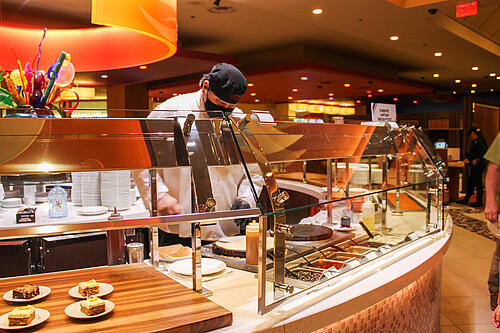 I was able to be seated within a few minutes, and while I wouldn't say the buffet at Excalibur is the fanciest in the world, I enjoyed the crepe and omelet stations as well as the wide range of cuisines available.
Note: While the dining benefits on MGM's website also list a $100 dining credit for those reaching the Gold tier, this benefit is not available for members who reached Gold simply by linking their Crown & Anchor Society account.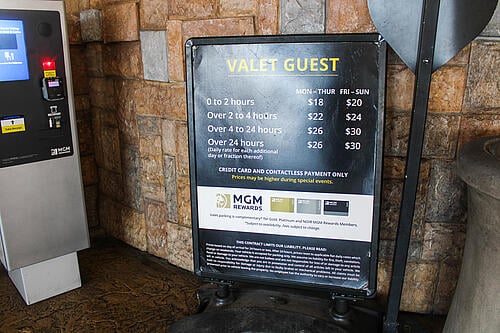 MGM Rewards benefits also extend to transportation, providing discounts and benefits guaranteed to save members money when traveling to Las Vegas and beyond.
Visitors of any tier in MGM Rewards who need a car rental will save up to 30% off base rental rates with Avis. Those with Pearl status and above can enjoy complimentary self-parking at MGM Rewards destinations, and those with Gold Status and above can enjoy complimentary valet parking.
While I took a Lyft to my hotel in Las Vegas, I would have saved $15 per day in parking fees through my MGM Rewards status had I brought my car.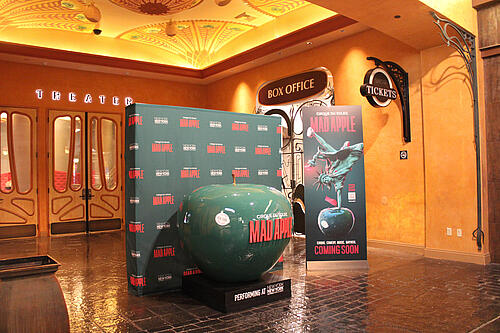 MGM Rewards members receive discounts on entertainment and access to complimentary shows at MGM Rewards destinations. While benefits on hotel stays, transportation, and dining were relatively straightforward, MGM's entertainment benefits are more complex as most are on a case-by-case basis.
These are the main entertainment benefits through MGM Rewards:
Exclusive MGM Rewards pre-sale access for select entertainment & sporting events
Discounts to select shows at MGM Rewards destinations
Complimentary tickets to select exclusive MGM Rewards concerts in Las Vegas
Initially I thought there would be a percentage discount on shows at MGM properties like Cirque du Soleil and Blue Man Group. Upon speaking to a representative, though, it appears discounts are offered on a case-by-case basis dependent on demand for each particular show. There was no list of shows offering discounts available, so I was unable to take advantage of this benefit.
One new benefit MGM Rewards is offering is complimentary tickets to select MGM Rewards concerts in Las Vegas. Through this benefit, MGM Rewards members will be notified of complimentary concerts exclusive for Pearl members and above. 
Earning a higher status with MGM Rewards by linking your Crown & Anchor Society account brings a variety of gaming and access benefits to be enjoyed at MGM Rewards destinations.
Dedicated reservation lines, non-expiring MGM Rewards points and slot dollars, VIP line access to select Las Vegas nightclubs, bonus on slot dollars earned, and invitations to member-only events and tournaments are just some of the gaming benefits MGM Rewards members can enjoy.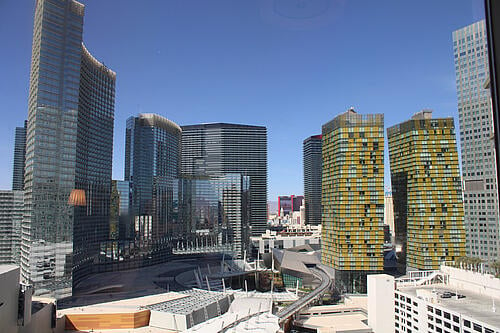 Linking your Crown & Anchor Society account to MGM Rewards is completely free and 100% worth doing before staying at an MGM property, whether in Las Vegas or at regional destinations. Saving money and time is guaranteed, whether through complimentary parking or VIP check-in lines.
I think the greatest value of MGM Rewards is, by far, having resort fee and taxes waived for those with Gold status and above. With a savings of around $50+ per night, this can save visitors hundreds of dollars on a stay in Las Vegas or other MGM properties.
In addition, I really enjoyed the complimentary room upgrade available. While I wasn't upgraded to a significantly larger room or a suite, the upgrade from a standard room to a Stay Well room was well appreciated.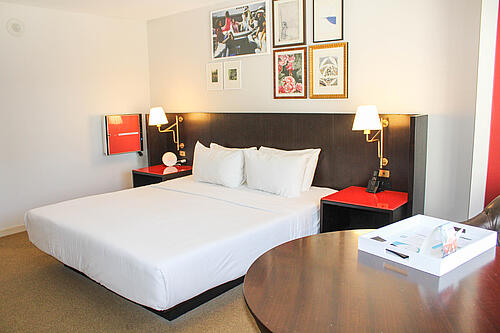 Although I wasn't traveling to Las Vegas at the busiest time of year or on a weekend, I still enjoyed having access to priority lines at check in and the buffet. I never had to wait in line more than a few seconds, and I'm sure this is a benefit that would be extra helpful during peak times of the year.
I do not have any complaints on benefits offered, especially as I received these benefits simply by linking my Crown & Anchor Society membership to MGM. There was definitely a sense of uncertainty from staff members when I inquired about what benefits were included for MGM Rewards members, though.
Conflicting statements on entertainment discounts and retail options were a bit frustrating when figuring out how to use my MGM Rewards benefits. I encountered this even when asking questions at the MGM Rewards desks at several resorts, so I was surprised there wasn't more concrete information on the loyalty program available. However, seeing as though the change from M Life Rewards to the MGM Rewards program is quite new, it's understandable that there may be some confusion on all benefits.
Overall, I was able to save money and time through MGM Rewards and I would recommend any Crown & Anchor Society member to create and link their account to MGM prior to traveling to Las Vegas or beyond.