In:
If you're planning a cruise on a budget, then you'll want to find a cheap cruise deal. No one wants to pay more than they have to for a cruise vacation, and luckily there are several easy tips you can use to find the best cruise deals available.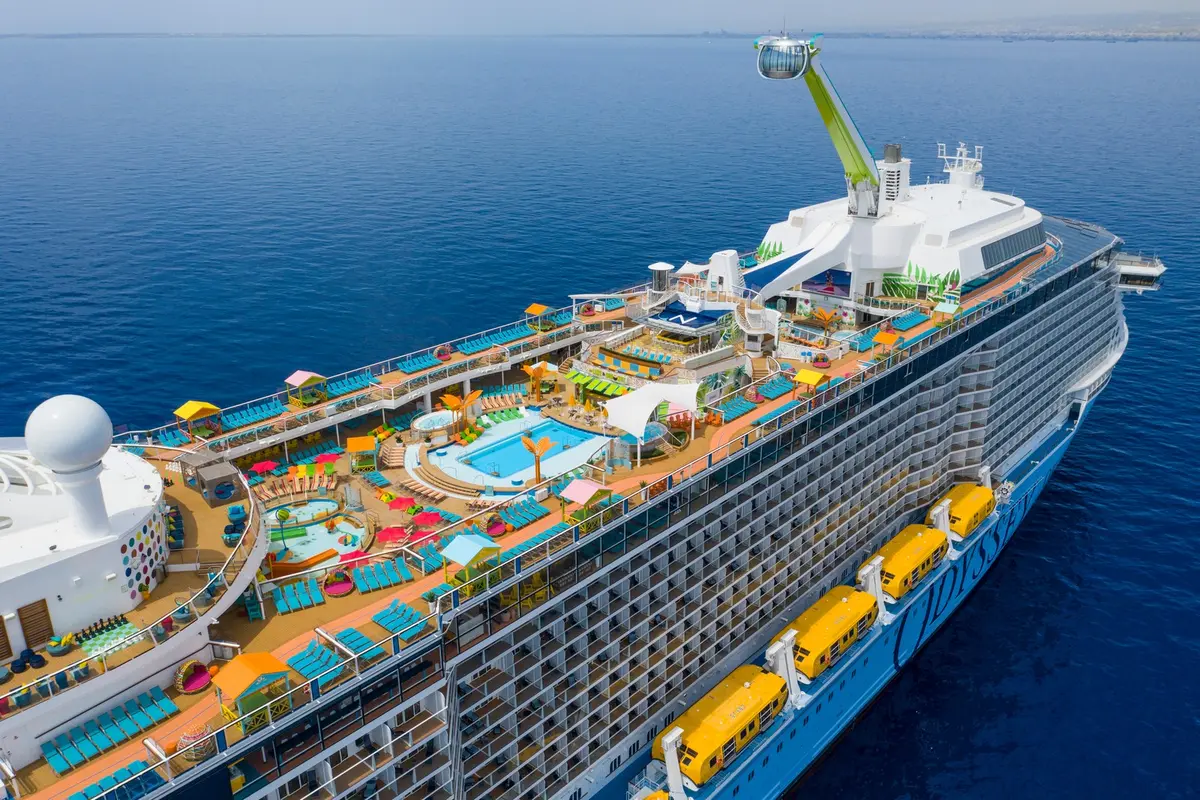 The cost of a cruise can be a deterrent for many travelers, but it doesn't have to be. If you're flexible during the cruise planning process, you can find cheap deals that will save you hundreds (or even thousands) of dollars on a Royal Caribbean cruise.
Finding a "cheap" cruise deal does not mean you're sacrificing a quality vacation, either. Cruise deals are due to a combination of factors—time of year, demand, and departure port—which means a good deal doesn't equate a bad cruise.
The most important factor when looking for the best cruise deals is flexibility. The more flexible you are when planning a cruise, the better chance you have at snagging an amazing deal for your vacation.
If you're wondering how to get the best cruise deals, here are 15 easy tips.
Book early
More often than not, the best cruise deals are found on sailings one to two years in the future. In most scenarios, if you're looking for the best deals, we recommend booking as soon as possible rather than waiting until the last minute.
Most cruise itineraries are announced around two years in advance. As itineraries open up for bookings, you can often find great deals, especially if you're hoping to book a balcony room or suite. Plus, if you're searching for a rare cruise cabin, such as the cow-themed Ben & Jerry's Sweet, it's important to book early not only to find a cruise deal, but to book before the cabin sells out.
Look for last-minute deals
Booking a cruise at the last minute might seem counterintuitive to our advice about booking a cruise early. And although we usually recommend booking early as opposed to later, you can often snag a cheap cruise deal by booking at the last minute.
Related: How to get last minute cruise deals
If a cruise itinerary still has a significant number of empty cabins in the months leading up to the sailing, Royal Caribbean may drop the price in order to increase demand. This is most common after the final payment date for a particular sailing has passed—between 75 and 90 days before the cruise.
To find a last-minute cruise deal on Royal Caribbean, search the website for cruises and filter the results to see the lowest price first. You can also use a website such as VacationsToGo.com, which has a 90-day ticker showing the best, cheapest cruise deals departing within the next three months.
Sail a one-way Alaska itinerary
Alaska cruises have a reputation for being more expensive than other itineraries. After all, it's not uncommon to spend over $2000 for an interior cabin during the state's peak summer season.
Despite this, we've noticed a pricing trend for the past two years on select Alaska itineraries. One-way Alaska itineraries tend to offer fantastic cruise deals, often as low as just $550 per person including taxes and fees.
One-way Alaska cruises travel from Vancouver, Canada to Seward, Alaska and vice versa. These 7-night itineraries allow guests to visit more Alaska ports as well as spend time in Alaska's interior before or after the cruise. While providing an excellent itinerary, one-way cruises see less demand compared to roundtrip sailings due to the inconvenience of starting and ending in different ports.
If Royal Caribbean sees low demand in the months leading up to the sailing, the prices for these sailings will drop drastically. Keeping an eye on one-way Alaska cruise deals 3-6 months before the cruise begins is a sure-fire way to find a deal on cruising to the Last Frontier.
Book with a travel agent
I book every single cruise with a travel agent, whether a short weekend cruise to the Bahamas or a two week trip to Greenland. Doing so has saved me hundreds of dollars over the past few years, and that's not even mentioning the added service and resources my travel agent provides before, during, and after the sailing.
Whenever I book a cruise, I first email my travel agent for a quote; the quote I receive is often cheaper than what I could find on Royal Caribbean's website. Depending on the travel agency you work with, they may offer group rates on select itineraries, which can save you money on your cruise fare.
Related: Top 5 things to look for in a good travel agent for your cruise vacation
Additionally, I almost always receive extra onboard credit through my travel agent. Having onboard credit means I can enjoy my cruise even more, whether I use it to book a specialty restaurant dinner or order an extra cocktail on the pool deck.
Aside from potential savings, though, are other benefits to using a travel agent. Travel agents are available to answer any questions you may have about your Royal Caribbean cruise, and they provide service in the case of any problems you encounter leading up to your sailing.
Book during the off season
If your schedule is flexible, you should book a cruise during the shoulder or off season instead of the peak season.
Peak season varies by destination, but generally coincides with school holidays. Summer, holiday weekends, and school breaks for Thanksgiving, Christmas, and spring break tend to see the most demand for cruises.
Therefore, if you're able to cruise outside of these peak times, you can almost always find cheaper cruise deals. Sailing to Alaska in early September, for example, can be hundreds of dollars cheaper than sailing in mid July.
Likewise, booking a Caribbean cruise during hurricane season is typically much more affordable than during Thanksgiving. While there's a slight chance of a hurricane affecting your cruise, most itineraries will sail smoothly with no itinerary changes or cancellations.
Related: What to know about cruising during hurricane season in the Caribbean
While not everyone can take advantage of sailing at non-peak times, particularly if they have kids still in school, it can lead to great cruise deals for those with more flexibility.
Sail on older and smaller ships
Royal Caribbean markets their newest and biggest cruise ships more than the fleet's older vessels, but that doesn't mean you should avoid smaller cruise ships. By searching for cruises on older ships, you're almost guaranteed to find cheap cruise deals.
The oldest Royal Caribbean ships—Vision, Radiance, and Voyager Class ships—often see some of the lowest prices. Despite the smaller size, many cruisers appreciate the more relaxed atmosphere of these ships and the unique ports on their itineraries.
Related: I sailed on Royal Caribbean's newest and oldest cruise ships: here's what it's like to cruise on each
If you're hoping for a blend of a cheap deal and "new" ship, look at cruising on an amplified cruise ship. As part of Royal Caribbean's Royal Amplified program, the cruise line made significant refurbishments on select older vessels. During the process, they added features such as waterslides, new dining venues, and revamped pool decks.
Despite the addition of new features, cruise fares are still reasonable on amplified vessels—some of the best values in a cruise vacation can be found on amplified ships like Mariner of the Seas, Independence of the Seas, and Navigator of the Seas.
Be flexible with your departure ports
Flexibility is key to finding the best cruise deals; if you're flexible with your departure port, you may have a better chance at finding a cheap deal.
Instead of cruising from Miami, look at sailings from Tampa or Port Canaveral. Or, if you live in the Northeast, check if there are any cheap deals from Cape Liberty, Boston, or Baltimore. You might be surprised to find a cheap cruise leaving from a less common cruise port.
Don't overlook more faraway departure ports as well. As someone who lives on the west coast of the United States, I'm often shocked at the price of domestic flights to South Florida from my home airport. In fact, it's often nearly the same price to fly to Barcelona, Spain as it is to Miami!
While there's certainly more travel time required to get to Europe as opposed to Florida, searching a wider range of departure ports means opening up the possibility for more cheap deals.
Look at any and all cruise itineraries
Just as it's important to be flexible on your cruise ship and departure port, you should also be flexible on your cruise itinerary in order to find the best deals.
If you're set on visiting a particular port—whether Bermuda or Santorini—you'll be more limited in cruise options. Having more limitations means you have fewer options available, meaning you'll miss out on some of the best cruise deals.
Related: 15 countries you didn't know you could cruise to on Royal Caribbean
If you're looking for the absolute cheapest, best cruise fares, keep your destination availability open. All of Royal Caribbean's cruise ports have something to offer, from the coral reefs of Australia to the cruise line's private island of Perfect Day at CocoCay.
The more flexible you are in itinerary choice, the better chance you'll have at scoring a great deal.
Book a guarantee cabin
Booking a guarantee cabin on Royal Caribbean means you can save money on cruise fare with the caveat of not being able to choose your exact cabin location.
When you book a guarantee cabin, you give Royal Caribbean the power to select where on the ship your room will be located. If you book a guarantee balcony cabin, for example, you will be assigned (at least) a balcony room, but it could be located anywhere on the ship, from deck 7 forward to deck 12 aft.
Related: Should I book a guarantee stateroom on a cruise?
The advantage of booking a guarantee room, of course, is to save money—depending on the offer, you may be able to save over a hundred dollars by not choosing your cabin location. The disadvantage is that you cannot select the location. If you're picky on cabin location, it's best to pay extra to select the location yourself.
Despite the lack of flexibility, booking a guarantee cabin is one of the best ways to make a great cruise deal even cheaper.
Book during a Kids Sail Free promotion
If you're planning a cruise with kids, the best time to book is during one of Royal Caribbean's Kids Sail Free promotions.
As the name implies, a Kids Sail Free promotion is an offer in which kids can sail "free" on a Royal Caribbean cruise. In reality, this means that any third guest and higher in a cabin who is 12 years old or younger can sail free on a cruise longer than four nights.
Related: Royal Caribbean Kids Sail Free 2023-2024 Dates & Tips
Of course, there are a few conditions to the Kids Sail Free offer. First are blackout dates, which are commonly found during school holidays. The second caveat is that you still have to pay taxes, fees, and gratuities for all kids—the "free" deal is for the base cruise fare only.
Despite these exceptions, booking during Kids Sail Free can usually save families money on a Royal Caribbean cruise if their schedule is flexible.
Book a longer itinerary
The shorter the cruise, the cheaper the cruise will cost… right? Not exactly!
Most people assume that booking a shorter cruise will lead to a cheaper cruise fare, but that's not necessarily the case. As a matter of fact, some of the cheapest cruises are found on Royal Caribbean's longest itineraries!
If you're cruising with a limited budget, don't search for only the shortest itineraries. While a 3-night weekend cruise might seem like it would be the cheapest option, this is hardly ever the case!
Instead, keep your search flexible and search for cruises of varying lengths. Royal Caribbean's cruise fares aren't necessarily priced according to cruise length, but are based on a variety of factors including ship age, time of year, itinerary, and demand for a particular sailing.
Some of the longest itineraries—such as repositioning cruises and transatlantic itineraries—see the lowest price per day of any cruise itinerary. Being open to more unique, longer itineraries can be a good way to stretch your vacation budget further and have more time onboard.
Keep an eye on Going, Going, Gone rates
Every week, Royal Caribbean publishes a PDF flyer online of their "Going, Going, Gone" rates. This list of last-minute cruise deals is one of the most convenient ways to check for the cheapest cruise fares available. You can view the list here.
The flyer is published once per week (usually late on Monday) but it is not updated throughout the week. Therefore, it's recommended to check the flyer on late Monday night or early Tuesday morning in order to help ensure all deals listed are still available. As cruises book up during the week, the deals listed on the PDF may no longer be valid.
Subscribe to email newsletters
Hoping to be notified about the best cruise deals? Subscribing to email newsletters from your favorite cruise lines and cruise websites helps you stay in the loop.
The Royal Caribbean Blog newsletter, for example, is a weekly email in which we send out the week's top stories, some of which may include information on cruise deals. Likewise, you may want to subscribe to Royal Caribbean's official newsletter here—the cruise line sends promotional emails listing the current top deals and offers.
Stay loyal to a cruise line
The higher your loyalty status with a particular cruise line, the better chance you have of finding cheap cruise deals. If you cruise often with Royal Caribbean, we recommend sticking to the cruise line in order to grow your loyalty status in the Crown & Anchor Society.
Platinum members and above in the Crown & Anchor Society receive discounts on balcony and suite staterooms in addition to exclusive Crown & Anchor rates. Not only that, but single supplement fares are reduced for select Diamond Plus members and Pinnacle Club members receive a free 7-night cruise at 700 and 1050 cruise points.
Related: 11 of our favorite under-the-radar Crown & Anchor perks
Although most passengers "Loyal to Royal" won't reach Pinnacle Club status, they can still receive the benefits of discounted cabins and onboard offers. Even if you don't find the cheapest cruise deal available, you'll still save significant money with Crown & Anchor benefits like free drinks and complimentary laundry.
Book with special rates for military, senior, and residency deals
Select groups of people may be eligible for special rates on a Royal Caribbean cruise. Knowing if you qualify for a special rate is helpful before you book in order to ensure you find the best cruise deal for your sailing.
Royal Caribbean's list of guests who may qualify for discounts includes:
Guests 55 years of age and older on select sailings
Police and firefighters (active or retired employee or volunteer)
Active or retired personnel in the military
Airline personnel
We recommend checking Royal Caribbean's detailed list here to check if you qualify for any discounts.