In:
It's well known that a Royal Caribbean cruise can take you to amazing destinations around the world. Most cruisers know they can visit destinations like the Bahamas, Mexico, St. Maarten, Alaska, Italy, and Spain while on a cruise, but did you know that Royal Caribbean offers cruises to over 60 different countries?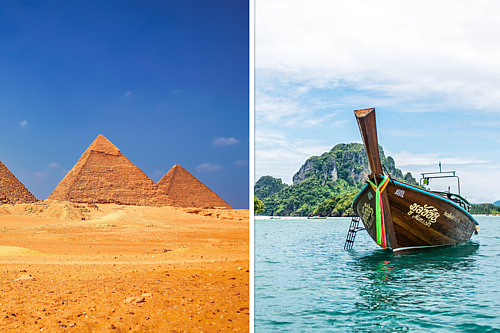 Cruising to lesser-known ports offers the chance to see regions and cultures of the world you've only dreamed of, whether the Pyramids of Giza in Egypt, street markets of Thailand, or wildlife of Greenland. 
Let's take a look at 15 countries (or territories) you didn't know you could cruise to on Royal Caribbean, but we're warning you now: this post will give you major wanderlust.
Malaysia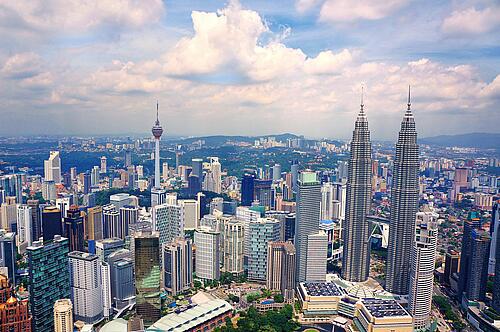 Royal Caribbean cruises leaving from Singapore often visit the country of Malaysia, with port stops in Penang and Kuala Lumpur (Port Klang). Cruising to Malaysia brings the chance to discover a blend of Malay, Chinese, and Indian cultures, traditions, and religions.
Kuala Lumpur is Malaysia's capital city, with a metropolitan population of nearly 8 million people. Popular attractions in Kuala Lumpur include the Petronas Twin Towers, shopping centers, the Thean Hou Temple, the Little India neighborhood, and Merdeka (Independence) Square.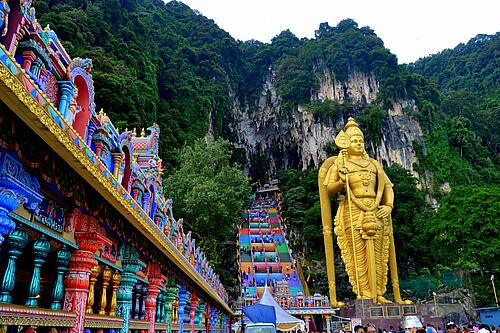 Visiting the Batu Caves is among the most popular attractions while cruising to Malaysia, though. A massive, colorful staircase leads visitors to the limestone Batu caves, a sacred pilgrimage site for Tamil Hindus. In front of the staircase is a 146-foot statue of Lord Murugan, a god of the Tamil people of southern India.
The other popular port in Malaysia, Penang, has had its culture influenced by China, India, Britain, and the Middle East due to its history as a regional trading center. Cruises dock near George Town, the capital city of the island state of Penang.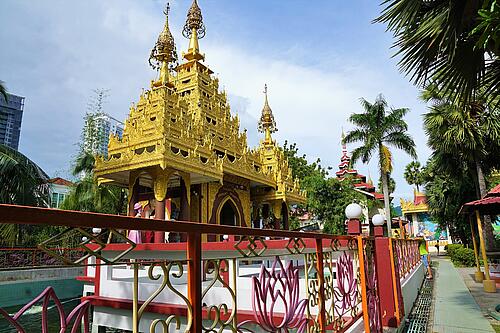 Visiting George Town brings the opportunity to view Chinese temples, Hindu Temples, mosques, churches, street markets, gardens, and museums. Traveling by trishaw (a 3-wheel pedicab) is a fun way to get around George Town.
Eating Malaysian cuisine is another way to experience the diverse blend of cultures found in Malaysia, with Chinese, Indian, Malay, and Thai culinary influences found in local dishes. From curried noodles to Chinese dumplings and pork soup, your taste buds are sure to be impressed in Malaysia.
Thailand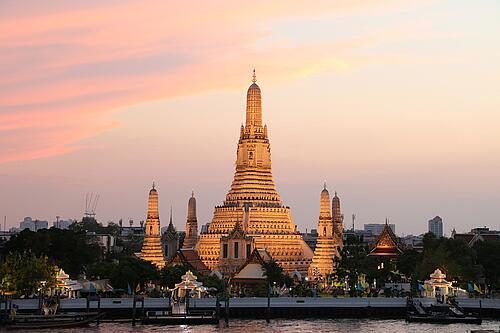 If you're interested in wandering through busy markets, visiting Buddhist temples, and tasting one of the most beloved cuisines in the world, consider booking a Royal Caribbean cruise that visits Thailand.
Some itineraries visit Bangkok, and often include an overnight stay, allowing visitors more time to explore Thailand's bustling capital city. Popular sites to visit in Bangkok include the Grand Palace, Wat Arun (Buddhist temple), and floating market.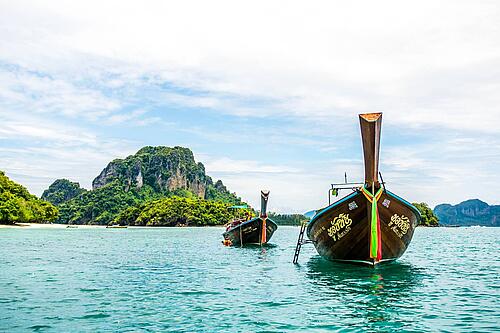 Phuket is another common port stop in Thailand, bringing visitors closer to Thailand's famous beaches, including the tropical paradise of Koh Phi Phi island. From island hopping to cooking classes and visits to the elephant sanctuary, Phuket offers a wide range of activities for all interests.
Must-try foods in Thailand include tom sam (papaya salad), chicken or pork grilled meat skewers, fresh spring rolls, and fried noodles such as pad thai and pad see ew. Be prepared for some spice and an abundance of flavor in every bite.
Vietnam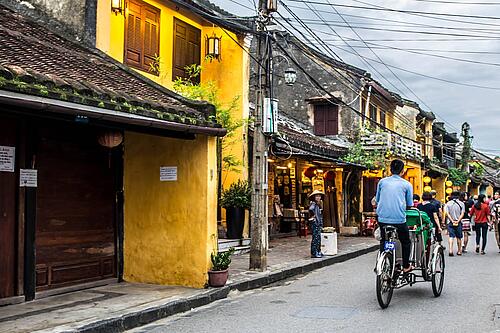 Cruises to Vietnam are often on the same itinerary as cruises to Thailand, but the two countries have many differences. Whereas Thailand drives on the left side of the road and uses the Thai alphabet, Vietnam is on the right side of the road and uses the Roman alphabet. In addition, French-influence can be found in Vietnam, whether in local cuisine, architecture, or cafe culture.
Royal Caribbean cruises to Vietnam often visit the ports of Hue/Danang (Chan May), Nha Trang, and Ho Chi Minh City.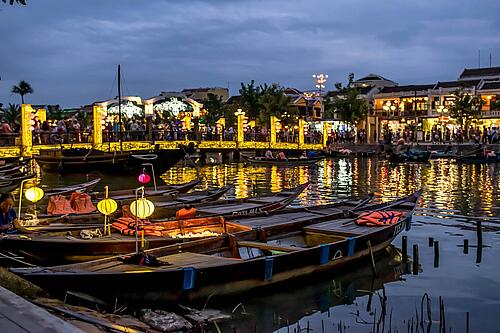 Hue and Da Nang are in Central Vietnam and are common spots to visit when the cruise docks in Chan May port. One of the most popular activities for a day in Central Vietnam is an excursion to the ancient town Hoi An, a quaint city offering a blend of cultures with Chinese architecture, Japanese pagoda, Vietnamese culture, and canals.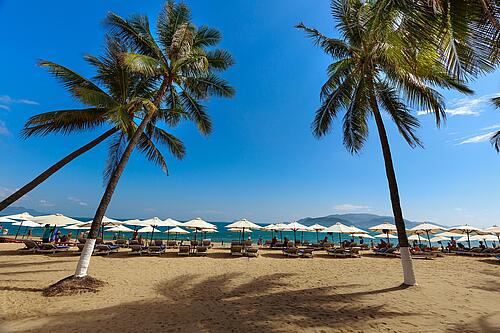 Nha Trang is a beach destination offering tropical, white sand beaches and beach resorts. Heading into the countryside is another highlight to experience while in Nha Trang, with shore excursions taking guests on a bicycle ride past small villages and farms.
Ho Chi Minh City offers an urban experience for visitors, with the opportunity to discover French colonial buildings, Buddhist temples, and bustling streets. Shopping at local markets and tasting Vietnamese cuisine is a must while in Ho Chi Minh, with a warm bowl of pho and crispy banh mi sandwich some of the most popular foods to try.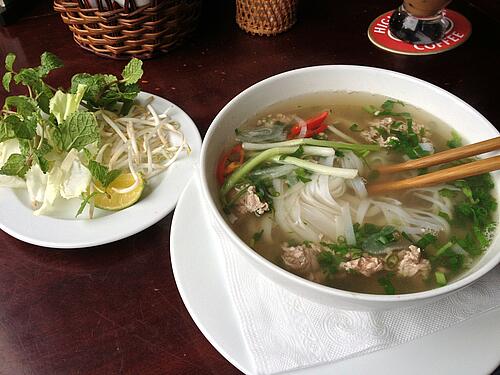 Guests interested in history may enjoy the "Cu Chi Countryside Biking" tour, which strolls through small agricultural villages and includes a stop to the Cu Chi tunnels, a network of underground tunnels used in wars against the French and American forces.
Additionally, depending on the itinerary, a 2-day shore excursion may be offered to visit the temples of Angkor Wat in Cambodia, a UNESCO world heritage site. While those opting to visit Angkor Wat will not experience Vietnam, they are sure to be amazed with the plethora of temples to explore in Cambodia.
Japan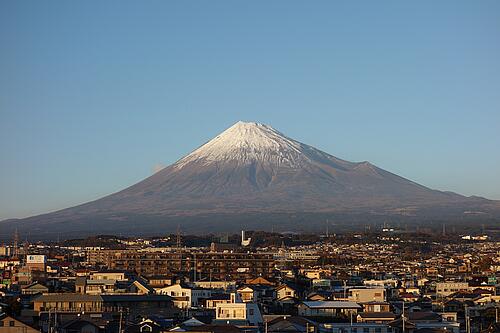 Japan is a bucket-list destination for many people, with the country's dramatic contrast between historic cultures and modern technology a draw for around 30 million tourists per year.
Royal Caribbean offers cruises to Japan, with port stops common in Kyoto (Osaka), Okinawa (Naha), Akita, Fukuoka, Nagasaki, and Tokyo (Yokohama). Cruises to Japan generally depart from China on Spectrum of the Seas.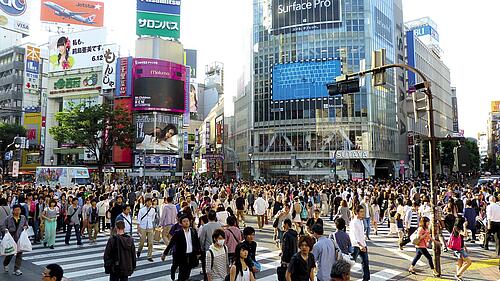 Cruising to Japan offers an array of shore excursion opportunities, from exploring Tokyo's bustling streets to admiring the scenery of Mt. Fuji and visiting shrines and temples. It goes without saying that tasting local cuisine is a must while in Japan, whether udon noodles, sushi, Wagyu beef, or matcha ice cream.
While cruises to Japan have not yet returned following the shutdown of the cruise industry in 2020, they are expected to return once cruises can restart from China.
Vanuatu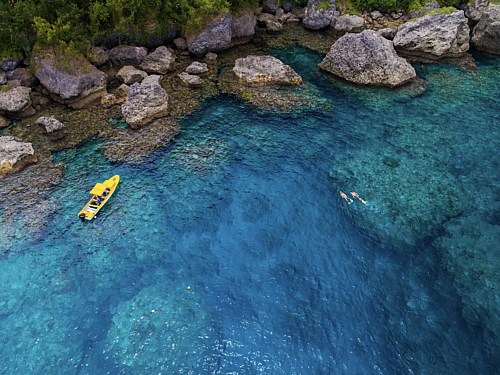 Vanuatu is a nation comprising 83 islands in the South Pacific, home to around 320,000 people. The majority of the population lives in rural areas, and over 100 languages are spoken throughout the archipelago.
Royal Caribbean cruises often visit Vanuatu on South Pacific cruises departing from Australia or on transpacific cruises. Popular port stops in Vanuatu include Mystery Island and Port Vila.
Port Vila is the capital of Vanuatu, offering visitors the opportunity to discover Vanuatu's culture through markets and food, or enjoy the city's nearby nature through waterfalls, rainforest hikes, and beaches.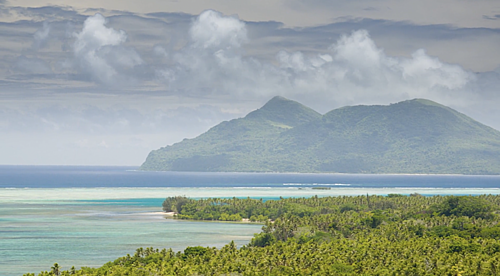 Mystery Island is a secluded, uninhabited island, making for a relaxing beach day. Visitors to Mystery Island can enjoy excellent snorkeling, standup paddling, and taste local cuisine, cooked by the residents of nearby Aneityum island.
Royal Caribbean's Perfect Day at Lelepa will be located on Vanuatu's Lelepa island, with the island's amenities and activities designed to showcase the diversity and ecological beauty of Vanuatu.
New Caledonia (French overseas territory)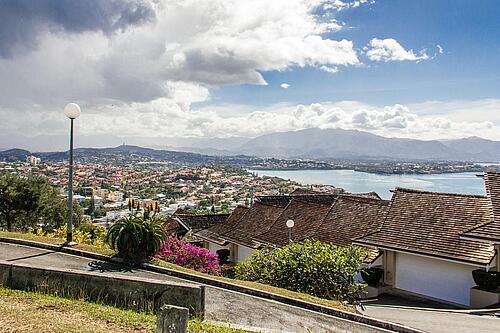 New Caledonia is a French overseas territory and archipelago in the South Pacific, home to around 270,000 people. A melting pot of Kanak Melanesian, French, Polynesian, and Asian cultures, New Caledonia offers a unique cultural experience and picturesque landscapes.
Noumea, the capital of New Caledonia, is a popular destination for Royal Caribbean cruises to the South Pacific. Located on the largest island of Grande Terre, visitors to Noumea can explore nearby beaches, local markets, and French and Melanesian cuisine.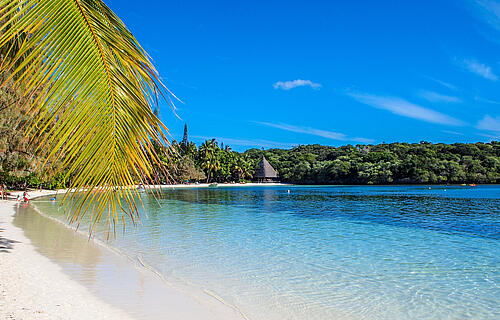 Many itineraries also visit the Loyalty Islands, an archipelago and administrative subdivision of New Caledonia, with port stops on Lifou Island and Maré Island. In addition, some itineraries visit Isle of Pines, known as the "Jewel of the Pacific" for its raw, beautiful landscape and turquoise waters. Visitors to New Caledonia can expect to find gorgeous, clear water, well-preserved coral reefs, and insights into local Melanesian culture.
Don't forget to try bougna, a native dish of crab and yams cooked in a banana leaf, and brochettes, which are skewers of grilled chicken.
Fiji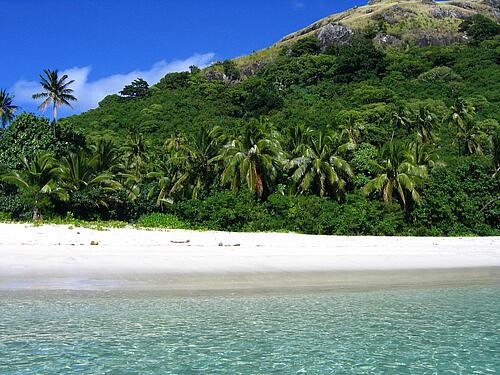 Fiji is an island nation archipelago located in the South Pacific, home to over 300 islands and nearly 900,000 people. Visiting Fiji is possible on a Royal Caribbean South Pacific itinerary departing from Australia, with port stops including Suva and Lautoka.
Suva is the most populous city in Fiji, where visitors can explore the city's urban culture or head out into nature to discover waterfalls, rainforests, beaches, and what life is like in the Fijian countryside.
Royal Caribbean cruises also visit Lautoka, the second largest city in Fiji. Those looking for a beach day will find plenty of lovely beaches near Lautoka and on surrounding islands, whereas visitors looking to get more active can go ziplining, soak in thermal mud pools, kayak, and explore the Sleeping Giant mountain range.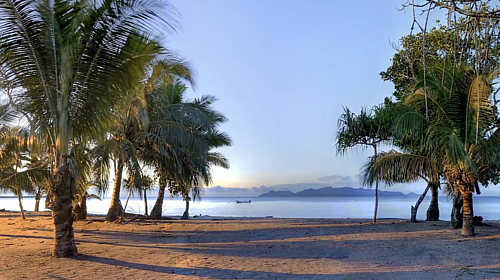 Kava is the beverage to try while in Fiji. Enjoyed throughout the South Pacific, Kava is a mild sedative drink made from mixing water with the powdered root of pepper kava plants, which results in feeling calm and relaxed. Royal Caribbean offers shore excursions that include kava ceremonies for those looking to try the drink and learn more about its history and significance.
If you're hungry, be sure to try kokoda, a Pacific-style ceviche made with mahi-mahi, coconut cream, lime juice, and chilies.
French Polynesia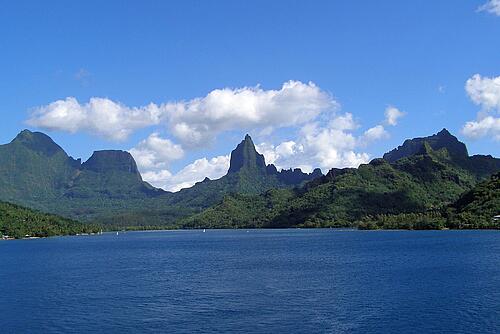 Spread across 118 small islands and atolls, the beauty of French Polynesia can be discovered while on a Royal Caribbean cruise. As French Polynesia is located further into the Pacific from Australia compared to New Caledonia and Fiji, visits to the region are generally only found on transpacific cruises.
Common port stops to French Polynesia on transpacific cruises include Raiatea, Moorea, and Papeete, Tahiti. Visitors will want to explore the lush landscapes of French Polynesia, from cascading waterfalls to mountains, volcanoes, and black-sand beaches.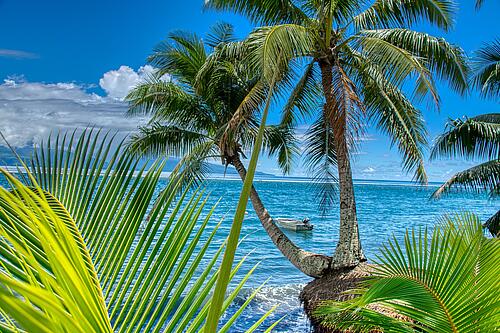 Beach days are also sure to impress guests in French Polynesia, whether on a catamaran ride, snorkeling, or sunbathing in the warm South Pacific sun.
Don't forget to head outdoors to watch as your ship sails into the islands each day, as the jagged mountain peaks rising dramatically from the ocean are sure to be a beautiful sight to view from onboard.
Nicaragua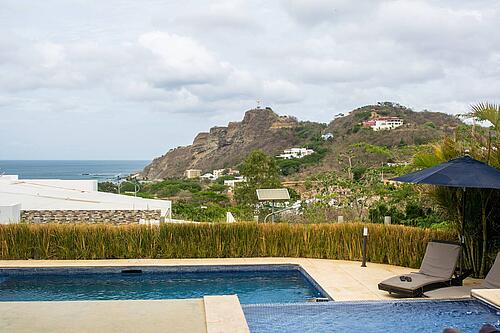 Cruises to Nicaragua are not very common, as the country is usually only visited on repositioning Panama Canal cruises. Royal Caribbean ships tender in the Pacific coastal town of San Juan del Sur.
What was once a small fishing village is now a popular destination for tourists in Nicaragua, offering beaches, shopping, and world-class surfing. Despite becoming more popular in recent years, San Juan del Sur maintains its charm and is easy to explore on foot.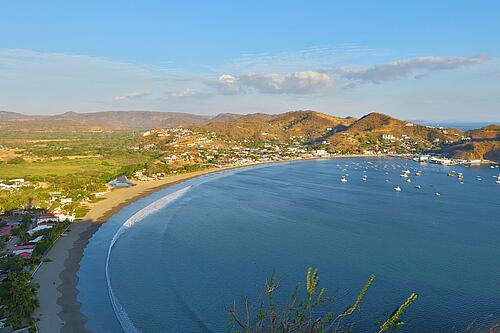 Most visitors to San Juan del Sur will spend the day at the beach or walking through town. Passengers hoping to get active may enjoy hiking to Cristo de la Misericordia, one of the largest statues of Jesus in the world, which overlooks the coast and surrounding mountains of San Juan del Sur..
Shore excursions may also be offered to nearby destinations in Nicaragua, such as the colorful city of Grenada or Lake Nicaragua, which boasts incredible views of the volcanic peaks on Ometepe Island.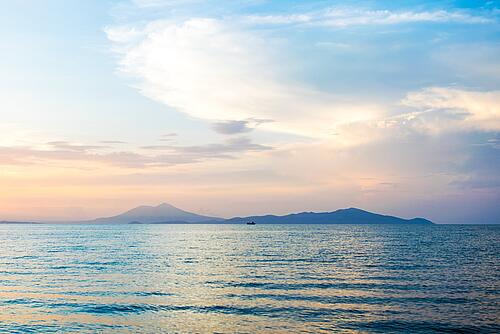 For food and drink, stop at a local restaurant for fresh jugos (juices), tostones (plantains), and gallo pinto (rice and beans). Nicaraguan cuisine is flavorful, affordable, and filling, so enjoying lunch in port is a must-do activity while in San Juan del Sur.
Belgium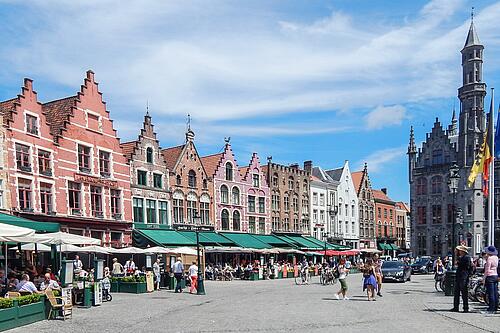 Royal Caribbean cruises to Belgium are infrequent, usually only found on transatlantic or longer cruises departing from Southampton. Cruise ships dock in the port of Zeebrugge, which is around 30 minutes from Bruges, where most visitors will spend their day in Belgium.
Bruges is a city with medieval history and architecture, once the center of trade in northwestern Europe. Today the city is quaint and charming, allowing visitors to stroll along canals, historic squares, and parks.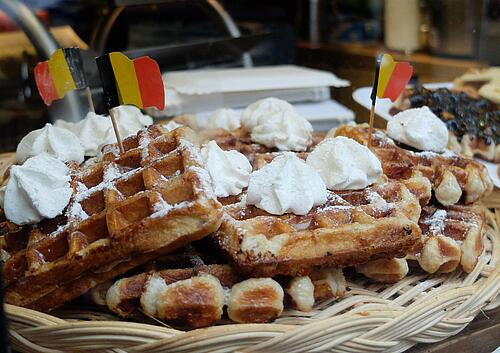 Enjoying down time in cafes and restaurants is a nice way to spend the day in Bruges, whether tasting Belgian beer, fries, waffles, or the country's famous chocolate.
Iceland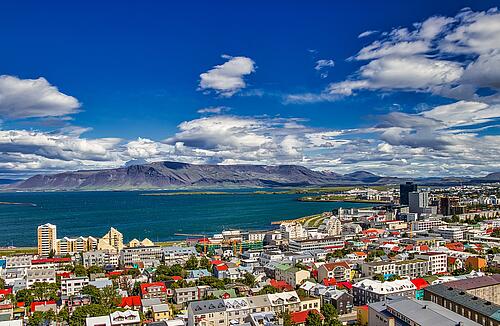 Home to some of the most unique landscapes in the world, Iceland is a must-see destination that can be visited on a Royal Caribbean cruise. Port stops in Iceland include Reykjavik, Akureyri, Isafjordur, and Seydisfjordur.
Cruising to Iceland offers visitors the chance to experience the country's geological landscape, whether soaking in hot springs, viewing erupting geysers, and hiking volcanoes. Visiting glaciers and volcanoes is possible in one day in Iceland!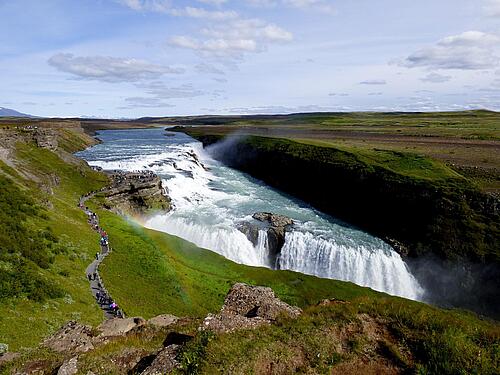 Cultural insights can be enjoyed too, as guests can learn more about Iceland's melting pot of Scandinavian, Viking, and even Celtic cultures.
As cruises to Iceland will likely be during the summer months, plenty of daylight is to be expected, allowing visitors to maximize their time exploring the country. Some cruises include overnight stays at certain Icelandic ports, as well, for those who would like to see as much of Iceland as possible.
Greenland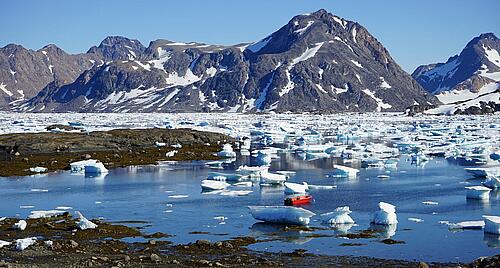 Greenland, an autonomous dependent territory of Denmark, is possible to visit on a Royal Caribbean cruise, although it is not a commonly offered itinerary, so be sure to take advantage of the opportunity to visit while you can!
Cruises to Greenland often visit Nuuk, Greenland's capital, and Qaqortoq. While Nuuk and Qaqortoq are considered large towns by Greenland's standards, they only have populations of 17,635 and 3,050 people!
Visitors to Greenland can expect to find rugged landscapes, rural towns and villages, hot springs, insights into Nordic and Inuit culture, and meat and seafood-focused cuisine. Wildlife viewing opportunities are in abundance in Greenland, too, from minke, fin, and blue whales to seals and polar bears.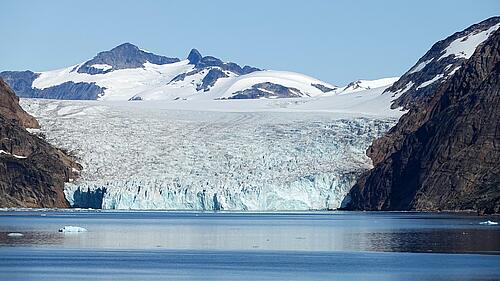 Greenland itineraries may also include a visit to Prins Christian Sund, a fjord in southern Greenland where guests can be awe-inspired by glaciers, steep mountain peaks, waterfalls, and wildlife. While at Prins Christian Sound, cruisers can walk around the tiny settlement of Aappilattoq, home to just 100 residents.
Turkey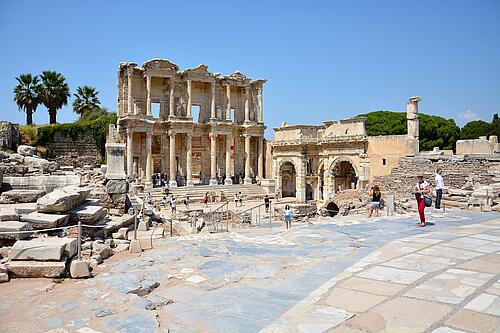 Offering a blend of Mediterranean and Middle Eastern cultures is the country of Turkey, another country that can be visited while on a Royal Caribbean cruise. Select Greek Isles, Mediterranean, or Holy Land cruises include a port stop in Turkey.
The most common port stop in Turkey is Kusadasi, a resort town located on Turkey's Aegean shore. Most visitors to Kusadasi plan to visit Ephesus, an ancient city founded in the 10th century BC. Considered one of the best preserved archaeological sites in the world, visitors to Ephesus can enjoy well-maintained streets and buildings of the Roman Empire.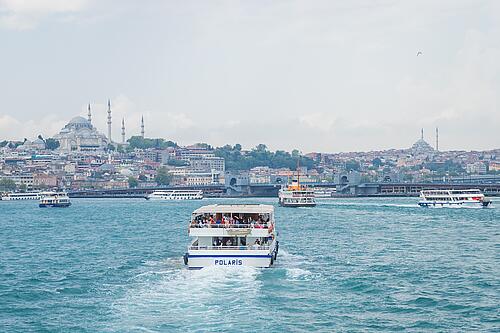 While less common, some cruise itineraries will offer a stop in Istanbul, Turkey. At the crossroads of Europe and Asia, Istanbul offers visitors a unique chance to discover how cultures, religions, and cuisines coexist in a city of over 15 million people.
Famous attractions to visit in Istanbul include the Hagia Sophia, Blue Mosque, and Grand Bazaar. Don't forget to try Turkish cuisine, with foods such as doner kebab, pide, and borek popular among locals.
Egypt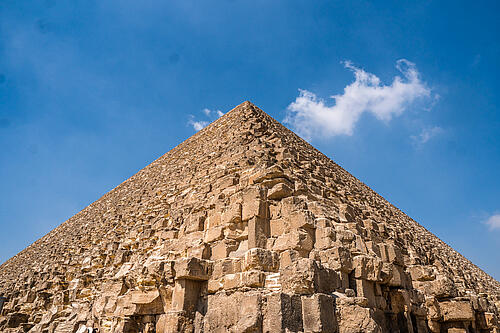 Cruisers looking to visit the only remaining wonder of the ancient world are in luck, as Royal Caribbean offers cruises to Egypt. Common ports to visit on a cruise to Egypt are Alexandria and Port Said.
Port stops in Egypt are long, with ships often docked from 7 or 8AM to 10PM. This allows passengers enough time to travel to and from Cairo, visiting famous sites including the Pyramids of Giza, Sphinx, and the Saqqara Necropolis.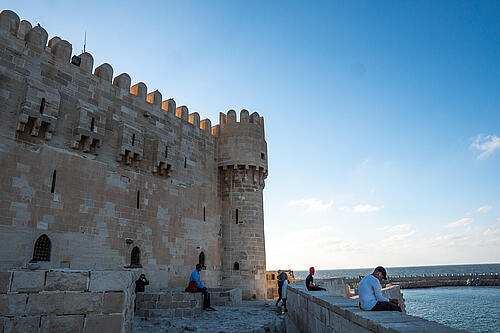 Alternatively, guests can choose to stay in the coastal cities of Alexandria and Port Said, admiring old architecture, learning about the Suez Canal, and discovering Egypt's culture.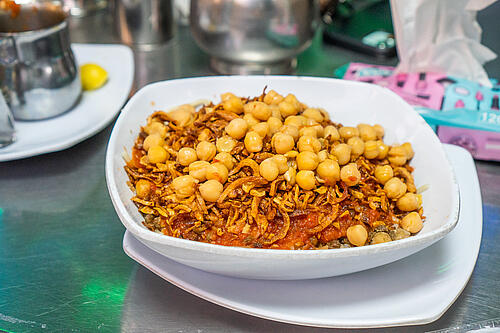 Be sure to taste local Egyptian cuisine during your day in port, such as falafel and koshari, and don't forget to order a cup of tea!
Montenegro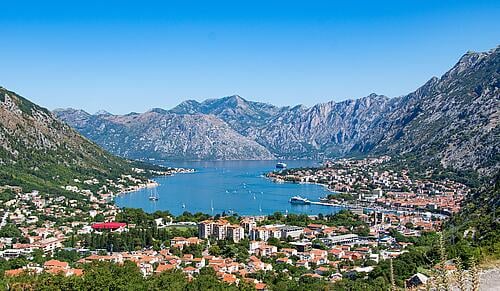 Montenegro is a small Balkan country with a population of just 622,000 people along the Adriatic, and Royal Caribbean ships often visit the historic port of Kotor.
Kotor is a small, compact town with winding cobblestone streets and historic squares. Wandering through the streets of Kotor's Old Town is a must while visiting Montenegro, as the town is filled with historic churches, markets, restaurants, and picturesque waterfront views.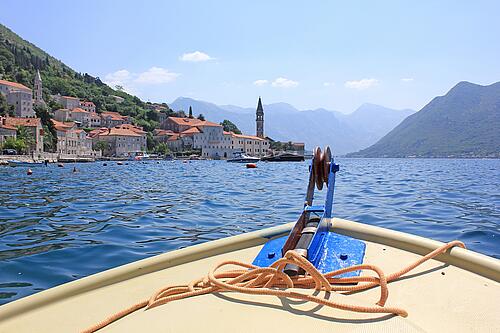 If you are hoping to travel outside Kotor and experience more of Montenegro, consider a shore excursion that travels inland, visiting small villages such as Njeguši, where you can learn more about life and culture in Montenegro.
Don't forget to watch your ship sail into the Bay of Kotor, which navigates through Europe's southernmost "fjord". While technically a river canyon and not a fjord, the dramatic cliffs alongside a narrow section of the Mediterranean provide visitors with unbelievable views when sailing to and from Kotor.