In:
Just like with airfare and hotels, a cruise vacation can be done on any budget. From picking a stateroom to dining onboard and exploring a port, a Royal Caribbean cruise offers options that fit every budget.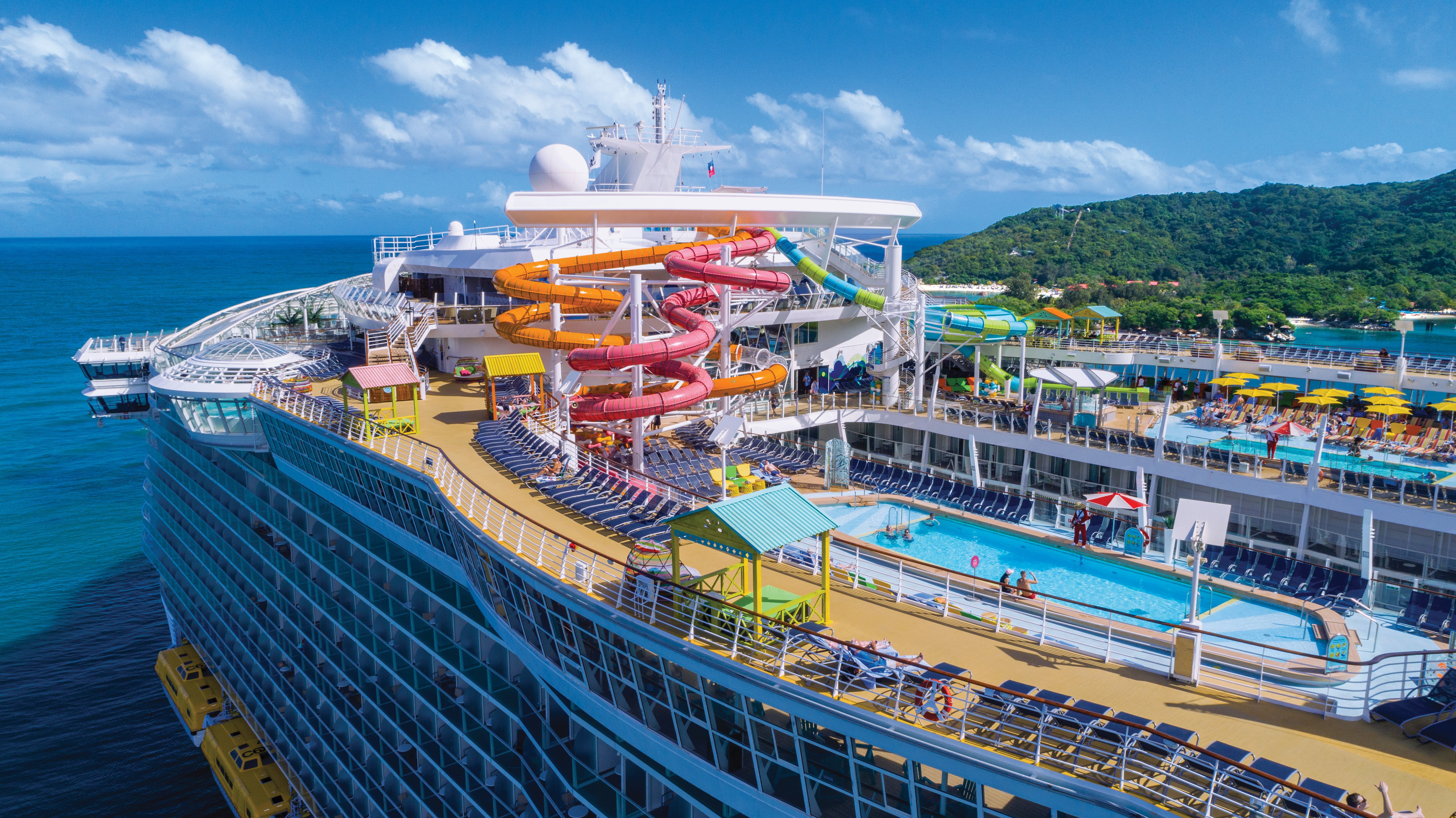 Let's take a look at some tips and tricks for how to plan a memorable cruise vacation on a low, moderate, and high budget.
Low Budget
It is entirely possible to go on a Royal Caribbean Cruise with a tight budget. While Royal Caribbean offers plenty of opportunities to enhance a cruise experience with specialty dining, shore excursions, and onboard activities, there is more than enough included in the cruise fare to have a wonderful vacation without blowing your budget.
Stateroom Selection
If you're planning a low-budget cruise, you will most likely be booking in an interior stateroom. Located within the interior hallways of the ship, these rooms lack a window or balcony. Thus, an interior stateroom is nearly always the cheapest type available for a particular sailing.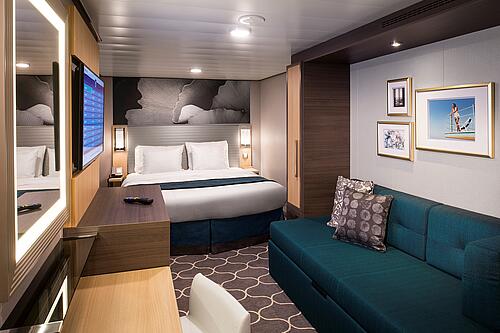 With no window, no balcony, and total darkness at night, an interior stateroom must be pretty grim, right? Not necessarily.
Interior staterooms offer many of the same amenities as other stateroom types, such as a TV, private bathroom, desk, mini fridge, and a chair or couch. Interior staterooms, especially on newer ships, tend to be spacious and have plenty of storage options as well. Some interior staterooms even have virtual balconies, allowing guests to watch a live feed of the ship through a large screen on the wall.
Plus, there is so much to do onboard a Royal Caribbean cruise that many guests find they don't spend as much time in their room as they thought they would!
Therefore, staying in an interior stateroom can be a great way to save money and it is usually the best bet on a low budget. However, Royal Caribbean's pricing changes constantly and you may be able to score a good deal on an upgraded room.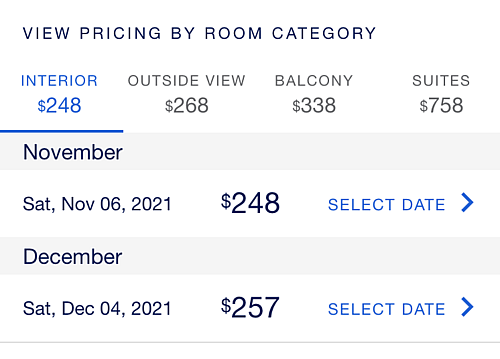 Let's take this 5-night Mariner of the Seas sailing, for example.
An interior room is priced at $248/pp, an outside view at $286/pp, and a balcony at $338/pp. With only a $90 difference between an interior and a balcony, it might be worth it to stretch your budget.
On the ship
The majority of dining options and activities onboard a Royal Caribbean ship are complimentary. So if you're on a tight budget, there is no need to spend extra money onboard.
Before your cruise, be sure to look up what dining options are available on your particular ship. All ships will offer the complimentary Main Dining Room and Windjammer Cafe, but other dining options can differ.
Depending on the ship, you may have other complimentary options such as the Solarium Bistro, El Loco Fresh, Sorrento's, Park Cafe, and Cafe at Two70, among others.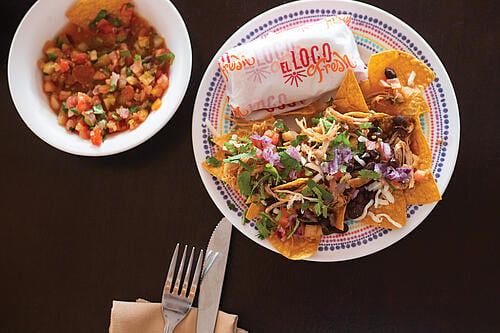 If you are hoping to try one of Royal Caribbean's specialty restaurants but are worried about the cost, try eating there for lunch! Many specialty restaurants onboard offer the same menu options for lunch and dinner, but lunch comes at around half the cost of dinner.
Just like dining, the majority of activities onboard are also complementary. Whether bumper cars, the gym, broadway shows, rock climbing, ice skating, waterslides, trivia, or surfing on the FlowRider, there is no shortage of fun and free activities to keep you busy onboard.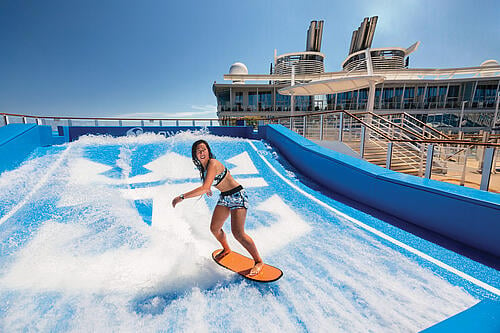 Keep a look out for activities that have both a complimentary and extra-fee option. RipCord by iFLY, for example, has a 1-minute complimentary flight experience and a 2-minute paid flight experience. The North Star generally has shorter ride options that are complementary as well as "premium" options that can run anywhere from $30-50.
To score a complimentary reservation, it is important to reserve the activity as soon as possible on the Royal Caribbean app once onboard. Most guests are looking to reserve the complimentary option of these activities, so the reservations can fill up fast. Be sure to open the Royal Caribbean app the first day of your cruise so you can reserve these activities without breaking your budget.
At port
While it is doable to maintain a strict budget while onboard, what about when you're in port?
Whether a tropical island in the Caribbean or a historic mining town in Alaska, disembarking a cruise ship means it is time to explore an amazing destination. That often means spending money on ground transportation, activities, and food. With a little research and preparation, though, it is possible to explore a port without breaking the bank.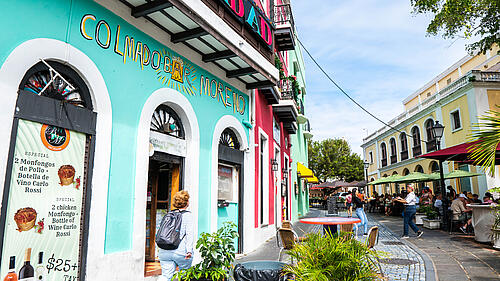 Before your cruise, do a little research into free activities in port. Find out which beaches are free, what hikes are nearby, and what historical monuments or museums are available at a low cost. Some destinations are simply so quaint to explore that just walking around the town can be a great way to spend a few hours at no extra cost.
Spending extra money on food in port can also be a concern. If the ship docks close enough to the main part of town, you can technically embark  the ship for lunch before heading back out to explore the port. However, since food is such an integral part of experiencing a culture or destination, I would recommend setting aside a small part of your budget to try local cuisine instead.
Perfect Day at CocoCay
An itinerary that includes Perfect Day at CocoCay is a great choice for budget cruisers. At Royal Caribbean's private island, it is entirely possible to disembark the ship, enjoy a beautiful day on the island, and get back onboard without spending a penny.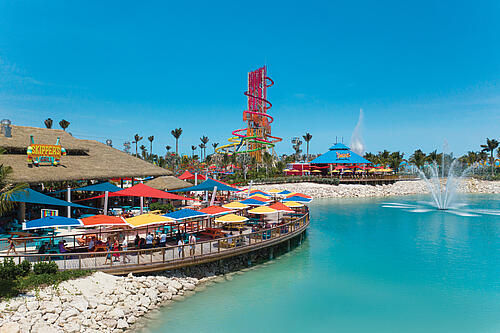 CocoCay includes many complimentary dining options, such as Chill Grill and Snack Shack, where guests can enjoy a variety of food like burgers and fries, chicken sandwiches, salads, tacos, ice cream, and more.
And while the island offers many upcharge activities like the Coco Beach Club, Thrill Waterpark, and cabana rentals, the majority of the island can be enjoyed at no extra cost. Spending the day at Oasis Lagoon or lounging at Chill Beach is the perfect budget-friendly day in port.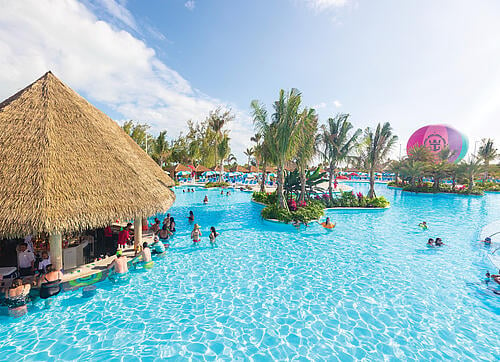 Moderate Budget
Cruising on a moderate budget allows you the chance to try dining, activities, and excursions that you may not be able to do on a low budget. If you're not counting every penny but also don't want to blow your entire savings, here are a few ideas on how to plan your cruise.
Stateroom Selection
If you're hoping to splurge a little on a stateroom, but not to the extent of a suite, a balcony room is a great option while cruising on a moderate budget. Balcony rooms offer a private place to enjoy the incredible views you are sure to experience on a cruise vacation.
There are a few types of balcony rooms available to book on Royal Caribbean ships. The standard balcony has a picture-perfect ocean view with a table and two chairs outside.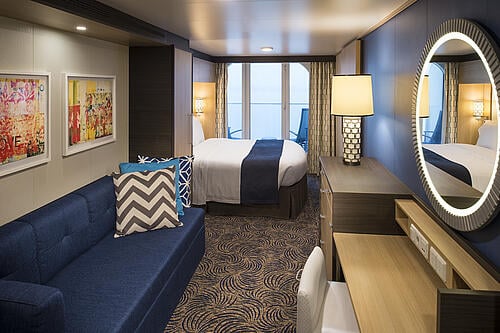 Oasis Class ships offer Central Park and Boardwalk balconies. These balconies do not always have a view of the ocean, but are a great option for those looking to try something different. With these balconies, guests can spend the day relaxing, listening to live music, and watching everything going on below.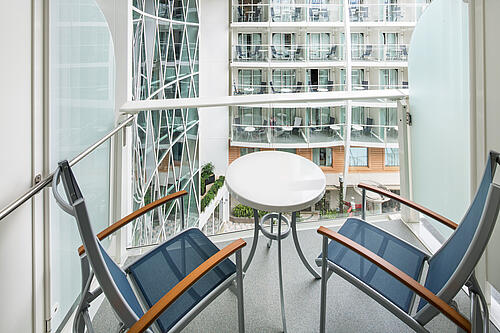 The last type of balcony offered is an obstructed view balcony. These balcony rooms are the same size as a standard balcony, but there is something outside obstructing the view of the ocean. Usually a lifeboat or a piece of the ship's design, the views of the ocean can be slightly or severely obstructed. Because of this, these rooms usually come at a lower cost.
On the ship
Having a little more leeway in your vacation budget gives you more options for things to do and eat onboard. 
A great option for those looking for an enhanced dining experience on a moderate budget is the 3 Night Dining Package, which allows guests to eat at three specialty restaurants onboard. The price for this package is quite reasonable, coming in around $110.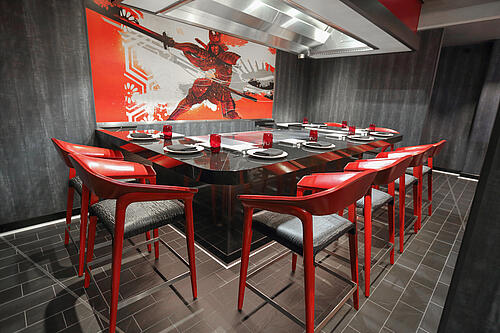 This is a great option for guests looking to have a mix of specialty and complimentary dining. From homemade pasta at Giovanni's to hibachi at Izumi, Royal Caribbean's specialty restaurants are really good and offer extremely diverse cuisine.
A moderate budget can also allow for the opportunity to try out upcharge activities onboard. Several ships offer an escape room which comes at a cost of around $20-25 per person. There is also the new Zone Zero onboard Odyssey of the Seas, where guests can make their way through a virtual reality experience for a cost of $18 per person.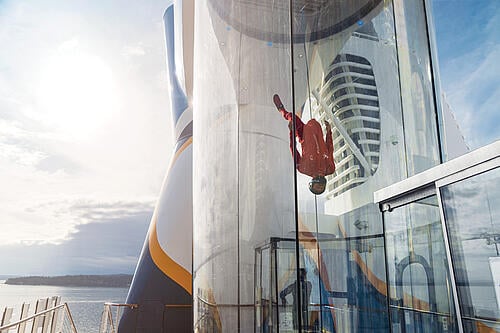 Other upcharge activities onboard include the arcade, FlowRider lessons, premium North Star experiences, and longer RipCord by iFLY flight times.
You may also choose to splurge a bit and treat yourself to a moderately-priced treatment at the Vitality Spa or try out a class in the fitness center. Or perhaps try a sushi making class at Izumi or reserve a backstage tour of the ship.
At port
While it is nice to explore a new island or town on your own, with a moderate budget, you can enjoy a destination without worrying too much about the costs you will encounter at port.
You can dive deeper into a port through activities such as a shore excursion, all-inclusive day club, or a cabana/equipment rental.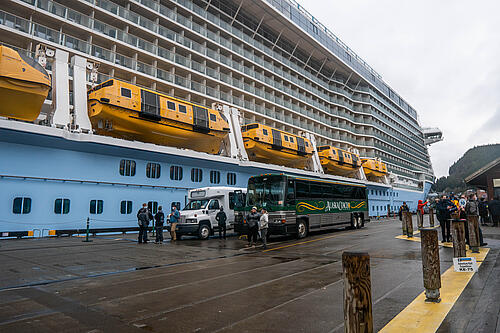 Royal Caribbean offers plenty of shore excursion opportunities in every port of call and for all ages and fitness levels. Excursions are available to purchase on the Cruise Planner website prior to the sailing, and they can also be purchased onboard at the Shore Excursions Desk.
Another popular option is to spend the day at a nearby beach club. For a flat fee, these all-inclusive day clubs include food, drinks, and a private beach. Nachi Cocom in Cozumel and Maya Chan in Costa Maya are two examples of all-inclusives that you can enjoy during your day in port.
Perfect Day at CocoCay
Perfect Day at CocoCay offers many enhanced experiences that are attainable with a moderate budget.
If you are traveling with kids or looking for an adrenaline-filled day, Thrill Waterpark is a great option. With costs usually ranging between $70-90, the waterpark features a wave pool, an adventure pool, and the tallest waterslide in North America.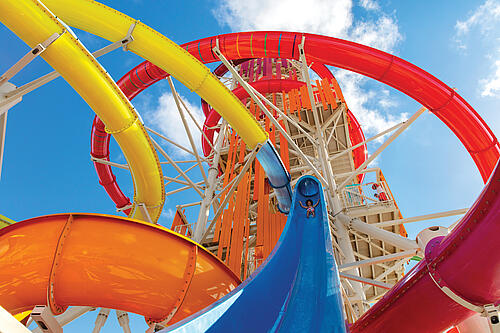 CocoCay also offers equipment rentals for kayaks, snorkel gear, and jet skis for those hoping to get into the water. A few activities on the island, such as the zipline and the Up, Up and Away helium balloon ride also come at an extra cost.
Another upgraded venue at CocoCay is the Coco Beach Club. Guests at the Coco Beach Club can enjoy a private beach, infinity pool, private lounging area, and a delightful meal at the Coco Beach Club Restaurant. The beach club has a limited capacity, ensuring that the area remains tranquil for guests looking for a more enhanced beach experience. Costs for the Coco Beach Club vary, but often range from $80-180 for a full day pass.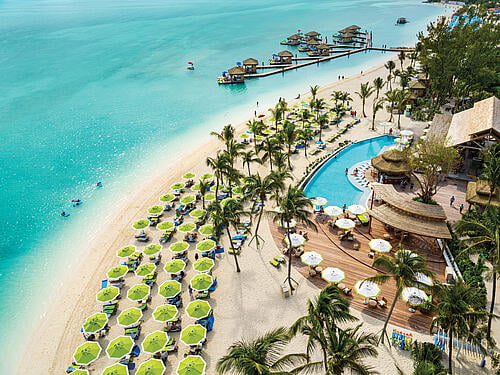 High Budget
If you're looking to splurge at sea and have the vacation of your dreams, get ready for a once in a lifetime cruise experience. Cruising on a high budget offers the most flexibility in terms of dining options, shore excursions, and premium treatment onboard. 
Stateroom Selection
Forget interior rooms. If you're looking to splurge, book a suite! Suites offer a more upgraded experience in your stateroom and range from offering solely extra living space to full-fledged luxury.
Junior Suites are the most affordable type of suite onboard, which have an extra large balcony and increased living space. However, they don't include the same perks that guests will receive staying in a regular suite.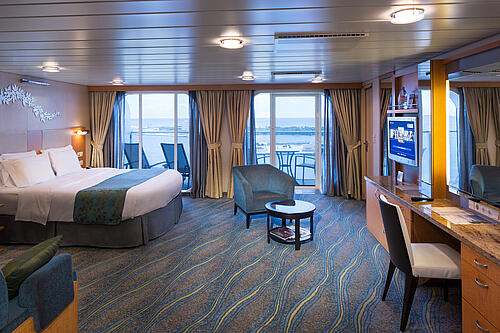 Regular suites include extra living space as well as perks like priority boarding, concierge service, and deluxe amenities. Some suites have multiple bedrooms which can be a nice perk when traveling with kids or in a larger group.
The Royal Suite Class, available on Oasis and Quantum Class ships, takes the suite experience to another level. It has three tiers: Sea Class, Sky Class, and Star Class. Each comes with benefits like a dedicated check in line, priority boarding, and dinner at Coastal Kitchen.
Star Class, the highest tier, includes complimentary specialty dining, a complimentary deluxe beverage package, and even a Royal Genie who acts as your own personal concierge onboard.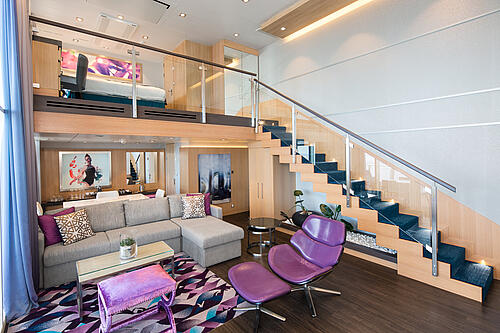 Staying in a suite is a fantastic way to add a touch of luxury to your vacation, and Royal Caribbean is constantly working to enhance the cruise experience for suite guests. Wonder of the Seas, the newest ship in the fleet, will even feature a brand new Suite Neighborhood. The Suite Neighborhood is dedicated only to suite guests and will feature its own pool, bar, seating, Coastal Kitchen, and the Suite Lounge.
Onboard
The majority of the Royal Caribbean experience onboard is included in the cruise fare. However, there are a few ways to enhance your vacation even more.
If you're traveling for a special occasion, such as an anniversary or birthday, make your travel companion feel extra special the moment they walk into the stateroom for the first time. Royal Caribbean offers the option of having your stateroom decorated for a special occasion and having special treats, like birthday cake or champagne, in the stateroom when you arrive. These options are available to purchase in advance of your sailing on the Cruise Planner website.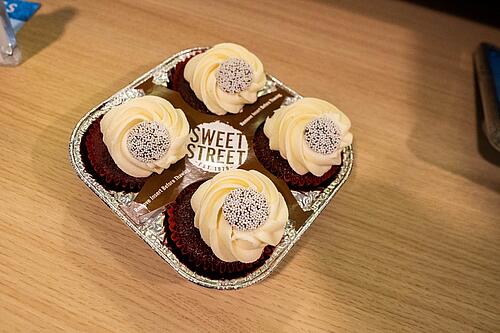 As far as dining and drinking onboard, don't hesitate to book the Unlimited Dining Package and the Deluxe Beverage Package. With both of these packages, you will be free to eat and drink wherever and whenever you want. Depending on the ship and sailing length, this will allow you to try a brand new specialty restaurant each night of your cruise.
One extra dining experience you may want to book is Chef's Table. Coming in around $100 per guest, Chef's Table is an intimate dining experience pairing the chef's course selection with fine wine selected by a sommelier. As a relaxed, 2-3 hour dinner, Chef's Table allows you opportune time to enjoy an elegant meal onboard.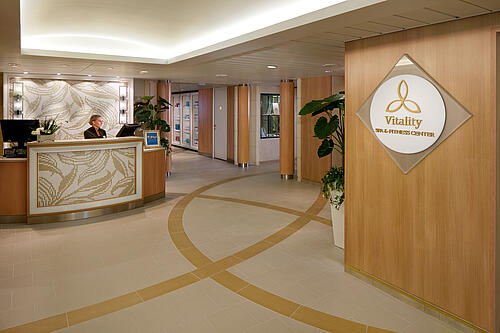 With a high budget, you may also be interested in checking out all the treatments offered at Vitality Spa. A great way to do this is to visit the spa on the first day of your cruise and ask for a tour. One of the crew members will take you on a tour of the spa and discuss what treatment options are available and best for you.
At Port
Just like onboard, Royal Caribbean offers a variety of ways to enhance your cruise experience while in port.
Royal Caribbean has several "premium" shore excursion experiences, which tend to cost more than the average excursion. In Alaska, for example, guests can book a helicopter ride that travels above Mendenhall Glacier before landing on the glacier and allowing guests to walk on the ice. While not cheap, traveling with a higher budget can give you the financial flexibility to book an excursion of this caliber.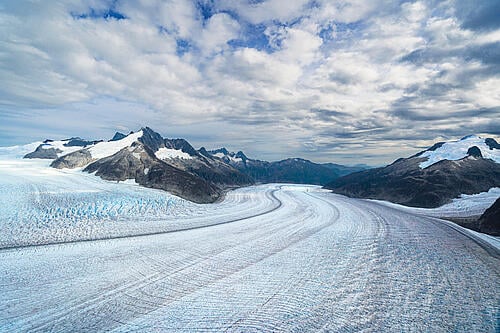 If you're looking for a private shore excursion option, book a tour with Royal Caribbean's Private Journeys. With Private Journeys, guests have an exclusive and personalized shore experience planned by Royal Caribbean's Destination Insiders. With Private Journeys, you can sightsee at your own pace and without the hassle of a large group tour. In addition, since it is booked through Royal Caribbean, there are no worries of missing the ship if the tour runs late.
Perfect Day at CocoCay
You don't have to visit the Maldives to have an extravagant beach day. At Perfect Day at CocoCay, there are several full-day cabana rental options available to enjoy. The most exclusive are the floating cabanas at the Coco Beach Club.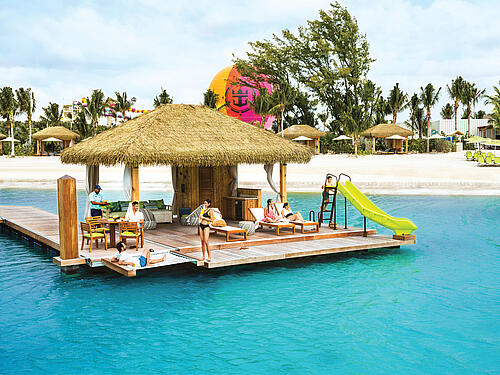 The Coco Beach Club offers a total of twenty floating cabanas that, as the name implies, "float" over the island's crystal clear water. Each cabana has a lounging area with comfy furniture, dining table, freshwater shower, mini fridge, padded pool chairs, a slide, a hammock, and outlets. In addition, a cabana gives guests access to the Coco Beach Club itself, including the excellent lunch offerings at the Coco Beach Club restaurant.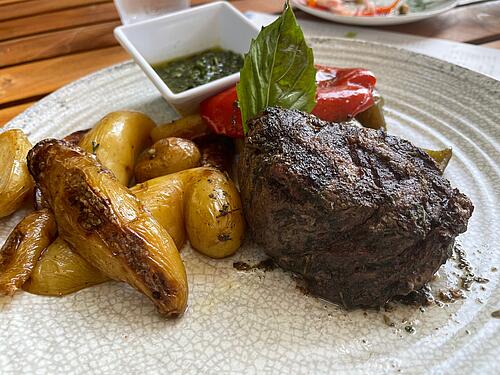 Guests can enjoy this meal at the restaurant itself or from the comfort of the floating cabana.
The cabanas come at a premium, though, with costs reaching up to $1800 for a day rental. However, since each cabana has a capacity of eight guests (with the possibility of adding two more), the cost is not as much of a sticker shock when you split it up.
Overview
By evaluating how much money you are willing to spend on a cruise vacation, you can plan a Royal Caribbean cruise to meet your specific needs.
Ultimately, whichever stateroom, dining choices, onboard activities, or shore excursions you choose, a cruise is sure to create unforgettable memories for all those onboard.