In:
As much as everyone on a cruise hopes for endless days of sun, a slight breeze, and warm temperatures, the truth is that sometimes you will encounter unfavorable weather conditions onboard or in port.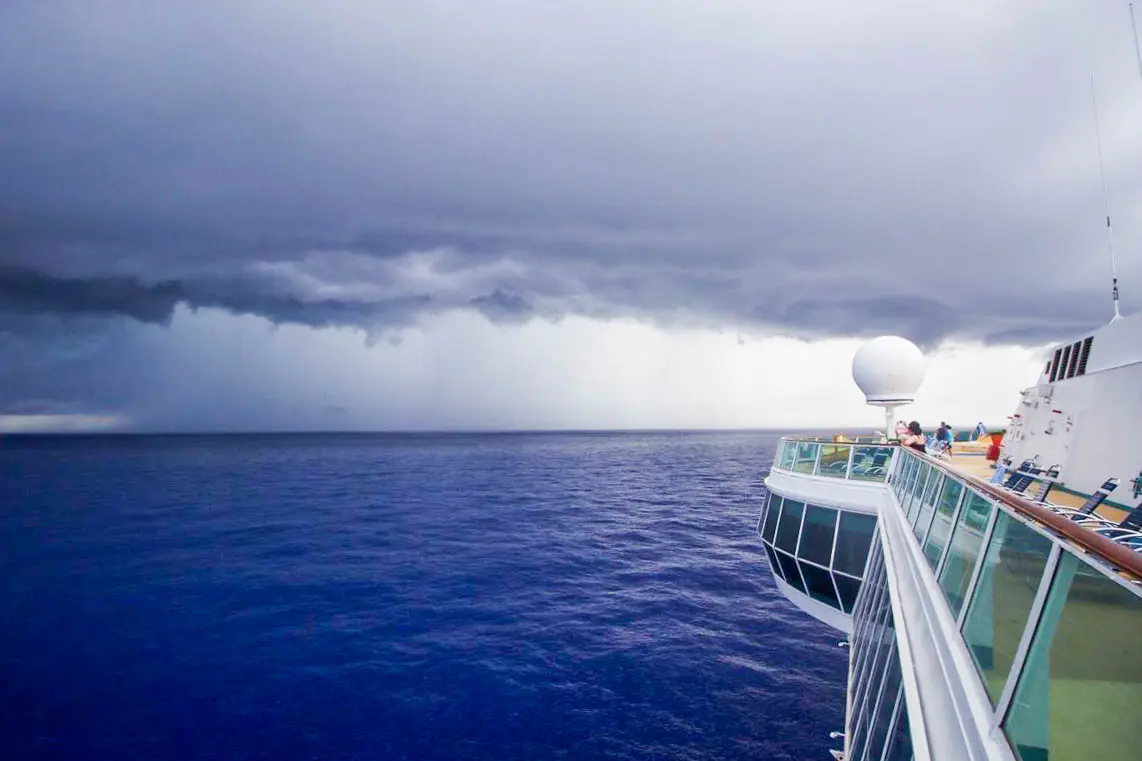 Royal Caribbean works hard to forecast weather conditions in advance and deviate course whenever necessary, but it's not always possible to avoid rainy conditions. If your cruise ship encounters rain, though, don't fret!
There are countless ways to spend a rainy day onboard, and here are some of our favorites.
Relax in the Solarium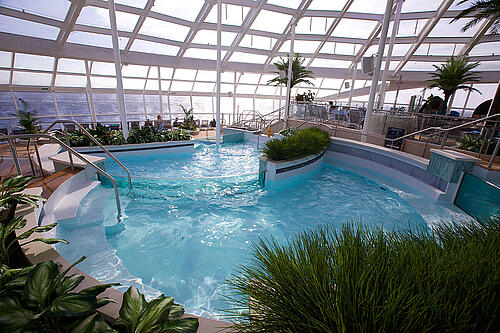 Royal Caribbean ships, aside from those in the Voyager and Freedom Classes, have a covered Solarium for guests aged 16 and older. On chilly, rainy, or windy days, relaxing in the Solarium provides an escape from the weather outdoors while still allowing you to enjoy time by the pool or jacuzzi.
Related: Everything about Royal Caribbean's Solarium
Additionally, if you are sailing on a Quantum Class ship (with the exception of Odyssey of the Seas), take advantage of the indoor pool, which is available for all ages. While the pools will be closed if the ship encounters any severe weather like lightning, they will generally remain open during normal rainy days.
Read a book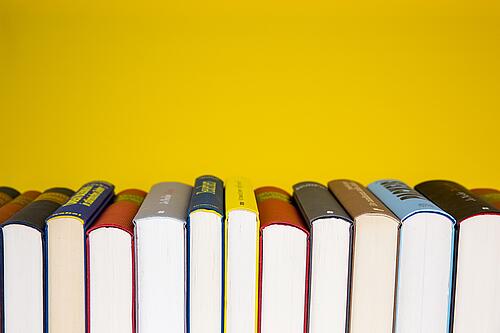 A classic cruise activity for a rainy day is to find a quiet corner onboard and read a book. Despite the fact that cruise ships are packed with entertainment, activities, music, and lounges, there are always places onboard to get away from the crowds.
Related: Chill spots to get away from the crowd on a Royal Caribbean cruise ship
Here are some of the best places to read a book on a rainy day:
Two70 (Quantum Class ships)
"Hidden" seating on the running track (Oasis Class ships)
Star Lounge (Voyager and Freedom Class ships)
Library or card room
Vintages wine bar
If you're looking for book recommendations, check out our lists of the best reads to bring on your cruise:
See a show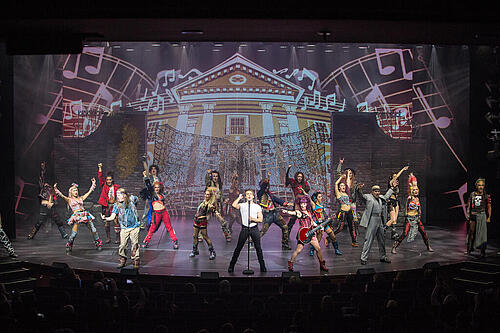 If your rainy day is on a sea day, check the ship's entertainment schedule to see if there are any matinee performances in venues like the Royal Theater, Two70, or Studio B.
Spending an hour or two in a show is a great way to pass time on a rainy day while being entertained in the process. Plus, by seeing the show in the afternoon instead of in the evening, your evening schedule is opened up for other activities onboard.
Listen to live music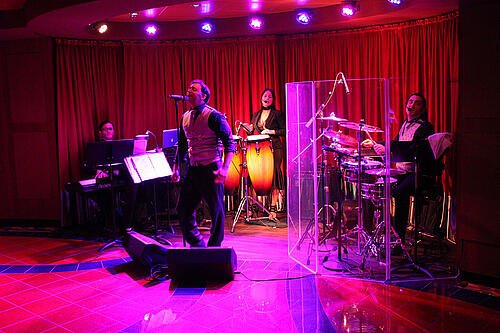 If you encounter a rainy day on your cruise, take a look at the Cruise Compass to see what live music is available throughout the day. From live Spanish guitar at Boleros to jazz in the Royal Promenade, listening to live music can be a cozy, relaxing way to spend your time as the rain passes through.
Grab a drink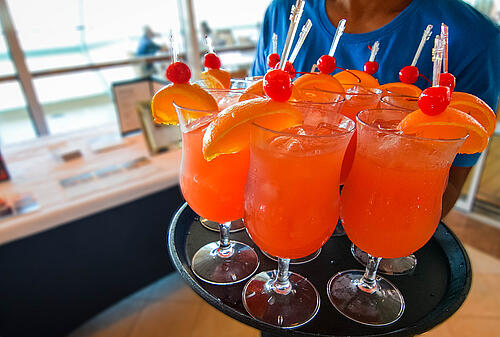 Relaxing with a drink in hand is always a fun way to spend time on a cruise, but can be especially nice during a rainy day. There are many places indoors on a cruise ship to grab a drink, plenty of which have large windows looking toward the ocean.
Here are some of the best bars or venues to relax in while waiting for the sun to come back out:
Viking Crown Lounge (Vision, Radiance, Voyager, and Freedom Class)
Two70 (Quantum Class)
Schooner Bar
Related: A look at Royal Caribbean's new fleetwide drink menu
Depending on the ship, you may find covered seating at outdoor bars. The North Star Bar on Quantum Class ships, for example, has a covered seating area at the bar where you can watch the ocean and enjoy the sea breeze while remaining covered.
Go to trivia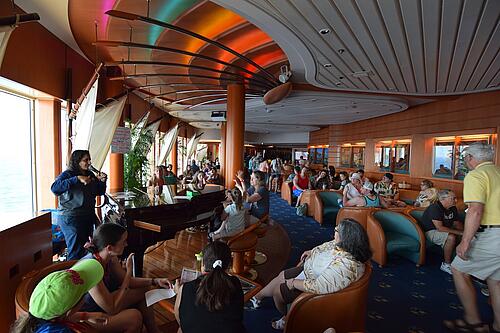 Trivia is a fun activity on any Royal Caribbean cruise, but can make an excellent option on a rainy day. There are numerous trivia categories available, from geography to Harry Potter and sports.
Trivia usually only lasts around 30 or 45 minutes and is located indoors, making it a quick activity to do while rain passes through. Plus, you have the opportunity to put your knowledge to the test and maybe even win a prize!
Take a class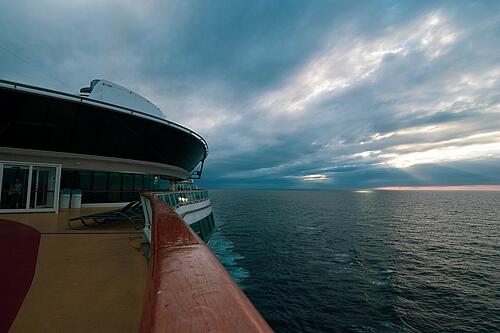 While browsing your cruise's daily schedule in the Royal Caribbean app, you'll likely see a few unique classes that you might otherwise skip over in favor of relaxing by the pool. A rainy day, however, can be an excellent time to try some of these classes.
Classes may include:
Scrapbooking
Card making class
Italian/Spanish/Portuguese language class
Zumba class
Morning stretch
Seminars
Hang out at the sports bar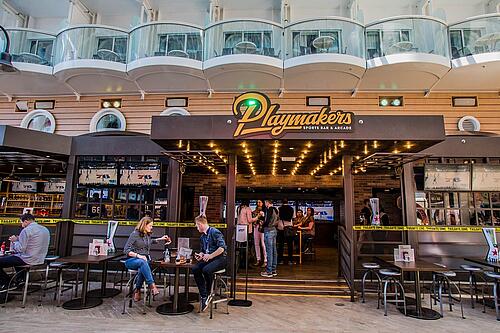 Royal Caribbean's classic sports bar, Playmakers, makes a fantastic hangout spot on a rainy day, where you can cheer on your favorite team while enjoying classic bar food like burgers, wings, and french fries.
The amount of televisions in Playmakers means there is no shortage of games and sports to watch, which you can enjoy while playing bar games like shuffleboard, pool, and Pac-Man.
Related: Playmakers Sports Bar & Arcade review
Royal Caribbean ships without Playmakers will usually have a venue available for watching sports, such as in the pub, but there are generally only one or two small TVs there.
Hang out at the SeaPlex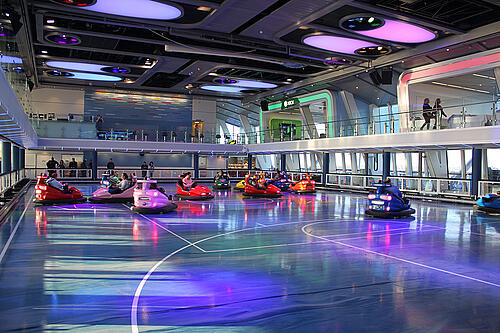 Quantum Class cruise ships may be the best Royal Caribbean ships to sail on through inclement weather, as they were built to sail in all weather conditions while still offering the latest and greatest amenities and activities onboard.
The SeaPlex is a wonderful place to go with kids on a rainy day, as they can get their energy out while running around the sports court, playing basketball, soccer, or going head-to-head with other passengers in bumper cars.
Enjoy a sit-down meal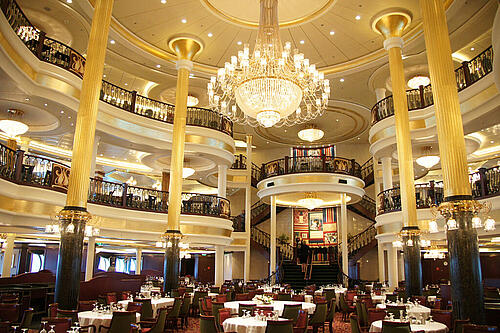 Whereas dinner on a cruise ship is usually a more formal, sit-down event, most guests tend to favor a casual, quick lunch onboard. Whether grabbing a burrito at El Loco Fresh or heading to the Windjammer, eating lunch on a cruise is often something to do quickly in-between activities.
Related: Food on a Royal Caribbean cruise
On rainy days, though, consider dining in the Main Dining Room or at a specialty restaurant for lunch. Having a sit-down meal will help pass the time on a rainy day while enjoying a relaxing, multi-course meal.
Go to the arcade (or casino)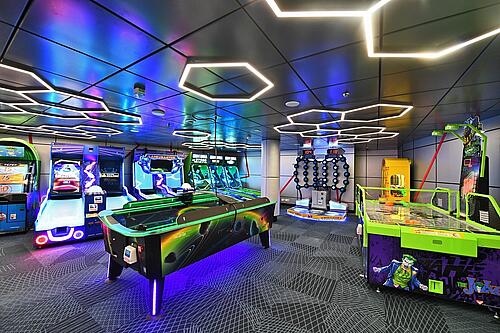 All Royal Caribbean ships have an arcade, but it's not only for kids! From skee-ball to air hockey, there are plenty of games to keep you occupied on a rainy day. The arcade comes at an extra cost, with most games costing between $0.75 and $2.50.
Alternatively, if you would like the chance to win money, head to the casino to pass a few hours on a rainy day.
Book a treatment at the spa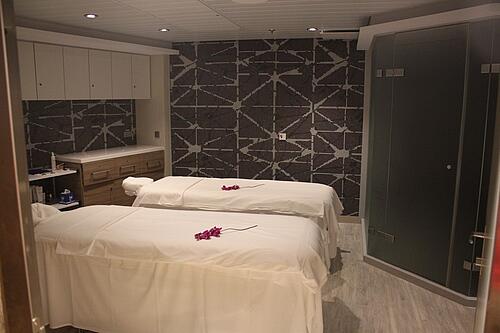 If you look at the weather forecast on your cruise and see a day with unfavorable weather, don't hesitate to book a treatment at the Vitality Spa. After all, not much is more relaxing than a massage.
If you don't want to spend extra money on a spa treatment, check if your cruise ship has a complimentary sauna and steam room. Select Royal Caribbean ships (excluding Quantum and Oasis Class ships) have free-of-charge saunas available in the fitness center locker rooms.
If your ship has a thermal suite, you can purchase a pass that allows you to use the facilities at any time, which include a rainforest shower, hot stone loungers, and sauna.
Related: Thermal Suite on Royal Caribbean's Harmony of the Seas
Indoor signature activities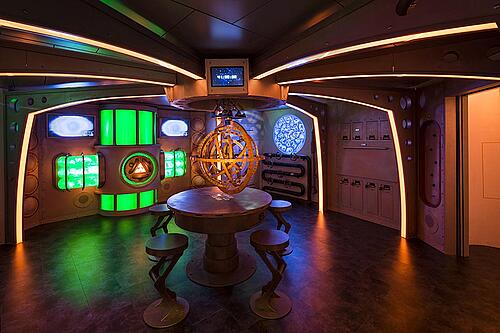 While many of Royal Caribbean's signature activities are located outdoors, such as rock climbing, ziplining, and the FlowRider, there are several indoor activities to enjoy on a rainy day. Depending on the ship, these activities can be enjoyed rain or shine:
RipCord by iFLY
Puzzle Break Center (escape room)
Ice skating
Laser tag
Check the Cruise Compass to see which activities are offered. Some, like the escape room, RipCord by iFLY, and Zone Zero, require reservations.
See a movie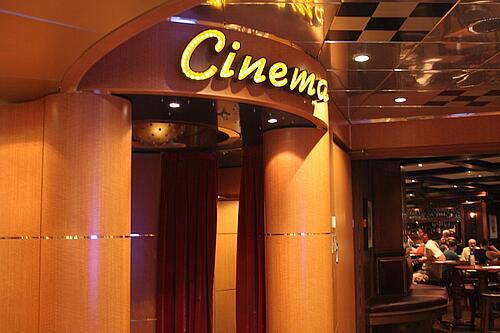 Whether on land or at sea, watching a movie is a nice way to pass time on a rainy or cold day. While all Royal Caribbean ships have an outdoor movie screen, there are often indoor movies played as well in venues like the Royal Theater.
In fact, Royal Caribbean's Radiance Class ships have their own indoor movie theater which plays a variety of movies throughout the day!
Related: All about Radiance Class cruise ships
To see if any movies are playing on your cruise, check out the Cruise Compass or the Royal Caribbean app. Movies are free-of-charge, but get to the theater or cinema early to ensure you get the best seat!