In:
Royal Caribbean has been back in service for more than 3 months and more than half of its ships have returned, but there are still a few very commonly asked questions about what it is like to go on a cruise.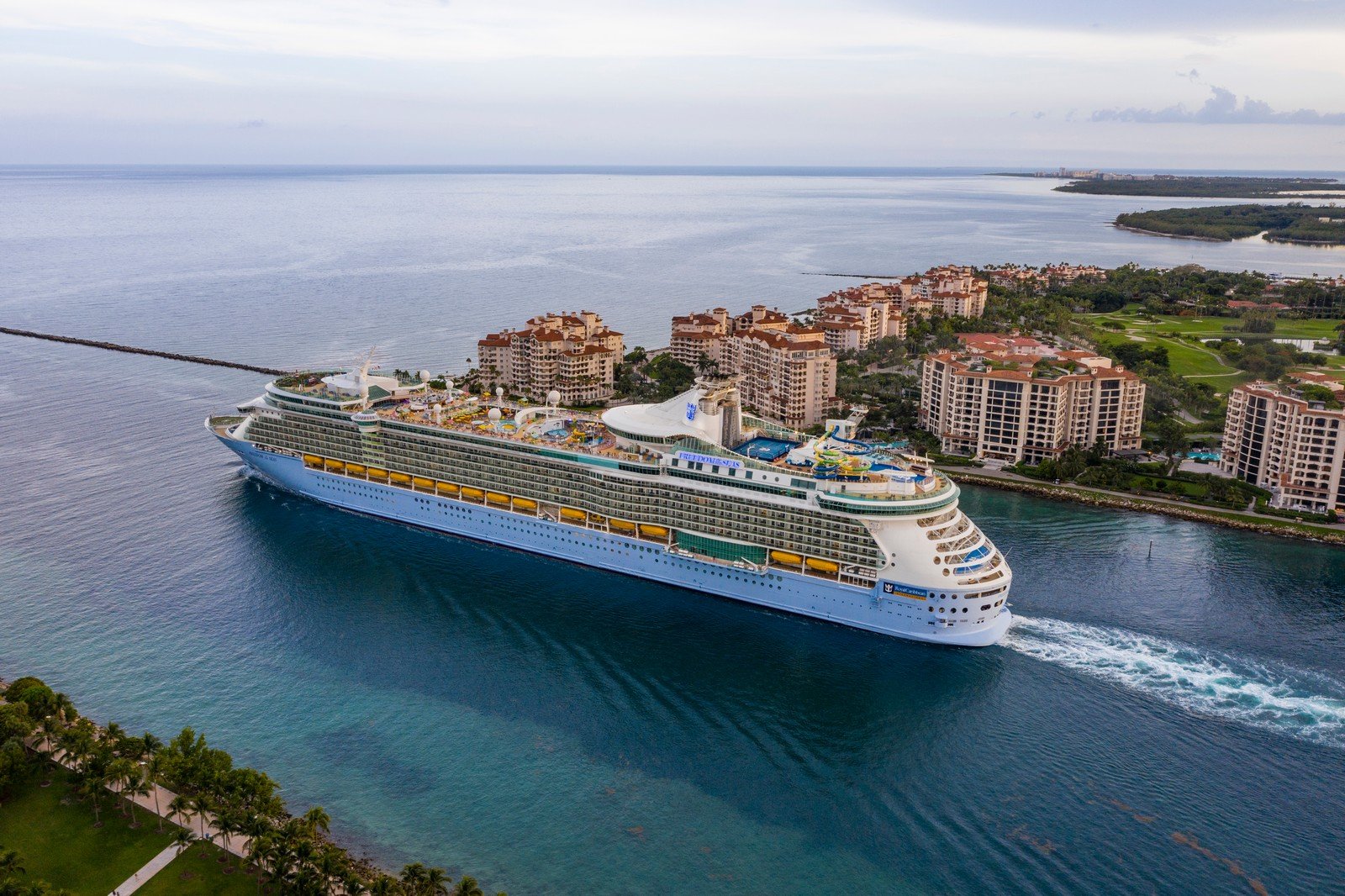 While cruising is back, there are some changes, and many people who have yet to cruise are trying to get a sense of what it is like to be back onboard.
The good news is the overall experience of being back on a cruise is more similar to what it was like in 2019 than different, but the changes made to ensure guests, crew members, and the communities ships visit remain safe are necessary protocols that do require adjustments to the cruise experience.
In an effort to put some folks minds' at ease, here are answers to the top questions people are still asking about what it is like to go on a cruise right now.
How do you get a negative test in time before the cruise begins?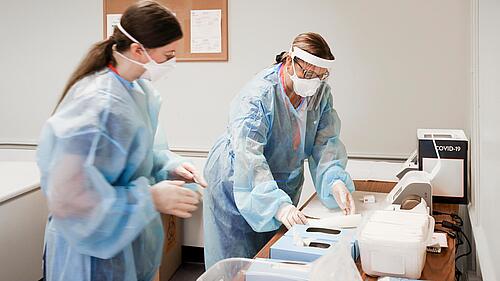 Royal Caribbean requires all guests bring a negative Covid test with them to their sailing, and the test must be completed no more than 2 days before the cruise begins (3 days for kids under the age of 12), so how do you manage to get this done in time?
The key is planning and knowing which test to get.
For adults, I recommend getting the rapid antigen test, which gets results back in about an hour.  In fact, the at-home test approved by Royal Caribbean is really the easiest and most convenient way to get a test done before your cruise from pretty much anywhere.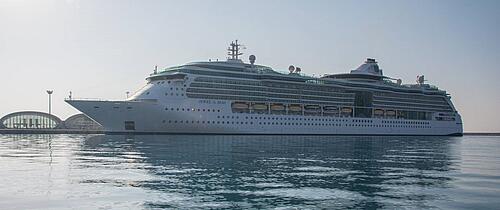 If you choose to get a test at a pharmacy, just be sure to plan ahead and make a reservation when new appointment times become available to book. CVS opens their appointments up two weeks in advance, while Walgreens does it 48 hours in advance.
Check out my recommendations for your approach to getting a Covid test before your cruise. Follow this guide and you should have no problem getting a test result back in time for your cruise.
Can I still arrive to the cruise terminal before my check-in time?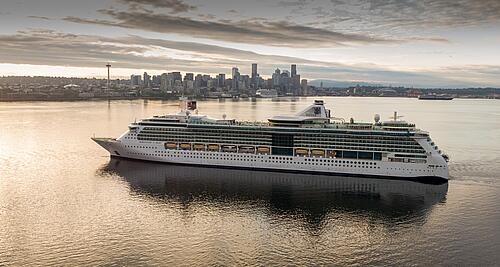 Simply put, no.
Royal Caribbean is enforcing check-in times, so plan to arrive no more than 15 minutes before your check-in time. All too often I see large groups of people standing around outside the cruise terminal waiting for their check-in time. Not only is this a waste of your time, but it is uncomfortable since there is no seating and it is quite warm and humid in Florida.
There is an exception for suite guests (and Pinnacle Club members), but the concierge will email you 4-7 days before the cruise to inform you if you have some flexibility with your check-in time.
Instead of standing around the cruise terminal waiting to be let in, grab lunch, see a local sight, or ask for a later check-out from your hotel.
Do you have to wear a mask on the cruise?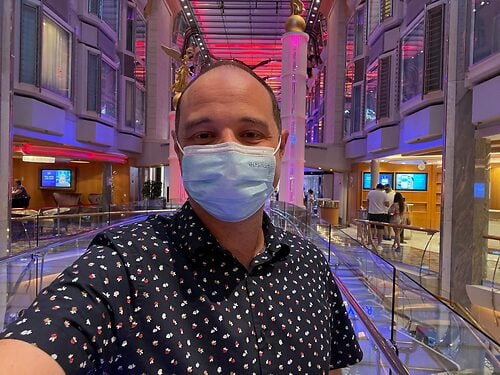 This might be the most commonly asked question I get about going on a cruise, and usually people want to know if they have to wear a mask everywhere onboard their cruise.
The answer is, yes, you do have to wear masks while indoors in certain situations, but it is not as bad as it may sound.
Wearing of masks applies to all guests, except for guests under the age of 2 years old, who do not need to wear a mask.
Masks are NOT required to be worn:
In open-air areas of the ship, unless you are in a crowded setting
In the pool or any activity where they may become wet
At venues designated for vaccinated guests only, such as select bars, lounges, restaurants and shows
In your stateroom with your traveling party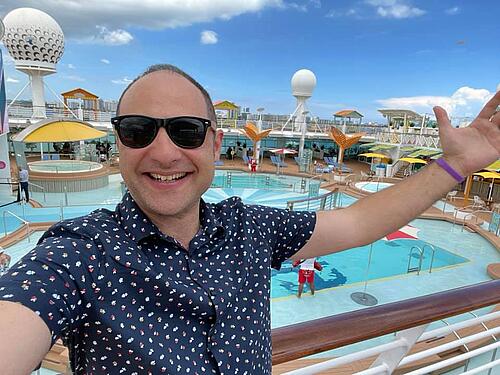 Masks ARE required to be worn:
While indoors in public areas of the ship, unless seated and actively eating or drinking
While visiting public ports of call, where local regulations may require them
What is means is you have to wear your mask when you are in public areas, primarily when walking around. As soon as you get to a restaurant, bar, lounge, and/or designated vaccinated area, you can remove your mask.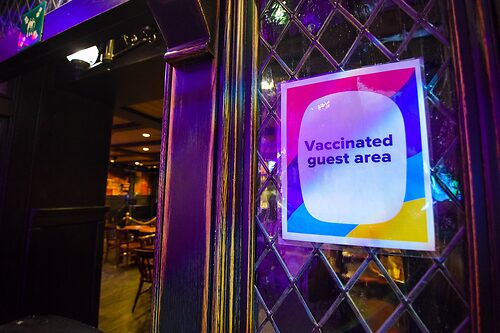 I thought this comment from RoyalCaribbeanBlog reader Dime summed it up well, "Currently onboard the Symphony of the Seas and honestly the protocols aren't really changing the cruise-feel. The mask mandates aren't as aggravating as they seem while when you read about them."
What is the capacity right now on cruise ships?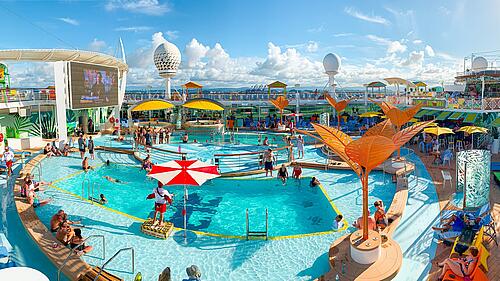 Royal Caribbean is sailing with limited capacity, but has not stated what the capacity is or will be for any of its ships going forward.
The cruise line is not providing any kind of guidance as to how long limited capacity will be in place, nor at what percentage for any of its ships.
The only information we have is when someone onboard a ship reports back the passenger count, and perhaps an estimate from a crew member onboard for the next week.
So assume less than full ships for the time being until further notice.
If my kids are unvaccinated, am I limited to what I can do on the ship?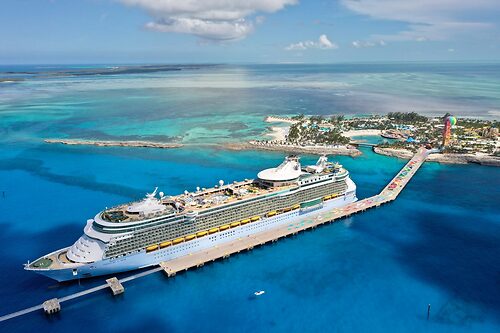 If you sail with unvaccinated children, your group will be designated as unvaccinated, but that does not mean the vaccinated members of your group will always be treated as such.
When your kids are not with you, you can enjoy vaccinated-only experiences.  So if your kids are in Adventure Ocean, back in the stateroom, or doing things on their own, you could go to vaccinated-only areas of the ships.
The same holds true for shore excursions. If someone in your group is unvaccinated, you will only be able to book tours through Royal Caribbean. However, if they remain on the ship, then the vaccinated group could do a tour on their own.
How much different is disembarkation?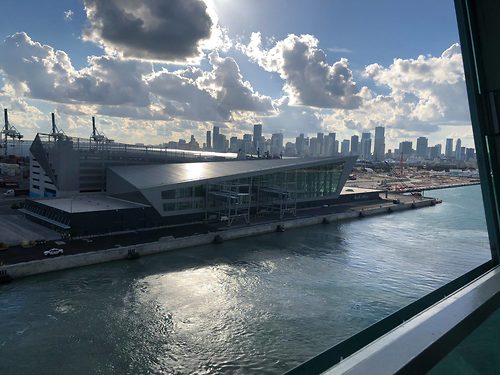 The process for leaving the ship on the last morning of the cruise is very similar to what it was like before the cruise industry shutdown, with one key exception.
Guests are now asked to wait in their stateroom, rather than in a public area, while waiting for their luggage number to be called. This is actually a more convenient change, in my opinion.
If you want to walk off the ship with your own luggage, that is still available and you just have to wait for the ship to be cleared.  You will wait in your cabin for that announcement.
Otherwise, the disembarkation process is nearly identical to what it was like before.