In:
Choosing the perfect destination to visit on a Royal Caribbean cruise can feel overwhelming, and the "perfect" cruise itinerary can vary greatly from cruiser to cruiser.
Whereas some travelers may prefer spending every day at the beach, others would prefer busy days of sightseeing at ancient monuments or strenuous hikes into the mountains.
Thankfully, Royal Caribbean offers cruise itineraries to destinations both close to home and across the world, meaning you'll find an itinerary to meet any travel style.
Whether you're planning a honeymoon, bachelorette party, or a once-in-a-lifetime cruise around the world, here are our top Royal Caribbean cruise itineraries for every type of traveler.
The stressed-out traveler
Our recommendation: any cruise to Perfect Day at CocoCay
A cruise is one of the best ways to forget about any stress at home. When you set sail, you'll forget all about any project deadlines, schoolwork, or chores at home. Nothing but adventure lies ahead, and the best place to enjoy a stress-free getaway is at Perfect Day at CocoCay.
Related: 40 Perfect Day at CocoCay tips, tricks and secrets
Perfect Day at CocoCay, Royal Caribbean's private island in the Bahamas, lives up to its name. This island is perfect, and it offers the best way to unwind. Most activities on the island are complimentary, including white-sand beaches and the Oasis Lagoon pool.
If you'd like to upgrade your day at the island, however, feel free to treat yourself to a day at the Coco Beach Club or Thrill Waterpark for more fun in the sun.
Related: Coco Beach Club: cost, tips & review
Regardless of what you do at Perfect Day at CocoCay, you're guaranteed to leave the island much less stressed than when you arrived!
The island hopper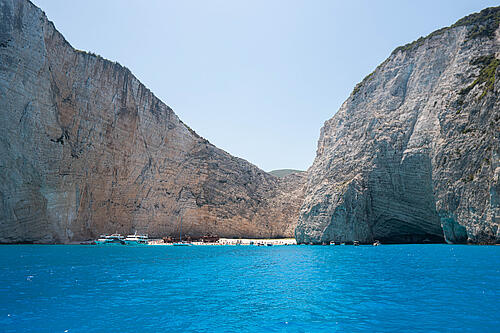 Our recommendation: Greek Isles cruise
Island hopping and cruising go hand in hand, but our top choice for the world's best island hopping destination is Greece. From the world-renowned sunsets in Santorini to the ancient citadel of the Acropolis and charming Venetian harbor of Chania, there's a wide range of sights to discover in every Greek cruise port.
Related: Ultimate Greek Isles cruise guide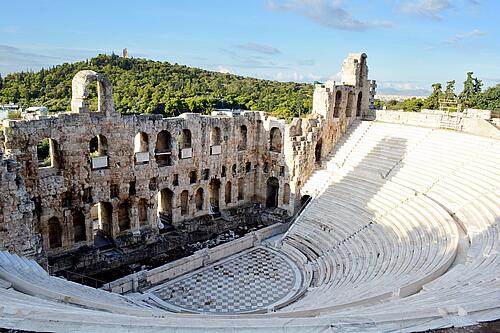 What's great about a Greek Isles cruise is that you can find activities for every type of cruiser. You'll find everything from boat tours visiting secluded beaches, walking tours of famous archaeological sites, and beach clubs to kick back and relax with a cocktail.
Another benefit of a Greek Isles cruise is that it's easy to explore without an excursion. If you're the type of traveler who doesn't like to plan organized tours, you'll find cruise ports in Greece are an excellent place for spontaneous exploration.
The engineer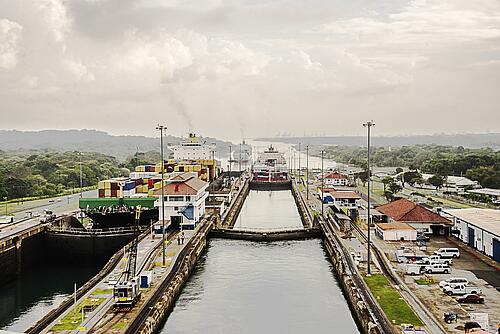 Our recommendation: Panama Canal cruise
If you find yourself fascinated by great marvels in engineering, whether the Pyramids of Giza or Hoover Dam, book a cruise traversing the Panama Canal.
The Panama Canal was built in 1914 and was, undoubtedly, an impressive feat of engineering at the time. Prior to the canal, a ship traveling from New York to San Francisco had to travel over 13,000 miles around South America. The 50 mile canal, however, cut this distance to around 5,000 miles, marking a turning point for trading and commerce opportunities around the world.
Related: 15 countries you didn't know you could cruise to on Royal Caribbean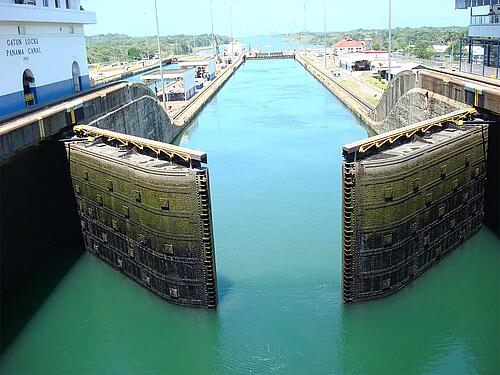 It takes around 8-10 hours for ships to traverse the canal as they pass through a series of locks which lift ships 85 feet above sea level and back down again. This is a highlight of all Panama Canal itineraries, and you'll find hoards of passengers on the outside decks watching this process take place.
Previously, most Royal Caribbean cruises to the Panama Canal were only offered on long repositioning itineraries. However, Royal Caribbean will be deploying Rhapsody of the Seas on several 7-night Costa Rica & Panama Canal cruises in 2024. This gives passengers the opportunity to traverse the canal without requiring a multi-week sailing.
The foodie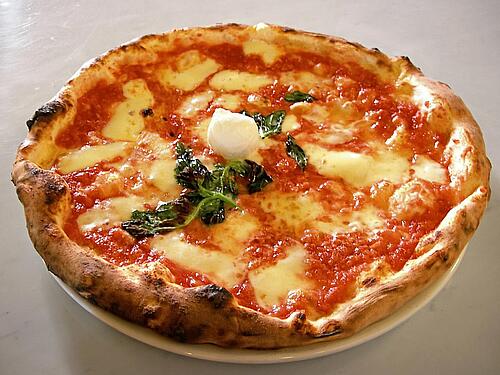 Our recommendation: Mediterranean cruise
If you're a foodie, look no further than a Mediterranean cruise. You'll visit ports with some of the world's most famous cuisines, from savory crepes in France to refreshing gelato in Italy. And did we mention the paella?
Related: Must-eat foods on a cruise to Italy
While Mediterranean cruises tend to involve busy port days exploring historic sites like the Colosseum and Pompeii, be sure to make time for a nice lunch each day in port. While you can find fantastic food onboard your cruise ship, you won't want to miss the opportunity to taste authentic Mediterranean cuisine.
If you have more time, you can select a longer Mediterranean cruise to give you more ways to taste cuisines in a diverse array of countries. 12-night Holy Land cruises, for example, visit everywhere from Italy to Israel, Turkey, and Greece. Who can resist authentic falafel, pizza, and gyros?
Related: Western Mediterranean cruise guide
The exotic vacationer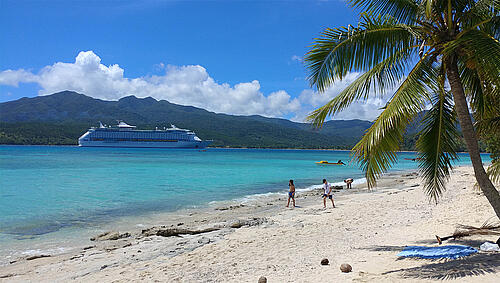 Our recommendation: South Pacific cruise
Most cruisers are familiar with ports like Nassau and Cozumel, but did you know Royal Caribbean offers cruises to some of the world's most remote islands?
South Pacific cruises from Australia visit ports in Vanuatu, Fiji, and the French territory of New Caledonia. You've likely never heard of islands like Lifou, Mare, and Aneityum, but these are all gorgeous destinations available on South Pacific cruise itineraries.
Related: 10 Royal Caribbean cruise destinations not to be missed
If you have the time, consider a transpacific cruise from Hawaii to Australia for the opportunity to visit French Polynesia. Picture yourself snorkeling coral reefs in Mo'orea or sunbathing on the black sand beaches of Tahiti. It really doesn't get more exotic than that!
The bachelor(ette) party
Our recommendation: 3-night weekend cruise
Planning the perfect bachelor/bachelorette party is all about fun, and the best cruises for these getaways are quick 3-night weekend sailings.
3-night weekend cruises tend to have a higher party atmosphere onboard than longer sailings. This means your bachelor/bachelorette party will fit right in with the ship's vibe, and you'll find that the bars and clubs onboard are busy late into the night.
Related: Guide to weekend cruises: Tips for taking a 3-night Royal Caribbean cruise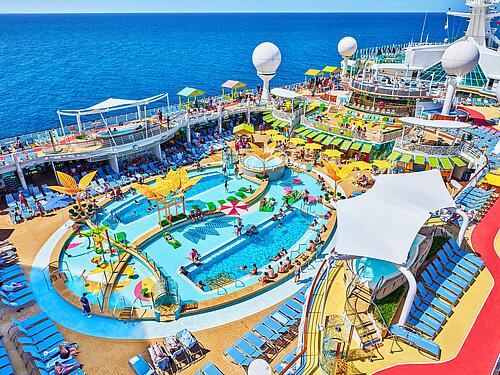 In addition, most 3-night cruises from Florida include a stop at Perfect Day at CocoCay. With a swim-up bar and pool party every day, there's no better place to celebrate!
There are several ships offering regularly scheduled 3-night weekend cruises. Freedom of the Seas and Liberty of the Seas both sail from South Florida, Independence of the Seas from Port Canaveral, and Navigator of the Seas from Los Angeles.
The honeymooners
Our recommendation: Caribbean cruise
After months of meticulous planning for your special day, it's time for a honeymoon to kick off marriage with your new spouse. And what better way to do that than a Caribbean cruise?
The Caribbean is a destination for endless relaxation. Whether you're swimming in the crystal clear waters of Antigua or sailing on a catamaran in Mexico, there are plenty of ways to make lifelong memories together.
Related: 20 tips for a Royal Caribbean honeymoon cruise
We recommend finding an itinerary with an adequate balance of port and sea days. While some 7-night cruises may stop at 5 or 6 ports, try to find an itinerary with at least 2 or 3 days at sea. Visiting ports each day can be exhausting, and having more sea days ensures you'll find plenty of time to relax with your spouse.
The culture-focused traveler
Our recommendation: Asia cruise
If you're looking for an adventurous itinerary that will bring you far out of your comfort zone, book a Royal Caribbean cruise in Asia. Spectrum of the Seas currently offers cruises from Singapore visiting destinations in Southeast and East Asia, including Malaysia, Thailand, Vietnam, Hong Kong, and the Philippines.
Royal Caribbean calls these cruises "Culturally Enriching Cruises'' because they immerse guests into the local culture of a specific country or region. Whereas the majority of guests on a cruise from Florida tend to be from the United States or Canada, for example, the majority of guests on a cruise from Singapore or China are from those regions.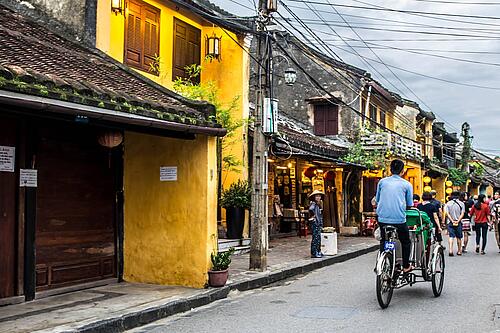 This means you will experience local flavors and culture while onboard, such as cuisine in the Main Dining Room and Windjammer inspired by local cuisine and production shows focusing on music and dancing as opposed to language.
In addition, once off the ship in port, you will continue to be immersed in a culture quite different from what you're used to at home. From tasting spicy street food in Vietnam to exploring temples in Thailand, a whole world of adventure awaits you on a cruise to Asia!
The active traveler
Our recommendation: Alaska cruise
If the idea of your perfect vacation involves hiking, biking, and kayaking, look no further than a cruise to Alaska.
Those new to cruising may associate a cruise vacation with lounging on a pool chair and filling up plate after plate at the buffet. However, cruising offers so much more than that, and active travelers will find they have plenty of options when it comes to breaking a sweat in port.
Related: Best things to do on an Alaska cruise
An Alaska cruise is the perfect itinerary for those looking to explore the state's breathtaking scenery. If you're up for a challenge, put on your hiking boots for a summit hike of Mt. Roberts in Juneau. Or, if you'd prefer an adventure on water, kayak amongst the state's scenic fjords and glacial lakes.
Planning a cruise? Start here: