In:
Royal Caribbean offers a lot of amazing cruise experiences, including 3-night getaway cruises that offer the perfect escape. While weekend cruises have their own pros and cons, a day on a cruise ship is always better than a day on land!
Let's take a look at the ins and outs of taking a 3-night Royal Caribbean cruise. Knowing which departure ports offer weekend cruises, which destinations you can visit, and how much to budget for will help determine which weekend cruise will be best for your mini-getaway.
In this guide: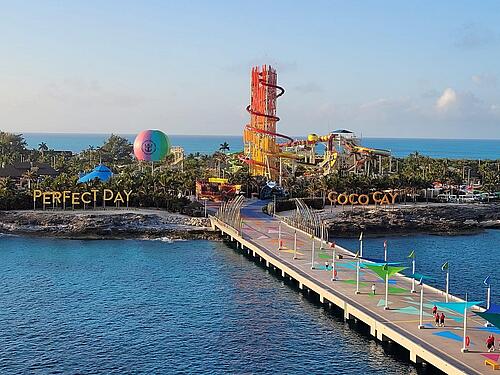 Royal Caribbean offers cruises as long as 19+ nights and as short as 2 nights to destinations all over the world. Regardless of whether you book the longest cruise, a transpacific sailing visiting French Polynesia and New Zealand, or the shortest cruise to the Bahamas, you're guaranteed to have an unforgettable cruise vacation.
How long are weekend cruises?
Most weekend cruises tend to be 3-nights, leaving port on Friday afternoon and returning early Monday morning. A 3-night cruise gives the perfect length for a true "weekend getaway," allowing you to forget all the stress brought on by work or school and truly escape.
Occasionally you may find 2-night cruises over the weekend, which leave Friday afternoon and return Sunday morning, although these are much less common.
Weekend cruise departure ports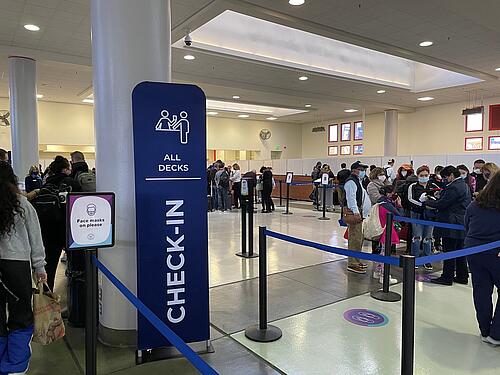 Most of Royal Caribbean's regularly scheduled weekend cruises leave from the ports of Miami, Ft. Lauderdale, Port Canaveral, or Los Angeles.
Due to the Passenger Vessel Services Act (otherwise known as the Jones Act), all foreign-flagged ships departing from the United States must include an itinerary stop in a country other than the United States.
This severely limits options for weekend cruises, as any US port offering 2 and 3-night cruises must be able to travel to and from a secondary country in a short amount of time. Cruises departing from New York (Cape Liberty), for example, often visit northeast Canada, but this tends to require a 4-night minimum travel time round-trip.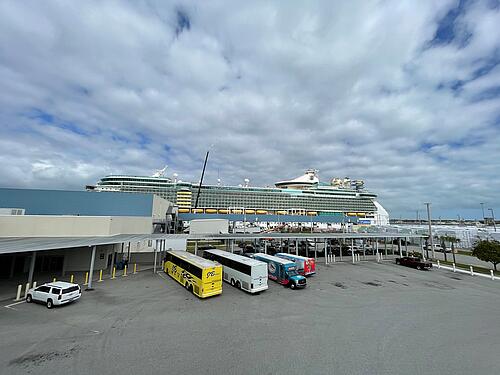 Therefore, you will see weekend cruises leaving from ports closest to other countries. In Royal Caribbean's case, Florida ports have quick access to the Bahamas whereas Los Angeles is just a short distance from Mexico.
On some occasions you may find weekend cruises leaving from other ports around the world, such as Southampton, England and Haifa, Israel, although these tend to be more of a one-time cruise than a weekly itinerary choice.
Where can I visit on a weekend cruise?
Weekend cruises are fairly limited in the destinations they can visit, but that doesn't mean you can't experience an amazing day in port on a 3-night getaway.
Nassau, Bahamas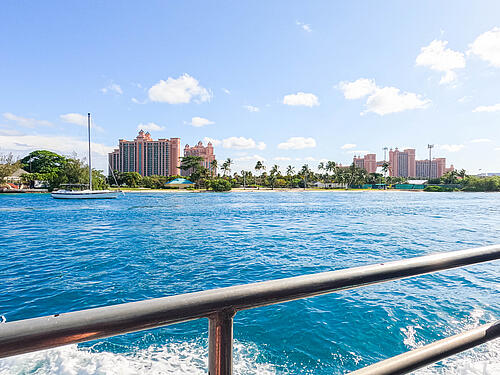 Nassau is the capital of New Providence Island and is one of the most commonly visited ports on any Royal Caribbean cruise. The city is filled with fun activities, from waterparks to historical sites and enjoying day passes at all-inclusive resorts.
While it's possible to disembark the ship in Nassau and simply walk around, we highly recommend planning what you would like to do in Nassau in advance to ensure you don't miss out on the island's best offerings and beaches.
Read more: Best things to do in Nassau on a cruise
Perfect Day at CocoCay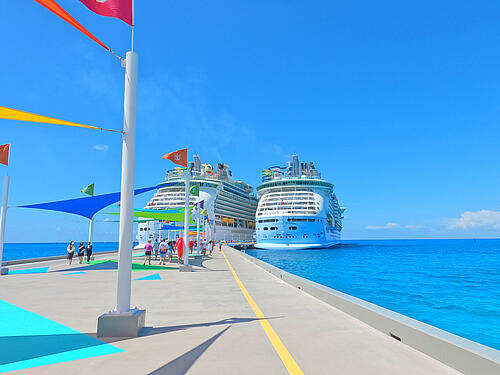 Perfect Day at CocoCay is Royal Caribbean's private destination in the Bahamas and is a favorite port among cruise fans. The island offers something for everyone, whether you're looking to spend the day relaxing at Chill Beach, join the party at the swim-up bar, reserve a private, floating cabana, or slide down the tallest waterslide in North America.
While it's not necessary to have a plan for your day at CocoCay, it's a good idea to be familiar with what is offered on the island to ensure you can book any excursions or addons in advance.
Ensenada, Mexico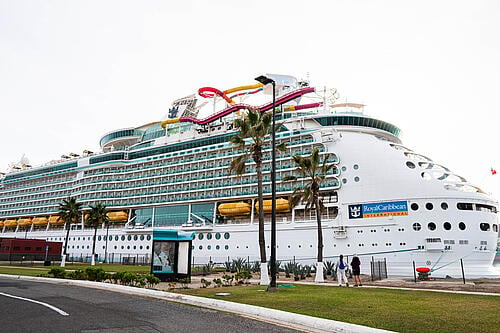 Ensenada is a port city on Mexico's Pacific coast in the state of Baja California. If you've taken a cruise to other Mexican ports like Cozumel and Costa Maya, you'll be surprised at how different the geography and coastline of Ensenada is compared to the Caribbean.
Whereas the Yucatan peninsula offers dense jungles, Mayan ruins, and calm beaches, Ensenada has a dry climate. A day in Ensenada is best spent enjoying Baja California's nature, whether exploring the Calafia Valley Wine Country, riding an ATV on the coast, or hiking through El Salto Canyon.
Read more:  A day in Ensenada, Mexico while cruising on Navigator of the Seas
Other destinations
Royal Caribbean occasionally offers short cruises to more exotic destinations. Currently there are cruises to Cyprus, Le Havre (Paris), and Naples, Italy available to book! The vast majority of weekend cruises, however, tend to visit the same ports due to their proximity to the United States.
Will there be a sea day?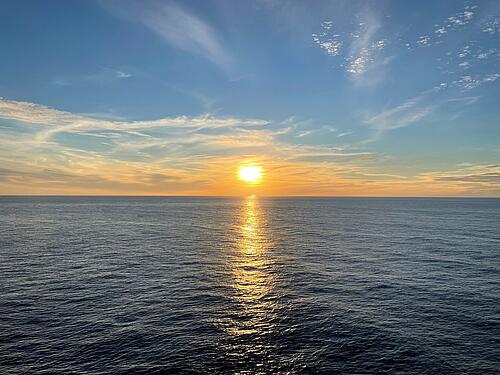 The majority of weekend cruises departing from Florida do not have a sea day, although you may occasionally run into an itinerary with one day at sea. Weekend cruises tend to be port-intensive, meaning they stop in a new port each day.
The exception is with cruises departing from the Port of Los Angeles on Navigator of the Seas. Weekend cruises on Navigator of the Seas have a full day at sea prior to a port day in Ensenada, Mexico. A sea day is perfect for trying the newly amplified ship's upgraded features, including the longest waterslide at sea and The Lime & Coconut Bar.
If your weekend cruise itinerary does not include a sea day, that does not mean you have to disembark the ship in each port you visit. Many passengers opt to spend one of the port days onboard instead of in port so they can make the most of the cruise ship's activities, dining, and amenities.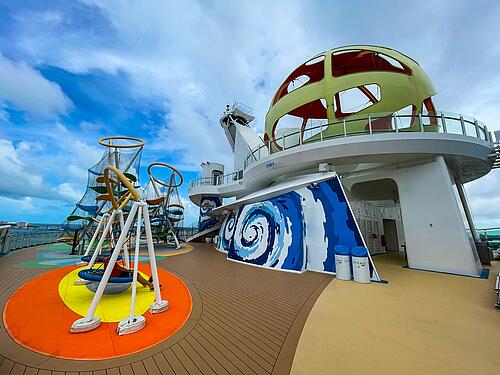 While all Royal Caribbean ships may offer a 3-night cruise here and there, there are several ships that almost exclusively run on the same schedule every week. These ships tend to offer 3-night cruises from Friday afternoon to Monday morning and 4-night cruises from Monday afternoon to Friday morning.
While most ships running weekend cruises are not the newest and largest in Royal Caribbean's fleet, the majority of these ships have recently been amplified in the cruise line's Royal Amplified program. Amplifications bring an impressive upgrade to Royal Caribbean ships, adding new onboard activities, stateroom options, and dining/lounge venues.
Freedom of the Seas, a Freedom Class ship, offers year-round 3-night weekend cruises departing from Miami, visiting both Perfect Day at CocoCay and Nassau, Bahamas. Freedom of the Seas was amplified in February 2020 and received a major upgrade, with additions including the Perfect Storm waterslides, a Caribbean resort-style pool deck, and the new Giovanni's Italian Kitchen restaurant.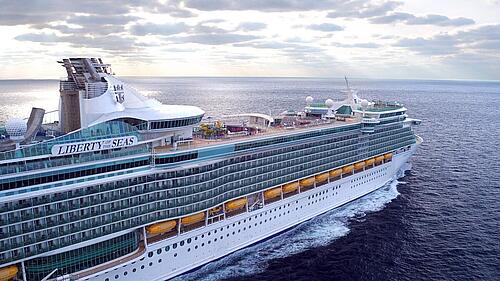 Liberty of the Seas is another Freedom Class cruise ship and she will offer 3-night cruises to Perfect Day at CocoCay and Nassau, Bahamas starting in November 2022. Those booking a weekend getaway on Liberty of the Seas will depart from Ft. Lauderdale, Florida. Liberty of the Seas was revamped in 2016, which added the waterslides, Splashaway Bay kids aqua park, and the Sabor Mexican restaurant.
Independence of the Seas is the weekend getaway ship of choice for those who prefer to depart from Port Canaveral, Florida. She is a Freedom Class cruise ship offering 3-night cruises to Perfect Day at CocoCay and Nassau, Bahamas. Passengers on Independence of the Seas can enjoy an escape room, water slides, and the Izumi hibachi restaurant.
Navigator of the Seas, a Voyager Class ship, is the only Royal Caribbean cruise ship permanently homeported at the Port of Los Angeles. She offers 3-night weekend cruises to Ensenada, Mexico. Navigator of the Seas was amplified in 2019 with a Caribbean resort-style pool deck, new tropical-themed bars like the Bamboo Room, an escape room, and more.
Allure of the Seas will begin offering 3-night weekend cruises in November 2023, making her the first Oasis Class ship to offer regularly scheduled weekend sailings. She will depart from Port Canaveral, Florida on Friday afternoons and visit both Nassau and Perfect Day at CocoCay before returning back to Florida on Monday morning.
Allure of the Seas makes a great weekend cruise option for those who love having a nearly endless amount of activities to choose from onboard, from zip lining to AquaTheater shows.
Mariner of the Seas, a Voyager Class ship, occasionally offers 3-night weekend cruises, although they are more sporadic and not offered year-round. When they are offered, she departs from Port Canaveral, Florida and visits Perfect Day at CocoCay and Nassau, Bahamas.
Like many other ships offering weekend cruises, Mariner of the Seas was recently amplified to include new activities, amenities, and dining options.
Which cruise ship should I pick for a weekend cruise?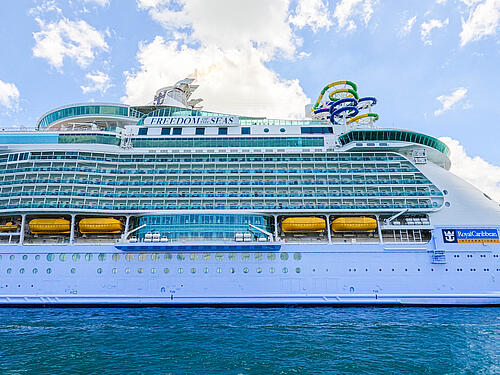 Most of Royal Caribbean's ships offering weekend cruises are extremely similar to each other. The Voyager and Freedom Class cruise ships offering 3-night cruises are almost identical in layout and onboard features. While some dining venues, bars, and water slides may differ, passengers should expect a relatively similar experience no matter which Voyager or Freedom Class ship they choose.
There are a few differences between them that should be noted, though:
Mariner of the Seas does not have a baby splash pad area, so this ship may not be the best choice for parents who have children in diapers
Navigator of the Seas and Liberty of the Seas offer different style waterslides than the others
There is an escape room available on Independence, Mariner, and Navigator of the Seas
Freedom Class ships are longer than Voyager Class ships, giving more space for a Splashaway Bay area for kids on the pool deck and more venues and stores inside the ship
Freedom of the Seas and Navigator of the Seas offer the revamped Adventure Ocean kids programming, which offers kids more flexibility in activities rather than a rigid activity schedule
Should I pick Allure of the Seas?
Allure of the Seas stands apart from the other cruise ships offering weekend sailings in that she is an Oasis Class ship. The Oasis Class ships are the largest in Royal Caribbean's fleet and are famous for their Central Park neighborhood, open-air Boardwalk, countless dining venues, and unique onboard activities and entertainment.
A 3-night cruise on Allure of the Seas will almost certainly be the type of sailing where the ship is considered the destination. Whether dining outdoors in Central Park, watching impressive acrobatics and diving in the AquaTheater, or zip lining over the Boardwalk, it's unlikely a weekend will be enough time to explore the entire ship!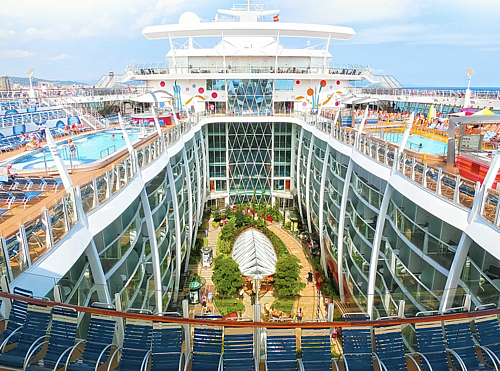 One important distinction to note before booking a weekend cruise on Allure of the Seas is that she has a few differences compared to other Oasis Class cruise ships. While she was scheduled to be amplified in 2020, her amplification has been postponed. Therefore she does not have many features you will find on other ships offering weekend cruises, including water slides, an upgraded pool deck, and new restaurants and bars.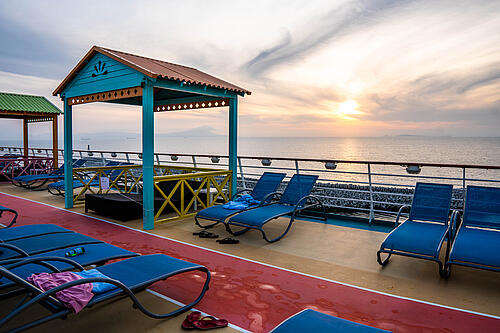 Weekend cruises offer a great value for a short getaway, as food, lodging, entertainment, and onboard activities are included in your cruise fare. When comparing the price of a hotel, dining at restaurants, and purchasing tickets to entertainment on land, a cruise tends to come at a much lower cost.
In general, a weekend cruise in the cheapest stateroom category (interior) will cost between $700 and $1000 total for 2 adults. The cost of a balcony stateroom will be slightly higher, usually falling somewhere between $1000 and $1450.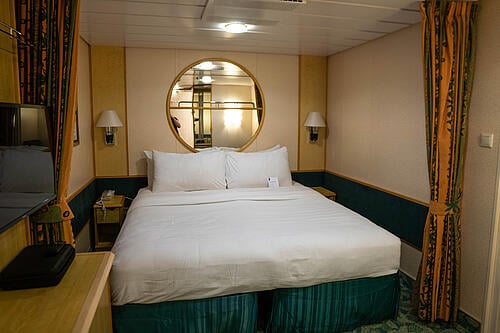 Weekend cruises can differ in price depending on the following factors:
How far in advance you book the cruise
What time of year you plan to cruise
Which stateroom you select
Whether you purchase cruise addons or shore excursions
Generally speaking, the further in advance you book a cruise, the cheaper your price will be. Booking a year in advance can usually net a better price than waiting until just a few weeks or months until the cruise.
This is not always the case, however, as there may sometimes be last-minute weekend cruise deals available. Last-minute deals should not be relied upon, though, and the last thing you want to happen is have a weekend cruise sell out before you can book it!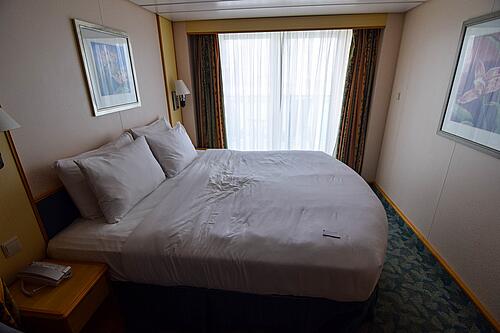 The time of year you sail can be one of the biggest factors in determining how much a weekend cruise will cost. Summer months and holidays can bring the highest prices due to demand, whereas the months of January, February, September (excluding Labor Day weekend), October, and November (excluding Thanksgiving) tend to be cheaper.
The category of stateroom you select can also make a big difference on the overall cost of a weekend cruise. Interior staterooms will almost always be the cheapest stateroom category available.
Interior rooms can actually make a fantastic stateroom choice for a weekend cruise. Not only will you save money, but with such a short cruise, it's unlikely you will be spending much time at all in your stateroom anyway. There is so much to do onboard a Royal Caribbean weekend cruise that you might only be in your room to shower and sleep!
Cost of cruise addons and excursions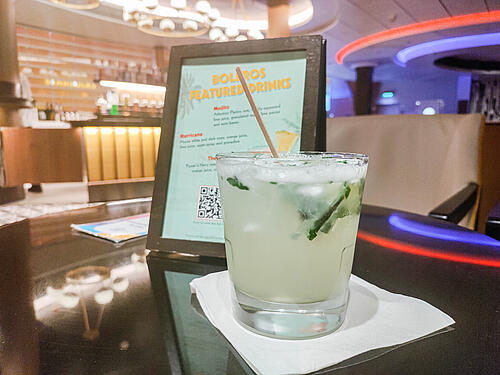 One of the biggest benefits to booking a weekend cruise is that booking a dining or beverage package comes with less of a "sticker shock" than on a longer sailing.
If a beverage package is priced at $75/day on a 7-night cruise, your total cost will be over $500 plus gratuities! If that same price is offered on a 3-night cruise, you'll only be shelling out around $225 plus gratuities.
This can make purchasing a beverage package much more enticing. Plus, it's unlikely you will get bored or tired of drinking on a short cruise. It's common for many passengers to order fewer drinks as the days go on during a longer cruise, thus not getting the full value of their drink package. 3-nights is a more reasonable amount of time to enjoy unlimited tropical cocktails, beer, wine, coffee drinks, and fresh juices without feeling like you've been drinking too much!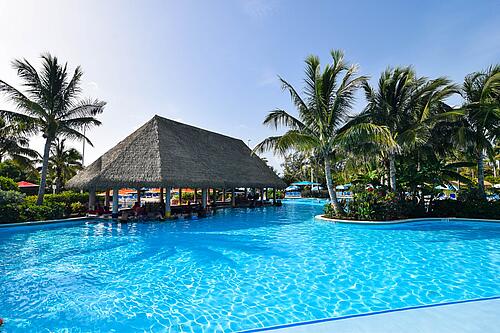 Another great thing about the majority of Royal Caribbean's weekend cruises is that they include a stop at Perfect Day at CocoCay. It's extremely easy to spend an entire day at CocoCay without spending anything extra, as food, beaches, pools, hammocks, and more are included in your cruise fare. Drink packages work on the island, too, meaning you won't have to budget anything extra for drinks.
For more information on what to do and what's included at Perfect Day at CocoCay, check out our full tour on the Royal Caribbean Blog YouTube channel: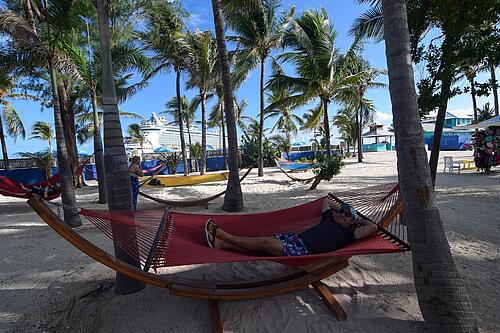 Pro: Relaxing getaway
A weekend cruise can offer a much-needed getaway for many passengers. Being able to leave any stress at home and visit multiple tropical destinations in a short amount of time is simply a wonderful way to spend a weekend.
Cruises tend to be much more relaxing than other weekend getaways as well. There's no need to worry about constantly driving from place to place, paying high prices for food at every meal, and finding activities that are fun for both kids and adults. A cruise offers everything you need in one package.
Plus, many of the same benefits that you will receive from a longer cruise (excitement of going somewhere new, feeling pampered, etc.) you will also receive on a short sailing.
Pro: Less vacation time needed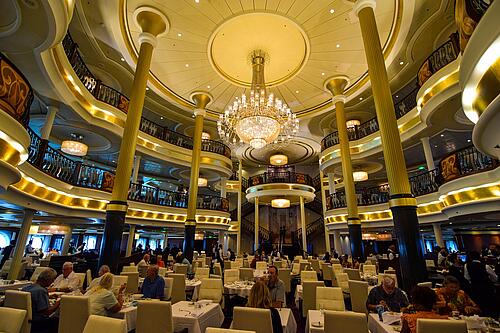 A great benefit of a weekend cruise is that far less vacation time is needed compared to a 7-night cruise, especially if you live close to the departure port. By departing on Friday afternoon and returning Monday morning, it's possible to take just one or two days off of work.
If you have few vacation hours or you're saving them for a longer trip, a 3-night cruise offers the chance to have a mini-vacation without sacrificing your precious PTO time.
Pro: Ability to splurge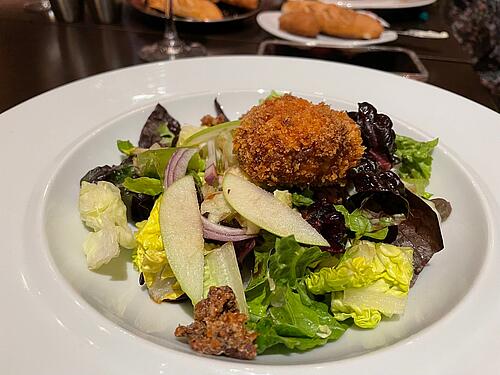 A shorter cruise can be a great time to splurge on things like drink packages, shore excursions, and specialty dining. Knowing you don't have to budget for a full week's vacation might make you more willing to pay for a few extras to enhance the cruise experience.
Spending $100 for a shore excursion in Nassau may not seem as bad when you don't have 3 or 4 other ports to visit. Likewise, booking a specialty dinner at Chops, Izumi Hibachi, or Jamie's Italian can be a nice way to "splurge" while still having a fantastic weekend getaway.
Con: higher cost per day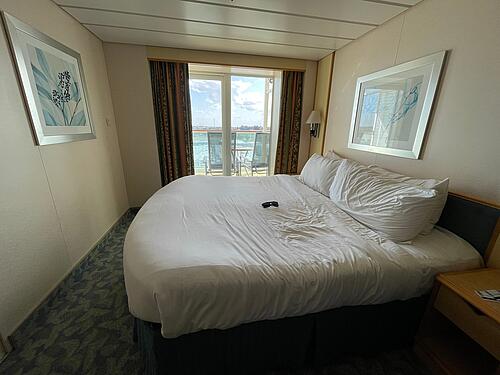 A major drawback to a weekend cruise is that the cost per day of a 3-night cruise is often more expensive than the cost per day of a longer cruise. To put this into perspective, I checked the prices of two cruises: a 3-night cruise on Freedom of the Seas and a 7-night cruise on Harmony of the Seas. Both sailings take place in September, just after the summer cruise season is over.
On the 3-night sailing on Freedom of the Seas, the cruise fare for 2 adults in a balcony stateroom is $1068. This makes the cost per day $356 per room, or $178 per person.
On the 7-night sailing on Harmony of the Seas, the cruise fare for 2 adults in a balcony stateroom is $1,960 total. This makes the cost per day $280 per room, or $140 per person.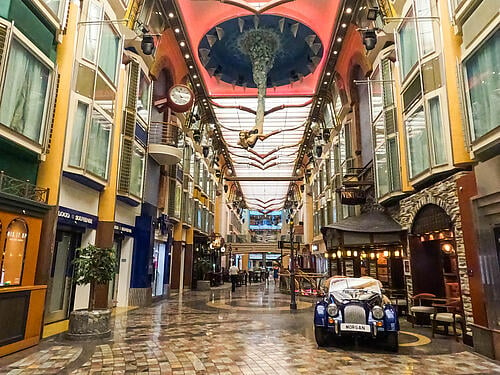 While the cost per day ($178 versus $140) may not seem too drastic, it becomes much different once the cost of airfare and a pre-cruise hotel stay are added to the total cruise cost.
Let's say you pay $300 roundtrip (per person) in airfare and $250 for a hotel the night before your cruise. This adds $850 to your total cruise cost.
The 3-night cruise now costs $1918, making the cost per day around $639 per room, or $319 per person. The 7-night cruise, on the other hand, now costs $2,810, making the cost per day $401 per room, or around $200 per person.
Con: It's over before you know it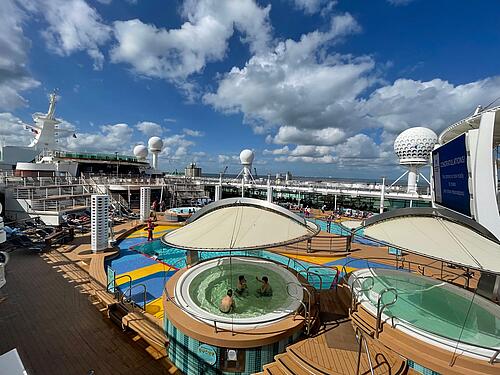 Booking a 3-night cruise sounds like a perfect idea… until it's over! Weekend cruises go by very quickly, and they seem to be over just as you are getting acquainted with the ship and settling into "vacation mode".
While a short cruise is still better than no cruise at all, you'll likely wish you had at least one or two more days onboard.
Read more: Is it worth it to book a 3-night cruise?
Con: Limited ships offer weekend cruises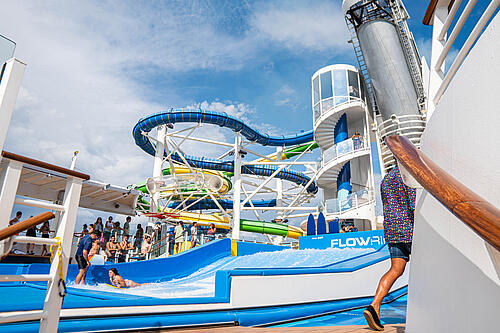 Most weekend cruises are on Voyager and Freedom Class cruise ships. While these are amazing ships full of new activities and amenities, you won't often have the chance to sail on Royal Caribbean's newest ships when cruising on the weekend.
While this problem will be slightly improved once Allure of the Seas begins offering weekend cruises, it's unlikely that Royal Caribbean will offer regularly scheduled 3-night cruises on new ships like Wonder of the Seas or Odyssey of the Seas.
Pro and Con: Party atmosphere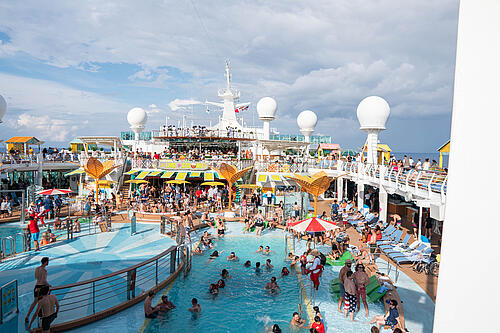 Weekend cruises tend to come with a bigger party atmosphere when compared to longer sailings. Bachelor parties, wedding guests, and friend groups are common on shorter cruises… and they come onboard to party!
Whether this is a pro or con ultimately depends on your preferences. It does lead to an extremely lively atmosphere onboard, but if you're looking for a quiet sailing, a weekend cruise may not be the best choice for you.
Have you ever been on a weekend cruise? What tips and tricks do you have for others planning 3-night Royal Caribbean cruises? Let us know in the comments!