In:
If you're looking at just Royal Caribbean's Utopia of the Seas announcement offering short cruises, you're missing the bigger picture.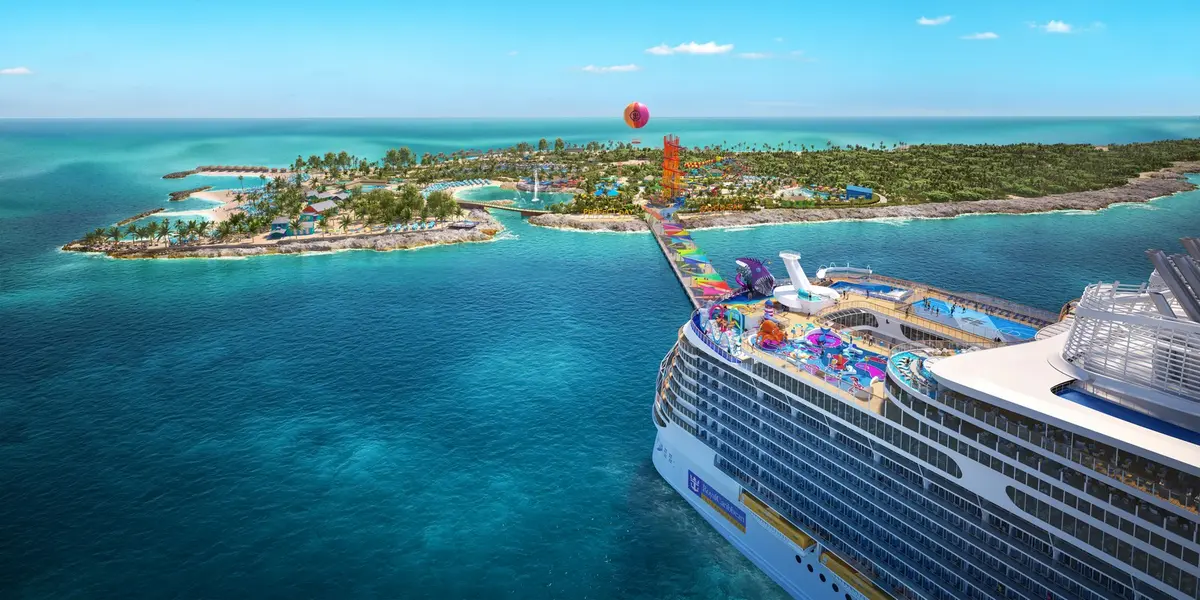 Royal Caribbean revealed this week that its next new mega cruise ship will sail short weekend cruises (along with 4-day sailings too), and it's a major deviation from the cruise line's traditional plan.
When a new Royal Caribbean cruise ship enters service, it always starts with 7-night cruises. Later in the ship's life, it may transition to shorter cruises.
With Utopia of the Seas, Royal Caribbean is flipping its script and starting off with short cruises immediately.  But there's more to the cruise line's plans than meets the eye.
Utopia is one big piece of a larger plan that will seek to establish Royal Caribbean as the preeminent choice for a weekend cruise by crafting a curated cruise experience second-to-none.
Attracting new cruisers
The first part of Royal Caribbean's strategy is to start off Utopia of the Seas with 3- and 4-night cruises so it's an attractive option for first-time cruisers.
The first-time cruiser market is the single largest source of new customers and growth in the cruise industry. An overwhelming majority of people have never cruised before, and new cruisers have long been the target of Royal Caribbean for creating new loyal guests.
Someone that has never cruised before might be leery of taking a longer cruise, because they're concerned they aren't sure if they'll like a cruise.
Short cruises are more attractive to newbies because the time commitment is less.
By jumping on this desire, Royal Caribbean not only wants to offer short cruises, but offer them on its newest ship that has all the best features.
The 236,860-ton ship will be the second largest ship in the world at the time she launches, right behind equally new Icon of the Seas. 
Utopia will dazzle new cruisers with pools, surf simulator, basketball court, mini golf, zip line and a kids aqua park.
Utopia will also have a variety of eye-opening shows, ice skating, bars, and plenty of dining choices.
In short, Utopia will offer the latest and greatest things you can do on a cruise ship that is heads-and-shoulders above what you'd find on any other cruise ship sailing short cruises.
Short cruises are a crowded market, with each of the major mass market cruise lines having something that they hope lures in new cruisers: Disney Cruise Line, Norwegian Cruise Line, and Carnival Cruise Line.
It's also probably not a coincidence Royal Caribbean is basing Utopia from Port Canaveral, which is a short half hour drive from Orlando.
Orlando is the number one family vacation destination, and it's why Disney Cruise Line has always placed its newest ships in this spot so that families have an easy way to get from land to sea and combine trips.
Royal Caribbean seems to want to position its newest ship to offer the most choices for families, with a near overwhelming amount of family fun, as the kind of choice where you have to wonder why anyone would pick anything else when comparing amenities.
Adding in a proven winning destination
You might think a new cruise ship filled with everything you'd want would be enough, but the second part of Royal Caribbean's plan is to offer cruises that always stop at Perfect Day at CocoCay.
Ever since Royal Caribbean revamped its private island in the Bahamas, it's been a mega-hit for the line.  
Guest feedback has demonstrated overwhelming favorable responses to CocoCay being a favorite choice among cruisers.
Royal Caribbean President and CEO Michael Bayley said earlier this year the island was a major success, "The demand for that product [Perfect Day at CocoCay] is exceptionally high."
"The demand not only is there from a volume perspective, but the rate is there and that rate has been going up again in a very healthy way."
"CocoCay is the number one destination that Royal Caribbean goes to in the world out of 100 global destinations, because it's a curated experience designed and built to deliver a high-level experience to the customer."
Not only is CocoCay popular, but it's profitable too.
Royal Caribbean Group CEO Jason Liberty talked in May 2023 about how lucrative it's been for the company, "While demand has been strong across all products and markets, we continue to see exceptional strength from the North American consumer. This strength, in combination with the incredible perfect day at CocoCay has resulted in record yields for our Caribbean sailings."
Regardless of if you book a 3-night or a 4-night cruise on Utopia, you'll be able to visit Perfect Day at CocoCay and combine a compelling brand new cruise ship with a proven hit for shoreside fun.
You can see that formula in Royal Caribbean's marketing, which combines all the water fun you can have between Utopia of the Seas and Perfect Day.
The goal seems to be to for guests to love their ship and private date experience.
A beach club finishing touch
The final piece of Royal Caribbean's strategy is to address the other port call in Nassau, Bahamas.
Nearly every short cruise visits Nassau, Bahamas, which is traditionally rated poorly by cruise ship passengers when compared to other ports of call in the Caribbean.
Read more: Best things to do in Nassau on a cruise
Mr. Bayley said recently Nassau ranks among the bottom 10% of ports in feedback.
Why so low? Part of the answer is there aren't enticing options.
According to Mr. Bayley, cruise ship passengers have, "come here many times before and there's nothing new, fresh or innovative. Secondly, there needs to be more product, more experience, more uniqueness, more options."
"We want to improve the experience of our guests. We can't keep selling experiences to people who say we love going to Perfect Day, it's fantastic, we want to go back, but the Nassau thing, can you guys stop going there? We can't do that, so yeah, we want to be a part of the solution."
The answer is the Royal Beach Club at Paradise Island.
In 2025, Royal Caribbean will open its first Royal Beach Club, which is an extra-cost all-inclusive beach on Paradise Island, just across the waterway from where Royal Caribbean's ships dock their ships in Nassau.
It will be a limited capacity area, and a shore excursion option that will be open exclusively to Royal Caribbean ship passengers.
There will be pools, beaches, dining experiences, and live entertainment too.
The beach club will give Royal Caribbean a leg up on any other cruise line, because those lines will be stuck with the same old things to do in Nassau and nothing on the same level as Royal Caribbean.
A winning plan that no other cruise line can match
When Utopia launches, Royal Caribbean will have a three-pronged approach to attracting new cruisers to a vacation that other lines simply can't match.
A new ship with fun activities for everyone, a private island day, and an optional add-on beach club experience. It's the recipe for covering every day of a vacation with the wow-factor Royal Caribbean has always sought.
If a family prefers a longer trip, the new Icon of the Seas will offer 7-night cruises on a ship that the cruise line is calling the ultimate family vacation.
"Icon will be the best family vacation in the world," is what Royal Caribbean's Senior Vice President and Chief Product Innovation Officer Jay Schneider said in a recent interview about the plans for this ship.
Utopia will have 40-plus ways to dine, drink and dance, more pools than days to count, more ways to thrill and chill, and even more of all the above at Perfect Day at CocoCay.