In:
Utopia of the Seas was successfully floated out at the Chantiers de l'Atlantique shipyard in St. Nazaire, France.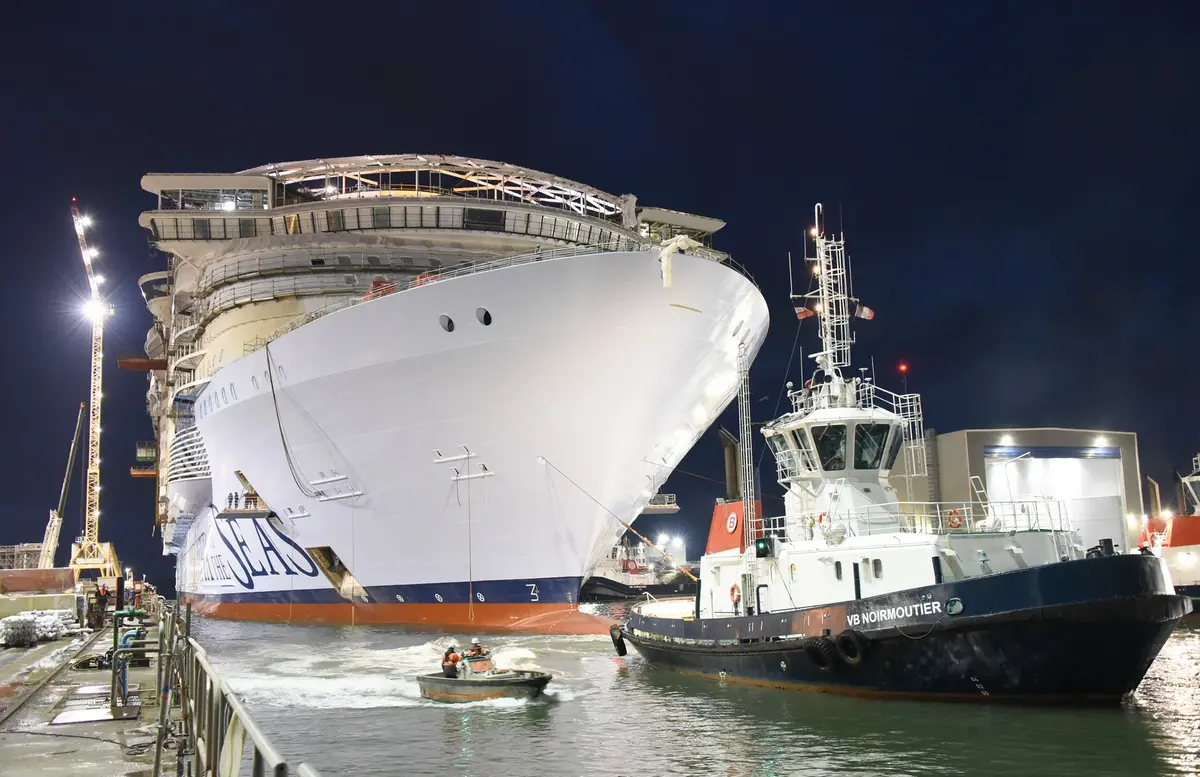 Royal Caribbean's Utopia of the Seas is the latest in the line's Oasis Class of ships.
This important first step in the journey of cruise ship construction occurred over the weekend, where the ship transfers to a "wet dock" to finish construction work.
New ships are first assembled in a dry dock, where blocks of the ship are put together on land. Once the exterior of a vessel is complete, it's ready to move to the ocean.
The process itself took nearly 15 hours, beginning with filling the new ship's dry dock with more than 46 million gallons of water overnight. Utopia was then moved into an outfitting dock, where it will be completed in summer 2024. Since construction on the next Oasis Class ship started in April 2022, the new vacation has taken shape with more than 74 blocks of steel that have been lifted and assembled into place. 
The float out of any cruise ship is an important milestone in the process of construction.
With Utopia in wet dock, work will continue leading up to her handover to Royal Caribbean. She will remain in her basis until such time she is ready for delivery.
This is the fourth Oasis Class ship built at Chantiers de l'Atlantique in Saint-Naizaire, France (Wonder, Harmony and Symphony of the Seas).
Utopia of the Seas may be the sixth ship in the Oasis Class, but she's far from a carbon copy of her sister vessels.  While she will have a number of features you can find on other Oasis Class ships, Royal Caribbean has added a few tweaks and additions that make her stand out.
The new ship will have a new tiki bar experience, new dining experiences, immersive dining, and an open deck filled with plenty of activities. The 295-foot-long Ultimate Abyss slide will reclaim the title of "longest dry slide at sea".
Utopia will be the first Oasis class that uses a more environmentally friendly fuel type, Liquified Natural Gas, or LNG.
There's plenty of dining changes to expect on Utopia as well. 
Something brand new to Utopia of the Seas is an immersive dining experience that combines visuals and dining to create something not seen before on Royal Caribbean.
The Royal Railroad will feature a classic train motif that delivers a mixed reality experience. After prototyping the train car experience at Royal Caribbean's Miami headquarters, the team feels confident it will deliver an incredible new option for passengers.
Izumi has been moved up to Central Park, which is a first for the Oasis Class. Izumi will also have a new pickup window which allows quick grab and go offerings for guests.
Park Cafe will have a new evening terrace experience, which the cruise line hopes will invigorate evenings in this neighborhood.
Giovanni's Italian Kitchen and Wine Bar has been relocated into the deck 11 and 12 former Wonderland location.
Utopia of the Seas will debut in July 2024 and enter service offering short cruises to The Bahamas from Port Canaveral, Florida.
The 236,860-ton ship will be the second largest ship in the world at the time she launches, right behind equally new Icon of the Seas. 
Royal Caribbean will change its traditional playbook by starting off a new cruise ship with just short cruises, which the line hopes will capitalize on the short cruise market.
This is a big change for the line, because traditionally new ships start off with the more lucrative week-long cruise market. Royal Caribbean is flipping the script and putting Utopia in the short market first.
Why the dramatic change? It's all about drawing in new cruisers.
Someone that has never cruised before may be leery of trying a cruise, and hesitant to commit to 7-nights.  Instead, they opt for short cruises.
Traditionally, Royal Caribbean deploys its older and smaller ships to the short cruise market.  While these ships are still great choices for a vacation, there's simply nothing like a new ship.
Royal Caribbean is betting by offering short cruises on a brand new and impressive ship, new cruisers will flock to try it and subsequently book more cruises.