In:
Ready to plan your first cruise but not sure where to start?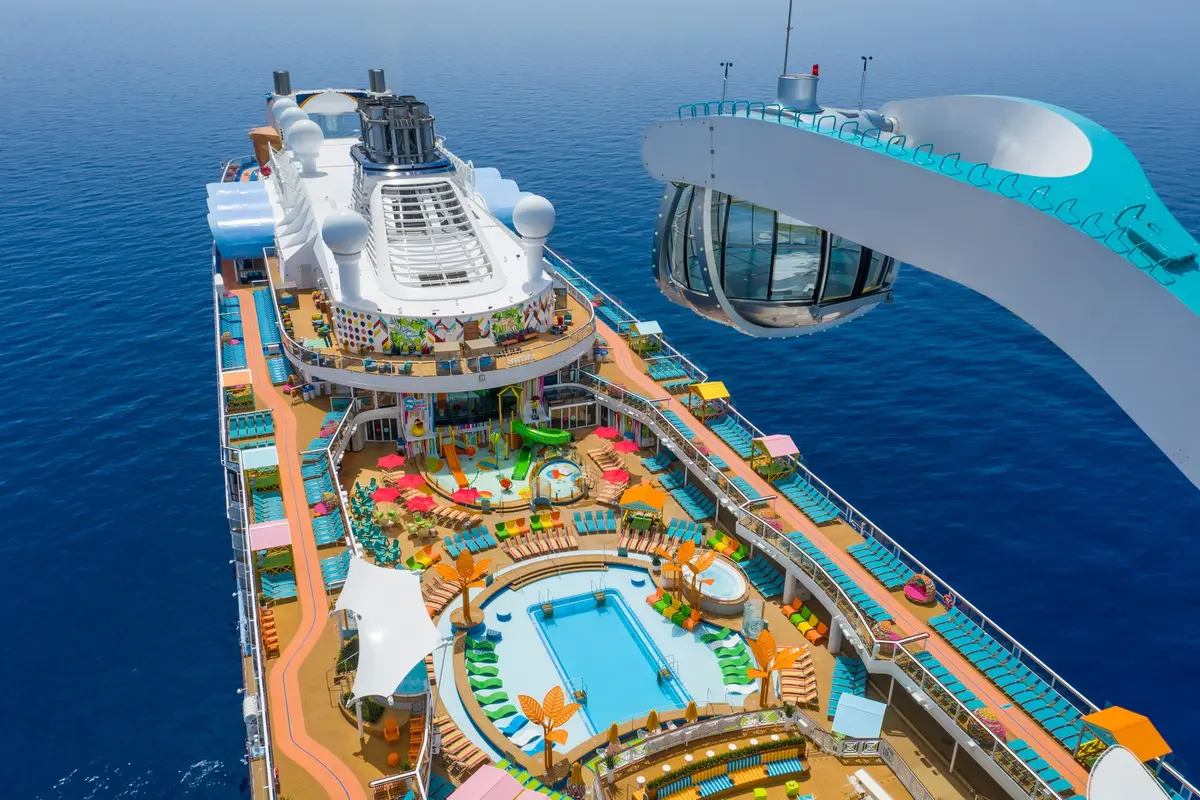 Cruising is easier than it looks, but like any form of travel, there are lots of considerations and important do's and don'ts when it comes to doing it well.  After all, you're going to spend thousands of dollars on a vacation, so you ought to get the most out of the investment.
From money saving advice to travel hacks to mistakes to avoid, here's our best advice on planning your first cruise so you can set yourself up for a super fun vacation.
Where you want to cruise to?
It's debatable what aspect of the cruise you should start with first, but I think it makes the most sense to pick which part of the world you want to visit on a cruise ship.
Royal Caribbean offers cruises to Alaska, the Caribbean, Europe, Asia and Australia.  There are repositioning cruises and other sailings too, so there's lot of choices.
Many people that have never cruised before often have an idea in mind for where they want to sail to, so it makes sense to narrow your search to one region.
There isn't a right or wrong choice, but there's no sense in going somewhere you aren't that interested in visiting just because it's cheaper.
You may pick one region and then decide to change to another region because of prices, logistics, or some other factor.  But it's easier to start with one area and plan from there.
More information
Budget
We'd all love to book the most extravagant suite on the itinerary that visits the coolest places, but money is the ultimate equalizer when it comes to vacation, so you need to be realistic about what you can afford.
Like any vacation, you probably have a ballpark idea of how much you're willing to spend and it's a good idea to have that number in mind when picking the right cruise for you.
The truth is that the price of a cruise can vary greatly depending on a variety of factors. For example, a 3-night weekend sailing for two adults can start as low as $550 for two adults. On the other hand, a splurge on an expansive multi-story suite could cost up to $80,000 for your entire family. 
Of course, the cost of a cruise can vary depending on itinerary, ship selection, how long you sail for, how many people are joining you onboard, and when your chosen date is. It's important to do your research and compare different packages before selecting the best option for you.
You'll need to not only consider the cruise fare, but also shore excursions, getting to and from the ship, and other incidentals.
A cruise is one of the best vacation values out there because of everything included in your fare, but you need to realize how much more is going to cost extra and be able to afford all of it. New cruisers may be surprised to find many extras not included in a Royal Caribbean cruise, such as drink packages, internet access, shore excursions, spa services and more.
Having a budget in mind will help narrow your choices when you select a ship or cabin.
More information
How to choose a cruise ship
Royal Caribbean operates a fleet of almost 30 cruise ships, so you might be wondering how to pick the right cruise ship for you.
First and foremost, not every cruise ship is the same. In fact, many ships differ from their sister vessels of the same class!
There is no bad ship to pick, but you need to figure out which activities and amenities are important to you to figure out which ship has those.
In the first step, you determined which region you want to sail to, and that will dictate which subset of ships are available. If you want a summer Caribbean cruise, you may find many ships in Europe and that leaves you with less choices than a winter Caribbean cruise.
It's a good idea to make a list of the things you absolutely want to have on a cruise ship to help narrow the list. Some popular considerations include if a ship has:
Water slides
A nursery for toddlers & infants
Has lots for kids/teens to do
A Broadway show
Is one of the newest ships
Has a specific specialty restaurant
There's plenty more, but these are the usual things people think about when choosing a cruise.
If you have kids, you might pick an Oasis Class or Quantum Class ship because of all the things there are to do for kids onboard.  But if you're seniors cruising as a couple, those same activities might not matter to you.
More information
Why is this ship so much cheaper/expensive than the others?
In your search, you may find one ship or sailing coming in significantly less than the rest. If you're like me, you might be wondering is there a good reason for one to be so much cheaper.
The pricing of any cruise relies on many factors, but usually it boils down to one of these:
How new or old the ship is
Which homeport it is sailing from
Overall demand for that particular sailing
In general, newer ships tend to cost more than older ships. This is just because newer vessels offer more to do, and they command a premium price.
In addition, certain homeports are less desirable than others.  Cruises from Florida's east coast tend to have higher prices than cruises from Florida's west coast, or Baltimore, or Galveston. This is because newer and bigger ships are on Florida's east coast, whereas older ships tend to sail from the other ports.
The exact itinerary can also play a role in pricing, as there can be less demand for cruises that are longer than 7-nights. This has more to do with family's abilities to take that much time off school or work.
How to choose a cruise ship cabin
Related to your ship choice will be what type of stateroom you want to stay in.
There are lots of cabins across many categories. Rooms come in various sizes, layouts, views, and amenities. Just like the cruise ship, what matters to you is the important consideration here.
There are four basic types of cabin categories:
Inside
Oceanveiw
Balcony
Suite
As you probably guessed, inside cabins cost the least but offer the smallest space and no outside views. A Royal Caribbean suite is the largest cabin with lavish furnishings and plenty of space, but will cost significantly more.
When it comes to selecting an ideal cabin for a vacation, there is no one-size-fits-all solution. Some people will prioritize price over luxury, and others will rationalize a vacation is worth a splurge.
In choosing the best stateroom, weigh these factors:
Your vacation budget may dictate which cabin categories are within reach. Someone on a tight budget may not be able to even consider a balcony or suite.  But if you can spend more, then there's a wider range of choice.
For those looking to save money or make the most out of their time on board, an inside room might be the way to go. These rooms offer all the comforts of a traditional hotel room without having natural light or outdoor settings. Inside staterooms are generally more affordable than other options, but they still come with various amenities such as comfortable beds, private bathroom, and flat-screen television. 
If you want to take in some ocean views while onboard, an oceanview room could be just what you're looking for. These staterooms come with large windows that allow you to enjoy plenty of natural light during your stay.
Of course, a balcony room has indoor and outdoor space at usually a very affordable rate (compared to suites). You'll get a private balcony that you can enjoy at your convenience. 
Finally, if you'd like the ultimate in luxury onboard experience then a suite might be the right choice for you. Suites come with extra amenities such as separate living areas and luxurious bathrooms equipped with spa-like showers or whirlpool tubs - perfect for taking some time out from sightseeing or partying! Plus many suites are located in prime locations on board giving you easy access to all that ship has to offer - from top-notch restaurants and bars to on-deck pools and entertainment venues.
If you're going on a shorter cruise, it may not be worth investing in an expensive room – since you'll likely be running around trying to enjoy as much as possible during your voyage.
But if you're embarking on a longer journey, having a larger and more luxurious room can make all the difference in terms of comfort and relaxation. Having more space means being able to spread out and truly indulge in your cruise experience. You can take naps, read books or watch the beautiful landscape pass by from your private balcony – creating an unforgettable experience that will stay with you long after the ship docks back home. 
More information
What to look for in a cruise price
Cruise ship prices are advertised as being simple, but when you dig in there are some important things you should know.
The price of a cruise will vary widely. Inside cabins can cost just a few hundred dollars, while some suites go for as much as $75,000. 
Almost any cabin you pick is based on double occupancy, so that means Royal Caribbean is assuming there will be two people in the room and charge you for each person. It doesn't matter how old these first two people are, the price doesn't change.
If you're looking to cruise by yourself as a solo cruiser, you will still have to pay a single supplement fee to make up for the loss of revenue from that second passenger in your room.  While there are studio cabins that don't have a single supplement fee, they are few and far between.
When you choose a cabin, Royal Caribbean may give you the choice of you picking a cabin or letting them pick.  By letting them pick, you'll get a guarantee cabin.  This means you will not get any cabin of lesser category, but the cruise line will pick it later.  
Guarantee cabins have an advantage of being cheaper, but the exact location is up to Royal Caribbean and you may end up with a room at the end of the ship, or an obstructed view.
The price of a cruise will include:
Cruise fare
Taxes
Port Fees
You optionally add gratuities or travel insurance to that cost. Then there's the extras we talked about earlier that are not included in your fare, such as wifi, beverages, excursions and more.
Equally important is the fare type you select. Royal Caribbean offers non-refundable and refundable cruise fare.
Just like an airplane ticket, non-refundable cruise fares are cheaper but come with penalties for cancelling or changing.  Refundable cruise fares allow changes, but you'll pay more overall.
Before deciding on any cabin or fare type, pay special attention to the cancellation policy.
One of the top first time cruise mistakes is booking a cruise and wanting to change or cancel it later. There are strict policies related to changing your reservation, so check when final payment date is, and what sort of penalties come with changing your mind later.
How to save money on a cruise
Before you book anything, there are a few ways you could knock off a few hundred dollars or more from your total cost.
Book as early as you can
Try to book your cruise as early as you can because prices tend to be cheapest when booked early.  
If you can book a cruise 6, 12, or 18 months ahead of time, you can really get a much better price than someone that books closer to the sailing.
Plus, you'll have a greater selection of cabins.
Cruise during the shoulder season
One of my favorite ways to save money is go on a cruise during times of the year that most others cannot go.
Every region cruise ships visit have a peak season, low season, and shoulder season. 
Shoulder season is the time period between peak and low season when you'll find slightly cooler temperatures but at an affordable price point. This is a great option if you're looking for a balance between temperature and cost-effectiveness. 
Prices will be higher in peak, and lower other times of the year.  But there can be tradeoffs of cruising in lower demand times of year, such as temperatures, crowds, or precipitation.
Book a guarantee cabin
If you're not picky about where your cabin is located on the deck, guarantee rooms can save lots of money.
Some people want to be in a specific location, but if you don't mind a longer walk from your room to the elevators, a guarantee cabin reservation might save a lot.
When you book a guarantee, you won't know your cabin location until closer to your sail date. There's no specific time Royal Caribbean will pick the room, as it could go right up until the day before your cruise. 
Purchase cruise add-ons and extras
Once you have your cruise booked, you'll want to tackle all the extra purchase you could buy.
Royal Caribbean gives guests two choices for its gratuities: pre-pay them before the cruise or get charged automatically every night of the cruise. 
Gratuities are compulsory and cover your stateroom attendant and dining room staff. It does not include gratuities for other crew members or purchases, such as drinks or spa services.
The advantage of pre-purchasing gratuities is you lock in the gratuity rate (in case the price goes up later), and it's one less charge on your final bill at the end of the cruise.
Travel insurance is an optional add-on that you can buy through Royal Caribbean or on your own through a third party.
Like all insurance, travel insurance is probably a waste until you need it, and then, it's the best investment you've ever made.
Travel insurance doesn't cover every scenario, but it does help a lot if there's unforeseen circumstances that require you to cancel a cruise (especially at the last minute). Without it, you'll be left with a major penalty for cancelling and lots of money lost on a vacation you didn't go on.  For piece of mind, I recommend travel insurance.
Next, you're up to the optional add-ons that can be purchased prior to the cruise on the Cruise Planner website.
You can buy drink packages, dining packages, wifi, excursions and many other extras, and buying them in advance will cost you nothing more than if you bought it onboard. In fact, many of these items are cheaper if you buy them before the cruise.
How to pack for your cruise
What to pack for a cruise seems to give a lot of first time cruisers a lot of anxiety because they are worried they will be ostracized for not being properly dressed.
Yes, there are dress codes on Royal Caribbean ships, but they're far less stringent than it seems on paper.
Consult a cruise packing list for a good starting point on what you need to bring with you.
Also keep in mind the weather you're going to, as warm weather destinations will need more comfortable and lightweight clothing than a cruise to a cooler weather climate. Packing for an Alaska cruise involves much more than packing for a Bahamas cruise.
Think about what your plans are for each port you will visit, as well as what to wear to meals at the ship's restaurants.
You should also be aware of what things you cannot bring on a cruise ship because they are prohibited.
More information:
Do online check-in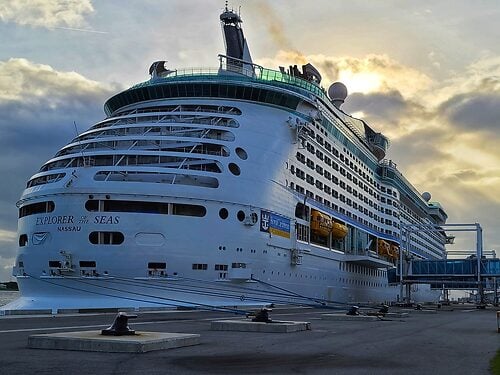 If you want to make the check-in process as fast and easy as possible at the cruise terminal, be sure to download the Royal Caribbean app and do the online check-in process.
45 days before the cruise sails, you can get a check-in time via the app.  It's important to do this early to get a convenient time for you, and it's very simple via the app.
Use Royal Caribbean's app to do the check-in because the app has a a feature to scan your passport, saving you time from entering the information manually if you do it on a computer.
Completing all of these questions, and especially taking the photo, saves so much time in the cruise terminal.
How to find shore excursions
Your cruise ship will visit at least one port, with most cruises going to more than one, so you'll want to have plans for the day there.
When a cruise ship visits a port, you don't need to have a tour booked. You could disembark the ship and walk around on your own, but not every port is conducive to this approach because often cruise ports are far from a city or cultural center.
Your best bet is to book a tour before the cruise begins to assure yourself of a spot, and have a plan locked in to avoid wasting time figuring out what to do.
Royal Caribbean sells its own shore excursions through its website before the cruise, as well as onboard the ship.
Excursions through the cruise line are curated and generally reliable. Nearly all are run by third party operators, but they are vetted by Royal Caribbean to ensure it meets certain criteria. Plus, booking them is super simple through the website.
Of course, tours booked through the cruise line will probably cost more because the cruise line is taking a percentage of the cost for themselves. Plus, tours offered by the cruise line are not necessarily indicative of every type of activity available.
At CocoCay and Labadee, you can only book tours through Royal Caribbean.
Alternatively, you could book a tour on your own.
In any port you visit, there are a myriad of excursion operators that you can book through. You can usually find out about most of them through an internet search.
When booking a shore excursion on your own, it's important to look up reviews of them to determine how reliable and reputable they are. You want to make sure they're not a "fly by night" operation, and that you'll be able to get back to the ship before it departs.
This is a good opportunity to remind everyone that the all-aboard time your ship has is a requirement to be onboard, or you will be left behind.
One advantage Royal Caribbean shore excursions have is if a tour is running late, Royal Caribbean will ensure you get back to the ship.  If you book a tour on your own, it's up to you to figure out the logistics of getting back on time.
My advice is look at what Royal Caribbean offers and then look at what you can book on your own and determine the best option for you. There isn't a right or wrong answer whether to book a shore excursion on your own or through the cruise line. Each has its pros and cons.
Regardless of who you book your tours through, it's critical to book your shore excursions before the cruise because tours often sell out.
More information