In:
Knowing what to pack for your upcoming cruise can be stressful, especially if you're a first-time cruiser with Royal Caribbean. From beach days to formal night, there's a lot to consider when you're packing for your cruise vacation. 
For example, you'll need to consider where your cruise is sailing to, as certain destinations will have different weather and climates. Also, you'll want to consider how long your cruise is to pack appropriately for your sailing's dress codes. The number of sea days can impact what you plan to pack, as you'll either be spending more time onboard the ship or exploring ports of call. 
In addition, the amount you plan to pack can be impacted by whether you plan to fly or drive to your cruise departure port. If you are flying to your cruise departure port, you will need to consider airline restrictions on luggage. Also, you will need to decide if you plan to check your luggage or travel solely with a carry-on. 
At the end of the day, what you pack for a fun 3-night sailing to the Bahamas will be totally different than what you'd plan to wear on a 12-night cruise to Norway or 7-night cruise to Alaska. 
Here's what to wear on a cruise that works for all of Royal Caribbean's dress codes, including destination-specific ideas. We've also included outfit ideas from Amazon with links to every item within each section.
Please note, these are affiliate links, meaning Royal Caribbean Blog receives a small commission if you purchase any items through the links below, which does not cost you anything additional. 
Overview of Dress Codes
Overall, Royal Caribbean's dress code is fairly laid back with just a few general rules to keep in mind. It's important to remember that these dress codes apply only to the main dining room. If you plan to eat in the Windjammer buffet for most of your meals, you don't need to follow these guidelines.
Royal Caribbean outlines their dress code requirements online. You can expect to find three different dress codes on your Royal Caribbean cruise: Casual, Smart Casual and Formal (or Dress Your Best). 
Shorts are not permitted in the main dining room for dinner for any of the dress codes on Royal Caribbean cruises, other than breakfast or lunch meals. 
Here are a few basic definitions of each dress code according to Royal Caribbean standards. 
Casual: Exactly as it implies - you are on vacation, after all! Casual dress code implies jeans, sundresses, blouses and polos are all aligned with being laid back on vacation. Swimwear needs to be kept to the pool deck. Shorts are acceptable for breakfast and lunch in the main dining room.
Smart Casual: Consider this a step-up from typical dinner wear. Outfits for this evening could include collar shirts, dresses, skirts and blouses or pantsuits. For men, snazzy jackets, sports coats and blazers are welcomed. 
Formal or Dress Your Best: This is the night you'll want to dress your fanciest. Consider packing cocktail dresses, evening gowns, ties, tuxedos or suits for your best black-tie look. 
Packing for your sailing's more formal evening depends on how long your sailing is. Shorter sailings (3- to 5-night cruises) will have a "Dress Your Best" evening dress code while longer sailings (6+ nights) will have Formal Night onboard. If your cruise is even longer (11+ nights), you could have up to 3 Formal Nights.
Formal Night and Dress Your Best are essentially synonymous. Since shorter sailings are typically the most casual, Royal Caribbean tries to use more laid-back nomenclature. It's up each ship's discretion to determine how many Formal Nights will take place onboard.  
In all honesty, the formal evenings onboard have become more and more casual over the years. 
While I used to go all-out and pack ballgowns and high-heels, I've gravitated more towards versatile dresses that can easily be dressed up or down. Perhaps I will curl my hair and wear a little extra makeup on formal night these days. For my husband, he prefers to wear his sports coat or casual blazer rather than a tuxedo or suit. 
This isn't to say that you can't dress to the nines in black-tie or evening gowns; rather, it's truthfully no longer the standard. This is especially true if you're sailing on a shorter cruise to the Caribbean or Bahamas. 
Now that you have a basic idea of how Royal Caribbean defines its dress codes, let's take a look at what you can wear for each. We've broken these down by destination, along with including outfit ideas for sea days. 
What to wear on your European cruise
If you're cruising to ports of call around Europe with Royal Caribbean, you're most likely sailing during late spring, summer or early fall. The vast majority of Royal Caribbean's European sailings start in April or May and end in September or October. 
European style features more neutral colors with muted patterns and bright colors. 
Therefore, you can plan to pack casual wear for warmer weather. In my experience, generally Europeans dress a bit nicer and follow the dress codes more strictly. Even on casual evenings, most guests look very polished and fashionable.
Depending on where you are cruising in Europe can also impact what you pack. Itineraries to the Mediterranean will have warmer weather with higher temperatures, especially in places like Italy, Greece, Spain and France. 
Northern Europe, including the Baltics, Norway, Iceland, and United Kingdom, will have cooler weather with more chances of rain. Cooler climates can add layers, such as a jean jacket or light sweater.
Casual Wear
Women can look to wear casual dresses, light-wash jeans, and rompers with blue hues to add a pop of color, this is especially perfect for the Greek Islands! These are great outfits that can also be worn during the day while you explore incredible ports like Rome, Paris and Athens.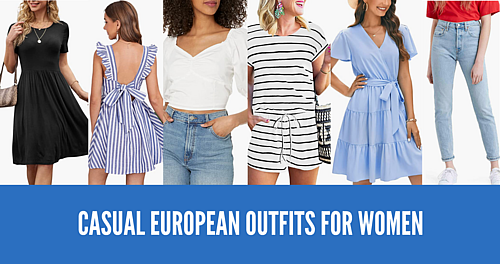 Men should pack a variety of polos and t-shirts for casual nights on a European cruise, along with either dark or light jeans. Similar to women, we've picked hues of blue and white to perfectly align with your Mediterranean cruise.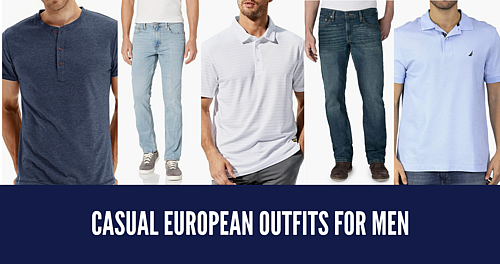 Women's Links to Casual Outfits:
Casual Summer Short Sleeve, Black Dress
Tie Back, Ruffle Strap A-Line Flow, White & Blue Striped Dress
White Blouse with Sweetheart Neckline and Puff-Sleeves, Smocked
Summer Short Sleeve Romper, White Stripes
Short Sleeve, V-Neck Casual Midi Dress, Light Blue Tie-Wrap Dress
Levi's Women's Premium 501 Skinny Jeans, Light Wash
Men's Links to Casual Outfits:
Men's Casual Front Placket Basic Short Sleeve Henley T-Shirts
Men's Classic Nautica Short Sleeve Performance Polo Shirt: Light Blue
Men's Dark Wash Levis, Straight Fit
Men's Light Wash Levis, Slim Fit
White Striped Golf Polo, Quick Dry Casual
Smart Casual
If you are packing for a European cruise with Royal Caribbean, you'll want to ensure you've packed outfits for evenings onboard the ship. Picture sailing away into the sunset from Italy, Spain or Greece after you've had an incredible day exploring in the sun. 
Again, in my experience, Europeans dress more polished and on-trend than anywhere else I've cruised. It's best to pack appropriately with dresses for women and a few button-down shirts for men. 
For women, mid-length dresses are perfect for Smart Casual evenings onboard, along with summery skirts or capris. The whites and blues are perfect for Mediterranean cruises while cooler climates can consider adding a blazer or stylish jacket for Northern Europe.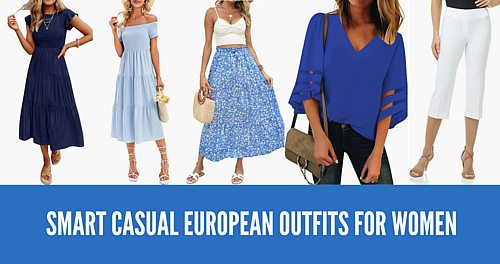 Most of the time, men can wear a variety of button-down shirts for Smart Casual nights on European cruises with Royal Caribbean, especially breezy shirts made of linen for warmer sailings. Linen pants are great to pack for warmer months because it's very breathable.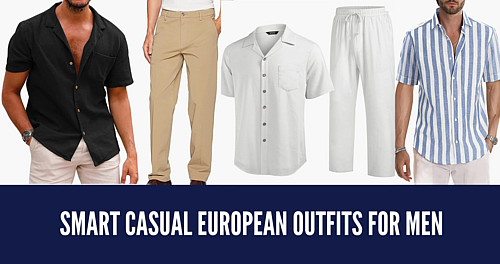 Women's Links to Smart Casual Outfits:
Casual Summer Flutter Sleeve Navy Dress, Smocked Waist
Off Shoulder, Casual Midi Dress with High Waist, Light Blue
Bohemian Floral Printed Blue Maxi Skirt with Pockets
Women's Casual V-Neck Blouse, Bell Sleeve, Royal Blue
Women's Ease Into Comfort Capri with buttons, White Capris
Men's Links to Smart Casual Outfits:
Black button down smart casual shirt
Khaki Dockers, Classic Fit 360 FlexPants
White and Blue Stripped Button Down
White Linen Matching Set for Men
Formal Night
Of all the destinations you can cruise with Royal Caribbean, you can expect the most participation on Formal Night if you're sailing on a European itinerary. This has been consistent across all of my European cruises and continues to be the trend. 
Similar to other European outfit ideas, I would encourage you to stick to more neutral colors and save the bright colors and bold patterns for your Caribbean sailing. Of course, these are just ideas for what you could consider wearing on formal night.
Women can wear full-length evening gowns or maxi dresses. I've chosen a variety of dresses in the image below with differing necklines, material, sleeve length and style. Keep in mind, a more casual dress can be dressed-up with heels, accessories and some bolder makeup.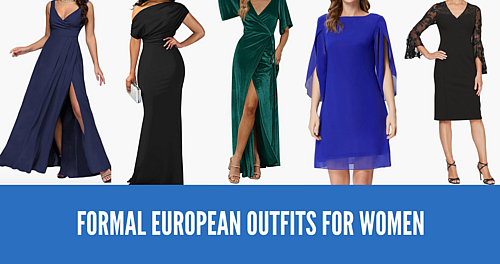 Men should consider wearing a suit and tie on Formal Night, according to Royal Caribbean's guide. A long-sleeve collared shirt with a tie, paired with nice dress pants, can also work well on Formal Night.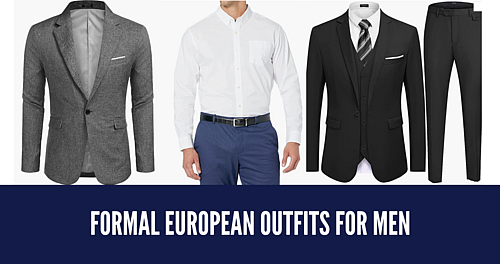 Women's Links to Formal Outfits:
Navy Women's Evening Formal, Long Dress
Black Women's Elegant Dress, Off Shoulder, Fitted
Velvet, Dark Green Dress for Women, Bell Sleeve
Royal Blue, Elegant Loose Chiffon Dress for Women 
Alex Evening Women's Mesh Sleeve Dress, Embellished
Men's Links to Formal Outfits:
Docker's Men's Classic Fit, Long Sleeve Signature Comfort Flex Button Down Shirt
Men's Casual Sport Coat, Suit Blazer
Men's 3-piece, Slim Fit Suit Set, including Blazer, Suit Vest and Dress Pants
What to wear on your Caribbean cruise
Packing for your Caribbean cruise will include bright colors, tropical patterns and plenty of swimsuits. You'll be sailing in warm climates and spending your day in the sun or at the beach, so you can plan to wear most of your summer and spring clothes. 
Also, shorter Caribbean sailings, or those with less than 5 nights, will have the most casual atmosphere on a Royal Caribbean cruise - so keep this in mind while packing. Generally speaking, Caribbean cruises are all about relaxing, letting loose, and having fun. 
Here's a breakdown of what to wear on your Caribbean cruise that works well for each of Royal Caribbean's dress codes. 
Casual 
To pack for casual nights onboard your Caribbean cruise, women can look to bring bright sundresses, tropical patterns and colorful outfits. I love to pack my dresses that are bright colors, like pink and yellow - these are just quintessential Caribbean cruise outfits for me.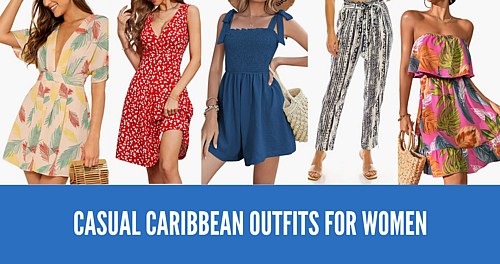 For men, this is your time to pack those Hawaiian shirts or fun patterns! Although shorts aren't permitted in the dining room, pairing these fun patterned shirts with jeans is perfect for casual night on a Caribbean cruise for men.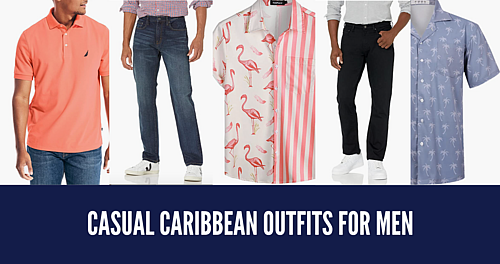 Women's Links to Casual Outfits:
Women's Ditsy Floral Plunge Deck, Tie Back
Strapless Casual Summer Dress, Tropical Pink
Women's Wrap V-Neck Sleeveless Sundress, Red Floral
Women's Smocked Romper, Tie Sleeve, Smocked Bodice
High Waist, Pattern Beach Linen Pants for Women
Men's Links to Casual Outfits:
Nautica Men's Coral Polo, Cotton Stretch
Men's Casual Hawaiian Shirt, Palm Trees
Amazon Basic, Men's Athletic Stretch Jeans in Black
Men's Duo-Pattern, Flamingo Button Down Shirt for Summer
Amazon Basic, Men's Athletic Stretch Jeans
Smart Casual
In all honesty, most Caribbean cruises are very casual for the entirety of the sailing. It's a fine line between Smart Casual compared to just Casual night, especially on a sun-filled Caribbean cruise. 
For Smart Casual evenings on a Caribbean cruise, consider packing outfits that are just a bit more dressy than what you'd wear for casual night. I've selected a jumpsuit, versatile blouse, floral skirt and two dresses that would work well with Royal Caribbean's dress code.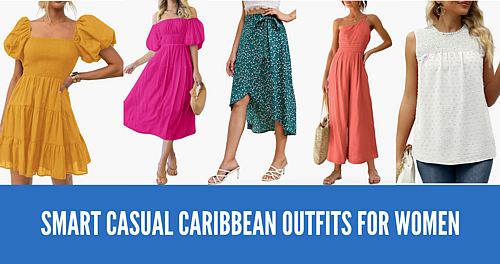 Similarly, men can look to pack some khakis or grey slacks with a button-down shirt. The pink linen shirt is the perfect option for a Caribbean cruise!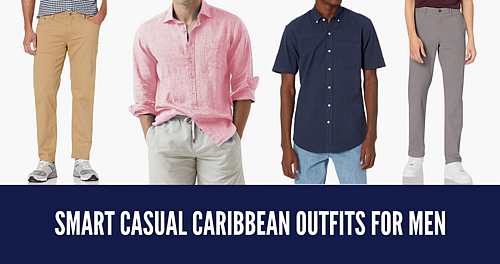 Women's Links to Smart Casual Outfits:
Yellow Puff-Sleeve, Smocked Dress 
Women's Puff Sleeve, Off Shoulder Pink Dress
Women's Teal Floral Wrap Midi Skirt
Women's Ruffle Chiffon Sleeveless White Tank
Women's One Strap Jumpsuit with Wide Leg
Men's Links to Smart Casual Outfits:
Amazon Basic, Men 5-Pocket Khaki Stretch Twill Pants
Men's Grey Slim Fit Casual Stretch Khaki Pants
Long Sleeve Men's Linen Blend Shirt, Button Down
Men's Navy Button Down, Short Sleeve Shirt
Formal Night / Dress Your Best
During your Caribbean cruise, you can count on having at least one Formal Night or Dress Your Best. Shorter cruises will call this evening Dress Your Best while longer sailings will call it Formal Night. 
Either way, it's essentially the exact same dress code and implies you should wear your fanciest outfit packed. Caribbean cruises are very casual, so you can probably leave the tuxedo and ballgown at home, if you prefer! 
It's likely going to be warm; this might be perfect for tanning on the beach or the pool deck, but not great for heavy, satin ballgowns. A shorter, more elegant dress is perfect for a Caribbean cruise on Formal Night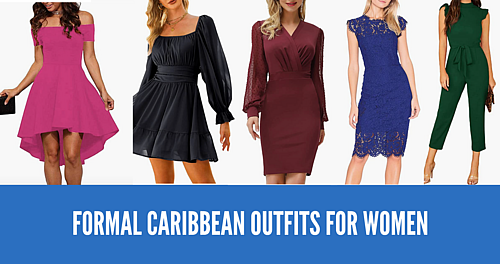 For men sailing on a Caribbean cruise, opt for a collared shirt and dress pants for men. You could also include a tie to dress up the look.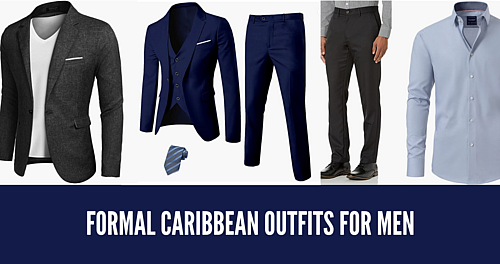 Women's Links to Formal Night Outfits:
Women's Tie Back, Black Summer Formal Dress, Long Sleeve, Elastic Waist
Women's Long Sleeve V Neck Cocktail Dress, Elegant
Women's Pink Off Shoulder Pleated Midi Dress
Sleeveless Lace Dress for Women, Blue, Knee Length for Party
Jumpsuit Romper for Women, Tie Front and Ruffle Sleeve, green
Male's Links to Formal Night Outfits:
Casual Men's Blazer, Sport Coat: https://amzn.to/3YJ3fxt 
Men's 3-Piece Suit Set with Pants, Jacket and Vest, Slim Fit
Men's Long Sleeve, Button-Down Collared Dress Shirt
Black Dress Pants for Men, Amazon Essentials, Slim Fit
What to wear on your Alaska cruise
Alaska is known for its stunning scenery - and it's one of our favorite places to cruise! However, you can almost guarantee that you will run into cooler weather during your cruise. Even in the heat of summer, you can be hit with cold and rainy weather in Alaska. 
Plan to pack layers for your Alaska cruise so your wardrobe is versatile for whatever weather you encounter. It's going to be colder than any Caribbean cruise you've done, so packing requires a bit more planning.
Casual
For Alaska cruises, women should plan to pack casual outfits that can be versatile for daytime outfits or evening attire. You'll be packing bulky clothes and most of what you wear during the day would pass for evening casual wear. 
Women should look to wear sweaters or turtlenecks with jeans or leggings. A long sleeve dress in the evenings is also acceptable for casual night.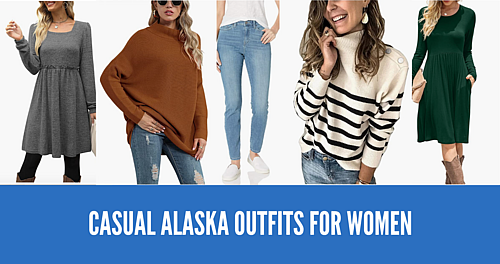 Men should also plan to pack versatile outfits that can work well as evening outfits for Casual Night. Consider packing half-zips, long sleeve shirts and crewnecks paired with jeans.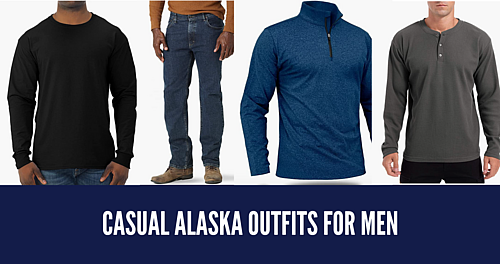 Women's Links to Casual Night Outfits:
Grey Long Sleeve Dress for Women with High Waist
Women's Casual Turtleneck Sweater Tunic Pullover
Long Sleeve Green Dress for Women, Empire Waist, Loose Fit
Amazon Essentials, Women's Light Wash Jeans, High Rise
Women's Striped Turtleneck Dress with Button Detail
Men's Links to Casual Night Outfits:
Black Long Sleeve T-Shirt for Men
Men's Wrangler Jeans, Regular Fit, Comfort Flex, Dark Wash
Men's Half-Zip, Long Sleeve Athletic Pullover, Lightweight
Long Sleeve Henley Shirt with Buttons for Men, Cotton Shirt
Smart Casual
When it comes to Smart Casual during your Alaska cruise, you'll also want to consider the weather for your sailing. Again, it's more than likely going to be pretty cool so you'll want to pack more of your winter and fall clothes. 
For women, you can look at wearing long sleeve dresses; even a sweater dress would be perfect for Alaska. You can pair this with leggings if it's especially chilly. Women can also pack dress pants with a long-sleeve blouse for dinner.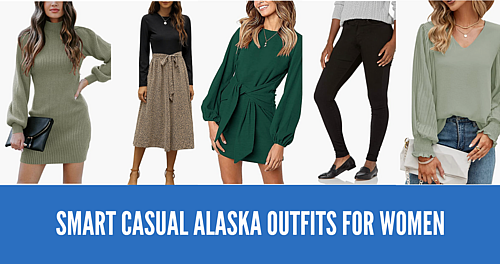 Men should also pack for cooler weather when thinking about Smart Casual Night, such as plaid button-down flannels and crewneck sweaters. Jackets can be layered at dinner or outside during port exploration in the cool Alaska weather.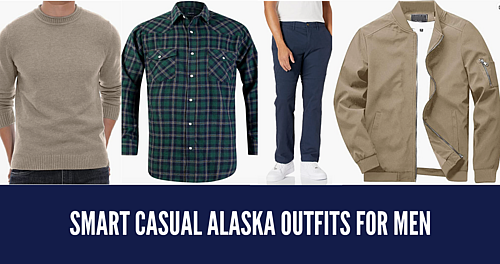 Women's Links to Smart Casual Outfits:
Long Sleeve, Sweater Ribbed Dress with Turtleneck, Green
Long Sleeve, Midi Women's Dress with Black Top and Pattern Bottom
Green Cocktail Dress with Long Bell Sleeve and Tie Front, Green
Black Jeans by Levi's for Women, Traditional Jeans
Long Sleeve Blouse for Women, Pleated Sleeves, Sage Green
Men's Links to Smart Casual Outfits:
Men's Crewneck Sweater, Soft Casual, Long Sleeve
Casual Jacket for Men, Sportswear Bomber Jacket
Amazon Essentials Men's Athletic, Casual Fit Chino Pants in Navy
Snap Button, Flannel Shirt for Men, Regular Fit, Green Plaid
Formal Night / Dress Your Best
Most Alaska sailings will be 7-nights long, so you can expect to have two Formal Nights during your Royal Caribbean cruise. Keeping with our theme of packing for cool weather, we've selected a few outfits that would be perfect for Formal Night on your cruise. 
Women can look at packing floor-length dresses with long sleeves. Alaska is also the perfect destination for a jumpsuit with pants or pantsuit to keep warm.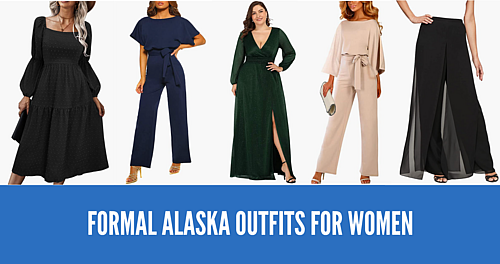 Similarly for men, consider packing dress pants with a long sleeve collared shirt for the Formal Nights on your Alaska cruise. Suits and tuxedos are also welcomed during these nights onboard.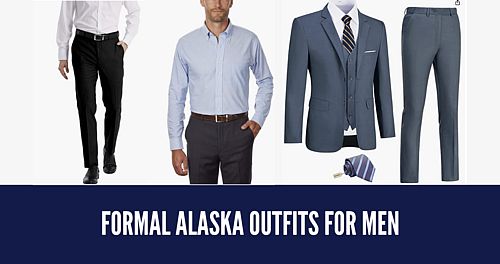 Women's Links to Formal Night Outfits:
Women's Jumpsuit, Wide Leg, Tie Waist
Women's Winter Dress with Puff Sleeve, Ruffle A-line dress
Dark Green, Women's Plus Size Dress, Floor Length High Slit
Women's Wide Leg Dress Pants, Black Chiffon Flow Pants
Women's Long Sleeve Jumpsuit, Loose Fit in Sand Color
Men's Links to Formal Night Outfits:
Black Dress Pants for Men by Calvin Klein, Slim Fit
Van Hausen Men's Dress Shirt, Regular Fit, Oxford Fit
Men's Ski Fit, 3-Piece Suit with Vest, Jacket and Pants. Tie Included