In:
Packing for a cruise vacation means not just remembering to bring a swimsuit and formal night wear, but also helpful travel gadgets. These tech tools can enhance any vacation experience and ensure your days by the pool, at the beach or exploring are the best ones yet.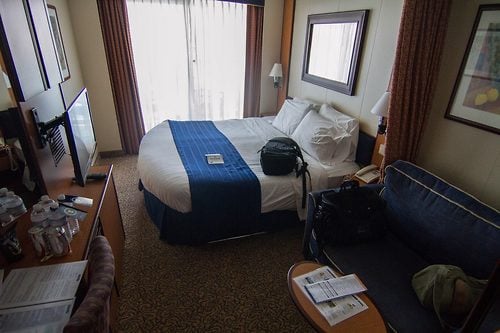 Here are some of our favorite picks for innovative accessories to bring on your next sailing. Note that we included links in this post that may contain affiliate links. Basically that means Amazon gives us a "finder's fee" commission without charging you anything extra.
Wireless Earbuds
Whether you jam out to classic reggae or prefer a Top 20 pop hit, wireless earbuds allow you to enjoy your favorite tunes without worrying about disturbing others around you.
Our pick: Apple AirPods
Phone Case Wallet
I have lost count of the times I have accidently de-magnetized my SeaPass card due to my phone being too close to it.  Until the whole fleet moves to RFID cards, you can guard against this problem by getting a phone case wallet.  They are inexpensive and will save you a trip (or four) to Guest Services for a new card.
Our pick: Silk iPhone X / XS Wallet Case
Waterproof Bluetooth speaker
A day at the beach is about relaxing in the sun and surf, but passing the time enjoying those rays and waves is much more enjoyable with some great music.  Royal Caribbean does have some live music on the island, and some recorded music playing near the bars, but back at your beach chair it can be difficult to hear any of it.
We do not advocate blasting your music to disturb other guests, rather, provide a way for you and your family and friends to enjoy some background music while you take it all in.  Enjoying music among friends is a great way to spend the day, especially if you are in a cabana.
Our pick: UE Boom 3 portable Bluetooth wireless speaker
Portable device charger
Never let battery power on your phone, camera or any electronic device prevent you from capturing or enjoying the fun onboard or onshore.  A portable USB charger ensures you can stay charged up, and even allow multiple devices to be useful all day long.
Our pick: Anker PowerCore 20100
Clip-On phone camera lens
Your phone is capable of taking great photos, but with a clip-on lens, it can take even better photos.  By adding a clip-on lens, your phone can take wide-angle, close-up, or just plain spectacular shots that can rival any DSLR camera.
Our pick: Xenvo Pro Lens Kit for iPhone and Android
Travel Pillow
If you are flying to your cruise, you may want to invest in a neck pillow so that you can actually sleep comfortably on an airplane. 
Our pick: Everlasting Comfort airplane travel kit   
USB wall charger
Since Royal Caribbean prohibits guests from bringing a surge protector (they are a fire hazard), your best bet is to bring a USB wall charger to keep everyone charged up during your cruise.  There are limited outlets in a standard stateroom, and a USB wall charger means you do not have to unceremoniously unplug your spouse's device and then later blame housekeeping.
Our pick: Anker 60W 6 Port USB Wall Charger
Your thoughts
Any good cruise or travel-related gadgets we missed? Have any product recommendations (or dislike any of the things listed here)? Any questions? We love hearing from readers, so please share any other thoughts or questions you have in the comments below!