In:
Packing for a cruise is no simple task, but if I could do it all over again, I know one thing I'd leave at home.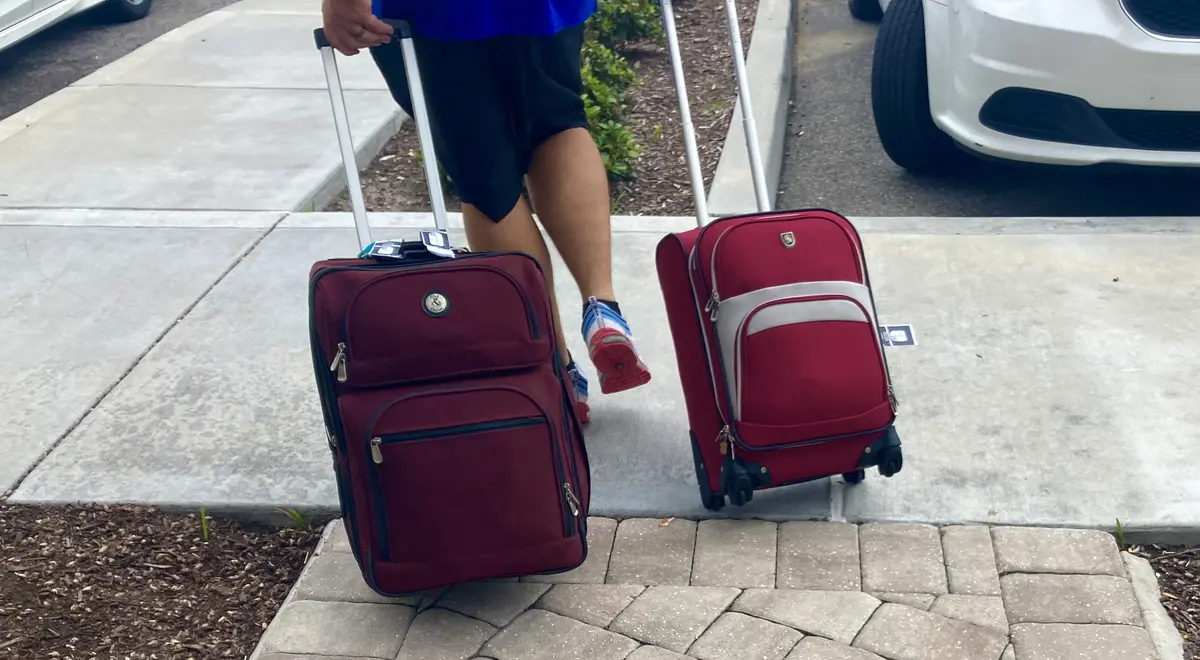 I took my first cruise last month on Wonder of the Seas, a 7-day sailing from Port Canaveral, Florida, to Perfect Day at CocoCay, St. Thomas, and St. Maarten. In preparation for my first cruise, I did extensive research, planning everything down to the itinerary and my outfits.
What to pack for a cruise was, of course, a big part of my research. 
When preparing for your cruise, you want to be sure to avoid overpacking but also to remember everything you may need.
It's recommended you limit yourself to just two pieces of luggage while cruising, so it's important to reserve space. 
But on the other hand, if you forget an item, prices are a lot higher once you're onboard.
To prevent any overpacking or overpaying, I planned carefully and made a packing list.
I brought just enough clothes and the right toiletries. I even packed snacks and a water bottle—both turned out to be lifesavers.
However, there was one item I regretted bringing in the end.
I regretted bringing my laptop
Since I purchased the Voom Internet plan for one device, I decided to bring multiple devices to use on my cruise. 
When I'm at home, I often use my iPhone and laptop in tandem. I thought it would make sense to bring my laptop along on the cruise. However, I ended up only using my phone and the space I used by taking my laptop. 
Here's why it was a total waste of space.
I only bought Wi-Fi for one device
Prior to my cruise, I purchased Voom Wi-Fi for all seven days on one device.
I packed my laptop, thinking that I might want to use the Wi-Fi on my laptop alone, accessing everything I might need in one place.
However, once I arrived on the ship, I realized that using the Internet on my phone would be more helpful, since it is portable and gives me access to FaceTime, social media, and the ability to take and send photos.
I later discovered I could switch the internet package between devices: you can log out of one device and into another on the same WiFi package. 
But in the end, it was more simple to stay logged in and keep everything on my iPhone.
We could use the TV in our room
When I feel in the mood to decompress, I enjoy watching TV shows. And when you're traveling, a personal laptop is the quickest way to access your favorite streaming services.
While packing, I assumed that I would want to watch TV on my laptop.
But when we got to our cabin, I discovered that there was a TV in our room. 
Not only that, but I could log into most streaming services using my phone and use Chromecast to stream shows on the TV. There was no reason to watch anything on my laptop. 
However, it is important to note that not every ship has a smart TV with streaming abilities. If I had not sailed on Wonder of the Seas, I might have put my laptop's streaming sites to use.
The Royal Caribbean app was more useful than the website
If I had been planning out my own itinerary and calendar, I might have preferred to use my laptop to access Google Calendar or another planning site.
However, I was surprised to find that the Royal Caribbean app was the most efficient way to save all my cruising information in one place.
The app lists all events available, and even has a feature where you can simply select an event and add it to your schedule.
Not only that, but the app also includes information on when and where each event is, any price included, what you may need to bring, and if there is any age limit.
Additionally, the app allows you to chat with other cruisers using their full name. 
This works without WiFi, so I could still coordinate with my sister, who did not purchase the WiFi package. 
The app also connects your schedules with other cruisers other the same booking, so my sister and I could create and access the same calendar.
In short, it was most convenient to use the app on my phone. 
I risked it getting stolen or damaged
When it comes your valuables, being on a ship can be unpredictable. By bringing my laptop, I ran the risk of it falling in water, getting wet at the pool, or being dropped on a deck.
Traveling with a laptop is already a risk: I had to keep it safe in a bag and make sure it was secured at our hotel room. Considering I barely used my laptop, keeping it safe was more effort than it was worth. 
It also turned out that the provided safe in our cabin was too small to fit my laptop, so I had to leave it in the cabin and hope for the best.
In the future, I would definitely leave any large devices and valuables behind, since they can't be secured and I wouldn't be able to guarantee their safety. 
I ended up wanting to disconnect and relax
Although I was able to use WiFi on my phone, I ended up regretting the amount of access I had to the Internet.
A cruise should be an ocean vacation, with time spent at various onboard activities, the beach, or exploring ports. 
But I found that the constant WiFi connection made the cruise feel less relaxing. Social media can be consuming—a beach vacation just isn't the same if you can instantly pull up your email. 
My sister, who traveled with me, only purchased WiFi for one sea day. This allowed her to check any important notifications for that day and then continue to disconnect and unwind for the rest of the cruise.
In the future, I would want to follow a similar plan and bring fewer devices. Being connected to every aspect of the Internet made it hard to relax. 
It took up space in my carry-on
To ensure that my laptop was secure, I had to keep it in my carry-on bag at all times.
This meant that I kept it with me at the hotel, on the shuttle to the cruise terminal, while boarding the cruise, and even while we explored the ship and waited for our luggage to arrive.
Holding my laptop took up valuable space in my bag. I also had opted not to bring a laptop but rather a large purse that hung off one shoulder. With all the items I had to pack in it, the purse got pretty heavy!
Before my cruise, I also noticed that Royal Caribbean advises you to pack any medicine or essential toiletries in your carry-on bag. I also saw many cruises recommend doing so, just in case your baggage is missing or delayed.
But since I filled up my carry-on space with my valuables, ID, and my laptop, I wasn't able to pack important medication and toiletries in my purse. 
I later regretted this, as our luggage wasn't delivered to the room until about 4:00 p.m. I wished I had been able to take my medication and apply sunscreen while we waited for our bags to arrive.
If I hadn't used up valuable space with my laptop, I probably could have packed everything necessary in my carry-on purse.