In:
In all my years of cruising, I haven't lost any luggage from when the bags got on the ship to off the ship, and I think that be in part due to a few important steps I've taken to protect my bags.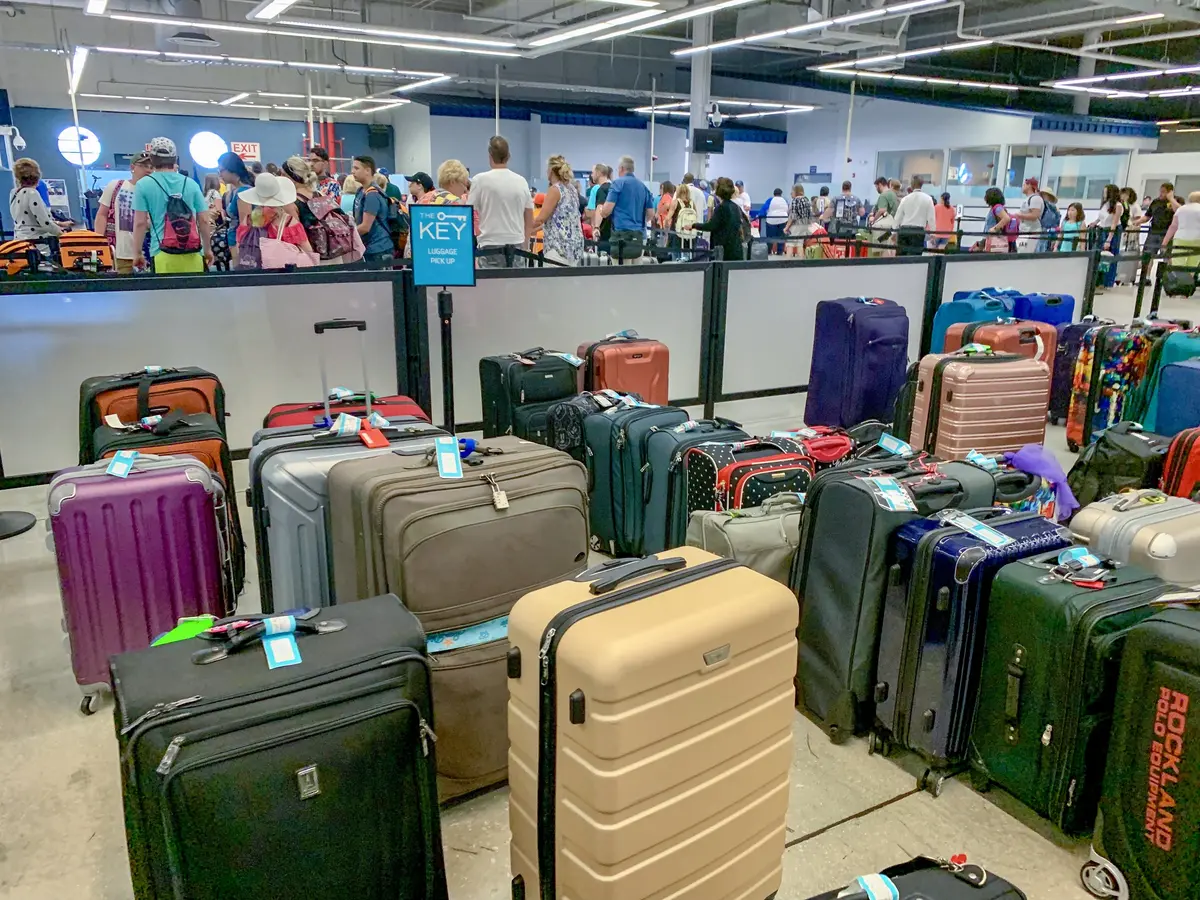 Airlines are notorious for losing luggage, and it does occasionally happen with cruise ships as well. Anecdotally, it seems luggage is lost far less on a cruise ship than an airplane, but the risk remains.
In order to better protect yourself against this possibility, I thought of all the things I do to reduce the chance your luggage will go astray in the first place.
Beyond these tips, you should never put anything super important in your checked luggage, such as passports, car keys, cash, medicine, or credit cards. Keep any precious items you have in your carry-on bag that you bring onto the ship.
Here are six tips to help keep a cruise line from losing your luggage.
Print luggage tags at home
Royal Caribbean provides you with luggage tags you can print before you leave home, and you should definitely do it.
While porters can provide luggage tags at the cruise terminal, the printable luggage tags are more identifiable and printed, rather than hand written.
Moreover, printed luggage tags will save you time since you won't have to have the porter write out every single tag and then affix them to the bags.
Admittedly, it's just difficult to remember to print them.  I often find myself completely not thinking about printing luggage tags until it is too late.
Luggage tags are available to print about 45 days before your cruise.
Prep bags in advance
Before you leave for the cruise terminal, take a few minutes to remove all existing labels and tags from your previous trips, like airline bag tags and any barcode stickers that get put on your suitcase. 
You want to make it as simple as possible for crew members to identify which bags are going on the ship and are from which sailing.
It's also a good idea to personalize your luggage so you could spot it easily.  Stickers, duct tape, tassel, or whatever you can think of can make a big difference in making your luggage stand out, as well as ensure someone else doesn't accidently take your bag.
Buy luggage tag holders
One of the best investments I ever made in my cruising career was spending a few dollars on plastic luggage tag holders (link contains Amazon affiliate link, which costs you nothing extra).
The printable luggage tags work well enough, but they're made out of paper can rip easily.  There's a variety of companies that sell plastic sleeves designed for cruise ship luggage tags that you can simply slip in.
They're waterproof, clear, and easy to see.
Plus, plastic luggage tag holders are affixed to your bags by a steel hook that attaches to the bag.
Put your name on luggage tags
You want to identify your luggage with your name and contact information.
Royal Caribbean's luggage tags that you print out have a space for your name, so write that on every tag you print.
It's also a good idea to add a baggage tag on the outside of your suitcase with your contact information (and one inside in case the outside tag falls off or gets lost).
Buy AirTags
One of the best innovations for tracking your belongings to come out in the last few years are electronic tags, such as Apple AirTags.
These small tabs help travelers track their suitcases via Bluetooth.
The AirTag is a small, button-shaped tracking device that can be tracked using Bluetooth right alongside Apple devices in the Find My app.
A single AirTag will cost $29 and a 4-pack costs $99. If you have an Android phone, the Tile Pro costs $92.99.
While AirTags aren't GPS trackers that provide precise location information, they work well-enough to have an idea where your luggage happens to be, especially if you're playing the "is my luggage on the cruise ship yet" game.
Plus, you can use them for other trips and your flights to or from your cruise!
Read more: I tried AirTags to track my luggage on a Royal Caribbean cruise
Tip porters
It's customary to give the porters that take your luggage a few dollars for their service, and it's a wise investment.
I'm not insinuating that not tipping them means your bags will be cast aside out of spite, but just like bags you'd tip curbside baggage handlers at an airport, it's a good idea to tip the porters too.
On our recent cruise from Los Angeles, we discovered one piece of luggage was missing.  Our porter immediately pointed us to the area with bags that have no tags, and sure enough it was there for some reason.
You just need to tip them $1-2 per bag, and you'll get a smile back for the work they do to lug your stuff around.
Related: Should you use the porters to take your luggage on your cruise ship?