In:
Boarding your cruise ship is one of the most exciting parts of a cruise vacation, and you want to ensure you're prepared for embarkation day by placing valuables and documents in a carry-on bag.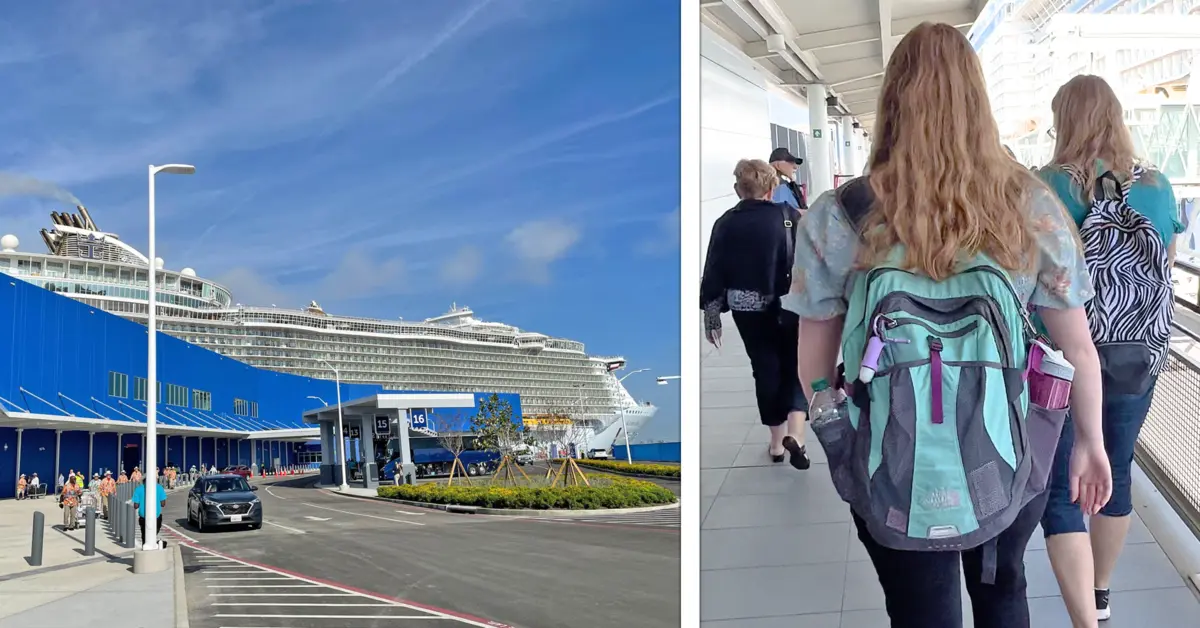 Upon arrival at the cruise terminal, you can choose to leave large suitcases with porters who will then deliver your luggage onboard. This service is extremely convenient, as it allows you to board the ship without lugging around a heavy suitcase.
However, a few hours typically pass between the time you drop your luggage with the porters and the time at which your suitcase arrives in front of your cabin door. Because of this, you must have everything you need for the first day of your cruise in a carry-on bag.
Here are the top 15 things to pack in your cruise carry-on on embarkation day, from your passport to a swimsuit and bottles of wine.
Travel documents and identification
Perhaps the most critical item to pack in your cruise carry-on are the identification documents you'll need to board the ship.
Whether you're traveling with a passport or a birth certificate and driver's license, keeping your identification documents on hand will be necessary in order to successfully board.
The last thing you want to happen is to put your passport in the luggage you drop off with the porters at the cruise terminal! This can severely delay your boarding as you will have to track down your luggage among the thousands of other suitcases in the terminal.
Aside from your identification, you might need the following documents handy:
Name change form or marriage certificate (if traveling with a birth certificate and driver's license with mismatched names)
Authorization for a minor to travel without a parent form (if you're cruising with a minor of whom you're not a legal guardian)
Printed SeaPass boarding pass (if you're not using the Royal Caribbean app)
Money and credit cards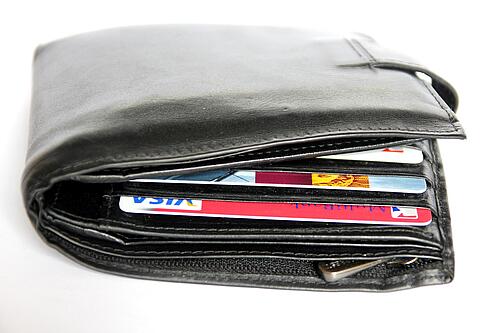 You should always keep your money and credit cards with you in your carry-on bag on embarkation day. Although the chances are extremely slim that your luggage gets lost at the cruise terminal, there's always a small possibility of delays in receiving your luggage.
Because of this, keep your wallet in your carry-on bag to avoid added stress if you cannot promptly find your suitcase.
Prescription medication
Traveling with prescription medication? Make sure to put it in your carry-on bag instead of the luggage you drop off at the cruise terminal.
There's no guarantee when the luggage you dropped off at the cruise terminal will arrive in front of your stateroom door. It could arrive at 3PM, but it could just as easily arrive at 5 or 6PM instead.
If you have medications you need on the first day of your cruise, no matter the time, be sure to keep the medication with you at all times during the embarkation process.
Swimsuit
One of the best times to enjoy time on the pool deck during your cruise is on embarkation day.
With all the excitement and chaos found on the first day of a Royal Caribbean cruise, many passengers forget to bring a swimsuit in their carry-on bag. This means far fewer guests are using the pools and jacuzzis, as they have to wait until their luggage arrives to change into a swimsuit.
Related: 11 reasons to get as early a check-in time as possible for your cruise
Beat the crowds on the pool deck by packing a swimsuit in your carry-on bag. You can change into the swimsuit in one of the public bathrooms on the pool deck and enjoy nearly empty pools for the first few hours of your cruise.
Sunscreen
In addition to a swimsuit, don't forget to pack sunscreen in your carry-on!
By the second day of your cruise, you're almost guaranteed to see several passengers with shockingly bad sunburns. More often than not, these passengers spent the first day of their cruise in the sun without applying sunscreen.
Don't forget to put sunscreen in your carry-on bag. Even if you forget and want to buy sunscreen onboard, all shops will be closed until your cruise ship sets sail, leaving you to either risk getting burnt or spend the whole day in the shade.
Phone and electronics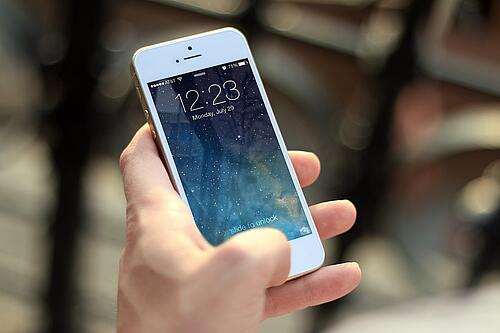 Before entering the cruise terminal, make sure you have your cell phone! It's far easier to board a Royal Caribbean cruise with a phone handy. You can easily open the Royal Caribbean app to scan your SeaPass card, which will be scanned several times during the boarding process.
Make sure you don't accidentally leave your phone in your car (or worse, at home) en route to the cruise terminal!
In addition to your phone, make sure you pack any other important electronic devices in your carry-on bag. Laptops, cameras, and tablets are just some of the items you should keep with you instead of in your suitcase.
Not only is it better to keep valuables on hand, but you may want to use these items on embarkation day before your checked luggage arrives.
Chargers
In addition to electronics, we recommend keeping chargers in your cruise ship carry-on bag.
Your phone or other electronic devices may run out of juice on embarkation day, and it's always better to have easy access to a charger rather than wait for your luggage to arrive with a dead phone!
If you travel with several electronics, you may even want to use a handy organizer to keep your electronics and cables in one place.
Sunglasses and glasses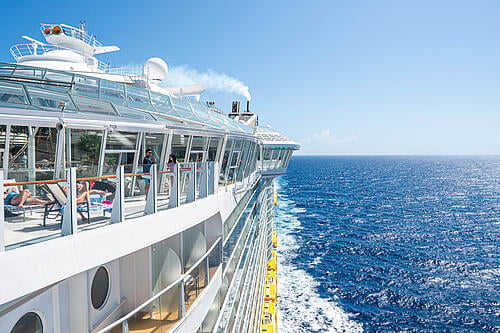 Most cruises visit sunny destinations, from the Caribbean to the Mediterranean. Because of this, sunglasses are a necessity for most passengers to remain comfortable throughout the sailing.
Related: The Ultimate Cruise Packing List
We advise packing sunglasses in your carry-on bag, as you will likely spend significant time outside in the sun on embarkation day. Whether relaxing at the pool or watching the sunset during sailaway, you'll want access to sunglasses before your luggage arrives to your stateroom.
Additionally, if you occasionally use glasses but aren't wearing them in the cruise terminal, make sure to keep them in your carry-on bag to avoid damage in your checked luggage.
Wine, water, and non-alcoholic refreshments
Do you plan to bring drinks on a Royal Caribbean cruise? Be sure to bring drinks with you into the cruise terminal rather than dropping them off with the porters.
Passengers on a Royal Caribbean cruise are permitted to bring select beverages onboard:
One 750ml bottle of wine per adult in stateroom
Up to twelve 17 oz. cans, bottles, or cartons of non-alcoholic beverages
Milk and distilled water for infant, medical, or dietary use
If you have drinks in the bag you give to the porters, it will get flagged by security when it goes through the scanner. Security has the right to check luggage for prohibited liquids like hard liquor, beer, and seltzer.
If they check your bag, there's a good chance it will be delayed and you may find yourself at Guest Services in the afternoon inquiring about when your bag will arrive.
It may be a hassle to carry drinks with you during the embarkation process, but it's the best way to bring these beverages onboard.
Supplies for kids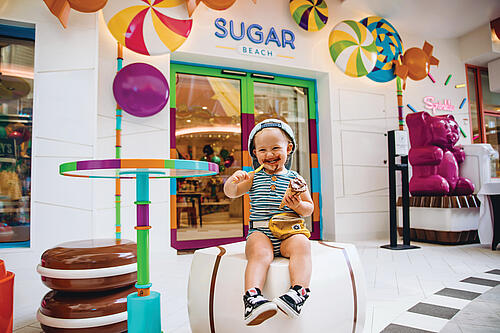 If you're cruising with kids, a little more preparation is necessary in order to ensure you have everything you need in your cruise carry-on.
To account for several hours without your main pieces of luggage, place items like diapers, wipes, extra clothes, baby food, formula, and a sippy cup in your carry-on.
Related: 50 best cruising with kids tips & secrets
You might also want to consider packing snacks for your kids on the first day of the cruise. While the embarkation process is usually relatively quick, a small delay could cause kids to get irritable and hungry. Having a granola bar or bag of chips on hand can avoid any potential temper tantrums!
Tennis shoes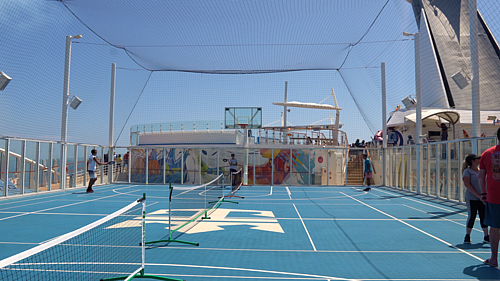 We always recommend wearing tennis shoes on the first day of a Royal Caribbean cruise. 
Tennis shoes take up more space in your luggage than most other footwear, and wearing them on embarkation day (and the preceding travel days) can save room in your luggage for extra clothes or cruise ship necessities.
Related: 40 essential things to bring on a cruise
Not only does wearing tennis shoes save luggage space, but you might need tennis shoes to participate in select onboard activities on embarkation day. The zip line, for example, requires guests to wear closed-toed shoes, so your trusty pair of flip flops won't cut it.
Other activities, like the Sports Court, also require closed-toed shoes, and the rock climbing wall requires guests to wear socks.
Change of clothes
If you have space in your cruise carry-on, pack a change of clothes in case your luggage does not arrive promptly to your cabin.
Packing a change of clothes is particularly important if you have an early dinner time. If your dinner in the Main Dining Room starts at 5:30PM, there's a good chance your luggage will not make it to your cabin by the time you're getting ready for dinner.
Without fail, you'll see a number of passengers wearing exceptionally casual outfits to dinner on embarkation day. Most of these passengers had likely packed something different than flip flops, ripped jeans, and a tank top, but their luggage failed to arrive in time for dinner.
Related: What to wear on a cruise that works for all dress codes
In addition to changing before dinner, you might want to pack an extra change of clothes in case you feel uncomfortable in the outfit you wear to the cruise terminal. Unfortunately, sweating in warm temperatures and high humidity is common on a cruise vacation, and you'll appreciate a clean set of clothes if you find yourself breaking a sweat.
Valuable jewelry
If you are cruising with expensive or treasured jewelry, put the items in your carry-on instead of your checked suitcase.
If your luggage is delayed, you don't want to ruin the first day of your cruise by worrying about whether or not your jewelry is missing or damaged. Plus, you may want to wear the jewelry to dinner on your first evening, and there's no guarantee your luggage will arrive in time.
Toiletries
It's a good idea to pack small toiletry items in your cruise carry-on, such as a toothbrush, deodorant, and travel-sized shampoo and conditioner bottles. You never know when your luggage will arrive, so you'll want important toiletries in case you have to get ready for the evening without the rest of your luggage.
You might also want to consider packing a travel-sized bottle of hand sanitizer to use on embarkation day. We recommend, for example, using hand sanitizer after touching the tongs in the buffet to avoid coming into contact with germs.
Lanyard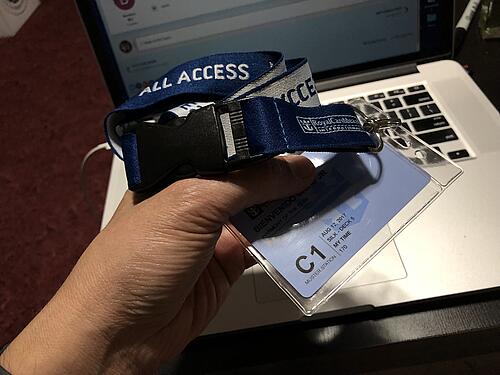 Many cruise passengers carry their SeaPass card in a lanyard around their neck. This helps prevent the card from being lost and is convenient when making purchases around the ship.
If you plan to use a lanyard while onboard, we recommend putting it in your carry-on bag so you can place your SeaPass card in the lanyard as soon as you get to your cabin.