In:
Packing for your cruise might be a little stress-inducing. There's nothing worse than getting onboard your cruise ship and realizing you forgot something back home.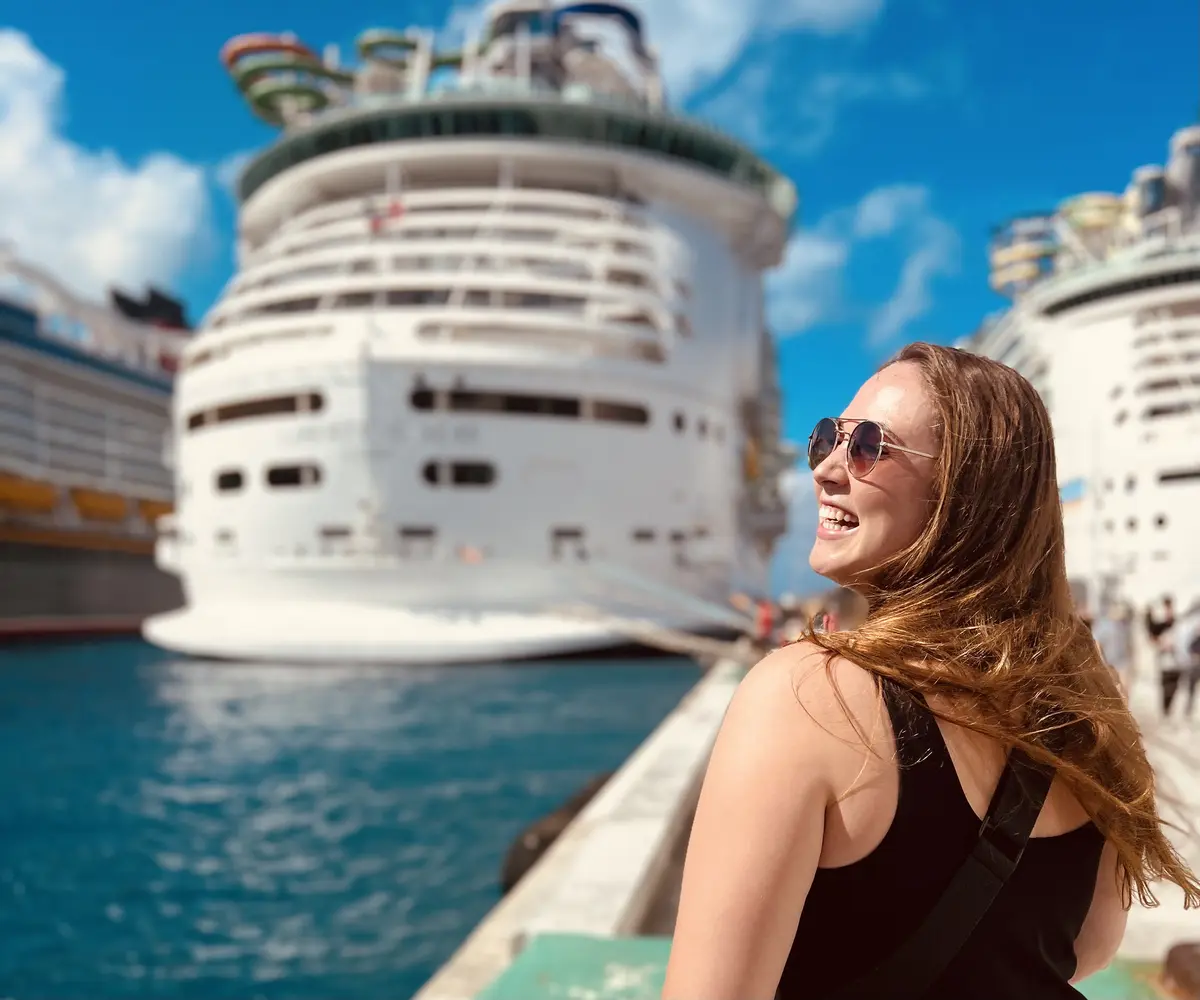 As such, I always have my go-to list of essential things that I bring on my cruise vacations. While packing, I go through my list of everything essential that I need to bring. I am always grateful to have everything on this essential list, even if some of these items are just preventative (like band-aids, seasickness medication and stain remover pens). 
Here's my list of 40 essential things that I always bring on my cruises, along with links to some of our favorite Amazon products.
Please note that we've linked items on Amazon, which contains an affiliate link. This affiliate link costs you absolutely nothing extra, but Royal Caribbean Blog makes a small commission if you purchase it.
1. Packing Cubes
I didn't understand the hype around packing cubes until I tried them for myself last year. Now, I am the biggest fan of these little packing cubes and literally never travel without them.  
Packing cubes help keep your suitcase perfectly organized. I've also found that I can simply pack more because they slightly compress everything. Since I often cruise with just a carry-on, optimizing the small space is important.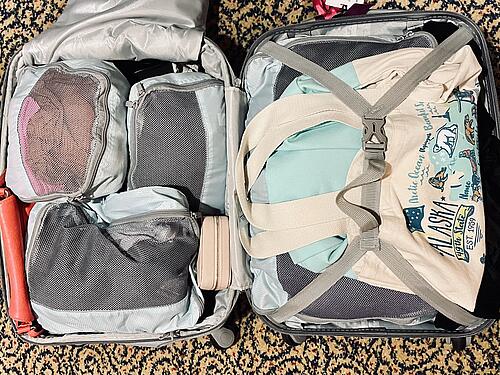 The best part of it all? Once you get onboard your cruise ship, packing cubes make it SO much easier to get settled into your stateroom. You can whip out your packed cubes and simply place them in the drawers and shelves of your stateroom. 
2. Compression Travel Bags
In addition to packing cubes, I've also started to utilize these compression travel bags that are super convenient and easy to use.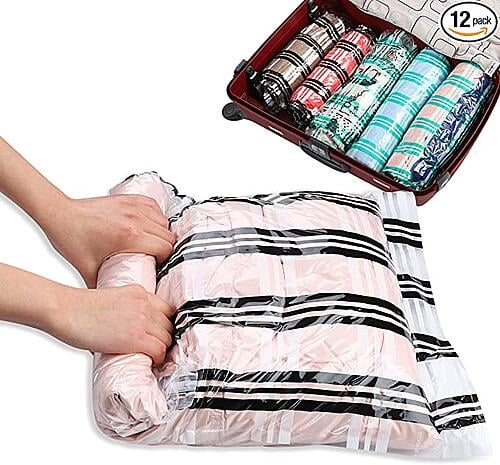 Simply pack your clothes inside and roll the bag to release air. These types of compression bags truly save so much space, especially for bulkier items that you need to pack, like your winter coat for an Alaskan cruise! Another reason I love these compression bags is that they will protect your clothes from any water that gets inside your luggage.
3. Portable Phone Charger:
If you're going on a cruise, it's essential to pack a portable phone charger, especially if you're sailing on an older ship with limited outlets and plugins. Older ships might only have one or two outlets in each stateroom - and they likely won't be near your bed.
A portable charger is also great for long days spent in port exploring or on an excursion. You won't want your phone battery to die, so having a portable charger is a must. 
4. Apple AirTags
Easily track your cruise items with Apple AirTags - I never travel or cruise without one these days. 
Apple AirTags are tiny tracking devices that you can use to monitor the location of your belongings; you simply use the Find My app on your iPhone to do this. Utilizing Bluetooth technology, these AirTags are the perfect solution for you to place in your suitcase to bring on your cruise.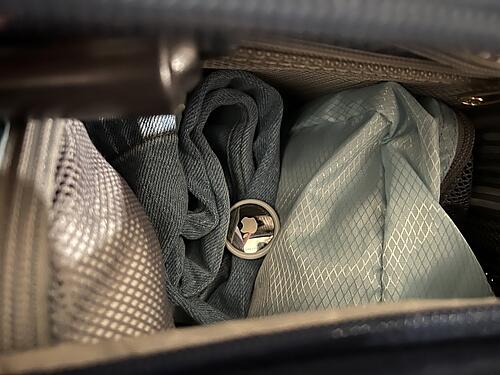 After experiencing airport chaos last year and hearing horror stories of bags getting left behind at the cruise port, having Apple AirTags allows me to track my items accurately and in real-time. 
Link to Amazon (or link to 4-pack)
5. Travel Jewelry Organizer
For ladies, packing jewelry can be unnecessarily difficult for cruising. There's nothing worse than having tangled or damaged necklaces. 
I absolutely love cruising with my travel-sized jewelry organizer. Having a small case for my jewelry makes it easy to travel with. A hard-sided travel organizer like this also ensures that your jewelry will not get damaged while packed away.
6. Electronics Organizer
If you're like me, you travel with quite a few electronics. I probably cruise with more electronics than the average cruiser if I am doing work for Royal Caribbean Blog or Cruise.Blog because I need to pack multiple cameras.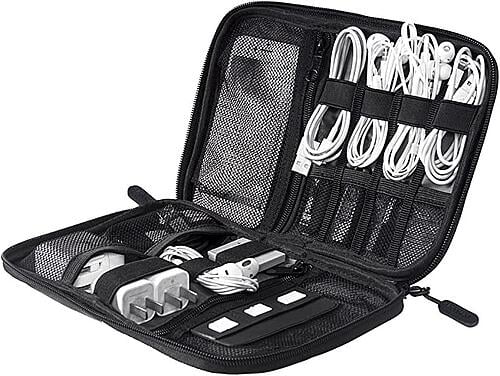 As such, I purchased this electronics organizer for traveling and cruising - it's been a total game changer! This organizer has tons of pouches and mesh pockets to keep everything perfectly organized in my carry-on bag and even in my stateroom.
7. Collapsable Duffle for Souvenirs
A new essential thing that I've started to bring on a cruise is an empty duffle bag. I've learned that I always love to shop on a cruise, especially in more unique destinations where I want a lot of souvenirs. I also don't want to spend my last cruise night strategically stuffing my belongings back into my suitcase. 
This collapsable duffle is perfect because it takes up very little space but it can come in handy when we've really helped support the local economies. 
8. Reusable Water Bottle
Staying hydrated on your cruise is very important. It's super easy to get dehydrated when you're drinking alcohol and spending a lot of time in the sun. In general, traveling dehydrates our bodies.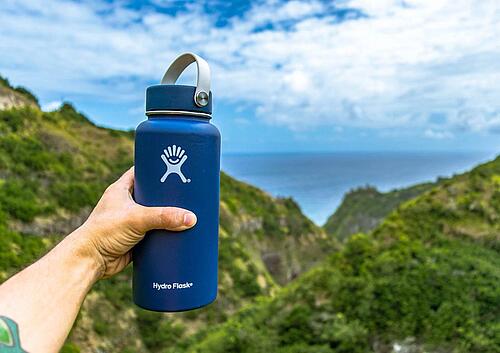 It's essential to pack a reusable water bottle for your cruise. I never cruise without mine and I bring it everywhere from my stateroom to the pool deck and off the ship for excursions. 
9. Hanging Toiletry Bag
There are a few different cosmetic bags that I travel with, but I absolutely always cruise with my hanging toiletry bag. The bathrooms are so tiny on a cruise ship and counter space is limited. I prefer to have my toiletries hanging in a cosmetic bag on the door to keep the counter less cluttered.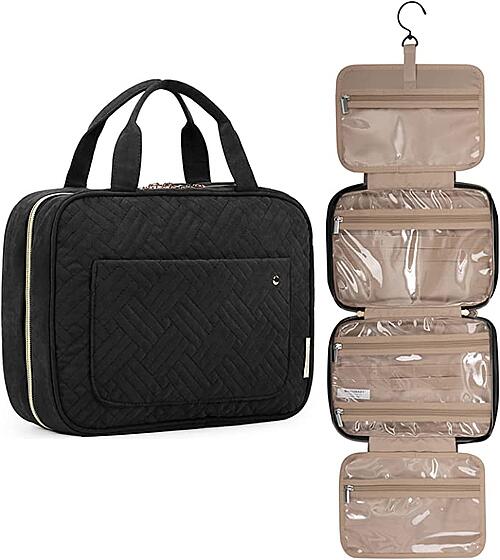 I've cruised with these hanging cosmetic bags for decades; it especially saved space when I cruised with my family having four of us share one bathroom!
10. USB Outlet Extender
If you're cruising with multiple people in your stateroom, you will likely want more available plugins in your cabin. While newer ships are starting to incorporate more outlets in each cabin, older ships are still limited to just one or two outlets.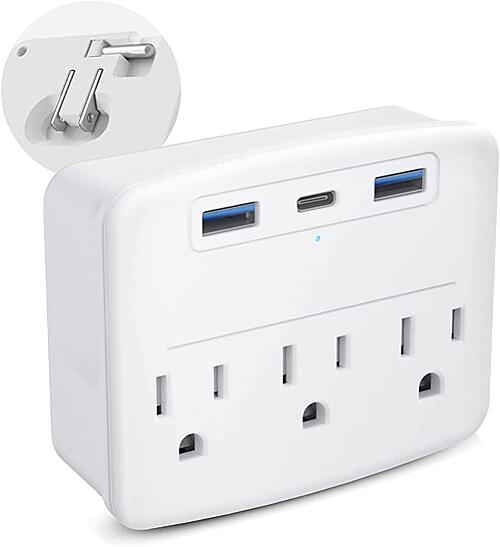 Consider packing this foldable power strip with multiple outlets and USB plugs. This will allow you to charge many more devices.  
11. Pop-Up Hamper
This is another cruise essential that I absolutely love! Packing a pop-up hamper takes up very little space in the bottom of your suitcase and fits perfectly in your cruise ship cabin closet when it pops up.
As you have dirty clothes throughout the week, toss them into the hamper so they don't overtake your closet and clean clothes. 
12. Lanyard with Key Holder
Onboard your Royal Caribbean cruise, you will have a SeaPass card to use, which is how you will purchase items onboard and access your stateroom. As such, you have to carry it everywhere!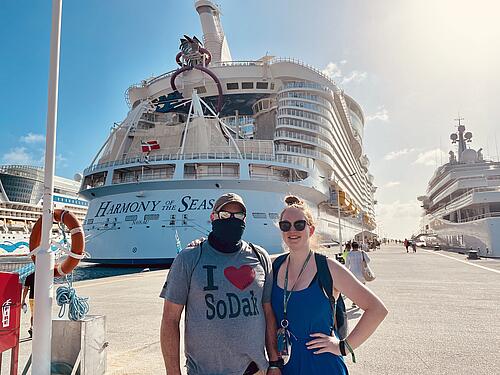 (Here's a candid shot of my sister and Royal Caribbean Blog social media manager, Angie, wearing her lanyard with our dad)
I prefer to have a lanyard with a card holder that I can take around the ship. This can easily go over my neck as I wander around the ship without having to bring my purse or wallet.
My favorite brand is the Vera Bradley lanyard with a zip ID case; I've used this same lanyard for probably 10 years and it's the perfect balance between functional and cute. 
13. Luggage Tag Holders
Printing off your luggage tags is an essential step for preparing for your cruise, but I always find that I never have a stapler or tape to properly add them to my luggage. 
These plastic tag holders are perfect for cruising and it protects the tag from getting ripped off at the cruise terminal. 
14. Magnetic Hooks
Your cruise ship cabin is made of magnetic walls, so you should definitely pack these handy little magnetic hooks for your stateroom!
These magnetic hooks are very strong and perfect for a variety of uses, from holding your hats, towels and jackets to decorating your cabin or door. 
15. Sea Bands 
As much as we all hope not to get sick onboard our cruise, it can happen to the best of us. I lived on a cruise ship for 100 days and relied on these Sea Bands to keep me healthy and help with potential sea sickness. 
These bands rely on acupuncture practice as a simple and effective way to provide nausea relief. 
16. Motion Sickness Medication
In the way of seasickness, it's essential that you always pack motion sickness medication for your cruise. You never know when nausea will strike when you are sailing at sea.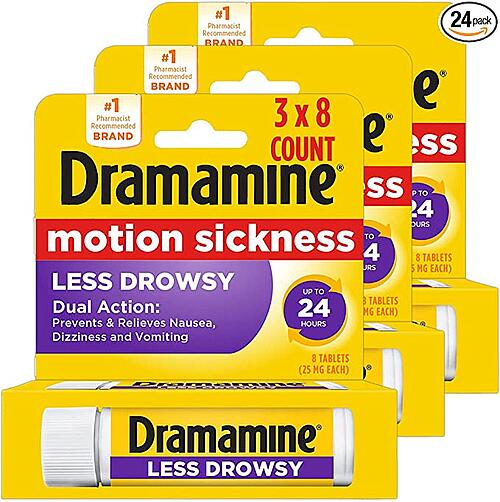 I prefer to cruise with these travel-sized containers. Dramamine makes a less drowsy formula, which is perfect for during the day when I don't want to get too sleepy from the medication. The small container is easy to keep in my purse or bag while ashore too - as bus, boat and taxi rides can all induce motion sickness.
17. Travel-Size Hand Sanitizer
Keeping healthy is a top priority when cruising. Illnesses can spread in a variety of ways, especially on a cruise in close quarters. I keep these hand sanitizers attached directly to my lanyard that holds my SeaPass card.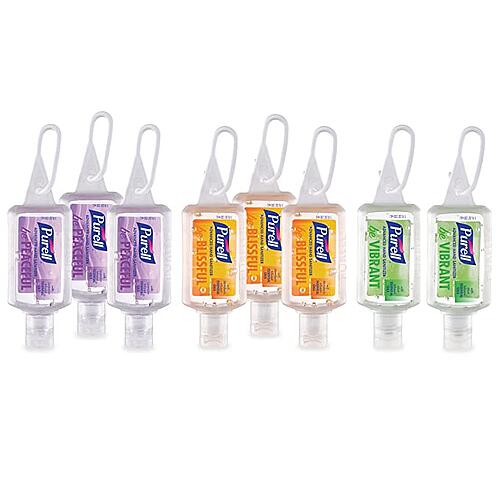 I find myself sanitizing frequently while I cruise, especially after using the tongs in the Windjammer before indulging in my plate of food. 
18. Pack of Laundry Detergent
On a longer cruise, another essential that I always bring is a travel-size packet of laundry detergent. Even though I get a free laundry bag onboard the ship, I am leery of handing off my dirty clothes to be washed onboard because I've heard horror stories.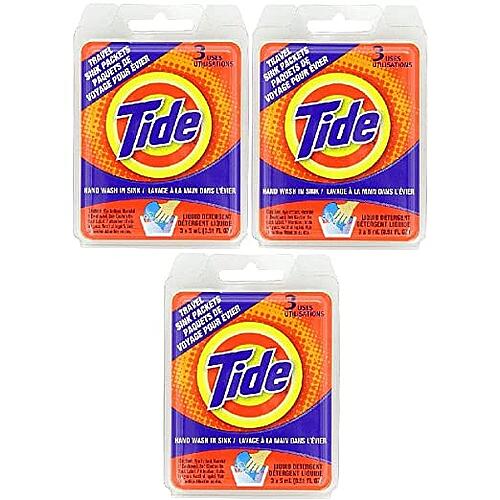 I lived at sea for 100 days and did my laundry exclusively in the sink and shower with these little Tide laundry detergent packets. It gets the job done!
19. Liquid IV Hydration
Staying hydrated is so important when you cruise. In addition to bringing a reusable water bottle, I absolutely always pack these Liquid IV packets - I am obsessed! These are hydration multipliers that you can add to water to boost your electrolytes.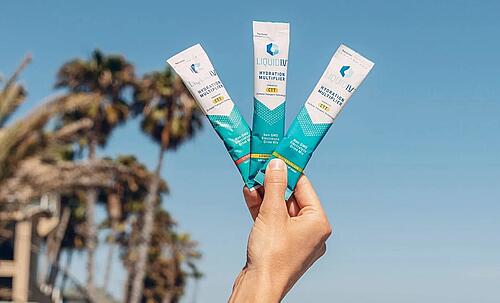 Personally, I love the strawberry flavor (linked below), but all of the Liquid IV flavors that I've tried have been excellent. I can truly tell a difference in my hydration when I use these on a cruise, as I know those mojitos are not doing my hydration any favors!
20. Variety of OTC Medication
One essential that I never cruise without is my tiny 'pharmacy'. In a small pouch, I bring a variety of over-the-counter medication just to have on hand. Because medicine is so expensive onboard and I do not want to buy medication in port, I cruise with a small amount of medication.
It's essential for me to bring a multi-symptom combo pack of daytime/nighttime cold and flu because it covers a variety of symptoms. Other essential OTC medication that I always cruise with in my tiny pharmacy includes laxatives, Imodium, sleep aid, nasal congestion spray, antihistamine, and cough drops. 
21. Mini First Aid and Emergency Kit
You never know when an emergency will strike, even on your cruise vacation! For this reason, I always travel with a mini first aid and emergency kit.
This mini emergency kit includes band-aids, gauze, alcohol wipes, a mini tweezers and so much more. I have peace of mind cruising with this little kit - and it's the perfect size to fit in a backpack. 
22. Wrinkle Release Spray
I can't tell you how many times I've had to wear a wrinkly dress on a cruise ship! Without an iron onboard due to fire hazard, it's not uncommon to have very wrinkly clothes.
For this reason, it's essential for me to pack wrinkle release spray. This travel-sized bottle is perfect for cruising and really helps get out those big wrinkles after I stuff my suitcase full of cruise clothes.
23. Swimsuit
This might seem like a no brainer when it comes to essential things to bring on a cruise, but some might not think if they are cruising to cooler destinations, like Norway, Iceland and Alaska, that they do not need a swimsuit.
However, it's essential for me to pack a swimsuit - even to cooler destinations! Most of Royal Caribbean's ships sailing to these cooler destinations have a covered Solarium with a heated pool. Additionally, there's never a bad time for a hot tub. If you're cruising somewhere cool, consider packing a long sleeve swimsuit to keep warm. 
24. Swimsuit Cover-Up
Along with a swimsuit, it's essential to pack a swimsuit cover-up, or at least something that you can wear between the pool deck, deck and around the ship.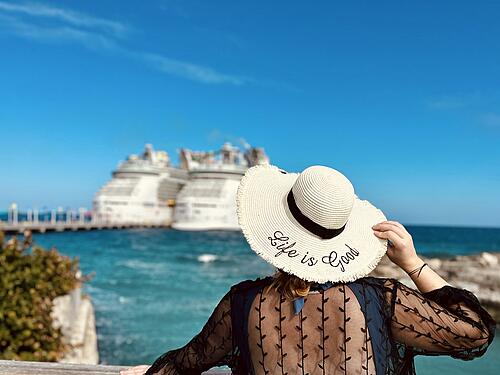 You'll also need to cover up before you can grab food in the Windjammer on Royal Caribbean ships, so it's best to always have one on hand. 
25. Travel-Size Sunscreen
If you're planning to spend any amount of time in the sun on your Royal Caribbean cruise, it's essential to pack sunscreen to protect your skin.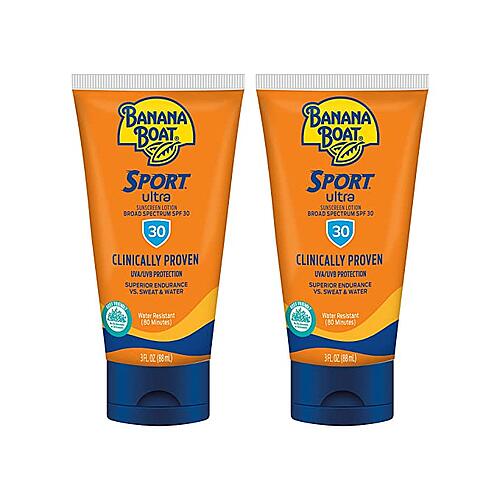 If I am driving to the cruise port, I pack a bigger bottle of sunscreen for my husband and I; but if we are flying to a cruise, I don't always check a bag so I love to pack travel-sized sunscreen lotion. In my experience, lotion goes further than spray.
26. Moisturizer with SPF
Similar to my travel-sized sunscreen, I always travel with an SPF moisturizer. Even if I am not basking in the sun or actively on the beach, I prefer to wear an SPF moisturizer to keep my skin protected.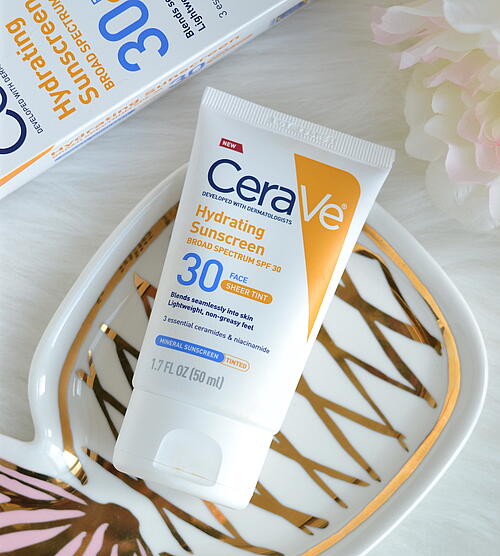 Personally, I prefer this tinted moisturizer, as it's perfect for cruising because it's protective, easy to travel with and adds a little color to my skin. 
27. Beach Bag
It's essential to pack a beach bag or small backpack on a cruise. Even if you plan to spend most of your time onboard, you will still be hauling things from your cabin to the pool deck, like flip flops, books, sunglasses, cover ups, towels, sunscreen, etc.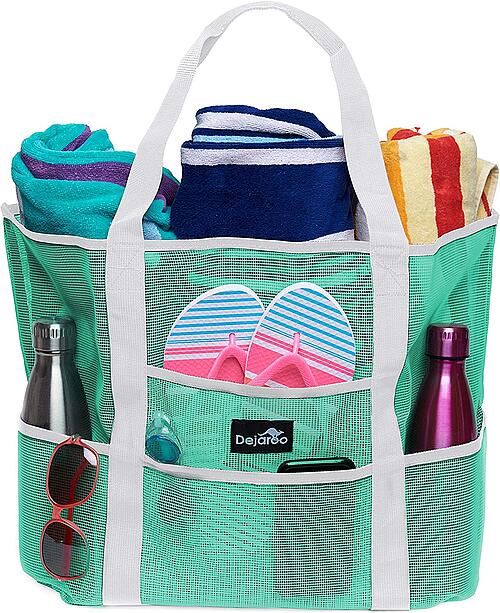 I prefer to use a beach bag or some sort of canvas tote around the ship. A small backpack also works great if you are going ashore as well.
28. Kindle
Gone are the days of lugging around old fashioned books on your cruises. Cruising is about the only time I catch up on books that I've been wanting to read.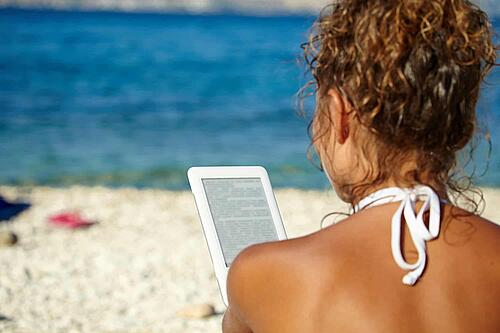 I prefer to travel with my Kindle these days because it takes up way less space in my suitcase than hauling around big books.
29. Sunglasses
Regardless of where I am cruising, it's essential that I pack sunglasses. Even the Alaskan snow can be bright enough to require sunglasses.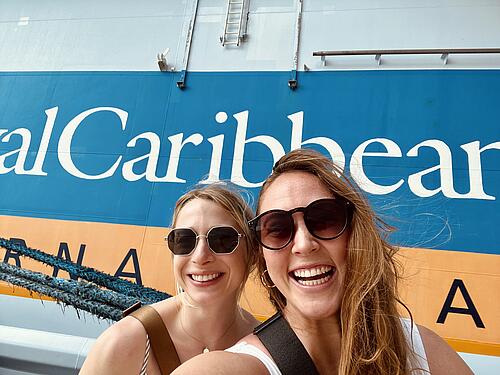 I'm a budget traveler, so I prefer to cruise with a cheap pair of sunglasses so I won't be heartbroken when I, inevitably, lose or break them. 
30. Ziplock baggies
It's essential for me to pack a few empty ziplock baggies for a cruise. These are so versatile, from keeping cash dry at the beach to packing a snack for excursions. You can bring a variety of bag sizes, but sandwich is my preferred. 
31. Converter with USB Plugs
Most cruise ships have limited outlets in each stateroom, but it's common to find European outlets in your cabin. I hated seeing these go unused, so I started to bring a European adapter with USB ports.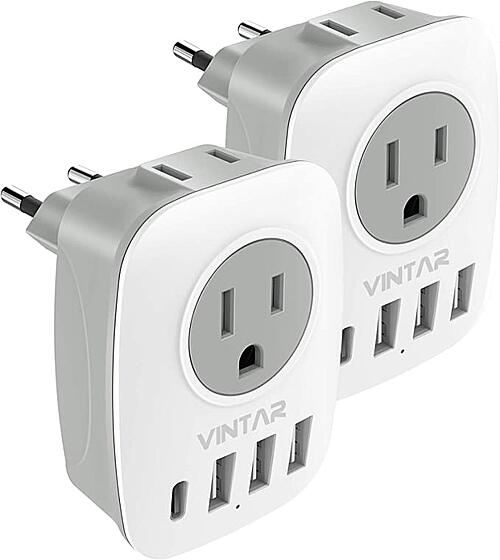 These work great for cruises and it's an essential thing for me to bring now. 
32. Chapstick (with SPF)
Cruise ships are always very dry, so I'd rather be buried alive than be stuck on a cruise ship without chapstick. I lather my lips multiple times a day, especially when I am cruising. I prefer to bring chapstick with SPF so my lips stay moisturized and protected from the sun. 
33. Poo-pourri
This one goes without much explanation, but you know all of that food you eat on a cruise has to go somewhere. That tiny bathroom can really hold a stench for longer than you'd imagine.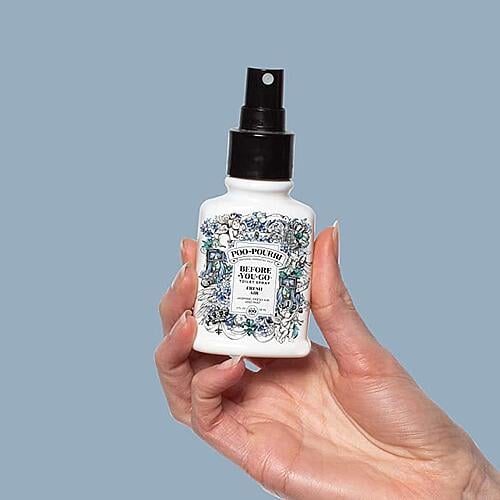 It's essential for me to travel with a travel-sized air freshener to keep in the cabin. 
34. Liquid Hand Soap
This one might seem unnecessary, but it's essential for me to bring a small bottle of hand soap to keep in my stateroom bathroom.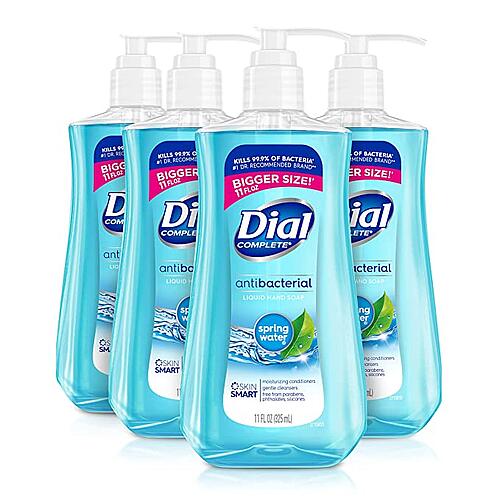 I hate using that little bar of soap and I feel like it's just a small luxury that's worthwhile; this is especially true if it's a longer cruise where I will be planning to spend more time in my cabin. 
35. My own shampoo and conditioner
That mystery liquid in the shower onboard a Royal Caribbean cruise? Definitely not my favorite. It leaves my hair stringy and dry. It's absolutely essential for me to pack my own shampoo and conditioner. 
In addition, if I have enough space, I like to pack my own body wash. If it's a last resort, I will use the 3-in-1 product for body wash, but I will always have my own shampoo and conditioner packed for a cruise. 
36. Rubber Birkenstocks
Since moving to Florida, I purchased a pair of rubber Birkenstock sandals for the beach because my regular Birkenstocks weren't loving all the sun, sand and water. This was a nice upgrade from my $1 Old Navy flip flops.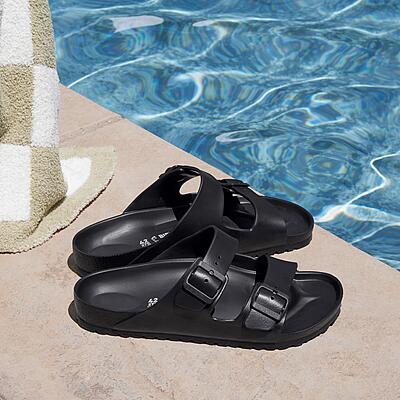 Now, I never cruise without them! These rubber sandals are perfect for the beach or pool because they dry quickly, but they're also very comfortable for walking in port too. 
37. Onboard Clutch
Ladies will know that it's essential to have a purse that's dedicated for evenings onboard a cruise ship.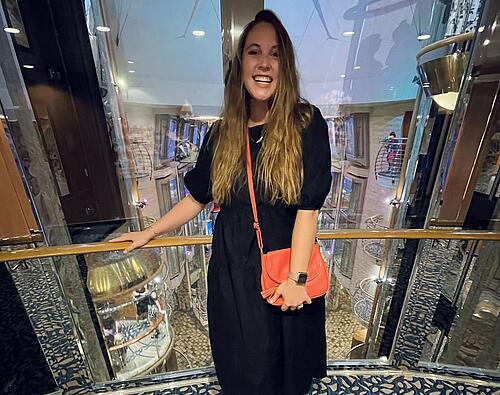 I don't want to lug around my daytime purse or backpack when I'm out and about on the cruise ship, so having a small clutch is the perfect solution.
38. Tide to Go Stain Remover
These handy little stain removing pens are perfect for cruising. It comes in clutch to have a Tide to Go Stick when my husband or I inevitably stain our cruise clothes. 
39. Passport and Vaccination Card
Closed-loop cruises departing and returning to the same US port allow cruisers to sail with just a birth certificate in leu of a passport. It is essential for me to always bring my passport when I cruise, as I never want to be stuck outside of the country without my passport.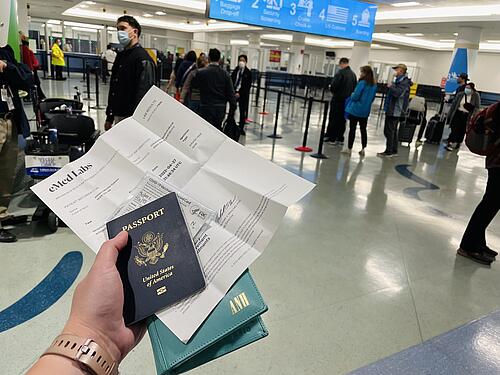 Likewise, I always bring my COVID-10 vaccination certification when I cruise. It might not be required anymore, but I plan to bring it for the foreseeable future. 
40. Extra prescription medication
Itineraries can change at anytime; it's on the dotted line we all sign every time we book a cruise. Because you never know what could happen, I always cruise with extra doses of my prescription medication. I don't want to ever rely on the cruise ship or a local port to accommodate my health needs.