In:
Royal Caribbean cruises are great vacations for families, and there are a few tips and tricks to help maximize your cruise experience.
When you go on a cruise with your family, it can mean a mix of ages and even generations. While lots of parents take their kids on cruises, multi-gen cruising is another popular option so that grandparents, aunts, uncles, and cousins can spend time together onboard.
So while there are plenty of secrets I could share that apply to just about everyone, I wanted to focus on the sort of things families should know before they go on a Royal Caribbean cruise.
Here are our top 50 best tips for cruising with kids on Royal Caribbean.
Shortcuts:
1. Buy your kids a passport
Passports cost money and kids passports expire after just 5 years, but they are worth the investment.
Having a passport for everyone in your party (that means you should get one too) makes the check-in, embarkation, and disembarkation process so much easier.
Related: Do you need a passport for a cruise?
I think one of the biggest sources of frustration for families on a cruise are the lines and steps required to check-in and out of your cruise. Having a passport makes it all faster and simpler.
2. Make sure your ship has a nursery
If you are going on a cruise with kids under 36 months old, make sure the ship you booked has a nursery.
Most Royal Caribbean cruise ships have gotten a nursery added over the last few years, but a few still do not, and I would say you should avoid these ships.
The nursery is a godsend for parents with toddlers, because it offers excellent supervised child care for children of that age. Kids can eat, play, and even nap in the nursery, making it an important resource for parents who want a break now and then.
Related: Introduction to bringing toddlers on a Royal Caribbean cruise
3. Be aware of age restrictions for babies
Before booking a cruise with your newborn, make sure you're aware of Royal Caribbean's current infant policy.
Infants sailing on most cruises in North America, Europe, Australia, and Asia must be at least 6 months old by the first day of the cruise.
For transatlantic, transpacific, Hawaii, select South America and other selected cruises, infants must be at least 12 months old by the first day of the cruise.
Any cruise that has 3 or more consecutive sea days requires infants to be at least 12 months old by the first day of the cruise.
4. Choose a ship with Splashaway Bay
Splashaway Bay is a kids-only aqua park on Royal Caribbean where you'll find small slides, water cannons, a drench bucket, and jungle gym placed in shallow water.
If you aren't sailing on a ship with Splashaway Bay, check if the ship has a baby splash pad available. Kids in diapers are not allowed in Royal Caribbean's pools with the exception of the baby splash pad.
5. Consider an internet package or the Royal Caribbean chat feature
Teenagers have a lot of freedom onboard a Royal Caribbean ship, but it's important to be able to communicate with them throughout the day while they're off exploring with new friends.
There are two main ways to stay connected on a cruise: an internet package or the Royal Caribbean app's chat feature.
If you're traveling with teens, consider booking them one of these two options so that you can stay in touch while onboard. Internet packages are typically priced around $20 per device, per day and the chat feature is $2 per person, per day.
6. Choose a cruise itinerary wisely
Before selecting a cruise itinerary, consider if it is the best option for everyone in your travel party.
Touring cathedrals in Italy every day on a Mediterranean cruise may seem appealing to you, for example, but it may not be the most exciting destination for toddlers.
Likewise, if you are choosing a long cruise (8+ nights), consider how many sea days are on the itinerary compared to port days. If a cruise has 5+ sea days in a row, this may not be the best choice for some kids.
Itinerary choice depends on your family's interests and ages, but be sure to browse the options available before booking the first cruise you see.
Related: How do I pick the perfect first cruise?
7. Book a ship with water slides
While pools are fun, water slides are kings among kids, and not every Royal Caribbean ship has a water slide.
When you decide to have a pool day, kids always want something else to do other than relaxing by the pool. Water slides have been a boom for families since it offers them an activity kids can do over and over again.
Before you book, research to check if the ship you are looking at booking has a water slide.
8. Set spending limits for your kids
For older kids who carry their own SeaPass card, you may want to enable spending limits to avoid a potential problem later.
First, when checking in online, you can choose the option "No onboard expense account" to prevent your children from using their SeaPass card for onboard purchases.
Once onboard, you can stop by Guest Services and set a pre-established limit.
The arcade, for example, has its own $50 per person daily limit, although you can increase/decrease this limit to whichever amount you would like by speaking to the arcade attendant once onboard.
9. Look for kid-friendly shore excursions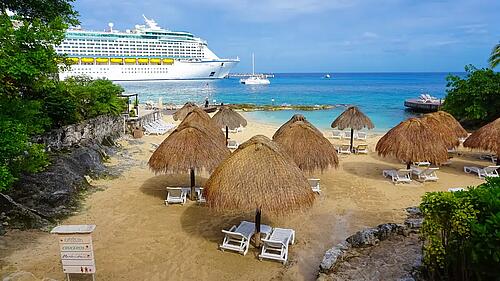 Consider your childrens' ages, fitness levels, and interests before booking a shore excursion.
Some shore excursions have age restrictions. Discover Scuba Diving tours, for example, often have a minimum age of 12.
Other shore excursions may include strenuous activities like kayaking or hiking. If you don't think your toddler will fare well with hiking 5 miles, it might be best to plan something different in port.
You can filter shore excursions on Royal Caribbean's Cruise Planner site by interest, duration, and activity level to help find the best excursion to fit your family.
10. Arrive one day before your cruise begins
If you're flying into your cruise port, be sure to arrive at least one day before the cruise begins.
Airline travel can be unpredictable, and you want to ensure your family arrives in the cruise departure city with plenty of time to spare.
Plan to arrive the day before the cruise and spend a night in a hotel prior to boarding the ship the following day. Not only does this help ensure you'll make it to your cruise, but it also gives you a head-start on your vacation.
11. Book with a travel agent
We always recommend booking with a travel agent, and this tip is even more helpful when cruising with kids.
Travel agents can look for family stateroom categories you can't otherwise book on Royal Caribbean's website, can recommend shore excursions, and are available whenever a question arises in the planning process.
Related: Top 5 things to look for in a good travel agent for your cruise vacation
12. Get your kids involved in planning the cruise
A Royal Caribbean cruise will undoubtedly be a fun experience for kids, so why not get them involved in the cruise planning process before you set sail?
Researching dining options, shore excursions, and onboard activities can get kids even more excited about their upcoming cruise vacation.
Another way to get kids involved in the cruise planning process is by finding YouTube videos or books about the cruise ship and ports of call. Watching a video tour of the ship you'll be sailing on, for example, can help kids become more familiar with the cruise experience before your vacation begins.
13. Don't buy kids a dining package
Kids get special pricing at specialty restaurants, so buy dining packages only for the adults in your travel party.
Children between the ages of 0-5 are complimentary and ages 6-12 are $10 per child at any specialty restaurant.
When you make a reservation for a restaurant onboard, let your server know the adults have a dining package, but kids don't and you will get a better price than if you bought the dining package for everyone.
14. Free ice cream on the pool deck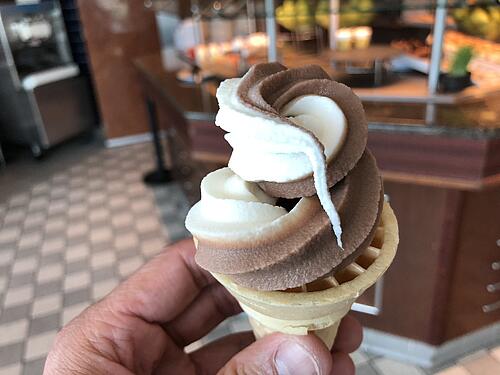 If your kids are craving ice cream but you don't want to shell out extra money for Ben & Jerry's, head to the pool deck for unlimited soft serve ice cream.
Not much makes kids happier than "unlimited" ice cream, and the soft serve station is usually available from around 11 AM to 6 PM each day.
15. Book during a Kids Sail Free promotion
Kids Sail Free is a promotion offered by Royal Caribbean in which the 3rd and 4th guests in your cabin aged 12 and younger are eligible for free cruise fare.
This promotion can lead to fantastic savings, although you should be aware of blackout dates which tend to occur during the busiest times of the year.
Related: Royal Caribbean Kids Sail Free 2022-2023 Dates & Tips
16. Book two staterooms instead of one
My favorite family cruise tip is to book two connecting cabins instead of putting everyone into one room.
The conventional thought process is for a family of four or five to book one room for everyone. This is usually what families do at hotels or resorts, so why would a cruise be different?
Unlike hotels, cabins on a cruise are short on living space, so the experience is not exactly the same in sharing a room on a ship compared to on land.
Related: Choosing a cabin for your cruise
Booking two connecting cabins not only provides more living space, but you get an extra bathroom (a huge benefit if your kids are older). Plus, you'll have separation from your kids when it's time to go to sleep.
Moreover, booking two connecting smaller rooms instead of one larger room may actually save you money.
17. Get a balcony room for some peace and quiet
If you have a child that will be napping during the day on your cruise, consider booking a balcony stateroom.
Having access to a private balcony means you can relax, chat, and make noise without worrying about waking your child up from his or her nap. You won't have to worry about being extra quiet and silently sitting in the cabin.
Plus, you'll have access to beautiful ocean views from your balcony. You'll likely spend more time in your stateroom than normal when cruising with a young child, so splurging a bit more on extra comforts can be nice.
18. Bring a laundry basket
One of our best cabin hacks is to bring a cheap, pop-up laundry hamper for dirty clothes throughout the cruise.
It's easy for cruise ship cabins to get messy quickly, especially when traveling with kids. Many cruisers find they have nowhere to put their dirty laundry and end up throwing clothes into a pile on the floor.
Instead, purchase a cheap pop-up laundry hamper to place in your stateroom. These hampers do not take up much space in your luggage but can be a life-saver when trying to keep your cruise ship cabin organized and clean.
Related: I tried the best inside cruise ship cabin hacks to see how well they worked
19. Use magnetic hooks to hang extra belongings
Another cruise cabin hack we recommend is to pack magnetic hooks for extra storage space. Because Royal Caribbean cabins have magnetic walls, you can hang anything magnetic in your stateroom.
Purchasing a pack of sturdy magnetic hooks means you have extra space to hang things like jackets, towels, swimwear, hats, and backpacks.
20. Pack a USB hub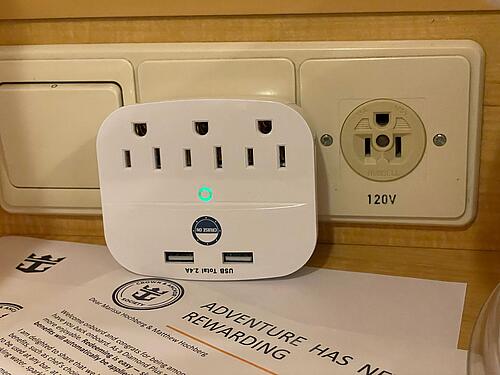 There are limited outlets in Royal Caribbean's cruise cabins, particularly on the fleet's older ships. It can be helpful to pack a USB hub to get more "charging space" from one outlet.
This is helpful when traveling with kids when you need to charge devices for 4+ guests, especially if you're all staying in one room.
21. You can get a crib for the room
There's no need to pack a Pack and Play for your kids on a Royal Caribbean cruise, as Royal Caribbean will provide a crib for your child free of charge.
When booking your cruise, you'll indicate your child's age. This will tell Royal Caribbean when a crib is necessary for your stateroom. However, it's a good idea to call Royal Caribbean and request a crib directly.
If you realize there is no crib in the room once onboard, simply ask your stateroom attendant and they will provide the correct arrangements.
22. Pack a night light
Cruise ship cabins can be extremely dark at night, especially if you're staying in an interior room.
Consider packing a small night light to place in the room so your kids can navigate the room should they wake up during the night.
Being in an unfamiliar place can be confusing for kids, especially if it's pitch black, so this can help negate any uneasy feelings. Plus, it might even prevent you from running into furniture in the middle of the night!
23. Decorate your stateroom door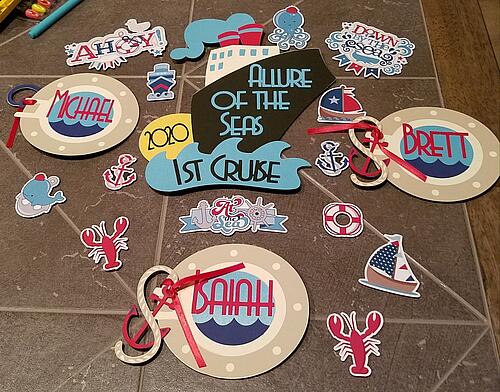 The walls and doors of your stateroom cabin are magnetic, and you'll find that many passengers decorate their stateroom door with fun decorations.
Making custom door decorations or picking out decorations on a site like Etsy can be a fun way to get your kids involved in the cruise planning process.
24. Pack more diapers and supplies than you think you'll need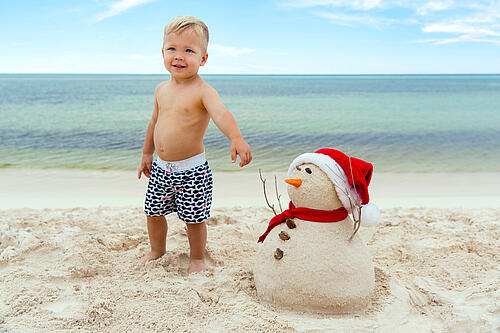 While you might use X amount of diapers and baby wipes at home each day, you're going to want to pack more supplies than you think you'll need on a Royal Caribbean cruise.
We recommend that you pack at least 25% more diapers, wipes, formula, baby food, etc. Closer to 50% extra is ideal to ensure you won't run out of supplies.
Related: The ultimate kids cruise packing list
If you do run out of baby supplies, you'll be forced to either buy diapers, wipes, and other baby supplies onboard or at a pharmacy in port. Both options are not ideal, as onboard prices will be significantly higher than at home and pharmacies in foreign countries may not have the same brands you're used to.
25. Be sure to pack athletic shoes, long pants, and socks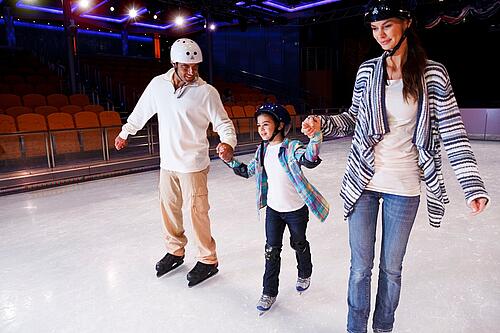 If your kids are interested in trying onboard activities like the rock climbing wall, ice skating, zip lining, or the basketball court, be sure to pack the appropriate clothing.
It's mandatory to wear closed-toed shoes to participate in sports activities onboard. Your kids won't be permitted on the Sports Court or zip line without proper footwear. Avoid slip-on tennis shoes without laces or velcro as these may not be permitted on activities like the zip line.
Likewise, be sure to pack socks for the rock climbing wall and ice skating rink. Long pants are required for the ice skating rink, too.
26. Pack a first aid kit
Between running around the ship and exploring new ports, it's not uncommon for kids to be in need of a band-aid, antibiotics, seasickness medication, and other essentials.
While these are available onboard, it's much easier to pack a few items in a first aid kit for easy access.
27. Consider sun protective swim suits
Most kids on a Royal Caribbean cruise will spend their days soaking up the sun, whether at the pool, water slides, or FlowRider. When combined with beach days in port, this leads to a lot of time spent in the sun.
Consider purchasing UV swimwear for your kids before a cruise to avoid any painful sunburns. UV swimwear protects against sunburn by blocking harmful UV radiation.
While you can apply and reapply sunscreen over and over again, using more protective swimwear for kids is recommended.
28. Don't bring a car seat
You may not want to bring a carseat onboard: here's why.
You won't find car seats in most taxis in the Caribbean, and it's unlikely you'll want to lug a car seat around port each day. For a short ride, we recommend doing as the locals do: putting your kids on your lap or buckling them in with regular seat belts.
While we don't recommend this at home, it's the way of life in many cruise ports.
29. Pack snacks from home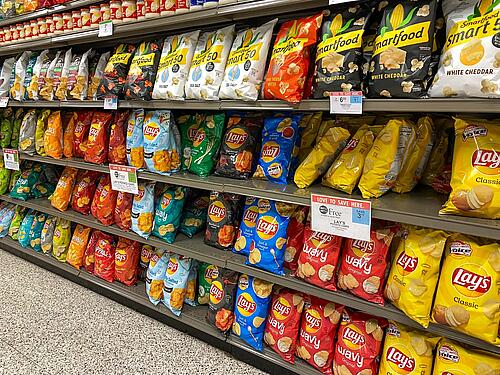 Passengers are permitted to bring non-perishable food onto a Royal Caribbean cruise. While there is no shortage of food to enjoy on any cruise ship, having easy-to-pack snacks available for kids can be helpful when visiting ports or spending time on the ship.
Avoiding temper tantrums is a must for parents whenever possible, and having some of your child's favorite snacks available if they get hungry is helpful.
Items like granola bars, boxes of cereal, bags of chips, and trail mix can make for excellent snacks to bring on a cruise.
30. Bring an umbrella stroller
While you might have the latest and greatest stroller at home, consider packing something smaller while on a cruise ship.
We recommend bringing an umbrella stroller on a cruise ship, as these are much easier to navigate around the ship compared to a bulkier option.
31. Tips for picky eaters
Kids can be very picky about what they will eat.
The Windjammer is always a go-to option for picky eaters, as you'll find kid-friendly food like pizza, french fries, hamburgers, and pasta available every day.
The Main Dining Room has a kids menu available every evening, with options like chicken noodle soup, chicken fingers, and grilled cheese sure to be enjoyed by even the pickiest of eaters.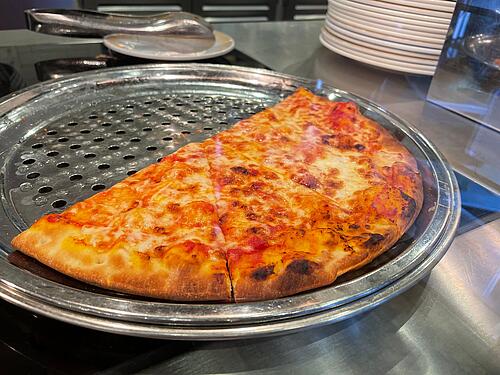 If you want to dine with your kids at a sit-down restaurant, you can always bring food in from another restaurant (such as pizza or chicken nuggets). Most waiters will even go as far as to grab something simple like pizza from another restaurant for the kids.
Something else you can do is ask your head waiter for additional options for the kids. In the Main Dining Room, they can customize a lot of options; just give them a heads up in advance to ensure the chefs have enough time to prepare something.
If all else fails, grabbing a slide of pizza from Sorrento's is sure to keep your kids satisfied.
32. Kids can order off the adult menu at specialty restaurants
Even though kids can dine at specialty restaurants at a reduced cost, the waiters do not mind offering your kids the same options as adults.
Specialty restaurants have kids menus, but if the kids want something off the adult menu, there is rarely an issue with doing so (even at their lower price).
33. Take kids to the Windjammer for dinner before Adventure Ocean

One of our best strategies for cruising with kids is to bring the kids up to the Windjammer for dinner, then take them to Adventure Ocean for the evening.
After that, the adults can go to dinner wherever they like. There's no need to sacrifice dining options to please your kids when you can get the best of both worlds!
34. Register for Adventure Ocean on the first day
On the first day of the cruise, be sure to head up to Adventure Ocean to sign your kids up as soon as registration opens.
Not only does this knock out an important must-do, but it ensues you can get up there before lines develop later on. Moreover, you don't want to be that parent in line to register your kids while all the other families already did so and just want to drop their kids off.
Unfortunately you cannot pre-register your kids online before the cruise, but head up there on day one in the afternoon during the Adventure Ocean open house to meet the staff, get questions answered, and avoid time wasted later.
35. Bring kids to Adventure Ocean on the first day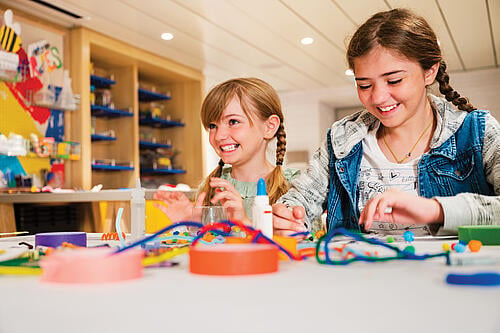 After you register your kids for Adventure Ocean on embarkation day, encourage them to attend the first evening's session. Just like at school or in extracurricular activities, the first day is often when friendships and cliques are formed.
It's recommended to attend on the first day of the cruise so kids can make friends right away, especially for older children or kids who tend to be shy.
36. Our favorite nursery tip: call ahead
If your baby is ready for a nap, call the nursery and see if you can drop them off. The nursery is open throughout the day and in a lot of cases, they have availability in the morning and afternoon because most parents book up evening hours.
What I would do is call the nursery and ask if I can drop my child off. I'd let them know my kid is ready for a nap, and to provide whatever pre-nap routine they need (i.e. bottle, stroller, etc.) and to put them down for a nap and call me when they wake up.
This frees up both me and my wife so we can enjoy some time aboard while my kid takes a nap, instead of one of us being stuck in the cabin with them.
37. You can leave your kids in Adventure Ocean while you go on a shore excursion
It may feel weird to leave your kids on the ship while you go ashore, but you can safely use this option if you prefer.
Some excursions may not be open to kids under a certain age, or perhaps your kids just want to hang out onboard instead of go on a tour. Whatever the reason, Adventure Ocean is open while your ship is in port.
If your tour begins early in the morning before Adventure Ocean is set to open, let the staff know the day before and if it is a Royal Caribbean excursion. They can ensure someone will open up Adventure Ocean for you.
38. Bring kids to the Play Place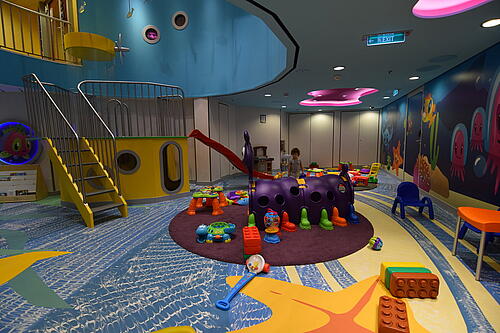 With limited space in a cruise ship cabin and other public areas on the ship, it can be difficult to find the best area for kids to run and play freely.
Select Royal Caribbean ships have a Play Place room in Adventure Ocean, which is an indoor, open play area where kids can run around, play with toys, and get any excess energy out onboard.
The Play Place is unsupervised, so children must be supervised by an adult while at the Play Place, and using the space is free of charge.
39. Know the difference between the old and new Adventure Ocean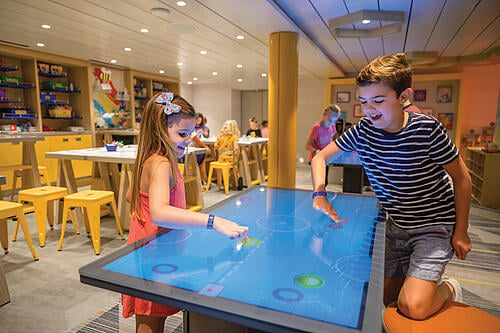 There are two types of Adventure Ocean programming available on Royal Caribbean cruise ships.
The first is the "original" rendition of Adventure Ocean, which divides kids into the following age groups:
Royal Babies & Tots (6-36 months)
Aquanauts (3-5)
Explorers (6-8)
Voyagers (9-11)
Teen club (12-17)
The new rendition of Adventure Ocean has different age groups:
AO Babies (6-36 months)
AO Juniors (3-5)
AO Kids (6-12)
Teens (13-17)
The "old" Adventure Ocean focuses more on organized play, whereas the new rendition of Adventure Ocean gives kids more flexibility in what they would like to do. Each Adventure Ocean style has arts and crafts, video games, sports, talent shows, science labs, and more fun-filled programming.
40. Look for family activities scheduled in Adventure Ocean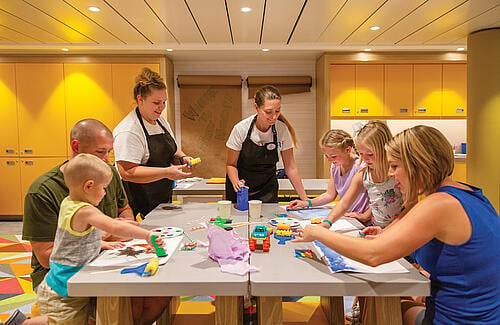 While Adventure Ocean is Royal Caribbean kids-only programming, there are select scheduled activities for families throughout the cruise.
Activities like crafts, science lab programs, and family-friendly movies may be offered throughout the cruise for the whole family. You can check for scheduled activities in the Royal Caribbean app.
41. Understand the extra charges at Adventure Ocean
While the majority of Adventure Ocean programming is complimentary, there are two exceptions.
Any childcare for kids aged 6-36 months in the nursery comes at an hourly charge. This charge is $6 per hour from 9 AM to 6 PM and $8 per hour from 6 PM to midnight.
In addition, childcare for ages 3-11 from 10 PM to 2 AM is charged at an hourly rate of $7 per child.
42. Pack everything you'll need on day 1 in your carry-on bag
Be sure to drop your luggage off with the porters at the cruise terminal on embarkation day. Your luggage will be delivered to your stateroom, so there's no need to lug suitcases around the ship for several hours until the stateroom is ready.
However, you'll want to make sure you have a day bag packed with any essentials you'll need on the first day of the cruise.
Luggage may not get delivered to your stateroom until 4 or 5 PM on embarkation day, so make note of what you'll need handy that first day.
Diapers, toys, swimsuits, and important documents are all great things to place in your carry-on bag.
Related: The Ultimate Cruise Packing List
43. Download movies and videos before you sail
While there are countless activities for kids to enjoy on any Royal Caribbean cruise, sometimes all your kids might want to do is watch a movie in the cabin.
Download movies from Netflix onto your phone, computer, or tablet before the cruise to ensure you have entertainment options for your kids when necessary. You can also download YouTube videos to watch offline as well.
While you can technically stream Netflix and YouTube if you have an internet package, there's no guarantee that the internet will always be working properly, so it's best to download entertainment you can watch offline.
44. Have a movie night at the pool
There is a movie screen on the pool deck of most Royal Caribbean ships*, and family-friendly movies are shown every evening of the cruise at no additional cost.
Watching a movie on the pool deck can be a fun activity for the whole family, and a different movie is shown each night of the cruise.
BONUS: If you're cruising on a Radiance Class cruise ship, there is an indoor cinema onboard with 5 showtimes per day, every day of the cruise.
*The movie screen is at the AquaTheater on Oasis Class cruise ships (excluding Wonder of the Seas).
45. Set expectations with kids and their freedom onboard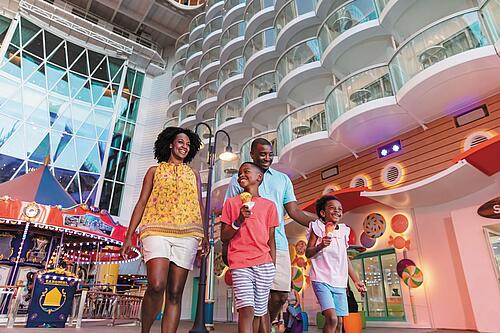 Setting expectations with your kids before the cruise is important to ensure there aren't any problems during the sailing.
Kids find they have a lot more freedom on a cruise ship compared to their day to day life, and it can be challenging to find a balance between supervision and allowing kids some self-exploration.
Decide what works for you and your family in terms of letting kids explore on their own, and make sure your kids also understand that there is a curfew for passengers under 18 at 1 AM each night.
46. Slow down your cruising routine
Even though there is a plethora of activities available at any given time on a Royal Caribbean cruise, you don't have to do them all at once.
It may be tempting to plan every day from sunrise to sunset, but make sure to take some time to relax.
Slow down your cruising routine so that you and your family don't feel exhausted at the end of the day.
47. Use the complimentary life jackets
All Royal Caribbean cruise ships have complimentary life jackets available on the pool deck. There's no need to pack floaties for your kids to use onboard. Instead, just borrow a life jacket and enjoy stress-free swimming at the pool.
Complimentary life jackets are also available at Perfect Day at CocoCay.
Note that life jackets are not able to be brought off the ship and into port. If you plan on bringing your kids to the beach, you may want to consider packing your own life jacket, floaties, etc.
48. Don't forget the muster drill
One of the first things you'll have to do on embarkation day is complete the muster drill. This safety drill involves three steps: watching a safety video, listening to the sound of the ship's emergency horn, and listening to a short safety briefing at your muster station.
You can do the first two steps before getting onboard, but you'll have to visit the muster station in person to complete step three.
It can be pretty hectic when boarding a cruise ship with kids, and they're most definitely going to want to head immediately to the water slides and pool. We recommend, however, finishing the muster drill process as soon as possible once onboard so you don't have to worry about it later on in the day.
49. Keep kids safe around the railings
Always keep an eye on your children when they are near railings, balconies, or windows. Kids love climbing and exploring, and they can quickly get themselves into a dangerous situation if you're not careful.
Never leave young children unattended on a balcony or the pool deck.
50. Remember: this is your vacation too!
Cruising with kids often means planning your day around their interests and needs. It's common to see parents spending their days at Splashaway Bay, dining at the Windjammer, and shuttling kids from activity to activity.
While cruising with kids can certainly be fun, it's important to remember that this is your vacation too.
Be sure to take time for yourself on a cruise, whether planning a date night at a specialty restaurant, booking a spa treatment, or sipping a glass of wine at Vintages.
Don't feel guilty for dropping kids off at Adventure Ocean to enjoy time to yourself. Odds are both you and your children will have a fun experience even if you're in different areas of the ship!