In:
When Royal Caribbean's Harmony of the Seas debuts, she will offer a premier cruise experience, with lots of new innovations, things to do and ways to spend to your day.
Royal Caribbean prides itself on being a family cruise experience, so here is a look at what families can do when they get onboard the largest cruise ship in the world.
Ride on the carousel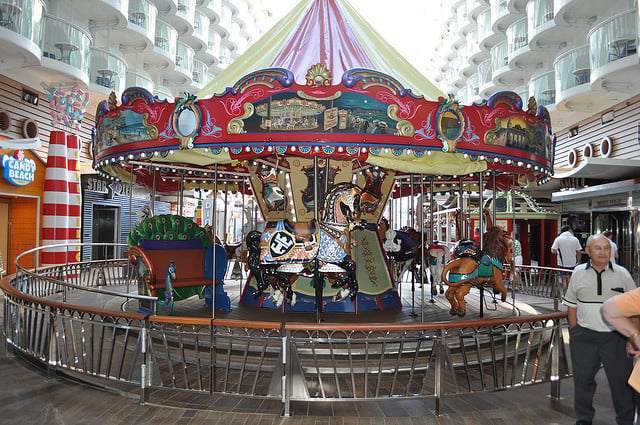 It does not matter how young or old you are, a ride on the carousel in the Boardwalk neighborhood is timeless.
The carousel on Harmony of the Seas is hand-crafted and especially designed by Carousel Works for Royal Caribbean and is one-of-a-kind.
The inspiration for the carousel was taken from turn-of-the-century carousel designs. Even the original artwork scenery panels located on the carousel's eight Rounding Boards feature custom painted scenes to highlight the wistfulness of life on the historic boardwalks.
Watch 3D Movies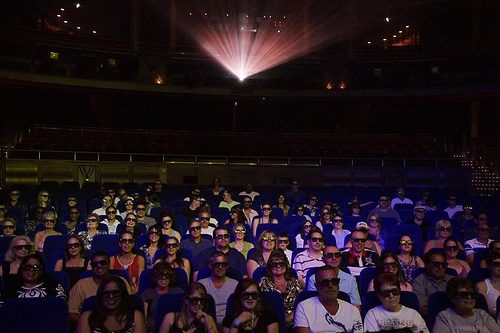 Photo by Royal Caribbean
Onboard Harmony of the Seas, guests will be able to watch first-run movies by DreamWorks Animation and other studios in 3D.
Just like your local movie theater, guests will walk to the theater, where 3D glasses will be provided.
When you consider these 3D movies are included in your cruise fare, going on Harmony of the Seas is a great opportunity to catch up on movies you wanted to see or want to see again without the movie theater costs!
Teen activities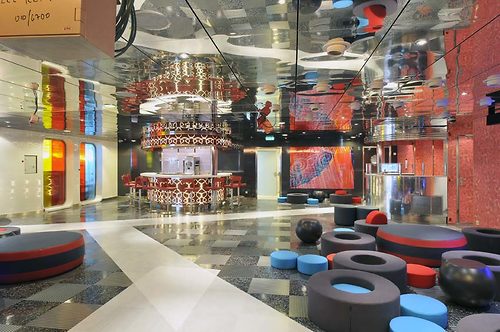 Photo by Royal Caribbean
For teenagers, Harmony of the Seas will offer a lot of activities to choose from.
The focal point for teens is in the back of Deck 15, where they'll find a teen-only hangout called the Living Room, a video arcade and the teen dance club.
Royal Caribbean also promises special events just for teens onboard such as pool parties, open mic nights and more.
The Cruise Compass provides a number of teen activities that offer teenagers events just for them,
Neighborhood just for kids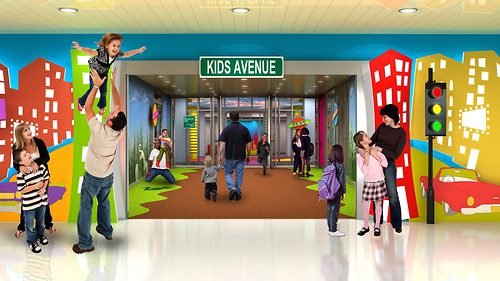 Kids are a big part of the cruise experience on Harmony of the Seas, and this ship will feature a central boulevard on deck 14 just for kids to make getting around for them simpler.
Kids Avenue will connect children with dedicated spaces for the Adventure Ocean program as well as various themed play areas.
Kids Avenue will include access to
Royal Babies and Tots Nursery
Adventure Art

This studio for the future Picasso will give children the opportunity to explore the world of color and imagination

Adventure Science Lab

A fully equipped lab where Einstein's-in-the-making can expand their knowledge

Adventure Ocean Theater

The first-ever children's state-of-the art theater at sea. Children of all ages can learn about theatrical productions, take part in talent shows, or sign up for hip hop dance classes.

Workshop

A space where families can come together and hone their scrapbooking skills and create personalized jewelry​​
Adrenaline filled fun
Photo by Royal Caribbean
For kids that want some thrills, they will find plenty of it on Harmony of the Seas.
Water slides, a zip line, FlowRider surf simulator, rock climbing wall and more are available for kids to try while onboard.
These activities are included in their cruise fare and are sure to get their hearts pounding.
The zip line features a 10-deck high ride that takes them 120 feet above the Boardwalk.
Kids can also try the Perfect Storm water slides, that will take them down three decks through a series of twists and turns over the ship's tree-lined Central Park neighborhood.
Also brand new to Harmony of the Seas will be the Ultimate Abyss, a 10-story dry slide.  It will be located on the aft of Harmony of the Seas and it is being billed as something to try for the super brave!
Splashaway Bay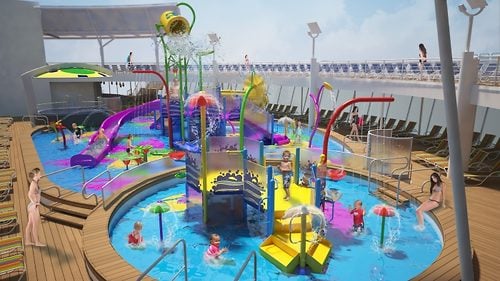 Photo by Royal Caribbean
Harmony of the Seas will be the first Royal Caribbean ship to feature Splashaway Bay, an interactive aqua park for kids.
Inside, kids will find sea creature water cannons, water slides, a gigantic drench bucket and a multi-level jungle gym.
Splashaway Bay was designed with kids and toddlers in mind and will be a brand new way for kids to cool down while having fun.
Royal Baby and Tots Nursery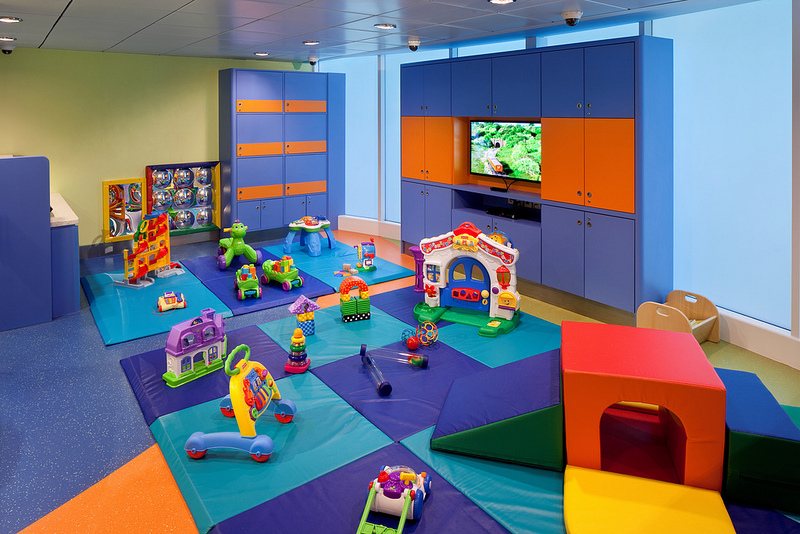 Photo by Royal Caribbean
Parents that have toddlers 6 months to 36 months old will love the Royal Baby & Tots Nursery on Harmony of the Seas.
The nursery has become a favorite spot for parents on other Royal Caribbean ships, because it offers supervised care for young children during the day and night.
Having a place onboard Harmony of the Seas to bring your children to so that parents can enjoy a quiet dinner together or some time doing one of the many activities onboard gives everyone involved a great way to have fun.
Parents are never far away from their children, as the nursery provides wireless phones for parents to use in case they want to check in on their little ones or the nursery needs to get a hold of them.
Adventure Ocean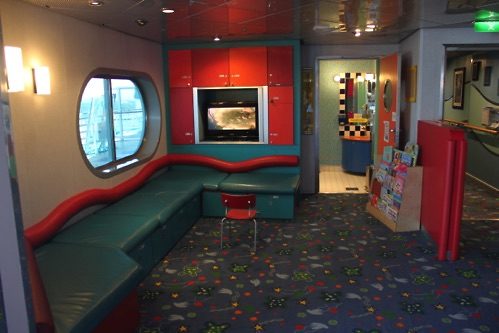 Royal Caribbean's signature and award-winning Adventure Ocean supervised kids program is available on Harmony of the Seas, where kids can play, explore and learn with other children.
Adventure Ocean is available for kids ages 3 to 11 and is included in your cruise fare.  
Once inside Adventure Ocean, kids will have the opportunity to take part in a number of daily activities during the day and night.  Adventure Ocean is a safe place for your children to spend their time onboard and make lots of new friends.
The Aquanauts (3-5 years old) will enjoy do magic tricks, dress up like pirates and pretend to be super heroes.  Explorers (6-8 years old) can take part in hands-on science experiments, try their hand at art and theater, as well as dancing and ice cream.  Voyagers (9-11 years old) will be able to do science experiments, backstage tours and new sports like Gagaball.
What is your family excited to do on Harmony of the Seas? Tell us in the comments below!