In:
The Atlantic hurricane season has been quiet thus far, but it's claimed an itinerary change for at least one cruise ship.
Royal Caribbean's Harmony of the Seas cruise ship has changed itineraries to avoid the path of Tropical Storm Fiona.
Guests booked on Harmony of the Seas have been advised they will change from an Eastern Caribbean itinerary to a Western Caribbean itinerary.
In an email to guests, Royal Caribbean said the change was made, "to maintain a safe and comfortable journey."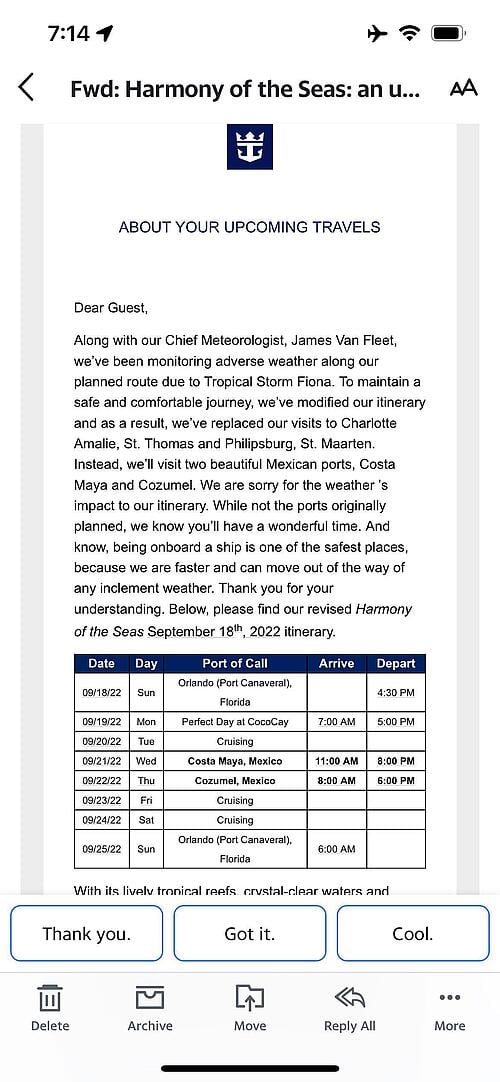 Instead of sailing to St. Thomas and St. Maarten, Harmony of the Seas will go to Costa Maya and Cozumel, Mexico.
This change affects the September 18, 2022 sailing of Harmony of the Seas only.
The ship will still visit Perfect Day at CocoCay as scheduled.
Tropical Storm Fiona is now very near the Leeward Islands and is forecasted to move westward across the U.S. and British Virgin Islands on Saturday and Puerto Rico late Saturday and Saturday night.
The National Hurricane Center said Tropical Storm Fiona's center is approaching Guadeloupe and tropical storm conditions (winds 39 mph or higher), heavy rain and strong waves are expected in the Leeward Islands.
Fiona is then forecasted to strengthen after moving across Hispaniola early next week and could impact the Turks and Caicos islands as well as southeastern Bahamas.
Cruiser reaction
Whenever cruise lines need to change an itinerary due to weather, there's plenty of thoughts on the impact from the guest perspective. 
Thomas Beaulieu wrote on Facebook, "That's still a great itinerary. You will get more than your money's worth if you bought the beverage package. 5 out 7 days you get full use of the package all day and night! Cheers."
Chris Blahut, wrote "Can't do anything about the weather. Better to be safe than sorry."
Ragene Warner Pinson was disappointed, but understood the need for the change, "What a bummer. I understand why but that's still a bummer. St Thomas and Saint Martin are so much better than the Mexico ports and my personal opinion."
Quiet hurricane season so far
At the risk of jinxing our collective luck, so far hurricanes have not been a major factor so far in 2022 in the Atlantic.
The Atlantic hurricane season runs between June and November, and there's been only three named storms before September. 
There were no named storms in the Atlantic during August, the first time that had happened since 1997.
For what it's worth, the National Oceanic and Atmospheric Administration issued an updated forecast in early August for the rest of the season, which still called for an above-normal level of activity.
NOAA thinks there will be 14 to 20 named storms, with six to 10 turning into hurricanes. Three to five of those could strengthen into major hurricanes — Category 3 or stronger — with winds of at least 111 m.p.h.