In:
Royal Caribbean's Harmony of the Seas is a massive cruise ship, packed to the brim with lots of things to see and do.  With a ship that large, it can be easy to miss a few diamonds in the rough.  
Having sailed on Harmony of the Seas, here is our list of best hidden secrets that can be missed on Harmony of the Seas.
1. Bridge wings and see-through floor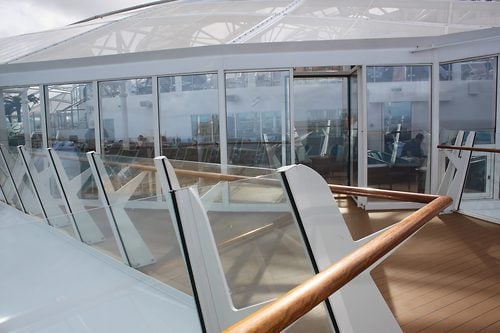 Oasis class ships are known for their bridge wings, which offer small observational platforms on either side of the ship that extend away from the ship's main structure, to provide one-of-a-kind perspectives.
The bridge wings are located on deck 14 of the Solarium, at the very front of the ship and are accessible at any time by simply walking to them.
Keep in mind that each bridge wing is different from the other.  The port bridge wing has a see-through floor panel in one point, which allows a guest to see directly down to the ocean below them.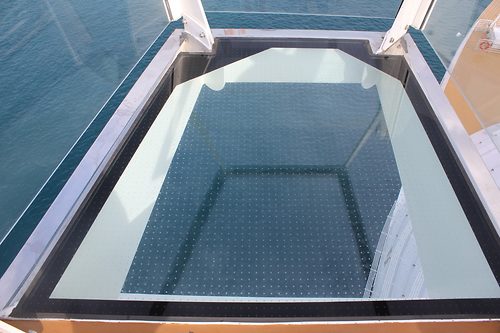 The starboard bridge wing does not have the see-through panel, but does have a telescope.
2. Secret entrance to bridge wings
The bridge wings are accessible from the Solarium, but there is a lesser-known means of getting directly to the port bridge wing without going to the pool deck first.
Go to the port side of deck 14 and walk all the way forward.  At the very end of the hallway is a door that leads to the Solarium, and the port bridge wing.
3. Stairwells are color coded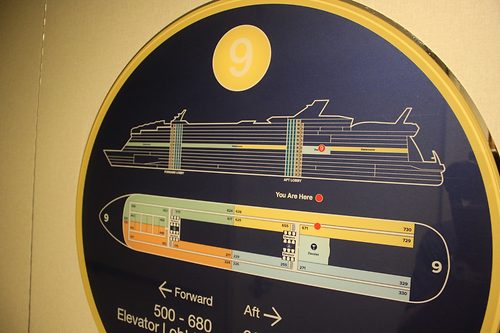 A ship the size of Harmony of the Seas might have some guests concerned about getting around, but Royal Caribbean color coded the stairwells to make it easier to quickly know if you are where you should be.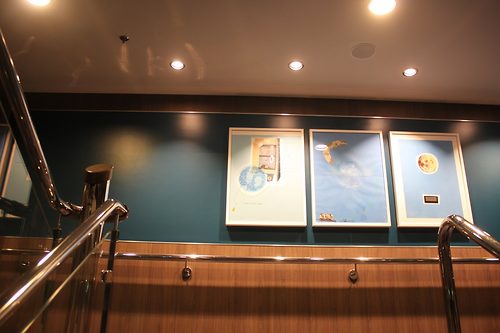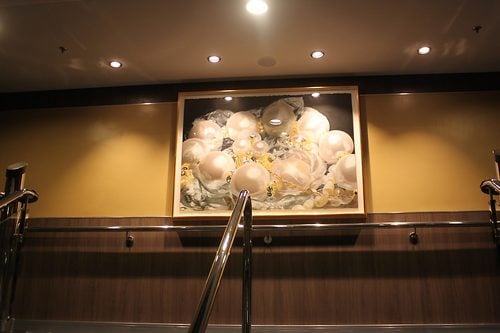 There are 4 color codes to help guests quickly understand where they are.
Forward port: orange
Forward starboard: green
Aft port: blue
Aft starboard: yellow
A wall in each stairwell will have these colors, which makes it easier to know if you are in the right stairwell for you.
4. Chairs at aft of ship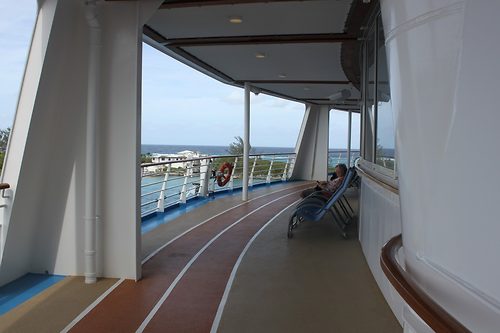 If you want to enjoy the aft view of the ship, Royal Caribbean has set up a space for you.
On the jogging deck (deck 5), there are a number of chairs set up at the rear of the ship that provide a great view of the ocean.  This area doubles as an usually quiet spot to relax too.
5. WOWbands can be purchased at Guest Services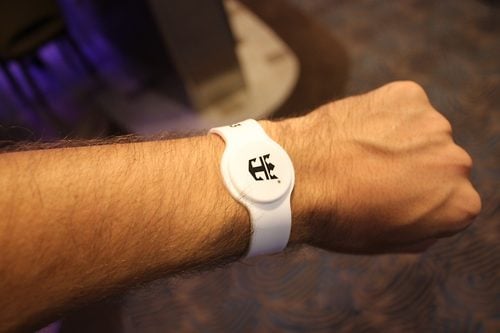 Have you heard about Royal Caribbean's RFID bracelets that work just like a SeaPass card, but with far greater convenience? You might see some guests wearing them on Harmony of the Seas and wonder how to get one for yourself.
If you want to get a WOWband, head over to Guest Services on the Royal Promenade.  At any point in your cruise, go there and ask to purchase one (or more).  There are 4 colors, although the colors are tied to your muster station, so you will be limited by that requirement as to which colors you can use.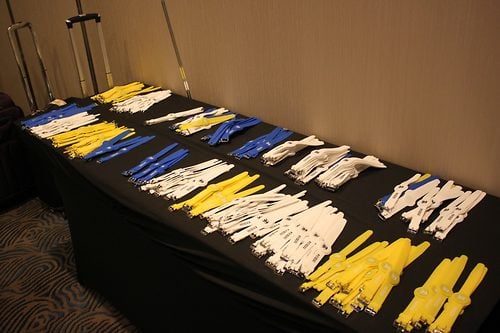 The cost for a WOWband is $4.99, although you can bring them back on future cruises that have WOWbands enabled and exchange them for a new one without any additional cost.
6. The secret to going faster on the water slides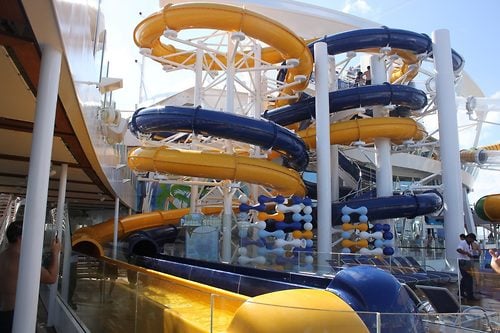 Harmony of the Seas features 3 very fun water slides that guests can enjoy time and time again, but if you want to get down these slides as quickly as possible, here are two important tips.
First, cross your arms and legs while going down the slide.  In all cases, the least resistance in the water (and slide) that you have, the faster you will go.
Second, the least amount of clothing you wear will result in faster speeds. Rash guards, t-shirts and more elaborate swim suits will result in you slowing down.  In fact, the crew members say for optimal speed, men wearing a Speedo swimsuit would be ideal.
7. You can use the Royal Caribbean app without paying for Voom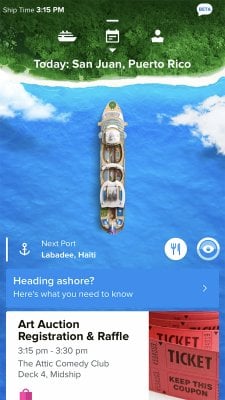 If you are sailing on Harmony of the Seas, you can use Royal Caribbean's smart phone app, which has a number of useful features, including being able to check the Cruise Compass, manage dining reservations and book shore excursions.
Even if you are not paying for an internet package, you can still use the app.  Simply download the app before you get onboard the ship and then start using it once connected to the Royal Caribbean WiFi network.
All the app's features will be available for use throughout your cruise.
8. Least crowded places for embarkation day lunch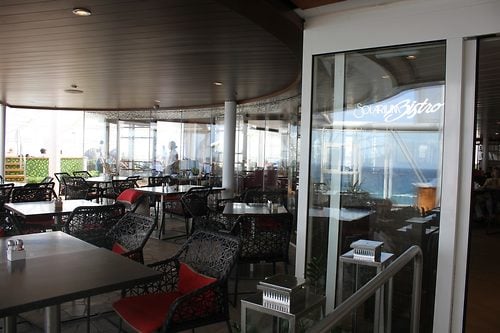 Embarkation day can lead to lots of guests wanting to get something to eat as they get onboard their cruise. As a result, popular spots like Cafe Promenade and the Windjammer are frequently crowded.
There are two great spots to avoid those crowds on embarkation day and still get a great selection of choices for lunch.
Solarium Bistro - Deck 14 forward
Park Cafe - Deck 8 mid-ship in Central Park
Both venues have some really good choices and are complimentary.
9. Best spot for any parade on the Royal Promenade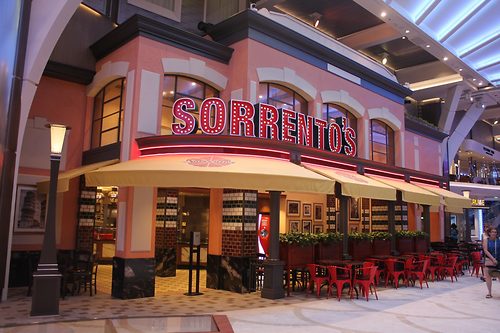 The best spot for seeing the Let's Celebrate parade is going to be right in front of Sorrento's.
The complimentary pizza restaurant has lots of space to enjoy the show, and is situated at the center of the entertainment. While these events have the word "parade" in the titles, they tend to be events where the entertainment deploys to a certain area, performs and then marches around before exiting.  The bulk of the entertainment occurs while they are deployed to a certain area, and being in front of Sorrento's will be the perfect spot to see it all.
10. Keep your elbows in when riding the Ultimate Abyss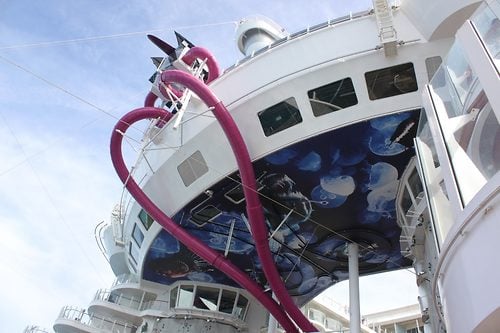 Many guests likely have the Ultimate Abyss slide near the top of their must-do lists, but if you do go for a ride (or four), make very certain you keep your elbows in to avoid a nasty scrape.
Due to the high rate of speed experienced on Ultimate Abyss rides, you will want to make very certain to keep your elbows in and legs straight.  If part of your arm comes in contact with the slide during the ride down, it can result in a rather painful bruise.  
Did we miss any Harmony of the Seas secrets? Share them in our comments!