In:
The slides on Royal Caribbean's Harmony of the Seas are arguably the most exciting and popular forms of entertainment on this innovative ship.
Whether you or your kids (or both) want to go on a ride, here are the important details to know before you shove off.
Access to all the slides on Harmony of the Seas is included in your cruise fare.
Perfect Storm water slides
Harmony of the Seas features three water slides: Cyclone, Typhoon (the yellow and blue slides) and Supercell.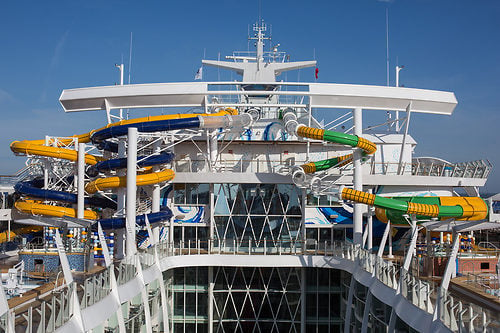 Copyright, Simon Brooke-Webb Photography
Cyclone and Typhoon racer slides twist and turn, while Supercell slide is a "champagne bowl" slide, which has clear sections so guests can see those riding the slide. Guests exit Supercell in the Beach Pool.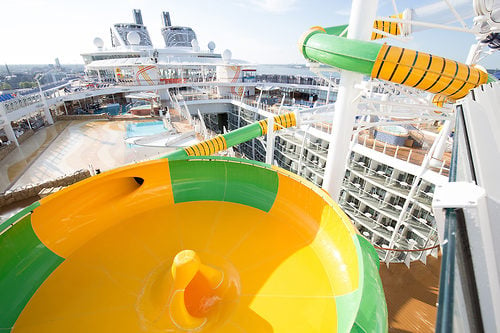 Copyright, Simon Brooke-Webb Photography
All the slides are suspended five decks above the ship's Central Park outdoor courtyard.
The slides are complimentary to ride and the minimum height to experience any of the water slides is 48" (1.22M). 
Ultimate Abyss slide
Ultimate Abyss is a 10-story dry slide on the rear of the ship that is advertised as the tallest slide at sea.
The Ultimate Abyss is more than 150 feet above sea level and offers side-by-side slides that send guests down 10 decks at a rate of 9 miles per hour.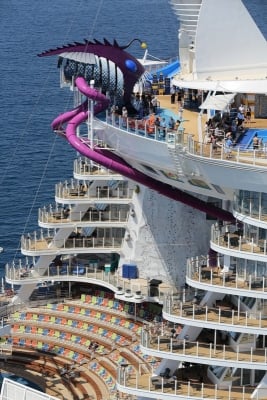 Guests must be 44" (1.1M) tall to go on the slide.  The maximum weight of a participant cannot exceed 330 lbs/149 kg. Only one person on the slide at any time. Children cannot ride on the lap of another participant.
To ride the Ultimate Abyss, guests head up to deck 16 and go to the aft of the ship.  Near the Wipeout Cafe are a set of stairs that will bring you to the slide, which is contained inside a giant Angler Fish.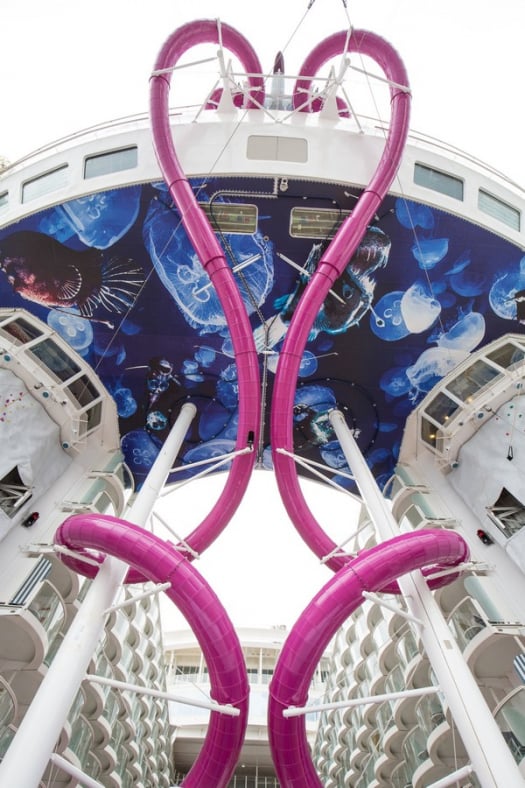 Guests are handed a black mat with an opening to place your feet.  You then sit down, lean back, and while holding onto a strap, wait for the "Go" sign to turn green.