In:
With your first cruise coming up, you might be wondering how to book a Royal Caribbean shore excursion. After all, your cruise ship will take you to different ports of call to explore on your own and you do not want to miss out all that you can do while in the area.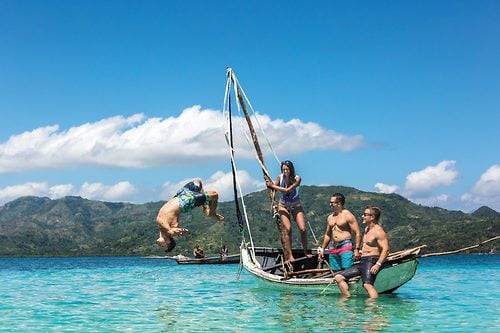 In each port you visit, Royal Caribbean provides a variety of shore excursion options for guests of all activity levels, interests and ages. 
Here is what you need to know to book a Royal Caribbean shore excursion.
Why book Royal Caribbean's shore excursions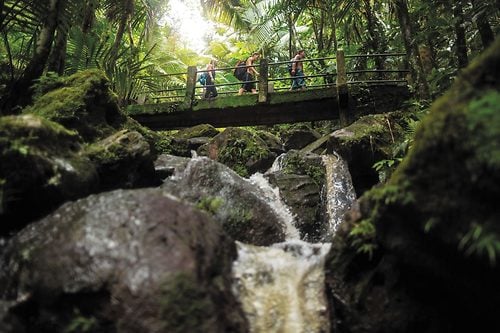 The best reason to book your shore excursion with Royal Caribbean is the convenience and reliability the cruise line provides. 
There are two primary means of booking a shore excursion: online via Royal Caribbean's Cruise Planner site, or onboard the ship at the shore excursion desk or via the app.
Booking a Royal Caribbean shore excursion is simple, especially for families and groups. Select the excursion you are interested in, select how many people will be participating and pay the price and that is it.  
Royal Caribbean thoroughly reviews its tour operators, whether it's the guide on a sightseeing tour or the one that provides proper equipment and ensure the safety of gear used on active excursions like scuba diving, quad riding, and zip lining. Because guides are locally based, you'll get an authentic experience from an expert in a safe, trusted environment.
The other major reason to book your excursion with Royal Caribbean is the cruise line guarantees you will not miss your cruise ship in the event your tour is delayed in returning.  The cruise line coordinates with trusted, local guides and private transport to build the day around the ship's own schedule. As a result, there is no risk you will not return before the ship departs for the next destination. And if by chance your excursion gets stuck in a traffic jam, the ship will wait for you. Considering the alternative is you have to fly/drive yourself to the next port of call to catch up with the cruise, that is a big deal.
How do I book a Royal Caribbean shore excursion?
Online
The easiest way to book a shore excursion is to do so before the cruise on Royal Caribbean's website.  Simply log into Royal Caribbean's site, find your cruise booking and purchase your tour before the sailing begins.
Once in your sailing, select the Shore Excursions tab. From there, you can narrow down the results based on the port, interests, time of day, activity level, age, wheelchair accessibility and more.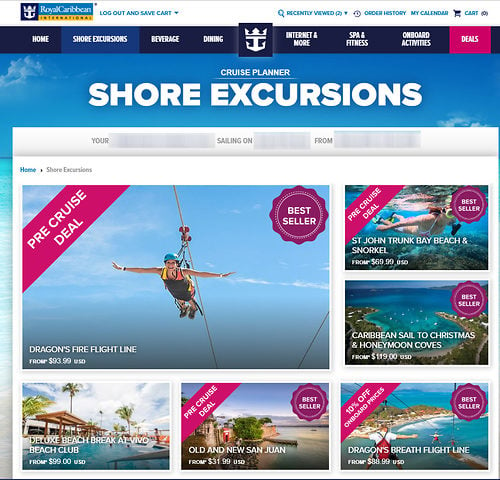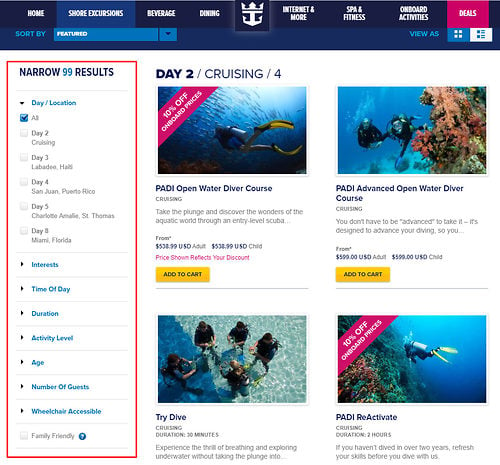 You can book tours for family and friends as well. All you need to know is their last name and reservation number.  As you proceed through the booking process, there will be an option to add guests from another reservation.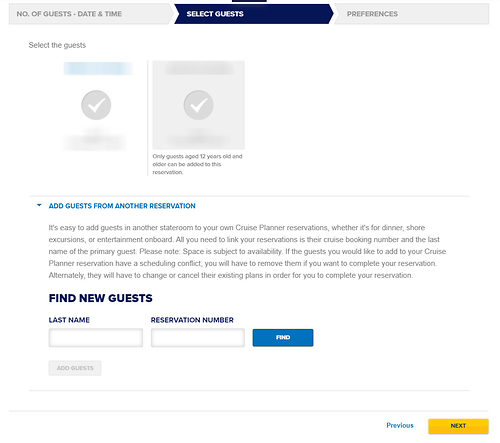 Phone
If you prefer to call Royal Caribbean and already have a cruise booked, you can call 1-800-398-9819 for pre-cruise planning assistance.
Royal Caribbean allows guests to book their excursions up to a few prior to the beginning of the sailing.  All you need to know is who is participating in the excursion, and a form of payment.  Full payment is required when reserving a shore excursion.  In the event your ship skips the scheduled port call, Royal Caribbean will refund your money.  
Onboard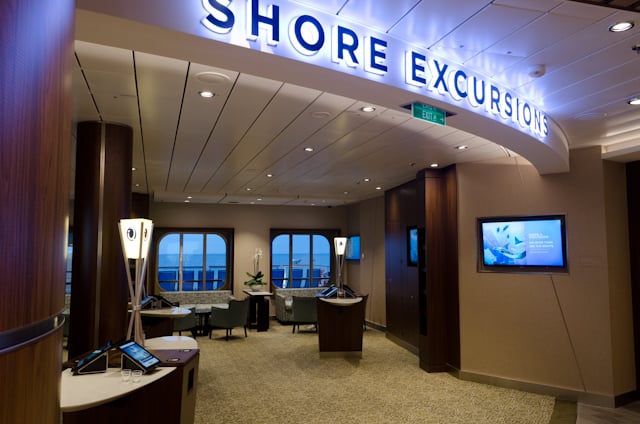 Alternatively, you can wait to book shore excursions onboard the ship.  There is a dedicated shore excursion desk onboard the ship (usually near Guest Services), where you can speak with staff members, view pamphlets of available options and ask questions.
Keep in mind that the excursion desk onboard the ship is commonly busy with other guests who are trying to book excursions, or asking questions, and this can lead to long lines.
Private Tours
A relatively new and lesser-known option is Private Journeys, which offers private tours that are organized by Royal Caribbean.
Private Journeys is a shore excursion option offered directly by Royal Caribbean, where guests can create a completely customized shore excursion in any port your ship visits.  You provide Private Journeys with an idea or basis of what you want to do, and then they work with local tour guides to come up with an excursion.
In the weeks and months leading up to your cruise, you and your Private Journeys representative will custom craft a tour for you and your family.  Just like a group tour, these tour operators are vetted and organized by the cruise line.  All you have to do, is show up.
We have tried Private Journeys twice (in Belize and Curacao), and think it is a great choice for anyone that wants to tour at their own pace, and like the benefits of what Royal Caribbean provides.
Can I cancel my excursions?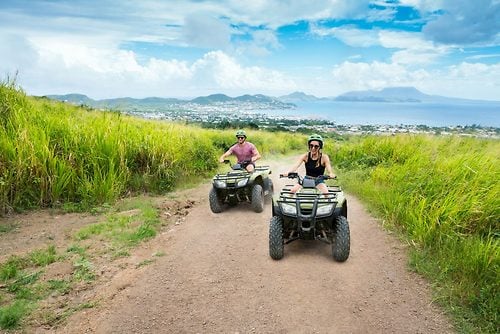 You may cancel purchase(s) made via Cruise Planner up to forty-eight hours prior to the cruise departure date. Excursions can be modified or canceled up to 48 hours prior to port arrival without penalty. Tours involving flights, trains, special events, overnight stays, hotel stays and Private Journeys must be canceled 30 days prior to sailing to avoid cancellation penalties. Other restrictions may apply.
 In the event a tour is canceled, a full refund will be provided to the guest's onboard account.
No refunds are made for failure to use all of the described services included in the excursion price.