In:
Royal Caribbean's Oasis Class cruise ships are among the biggest in the world, but is a 3-night cruise worth it?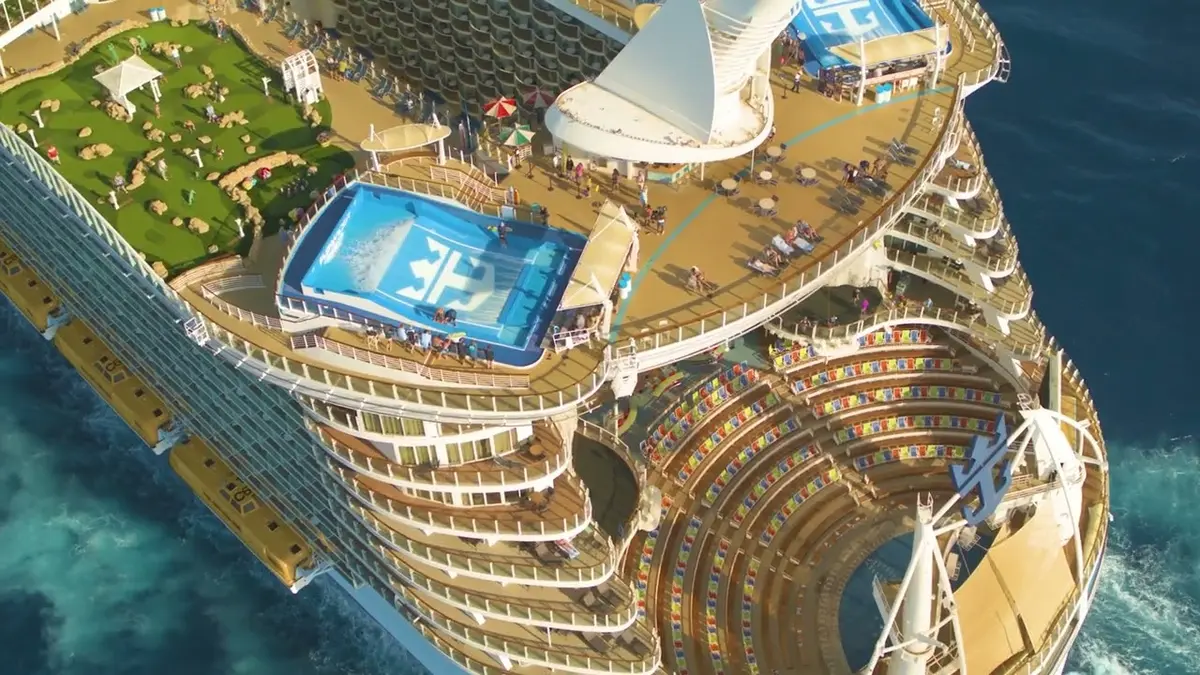 When these mega ships were designed, Royal Caribbean wanted to pack them with more to see and do than any other ship before it.  To the point, they offer a floating array of choices and activities.
In late October, Allure of the Seas became the first Oasis Class ship to begin offering regular short cruises, with 3- and 4-night sailings from Port Canaveral.
Next year, Utopia of the Seas will enter service and will begin by offering 3- and 4-night cruises, which is equally unheard of because traditionally new cruise ships start off with 7-night cruises.
This change lead to a lot of questions about what it's like to sail on an Oasis Class ship for just the weekend, and is it worthwhile to do so.
Read more: Guide to weekend cruises
I went on the first 3-night sailing of Allure of the Seas, which began on November 3, to see for myself.
More activities packed into the sailing
One of the top questions people have about going on a short Oasis Class cruise is if all the shows are still available.
Like her sister ships, Allure of the Seas has three primary theaters onboard: the Royal Theater, the AquaTheater, and Studio B ice rink. There's shows in each venue, along with comedy shows, live music, and more.
Royal Caribbean's entertainment team consolidated the show schedule to fit into a 3-night cruise, but the difference between a 3- and 7-night cruise schedule is there will be more than one show each evening.
On a longer cruise, you can afford to skip the first show time and catch it later. With the short cruises, there may be just one evening to see it.  Luckily, there are still multiple show times for each of the shows.
Like other short cruises that Royal Caribbean has offered on other ship classes, you'll find lots of activities throughout the day. The difference is that Allure has more venues than smaller ships, so there's more competing choices.
Read more: How different is a 3-night vs 4-night cruise?
A short cruise is like a trip to a city
At first I also struggled with how to best see everything on such a short cruise, but then I questioned why I had to in the first place.
When I take a trip to New York City, I don't aspire to see every major attraction in Manhattan, let alone the surrounding boroughs. I prioritize a few very important attractions, hope on seeing a couple of others, and understand that I need to come back to do more.
In the same vein, why should we feel compelled to try to see everything on a cruise ship?
If you talk to someone that has taken a 7-night cruise on an Oasis Class ship, they'll probably admit a week wasn't long enough to "do it all", but that didn't stop them from trying it.
A short cruise is fleeting, but this is true on Grandeur of the Seas as much as Allure of the Seas.
It reminded me a lot of going to Walt Disney World, because you could spend a week in that resort and never come close to seeing every ride.  
Wanting to return to have the chance to sail again on cruise isn't a downside, it's an indication that you had a really good time and want more.
Once I came to this realization, I felt much better about going on a ship as big as Allure for just 3-nights.
Where to eat?
Arguably the most difficult choice may be where to eat dinner on a short Allure of the Seas cruise.
Oasis Class ships redefined the cruise experience in so many ways, including how many restaurants could be on one ship. Before Oasis of the Seas was built, if a cruise ship had two specialty restaurants, that was a big deal.  Today, a ship with two specialty restaurants is disappointing.
Negotiating with my family which three meals we would have may have been the toughest aspect of such a short cruise.
Specialty dining has become extremely popular, and when we sail on an Oasis Class ship, we'll lean heavily into the extra cost restaurants because of the sheer variety.
Even though I'm lucky enough to cruise a lot, it wasn't easy being limited to just a few restaurants. Ultimately, we narrowed it down to 150 Central Park, Izumi, and Samba Grill.
I think we made a good choice overall, and when we return again next year for a 3-night cruise, we'll change up which restaurants we visit.
Having too many choice is still better than not enough.
Cheaper out the door price
Something else that jumped out at me with a 3-night cruise on Allure of the Seas was the price.
On average, a 3- or 4-night cruise will cost less than a 7-night cruise overall.  Longer sailings may cost less per night, but the "out the door price" is usually cheaper.
This is a really attractive prospect, and it actually lead me to upgrade my cabin choice and try a suite because the cost was a lot less than I was used to.
The suite program on Oasis and Quantum Class ship is significantly better than the rest of the fleet.  By booking a suite on a weekend cruise, I could afford to splurge.
We booked the Royal Loft Suite, which had two levels to it, a giant wrap-around balcony with jacuzzi, and access to the services of the Royal Genie.
We never booked such an opulent suite before this because longer sailings made the price difficult to reach. But with a short cruise, it made more sense.
Even if you don't jump at a suite, it's quite likely you will find lower prices for a cabin on a 3-night Allure of the Seas compared to a 7-night cruise on Oasis of the Seas.
This means more people can try an Oasis Class without the premium price tag associated with a longer cruise.
Short cruises are aimed at new cruisers
Something else to think about is the strategy behind offering short cruises on Royal Caribbean's biggest ships.
Allure of the Seas' debut in this role, followed up by the brand new Utopia of the Seas undertaking it in 2024, is about attracting first-time cruisers.
All cruise lines covet new cruisers, because they are the single largest source of new customers and growth in the cruise industry. It's because the majority of the public has never cruised before, that's who Royal Caribbean wants to attract.
The problem is someone that has never cruised before may be leery of spending a week on any ship, even the brand new Icon of the Seas. So they tend to gravitate towards short cruises to give it a try.
So by offering cruises on their best cruise ships, Royal Caribbean is hoping to convert them into cruise fans with vessels that have all the latest and greatest features.
Read more: Royal Caribbean's plan to dominate short cruises with a new ship and private destinations
Was a 3-night cruise on Allure of the Seas worth it?
Without a doubt, I was glad to go on Allure of the Seas for just the weekend.
I would have certainly preferred to have more time and go on a longer sailing, but that isn't always in the cards. The school calendar and work obligations curtail most people's ability to cruise, and a short cruise is better than no cruise at all.
I like to work in weekend sailings as a way to augment my longer cruises. I don't plan weekend cruises as our primary family vacations, but they are great for "let's get out of the house for a few days".
Going into the cruise, I knew I wasn't going to try everything, and I found myself liberated without that burden. Plus, it gave me a good reason to come back and do it again. I'm never one to shy away from a compelling reason to book another cruise.
We had a really nice time on Allure of the Seas for just 3-nights, and I think this will introduce the Oasis Class ships to a lot more people who will fall in love with cruising.