In:
A Mediterranean cruise is one of Royal Caribbean's most popular European cruise destinations, with the Western Mediterranean often a starting point for first time cruisers to Europe.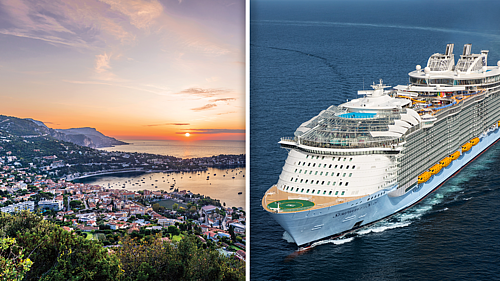 With some of the world's most historic and breathtaking scenery, monuments, and cultures, going on a cruise to the Mediterranean allows you to experience multiple locations in a short amount of time.
Deciding which itinerary and ship to choose from as well as what to do in port, however, can be overwhelming for those who have never cruised to Europe.
In this guide we take a deeper look at the Western Mediterranean's top destinations, itineraries, and things to do, as well as common concerns and questions faced by those planning a cruise to Europe.
Shortcuts:
Best itinerary for a Western Mediterranean cruise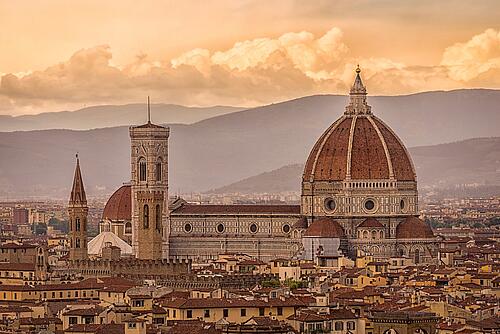 Cruises to the Western Mediterranean generally visit Spain, France, and Italy. Some of the most common ports visited are Civitavecchia (Rome), Livorno (Pisa), Villefranche (Nice), Provence (Marseille), Naples/Capri, and Barcelona.
Royal Caribbean's newest and biggest cruise ships tend to visit the most popular Mediterranean ports in Western Europe, whereas smaller ships visit both popular and lesser known destinations.
Other Western Mediterranean ports include Palermo, Catania, Portofino, Valencia, Cartagena (Spain), Ajaccio (Corsica), Palma de Mallorca, and Monte Carlo (Monaco).
Choosing which itinerary to book for a Western Mediterranean cruise comes down to your preference, budget, and ship choice.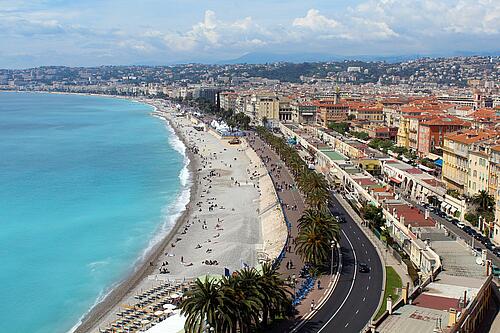 All Mediterranean ports will offer the opportunity to explore European cultures, try new foods, visit historic monuments, discover unique architecture, visit the beach, and make memories to carry with you far after your cruise is over.
If you've never been to the Mediterranean before, picking an itinerary that includes the most popular cities in the region (Rome, Florence, Barcelona, etc.) can be a great choice. If you've visited those cities before, though, choosing an itinerary that visits smaller cities in the Mediterranean might be your best bet.
While picking a cruise based on the ship is not as important in Europe as it is in the Caribbean, you'll still want to take the ship into consideration. If you know you want to sail on a large, new cruise ship, you will want to book a cruise on an Oasis or Quantum Class ship. This greatly lowers the itinerary choices to choose from.
If you are more interested in visiting unique ports even if it means sailing on a smaller ship, consider sailing on a Vision or Radiance Class ship to the Mediterranean.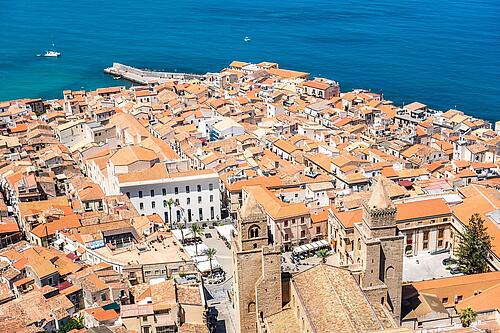 Something unique about Mediterranean cruises is that you can opt to start the cruise from multiple ports.
For example, you can book a 7-night Western Mediterranean cruise leaving from Rome on May 12th or you can book the same cruise leaving from Barcelona on May 15th.
If you embark in Barcelona, you're joining a cruise that many have already been on for several days. Likewise, when the cruise returns to Rome, you will get off at port to explore the city whereas passengers who started the cruise a week ago are now disembarking the ship.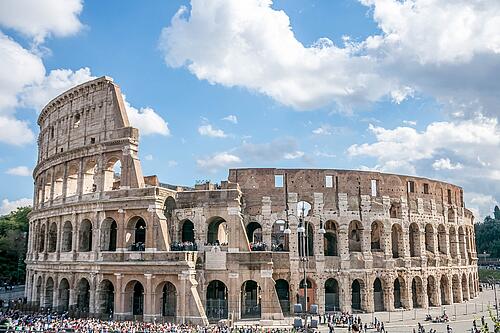 As you're planning a Mediterranean cruise, you may notice that, while cities like Rome and Florence are listed on the itinerary, the cruise technically docks in Civitavecchia or Livorno, Italy.
Several major cities in the Mediterranean are not oceanfront, meaning a train, bus, or car ride is necessary to reach the city from the cruise port. In other ports, such Barcelona and Genoa, cruise ships dock nearby the city center, making access to the city a breeze.
While ports may be far away from some cities, Royal Caribbean allots a significant amount of time per day at these stops. When a cruise docks in Civitavecchia, as an example, the ship may be there from 7am - 8pm, allowing guests plenty of time to travel to Rome, spend the day exploring the city, and return back in the evening.
Self explore cities
Royal Caribbean will often have an excursion option that solely provides transport to and from the port to the center of the city. This is a great option for those who want the ease of Royal Caribbean transport to and from a destination but want to explore the city without a guided tour.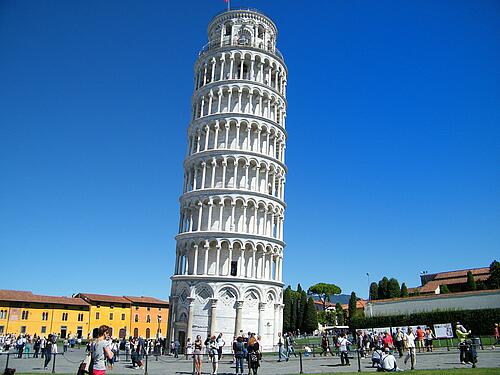 For example, in Pisa they offer the "Pisa on Your Own" tour, which takes guests from the port of Livorno to the heart of Pisa. They can then explore the city on their own for an allotted time before catching the shuttle bus back to port.
There is no need to worry about local train or bus delays causing you to miss the ship when booking transport through Royal Caribbean. You only need to be back at the designated shuttle bus or location at the allocated time in order to make it back to the ship.
These self-guided excursions with transport are often named "[Destination city] on Your Own" in the Cruise Planner.
Will I have enough time at each port stop?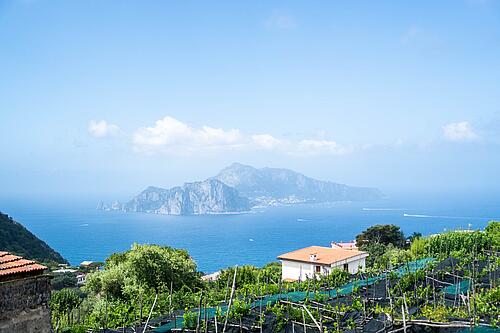 A common concern of cruisers booking a Mediterranean cruise is whether they will have enough time at each port stop or not. While in the Caribbean many islands are small enough to see in one day, Mediterranean cities often require more time to explore thoroughly. 
A Mediterranean cruise should be looked at more as a "sampler" rather than an immersive dive into each destination. One could spend a year in Rome or Barcelona trying to see everything and that still wouldn't be enough time. A day in each port is usually not enough time to fully explore the city, but does provide enough time to view the highlights.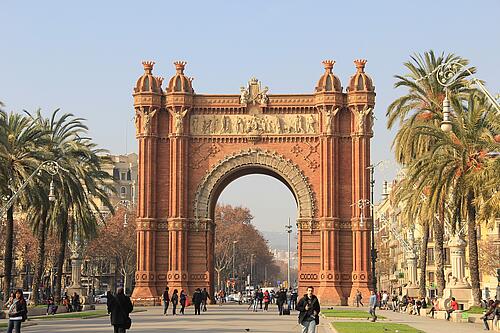 My recommendation is to spend a few days before and after your cruise in your departure city to allow for extra sightseeing opportunities.
If your cruise departs from Barcelona or Rome, for example, try to arrive there at least 2-3 days before the cruise begins. Not only do you need extra time to recover from jetlag, but these cities are some of the world's most spectacular and deserve a few days for sightseeing.
Likewise, if your cruise starts in one city and ends in another, try to plan a few days on land both before and after the cruise.
Land vs cruise vacation to the Mediterranean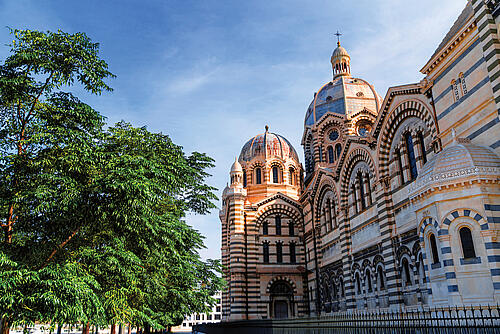 Another common concern for those planning a cruise to the Mediterranean is they will "miss out" on European culture and lifestyle by spending evenings on a cruise ship instead of on land.
While it's true that a Mediterranean cruise will not allow you to dive as deep into local culture compared to traveling more slowly on a land-based vacation, a cruise offers its own set of benefits.
One of the best parts of cruising in Europe compared to traveling on land is that all transportation is arranged for you. There's no need to worry about booking a ton of train tickets, reserving multiple hotels, and lugging your suitcase from one city to another. On a cruise you will be able to visit multiple European countries while only unpacking once.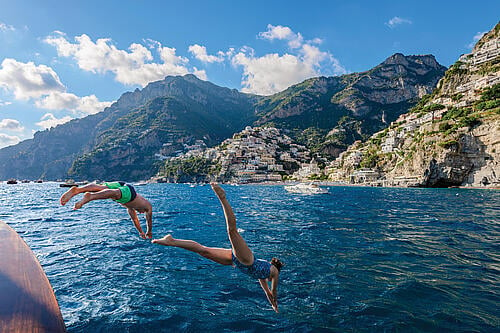 Another benefit of a cruise to the Mediterranean is that you'll be able to see many destinations in a short amount of time. Trying to fit 3-4 destinations in multiple countries on a weeklong land vacation would be hectic and stressful. On a cruise, though, you are traveling from one port to another as you sleep, waking up in a new city each day stress-free.
That's not to say there aren't drawbacks to a cruise vs land vacation in Europe, however. A land vacation to Europe, assuming you are spending more than one day in each place, generally gives you more time to experience each destination. Being able to spend evenings wandering around European cities and experiencing nightlife is a highlight for some travelers to Europe, and this is not very common to have access to while on a cruise.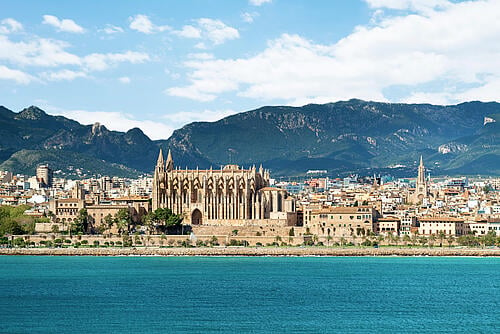 Planning a few days before and after your cruise in your departure city can give you the best of both worlds. Being on land for a few days prior to the cruise will allow you to see more of your departure city, experience European nightlife, and explore the Mediterranean without worrying about making it back to the ship on time.
Then, after a few days on land, you can board the cruise to experience multiple destinations and countries in one week without the hassle of traveling to and from different cities and countries on your own.
What to do in Mediterranean cruise ports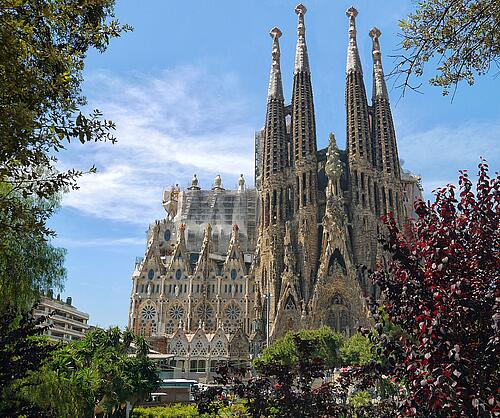 After you book a cruise to the Mediterranean, it's time to plan your days in port. While it's not necessary to plan everything in advance, it's helpful to have an idea of what is offered at each port in your itinerary.
Many cruisers visiting Florence plan to visit the Duomo or Statue of David. Those visiting Nice may take a stroll along the waterfront Promenade des Anglais. Likewise, Vatican City and the Colosseum are extremely popular places to visit in Rome. 
Deciding what to do in port comes down to your interests. For some cruisers, a day in Barcelona visiting museums and historical monuments is ideal. Others may prefer to spend the day drinking sangria on the beach or walking around the city center.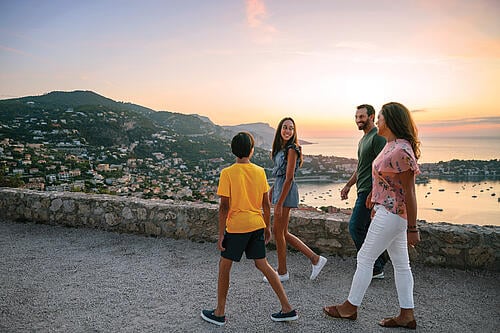 Therefore, don't feel pressured to book an excursion only because it is the "must do'' activity in a certain place. If you would rather explore a city on your own as opposed to standing in line for historical monuments or churches, you will still have an amazing cruise experience.
In fact, part of the fun on a Mediterranean cruise is simply wandering around the destinations you visit. It can be easy to plan an entire day from start to finish, but sometimes it is even better to arrive without a plan and see where the day takes you.
I would recommend knowing ahead of time whether or not you want to make the journey into cities far away from port (such as visiting Rome from Civitavecchia). As some destinations require 1-2 hours of traveling each way to reach the city from port, having a plan of how you will get to and from port is helpful.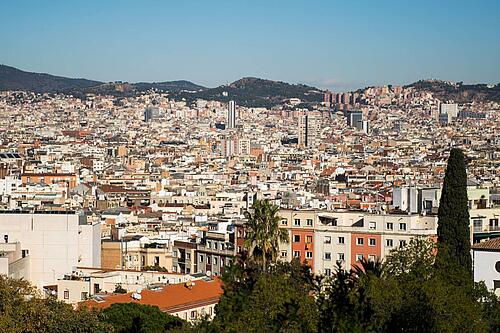 From French to Spanish, Catalan, and Italian, you can expect to hear a diverse range of languages on a Western Mediterranean cruise. And while English is widely spoken in Europe, you shouldn't always expect everyone to speak it.
You likely won't have trouble getting by with English in tourist areas and city centers of popular European destinations such as Florence and Marseille. If you're traveling to the countryside or to lesser visited destinations in the Mediterranean, though, English may be less widely spoken.
Learning the basics of the language spoken in the countries you will visit on a Mediterranean cruise can make your experience smoother. Luckily, most languages spoken in the Western Mediterranean share many similarities with each other and are relatively easy to pick up as an English speaker.
Here are some key phrases I recommend learning in your destination's language:
Mediterranean cuisine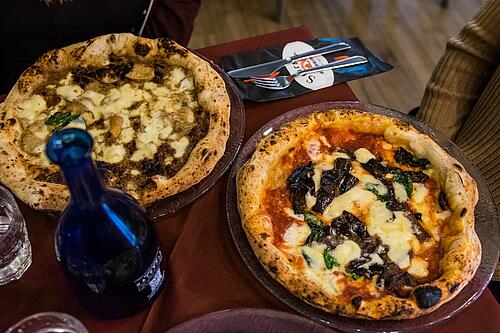 One of the most attractive parts of booking a cruise vacation is the fact that food is included in your cruise fare. It's possible to spend an entire week (or longer!) on a cruise ship and solely eat at complimentary restaurants, making your vacation food budget effectively $0.
However, eating exclusively on the cruise ship is one of the worst things you can do on a Mediterranean cruise!
Mediterranean cuisine is one of the most beloved in the world. Whether wood-fired pizzas in Naples, baguettes and croissants in Nice, paella in Barcelona, or gelato in Rome, trying new foods is a key aspect of traveling through the Mediterranean.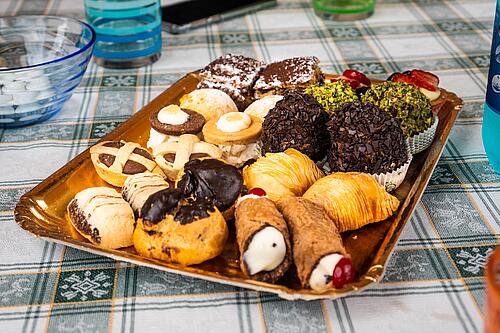 Allocate some of your budget toward trying food while in port. From a morning espresso and pastry at a local cafe to a sit-down lunch in the city center, trying local cuisine will definitely be a highlight of a Mediterranean cruise.
While some may feel taking the time to sit down for a long lunch while at port is wasting time, it's actually one of the best ways to experience a destination's culture. In addition, it forces you to relax in the middle of the day while at port which can be well appreciated during long, hot summer days.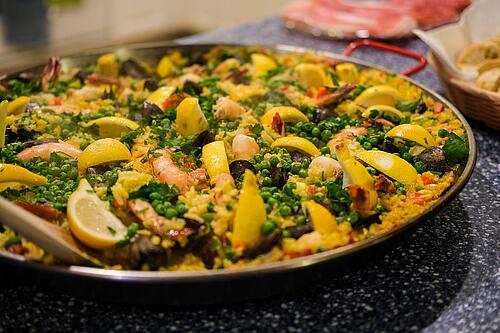 Here are a few key food tips for a Mediterranean cruise:
Always walk several blocks in either direction away from the tourist areas before selecting a restaurant. Food in tourist areas is often lower quality, inauthentic, and overpriced
Restaurants with small menus are typically always better than those with many pages of menu items offering several different types of cuisines
Restaurants with menus solely in the local language are usually a good bet for authentic cuisine
What to bring on a Mediterranean cruise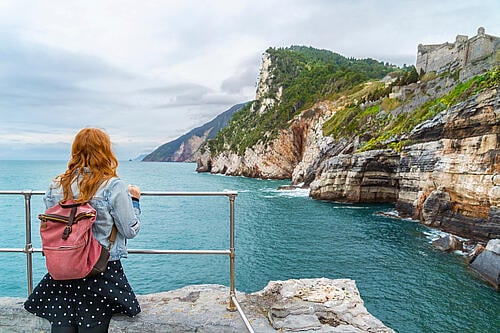 Packing for a Mediterranean cruise shares some similarities with a Caribbean cruise, but has a few more considerations.
When I travel to Europe, I tend to pack clothes that are comfortable yet fashionable. While I may wear a wrinkly t-shirt and gym shorts off the ship at Perfect Day at CocoCay, I prefer dressing nicer while visiting European cities. Nice jeans, sundresses, jumpsuits, and blouses tend to fit in more with the style found in Europe compared to the casual outfits of a Caribbean cruise.
Packing comfortable walking shoes is a must while in Europe, as you'll likely find yourself walking a lot more than on a Caribbean cruise. It's not uncommon for guests to walk several miles a day while exploring a Mediterranean city, and the last thing you want to bring back to the ship are painful blisters.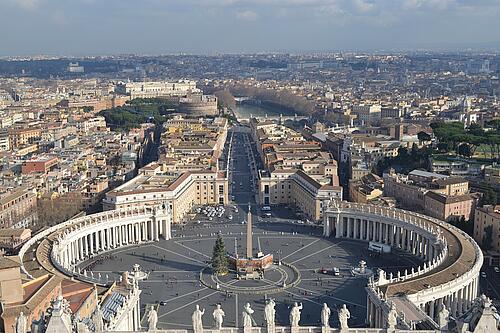 Some churches in Europe will have their own dress codes, as well, so this is important to know for guests planning to visit places like the Sagrada Familia and Sistine Chapel. Generally, major churches in the Mediterranean require arms, shoulders, and legs to be covered. If you don't want to be covered the entire day, pack a change of clothes in your day bag for after the church visit.
I also recommend avoiding certain clothing items that will make you stick out as a tourist, including apparel with American sports team logos, any type of patriotic or political attire, and camo patterns.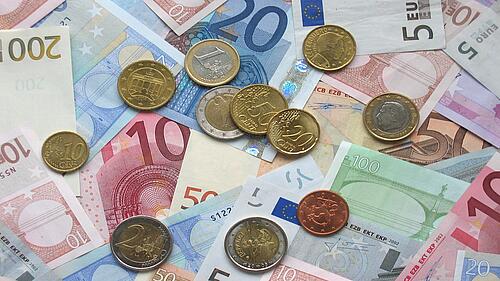 Make sure to pack euros with you or visit an ATM while in port. Unlike in the Caribbean or Mexican ports where you can usually get by with USD, this is not accepted in Europe.
When I travel to Europe I make sure to bring a debit or credit card with no international fees. That way I can take out money at ATMs without worrying about incurring high fees.
As always, be sure to alert your bank of your upcoming travels to avoid any pauses or alerts on your account due to withdrawals made in Europe.
Will my phone work on a Mediterranean cruise?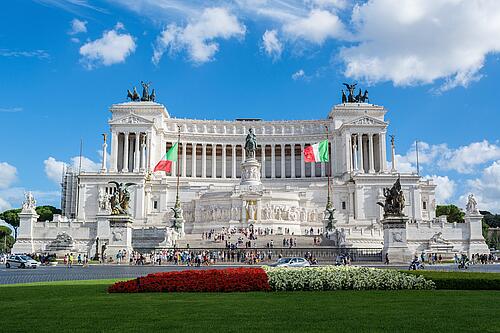 Unless you have a phone plan that includes international data, your phone's data will not work in Europe. And while having phone service isn't entirely necessary, I would recommend at least one person in your travel group has international data on their phone for the duration of the cruise.
International data offerings differ based on which phone provider you use. Some providers may have a daily fee for international service whereas others can charge by the amount of data used.
In addition, some phone plans may already come with international data in the Mediterranean, so be sure to check with your phone provider about whether or not you can access data abroad free of charge.
If you don't have international data, you can access the internet via wifi while in port. Wifi should be relatively easy to encounter, especially closer to the city center. Many restaurants and cafes will have free wifi available to customers.
Like on all cruises, make sure to put your phone back on airplane mode once onboard the ship to avoid roaming charges.