In:
The first step to planning a Mediterranean cruise is deciding which itinerary and ship to book. Royal Caribbean has both its smallest and largest cruise ships sailing in Europe during the summer months, each with their own advantages and disadvantages.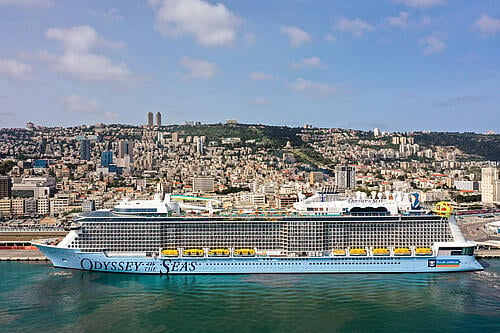 A Mediterranean cruise differs from a Caribbean cruise in that, while the ship itself is often seen as the destination in the Caribbean, the ports are what stand out most on a European cruise itinerary.
While cruising on Royal Caribbean's newest and biggest cruise ships offer the most activities and options for guests, small ships can offer just enough to see, eat, and do onboard while sailing from port to port.
Ultimately, deciding which ship to book depends on your preference, budget, and ship's itinerary, but there are a few things to consider before choosing the best ship for you.
Why choose a small ship for a Mediterranean cruise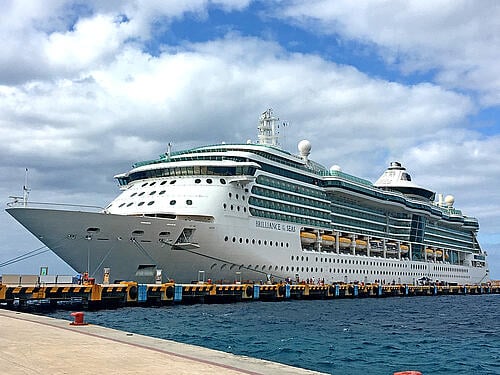 While cruising the Mediterranean on an older, smaller ship may not seem as glamorous as on Royal Caribbean's newest ships, it can provide an excellent experience for guests at a fraction of the cost. By "small ships," we are referring to Vision or Radiance Class cruise ships.
One of the biggest benefits to booking a Mediterranean cruise on a smaller cruise ship is the range of itinerary options available. While larger ships tend to have more limited and repeated itineraries, smaller ships visit a diverse range of ports during the European cruise season.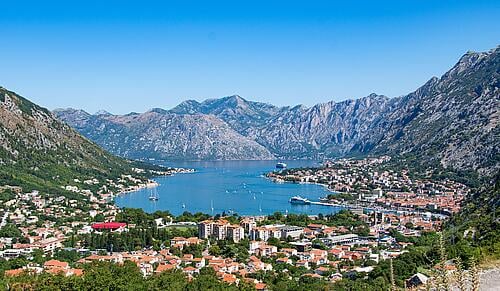 Places like Kotor (Montenegro), Split (Croatia), Zakynthos (Greece), Koper (Slovenia), and Sardinia (Italy) tend to only be visited by smaller cruise ships. For those looking to try something new and visit destinations off the usual tourist trail, cruising on a small ship can be a great choice.
That's not to say all itineraries on a smaller ship only visit lesser known destinations, though. It's also common for small ships to visit cities like Barcelona, Florence, and Rome, which offer some of the most popular tourist sights in all of Europe.
Smaller ships may come with fewer dining and entertainment venues, but many cruisers find this is not as important on a Mediterranean cruise as it would be elsewhere.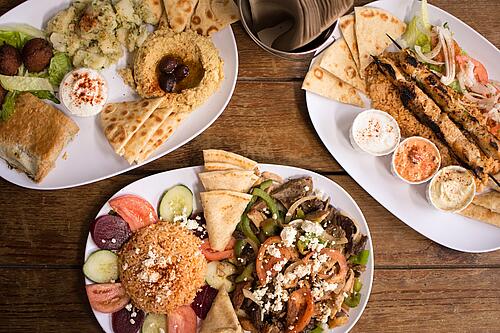 For starters, Mediterranean cuisine is some of the best in the world. Having more dining venues available onboard is less important when you have authentic, fresh Mediterranean food right outside the ship. From falafel wraps to gyros, pastas, fresh seafood, pizza, and world-renowned steak, there is no shortage of excellent dining options on a Mediterranean cruise regardless of the ship you are sailing on.
In addition, port days are often long and busy in the Mediterranean, leaving many cruisers tired once back onboard. Getting dressed up for a formal dinner or seeing a new show each night can seem less appealing than on a Caribbean cruise, where most days are spent relaxing.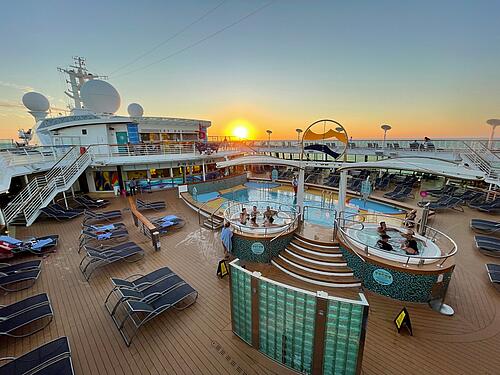 Smaller ships are more budget friendly, too. A weeklong itinerary on a Vision or Radiance Class ship can be less than half the cost of a similar itinerary on an Oasis or Quantum Class ship. Money saved on ship selection can be put toward other cruise add ons like a drink package or shore excursion. Additionally, you may be able to book an upgraded stateroom on a smaller ship that would otherwise be out of budget on a larger ship.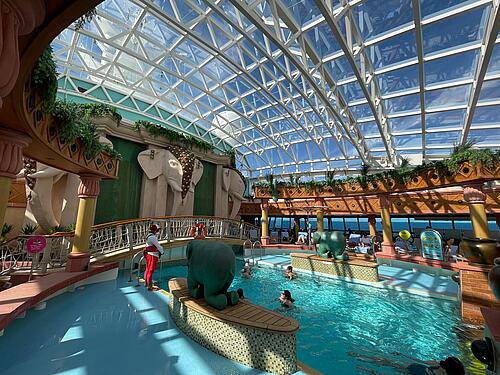 And while smaller ships may not come with as many activities and amenities as larger ships, they still offer the basics of a fantastic cruise experience. No matter the size, all Royal Caribbean ships include complimentary and specialty dining, lounges, pools, a Solarium, live music, Adventure Ocean kids programming, a spa, fitness center, signature shows, and a daily schedule of activities and events onboard.
It's also important to note that cruising on a "small" ship is still quite big. Royal Caribbean's smallest ships are the Vision Class, yet they still have a capacity of 2,000 passengers or more.
Why choose a big ship for a Mediterranean cruise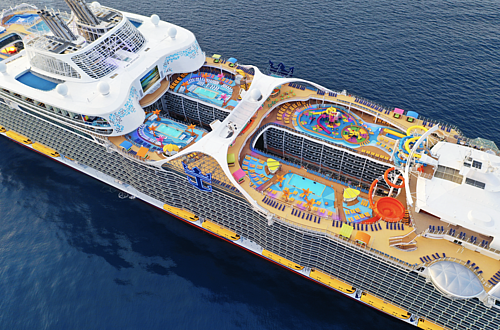 The advantages of booking a Mediterranean cruise on a big cruise ship are the same as elsewhere in the world: there are more onboard options and amenities available. By "big ships," we are referring to Oasis or Quantum Class cruise ships.
If you are looking for the widest selection of things to do onboard while on a Mediterranean cruise, a big ship may be the best choice for you. Bigger ships come with more dining options, onboard activities, entertainment venues, bars, pools, cabin options, and more.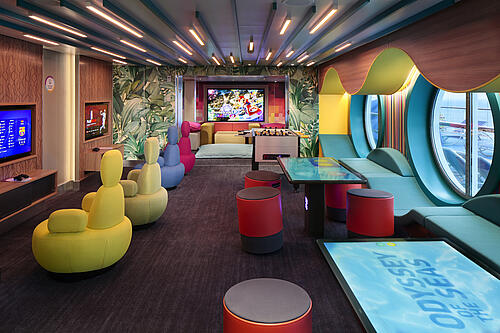 Families with kids will especially enjoy cruising on a big ship. Adventure Ocean programming is often enhanced on bigger Royal Caribbean ships, with larger indoor and outdoor spaces available for kids to enjoy. Areas like an outdoor teen patio, science lab, craft zone, and kids-only theater are available on bigger cruise ships.
In addition, there are more signature activities offered on Royal Caribbean's biggest cruise ships. Whether waterslides, bumper cars, indoor skydiving, laser tag, or ice skating, guests of all ages will find something fun to do while onboard.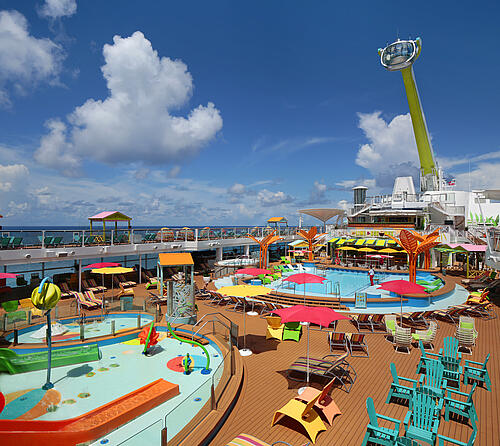 There are more entertainment options on an Oasis or Quantum class ship as well. Compared to a small ship which may have one or two main shows in the theater, big ships have venues such as the AquaTheater, Studio B, and Two70. Here guests can enjoy Royal Caribbean's newest entertainment offerings, from ice skating to virtual concerts and diving.
While small ships can offer a wider range of itineraries, big ships still visit many of Europe's top destinations. From popular ports like Athens and Barcelona to lesser visited cruise destinations like Kusadasi, Turkey and Haifa, Israel, there is certain to be an itinerary to catch your eye.
The "downside" to choosing a big ship for a Mediterranean cruise is that you will unlikely have time to experience all that the ship has to offer. Unlike in the Caribbean where an Oasis or Quantum Class ship may have two or three sea days to spend onboard, bigger ships may only have one sea day on a weeklong itinerary.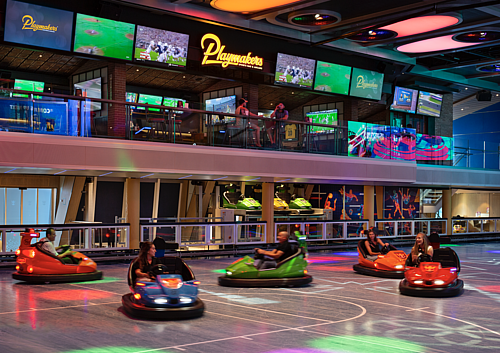 Additionally, it's not uncommon for port days to be up to twelve or thirteen hours long. And while you can stay on the ship while in port, you will be missing out on incredible European destinations in the process. With these two factors combined, you have much less time to explore a big ship on a Mediterranean itinerary.
Big ships tend to have the most expensive itineraries in the Mediterranean, too, due to the demand for new ships. Those with tight budgets should consider whether sailing on a big ship is worth the cost when the biggest draw to a Mediterranean cruise are the ports you'll be visiting instead of the ship.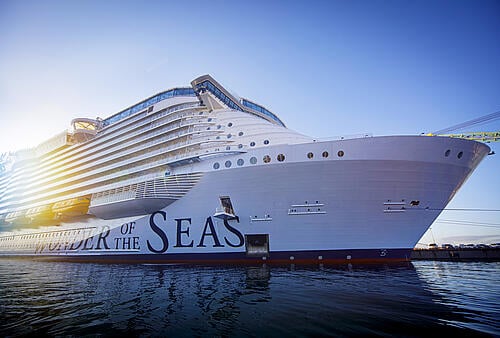 That being said, cruising on a big ship in the Mediterranean is still a good option for those new to cruising or those who want to experience as much as possible onboard. It's hard to beat the amount of options an Oasis or Quantum Class ship offers, and you will always have something new to try whether at sea or in port.