In:
Royal Caribbean's European cruise season runs from April through October or early November each year, with the busiest times for a Mediterranean cruise found in July and August.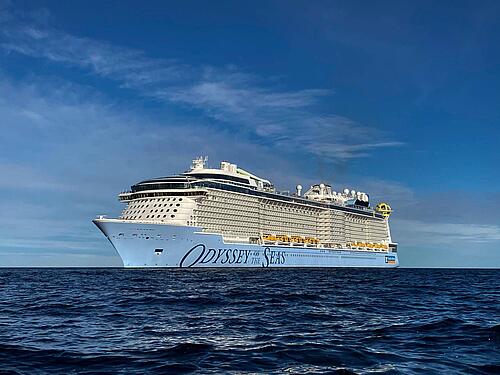 Choosing when to cruise the Mediterranean can be a difficult choice, as each season brings its own benefits and drawbacks. Shoulder seasons can offer a great price point, but can also come with colder water temperatures and occasional rain. The peak summer season offers sunny, long days, but also tends to be the most crowded time of year both onboard and in port.
Ultimately, whichever season you cruise to the Mediterranean you will encounter incredible history, delicious food, extraordinary scenery, and diverse cultures. While there isn't necessarily a "perfect" time to take a Mediterranean cruise, this guide should help you decide which season works best for you.
Early shoulder season: late April and May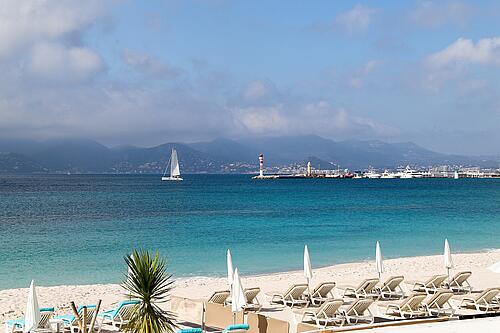 There are two shoulder seasons during the Mediterranean cruise season each year: spring and fall.
Many Royal Caribbean ships cross the Atlantic in April each year, traveling from the Caribbean to Europe in preparation for the cruise season. Ships arrive at the end of April or early May, the start of the spring's shoulder season in the Mediterranean.
Weather
In the early season you can expect pleasant temperatures that are ideal for exploring the Mediterranean's cities. In Barcelona, expect highs of around 70°F throughout most of May, with temperatures rising toward the end of the month. If you're traveling further south to Athens, though, expect highs around 75-80°F.
Due to comfortable temperatures, the early shoulder season in the Mediterranean is a nice time to explore ports that can get uncomfortably hot in the peak summer months. Long days touring ancient sites like the Colosseum or walking through the cobblestone streets of Dubrovnik can be a lot nicer when temperatures are still comfortable.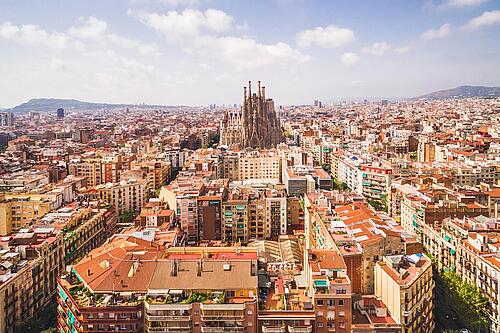 Water temperatures during this time of year will not be as warm as they will be later in the summer, though. Water temperature in Mykonos, Greece, for example, tends to average around 66°F in May versus 78°F in August.
Crowds and pricing
The months of April and May will bring fewer crowds on a Mediterranean cruise compared to mid-summer. As the school year has not finished yet, there tend to be fewer families and children onboard as well.
Not only that, but there will be fewer tourists in your ports of call. While cities like Rome and Barcelona stay relatively busy each year, the peak tourist season is in the summer months, leading to the biggest crowds and lines at tourist attractions. Therefore, shoulder season should offer more pleasant sightseeing compared to the peak season.
Pricing during shoulder season tends to be slightly cheaper than mid-summer. An ocean view balcony stateroom for 2 adults on a 7-night Western Mediterranean cruise on Symphony of the Seas in early May is priced at $3056 total. The same sailing and stateroom category on a cruise in mid-July is priced at $4,216 total.
June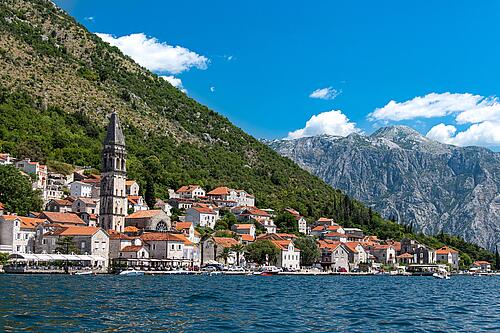 June in the Mediterranean offers beautiful weather and long, sunny days. The month of June can be looked at as a transition between the shoulder season of the spring and the peak months of July and August.
Weather
Temperatures rise throughout the month of June in the Mediterranean, leading to daily highs in the low to mid-80s in ports like Rome and Catania, whereas ports further north, like Nice and Genoa, will see highs in the mid-70s. Most days will be sunny, with little to no chance of precipitation.
For those who want a mix of pleasant temperatures in port with fairly comfortable water temperature for swimming, June may be the most ideal month to cruise the Mediterranean.
Crowds and pricing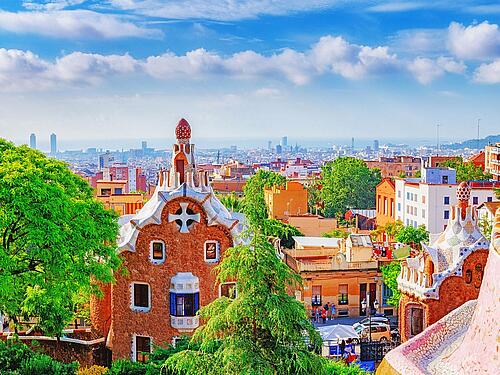 As the school calendar comes to an end and families prepare for summer vacation, expect crowds and prices to rise.
Early June should come with fewer crowds than later in the month, as many families do not vacation as soon as the school year is over, preferring to wait until a bit later in the summer. However, the draw of ideal summer vacation weather in June will bring more crowds than you'll see in the shoulder season.
Crowds will also increase in your ports of call, as many travelers begin summer vacations to Europe at this time. From college graduates backpacking through the Mediterranean to school travel groups, honeymoons, and family vacations, Europe's most popular destinations will get more crowded throughout June.
June's pricing tends to be slightly higher than cruises in May, but typically several hundred dollars less per person than in July or August. An ocean view balcony stateroom for 2 adults on a 7-night Western Mediterranean cruise on Wonder of the Seas in mid-June is priced at $3501 total. The same sailing and stateroom category on a cruise in mid-July is priced at $4,360 total.
July and August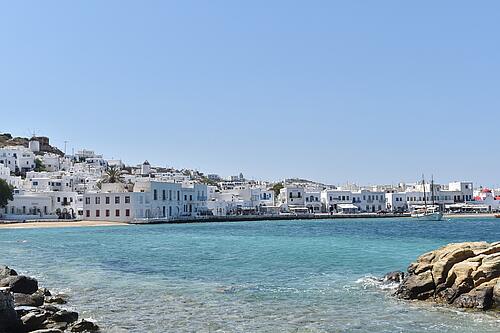 July and August is the peak season of Mediterranean cruises, bringing the highest temperatures, prices, and crowds. Prime vacation time for those traveling to Europe and for Europeans themselves, Mediterranean ports of call will be bustling with energy and the region's beaches will be busier than normal.
Weather
Expect high temperatures no matter where you visit in the Mediterranean during July and August. Ports like Cannes, France can see daily highs in the upper 70s and low 80s, whereas cities like Valencia and Rome can see daily highs in the low to mid-90s.
Sightseeing with such high temperatures can be challenging and uncomfortable for cruise ship passengers, so it's important to plan appropriately, wear lightweight clothing, drink plenty of water, and take rests in the shade throughout the day.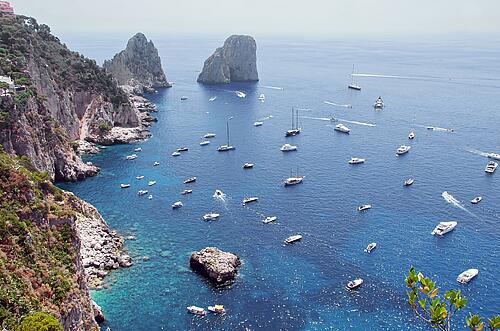 Luckily, peak summer brings the best swimming temperatures in the Mediterranean, allowing you to cool off at the beaches in port. A classic beach day on the Amalfi Coast or French Riviera will be best during these months, with water averaging around 75-80°F in places like Capri and Nice.
Little to no rain should be expected in July and August.
Crowds and pricing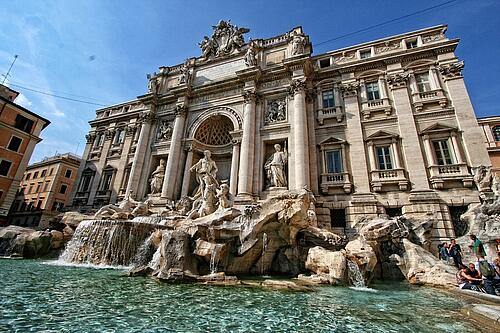 Late June through mid-August are the busiest times to cruise to the Mediterranean. During the peak of summer, families with children are common onboard as well, as a mid-summer cruise fits well in the school summer vacation schedule.
During this time of year, you're likely to see ships near full capacity, and not only will ships be busy, but the ports of call you visit are likely to be busier, too. Tourists from around the world flock to Europe's world-class destinations in the summer months, which may lead to more lines and higher demand for popular activities in port.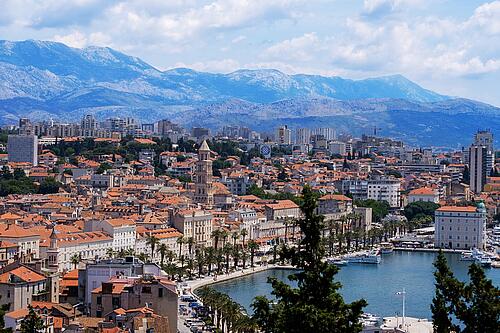 Along with more demand comes higher prices, with July usually the most expensive month of the season and August slightly cheaper. A 7-night Greek Isles cruise on Odyssey of the Seas in mid-July, as an example, is priced at $3,163 total for 2 adults in an ocean view balcony room.
Of course, cruising in the peak summer months does not always have to come with a huge price tag. If you are looking for a more budget-friendly option, consider cruising on one of Royal Caribbean's older ships or sailing in an interior or ocean view stateroom as opposed to a balcony. 
By switching to a smaller ship and room category, you're guaranteed to find lower prices. A 7-night Greek Isles cruise on Brilliance of the Seas in mid-July is priced at $1,860 for 2 adults in an interior cabin, around $1300 cheaper than a cruise on Odyssey of the Seas.
Are businesses closed in August?
If you're cruising the Mediterranean during the month of August, you should be aware that this is when many Europeans take vacation, heading to the Mediterranean's beaches for maximum relaxation.
You may encounter some businesses and restaurants closed during August, but this is unlikely to significantly impact your cruise experience. Major tourist sites and the majority of businesses within cities will remain open in August.
September and October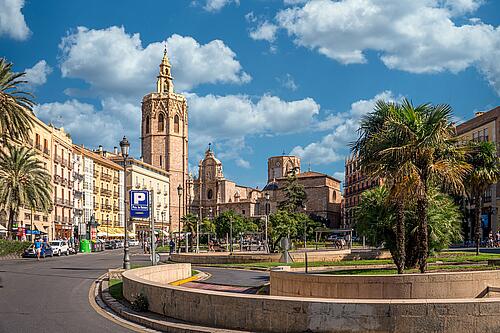 The Mediterranean cruise shoulder season returns in September as a new school year begins, leading to fewer crowds and lower prices. In addition, the temperature in early September remains excellent, making the month one of the best times of the year for a Mediterranean cruise.
October sees slightly chillier weather than September, but is also considered one of the best months for a Mediterranean cruise, and a bit of a "hidden secret" among those cruising to Europe in the fall. Royal Caribbean's Mediterranean season continues to late October or early November, at which point ships return to the Caribbean for the winter season.
Weather
Early to mid-September can be looked at as an extension of summer in most Mediterranean cruise ports, with hot, sunny temperatures. Temperatures begin to cool down in late September and early October, but still remain relatively pleasant.
Barcelona, for example, sees daily highs in the mid 70s and low 80s in September, whereas in October the daily highs tend to be in the low to mid 70s. Further south in Cyprus, expect daily highs in the mid 80s in September and low 80s in October.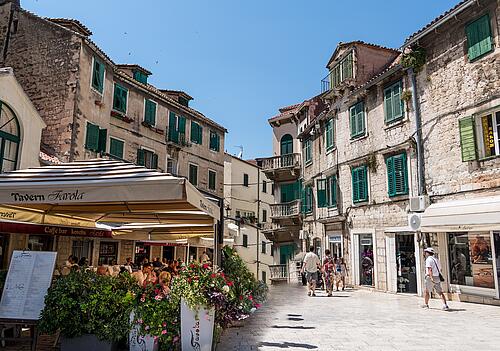 Fall can also be a great time to visit the most southerly Mediterranean ports, such as Egypt and Israel, as the peak summer months are almost sure to be uncomfortably hot. 
Whereas rain in the Mediterranean is rare throughout the majority of summer, the chance of precipitation tends to increase in October, although unlikely to bring heavy rainfall. Rainfall is also dependent on the port, with cities like Kotor often receiving over 150mm of precipitation in October and Athens only around 37mm.
Crowds and pricing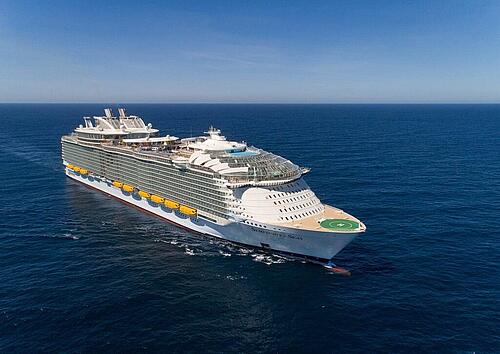 Crowds will not be as prevalent on a fall cruise to the Mediterranean due to the start of the school year and end of summer vacation. European tourists flocking to Mediterranean beaches in August have returned home by mid-September, and the peak season for land-based tours and travel has ended.
That being said, as the temperatures are still favorable in early fall, don't expect to have Mediterranean destinations to yourself. Most ports will still receive a fair amount of tourists during the fall, especially closer to the beginning of September.
Prices in September and October tend to be comparable to prices seen in May or early June, allowing for great savings compared to cruising in July or August. If your schedule allows for it, an early fall cruise to the Mediterranean can be an excellent option.