In:
Royal Caribbean released today its 2018 sailings in Europe, which is headlined by the fleet's brand new Symphony of the Seas.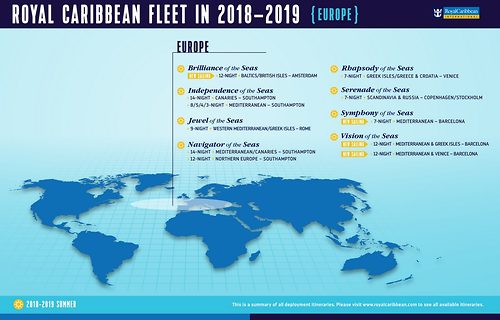 Across the continent, adventure awaits guests onboard eight of the world's most innovative ships, with Spanish landmarks, Italian landscapes, French icons, Greek legends and Nordic Castles, comprising an unbelievable collection of more than 110 European odysseys. All itineraries are available to book as of March 23, 2017.
Making her debut in Barcelona, Spain in April 2018, Symphony of the Seas, the fourth sister ship in the Oasis-class, will spend her inaugural summer season sailing the striking blue waters of the Western Mediterranean. Starting April 21, she will offer seven-night itineraries from Barcelona to Palma de Mallorca, Spain; Provence, France; Florence/Pisa, Rome and Naples/Capri, Italy, where travelers can discover the breathtaking views from atop Barcelona's La Sagrada Familia Cathedral, and revel in the artwork of the old masters housed within the museums of Florence. For those wishing to start and end their trip in Italy, round-trip sailings from Rome are also available.
New in 2018, Vision of the Seas will join Symphony for the season offering 12-night sailings from Barcelona with ports-of-call in Rome, Italy; Nice, France; Santorini and Athens, Greece. In Northern Europe, Brilliance of the Seas will sail new 12-night itineraries from Amsterdam visiting countries throughout the Baltics, Norway and the British Isles, including Holyhead, Wales.
Barcelona
Oasis-class returns to Barcelona with Symphony of the Seas, which will headline Europe's summer season exploring the Western Mediterranean on seven-night sailings, round-trip from Barcelona, Spain or Rome, Italy.
Vision of the Seas will embark on new 12-night Greek Isles itineraries from Barcelona, plus 12-night Mediterranean adventures to France and Italy, including stops in Rome and Florence/Pisa, the Amalfi Coast and an overnight in Venice.
British and Scandinavian Cruises
Brilliance of the Seas will call Northern Europe home for the first time, sailing 12-night itineraries from Amsterdam, The Netherlands, exploring the Baltics and British Isles, featuring new port-of-call Holyhead, Wales.
Independence of the Seas returns to Southampton, offering three- to 14-night voyages to the Mediterranean and a 14-night adventure to the Canary Islands all from Southampton. Navigator of the Seas will join Independence, sailing five- to 14- night itineraries.
Serenade of the Seas will offer seven-night sailings to the Norwegian Fjords, plus the ultimate Scandinavia and Russian adventure with departures from Copenhagen, Denmark and Stockholm, Sweden.
Italian Adventures from Venice and Rome
Jewel of the Seas will sail seven- and nine-night sailings though the Greek Isles and Western Mediterranean.
Rhapsody of the Seas will return to Venice, Italy with seven-night excursions to the Greek Isles, and Greece & Croatia.