In:
As someone who cruises for a living, I always see passengers making the same mistakes over and over again. From flying the same day as their cruise to wearing the wrong shoes, there are rookie mistakes that should be avoided when cruising anywhere in the world.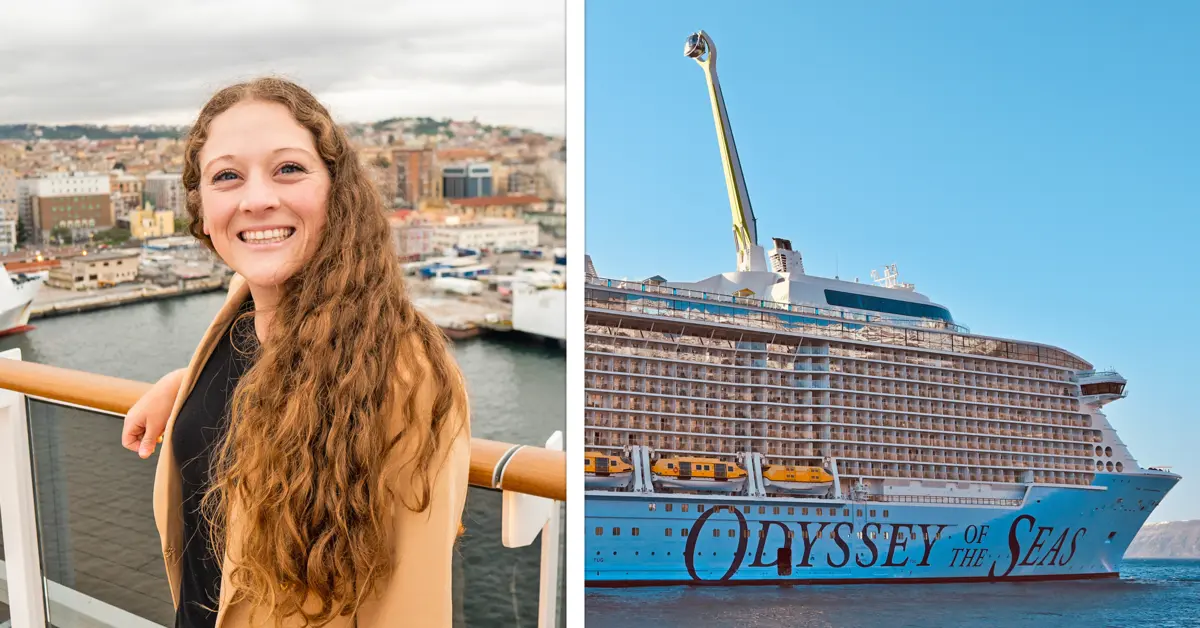 I recently returned from my third European cruise, a Western Mediterranean itinerary visiting Italy, Malta, Spain, and France. European cruises are among the most popular itineraries Royal Caribbean offers, but navigating the ins and outs of cruising Europe can be challenging for first time travelers to the continent.
During my most recent sailing, along with two others last year, I noticed passengers making the same few mistakes that were negatively impacting their experience both in port and onboard. Whether cramming too many activities into one day or walking around with a painful blister, I couldn't help but wish those passengers could have read these tips before their cruise began.
Here are the top 12 mistakes you should avoid on a European cruise.
Booking shore excursions in every port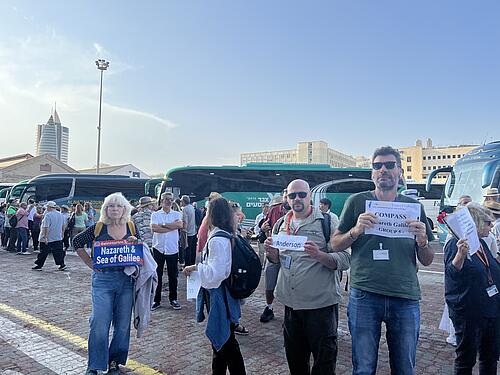 Many cruisers, especially those visiting Europe for the first time, think they need to book an excursion in every port. For most case scenarios, I advise against doing this, and instead having a mix of excursions and self-exploration.
Shore excursions are convenient when on a European cruise, as they allow you to experience each port's top destinations, whether the Colosseum in Rome or Sagrada Familia in Barcelona. As a matter of fact, I'd argue that shore excursions are necessary in ports where the city center is far from the port. If your itinerary visits Florence, as an example, it will take around 90 minutes to reach the city center from where your ship docks in Livorno.
Although you could try to visit Florence on your own, traveling so far without an organized excursion may increase your risk of missing the ship.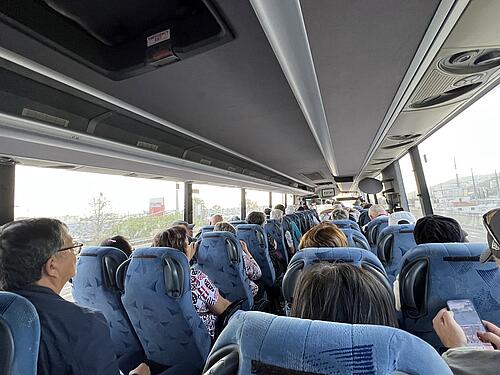 Related: What happens if you miss your cruise ship?
So while excursions are almost required in some ports, they aren't necessary in others. Some cities, such as Valletta in Malta, are located just a few minutes' walk or a short shuttle bus ride from the port.
In these ports, I find it more enjoyable to walk around on my own without worrying about a tour group. With a little research ahead of time, you can experience the destination's attractions on your own, which can save you time, money, and increase flexibility while visiting.
Cramming too much in one day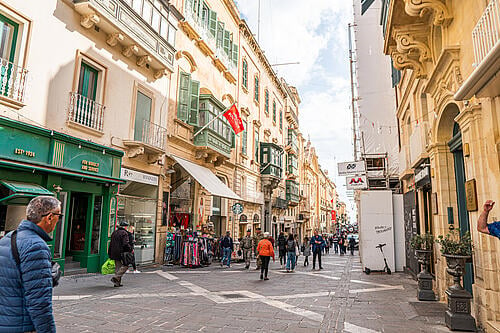 Shore excursion or not, try not to cram too much into a single port day on a Royal Caribbean cruise.
It's tempting to try and experience as much as possible during each port day. With only a few hours in each port, I always see cruisers rushing around trying to tick items off a list. More often than not, they don't look like they're having fun.
Sometimes less is more, especially when planning a cruise ship port day. Try not to rush from museum to cathedral to restaurant to souvenir shop to museum to cathedral. Instead, pick one or two things you'd like to see and spend ample time at each destination.
Related: 7 ways to have a great time in port without a cruise ship shore excursion
I find that when I try to cram too much into one day, I see "everything" but at the same time experience nothing. Picking one or two attractions allows me to fully immerse myself in the destination without feeling too overwhelmed and exhausted.
In fact, my favorite moments when cruising Europe haven't necessarily been the port's "highlights" but the small moments, such as people watching in a park or strolling through picturesque, cobblestone streets without a destination in mind.
Not accounting for hot temperatures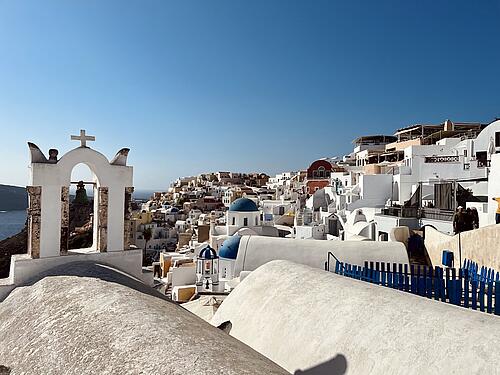 Royal Caribbean's cruise season runs from late April to October each year, and temperatures can get uncomfortably warm during the peak summer months.
On a Caribbean cruise you can counteract a hot, humid day by swimming in the beach or pool. On a European cruise, though, you're more likely to spend your days walking around cities and sightseeing rather than taking a dip in the ocean.
In the middle of summer, walking around cruise ports in Europe can get extremely warm. It's possible to see temperatures in the 90s which, under a beating sun, can quickly make you feel miserable.
Related: What is the best time to cruise the Mediterranean?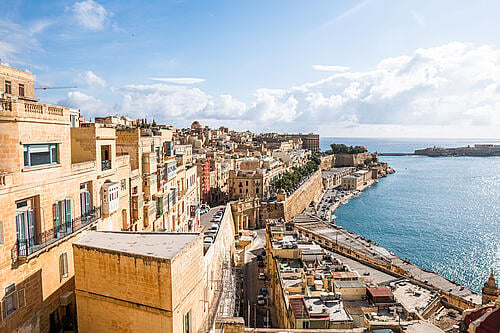 Keeping temperatures in mind when planning your cruise is recommended. If your schedule is flexible, consider cruising in the early or late season when temperatures are more mild. If you are cruising during the summer, be sure to stay hydrated and plan the majority of sightseeing in the morning before it gets too warm.
Taking an afternoon break in the shade, such as when dining in a restaurant or grabbing a drink, can also help make warm summer days more tolerable.
Flying in the day before a European cruise
Most flights to Europe are red-eye flights, meaning they depart North America in the evening and arrive in Europe the following morning. Although we always suggest heading to your cruise port the day before your cruise begins, it's advised to fly to Europe two days before embarkation day.
If your cruise starts on Wednesday and you fly to Europe Tuesday night, you will arrive in Europe just a few hours before your cruise begins. This does not leave much, if any, wiggle room for airline delays and cancellations.
Related: 7 tips for a great Mediterranean cruise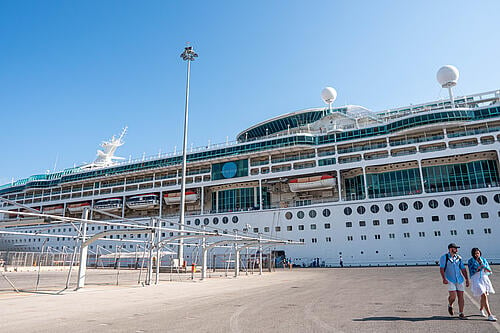 Plus, extensive travel time from airport to port may be required in select European cruise ports. If your cruise embarks in Ravenna, Italy and you fly into Venice, you'll need to take a multi-hour train or shuttle bus journey from the airport to the Ravenna cruise port.
Therefore, flying two days before your cruise begins gives you an entire ~24 hours to spend in your embarkation city before your cruise begins. You can use this time to sightsee, recoup from jet lag, and kick off your vacation early.
Only booking Western Mediterranean itineraries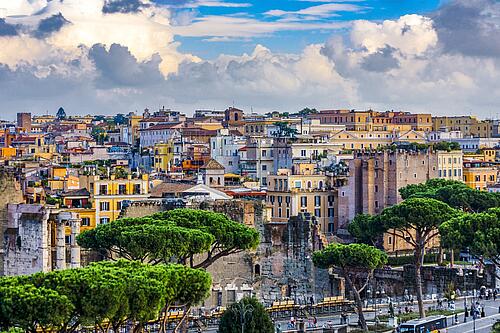 Western Mediterranean itineraries are the most popular cruise itineraries in Europe. They visit some of the continent's most famous cities—Rome, Florence, and Barcelona, among others—and offer a nice starting point to exploring Europe.
Regardless of their popularity, I've found that I've enjoyed cruising on other itineraries in Europe far more than the Western Mediterranean. I found ports in the Western Mediterranean to be much more crowded than other destinations and many required lengthy distances to reach the city center from the port.
Related: Western Mediterranean cruise guide
Most of these destinations really require several days to experience the city's highlights—I personally find (most of) them more suitable for a land-based vacation.
When visiting Naples, for example, it's practically impossible to visit the city, Pompeii, and Amalfi coast in just one day. The same goes for a city like Rome, where you'll be so rushed on a one day tour that it could be more stressful than relaxing.
There's nothing wrong with booking a Western Mediterranean itinerary, and I definitely enjoyed my recent cruise in the region, but don't overlook cruises to other European destinations like the Adriatic, Greece, Norway, and northern Spain and France.
If you are planning a Western Mediterranean cruise, I highly recommend spending a few days in your embarkation/disembarkation cities before and/or after the cruise. This will give you extra time to see and experience things you simply cannot fit into a short port day.
Not grabbing lunch in port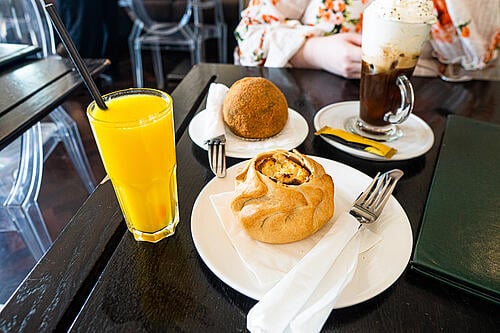 I always have lunch or snacks in port while cruising in Europe even though there's included food onboard my cruise ship.
As delicious as the food on a Royal Caribbean cruise can be, I still make it a point to try local cuisine while in port. After all, how could you cruise to Italy and not try fresh pasta or visit France without eating a crêpe?
Related: Must-eat foods on a cruise to Italy
One of the most common mistakes I see cruisers make, whether they realize it or not, is avoiding spending money on food in port. Instead of heading back to the ship for lunch, why not enjoy a meal at an outdoor restaurant? Not only will you get to taste local cuisine, but it will provide ample people watching opportunities and allow you to take a breather on an otherwise busy port day.
Even if you don't have time for a full sit-down meal, hop in a local bakery or ice cream shop for a snack. Trying local food can offer just as much insight into a port's culture as visiting monuments or museums, and it's a whole lot tastier!
Wearing brand new shoes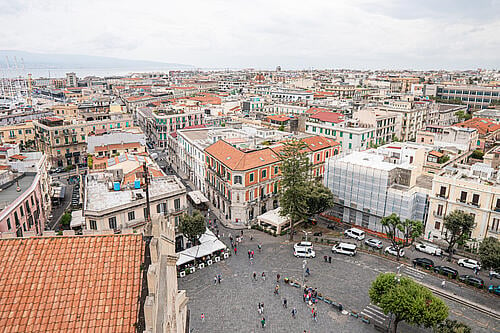 I should really follow my own advice.
Here at Royal Caribbean Blog, I constantly advise readers to never wear new shoes in port, especially if your port days will require heavy walking.
Just last month, as I prepared for my Western Mediterranean cruise, I bought a new pair of white sneakers. Not wanting to get them dirty, I decided to wait until I got to Europe to break them in. Let's just say this was a huge mistake, and I spent the next five days with a massive blister that negatively affected my time in port.
Related: 22 unpleasant cruise ship problems you aren't prepared for
If you're planning a European cruise, be sure to break in any new shoes before the trip. Wear them to run errands, take your dog for a walk, and even to work. While blisters are not enjoyable regardless of when you get one, it's a lot better to recover from a blister at home rather than on a cruise.
Getting tender tickets too late
Depending on your cruise itinerary, you may have to use a tender port to travel from ship to shore on a port day. One of the most common mistakes I see cruisers making when visiting Europe is waiting too long to get tender tickets.
Certain ports in Europe, including Mykonos, Santorini, and Kotor, are tender ports, meaning you cannot walk directly off the ship onto a pier. For these ports, you must collect a tender ticket which you will use to board a smaller boat to bring you ashore.
Related: What does tender mean on a cruise ship?
Royal Caribbean will provide information on where and when you can collect tender tickets. I strongly advise getting a tender ticket as soon as you can, even if it means waiting in line for a few minutes before tickets begin being distributed.
The earlier you get a tender ticket, the earlier your ticket's number will be called, which signals when you are allowed to disembark the ship. If you wait too long to collect a ticket, you might find yourself waiting onboard for a few hours before you can disembark.
Being careless with belongings while in port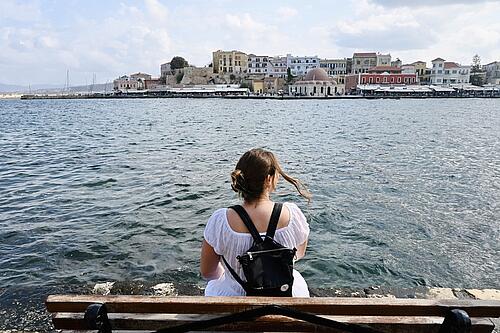 One of the worst situations that can happen on a cruise is losing your personal belongings, whether a phone, camera, wallet, or passport.
It's easy to be distracted on a port day. You're in a completely new environment where your senses are engaged with the sights, smells, and sounds of the destination. Nevertheless, it's critical to remain aware of your surroundings at all times, including where you put valuables while sightseeing, or you may lose your belongings.
Related: Where to keep SeaPass card, phone, and cash when on a shore excursion?
I'm not innocent of making this mistake. Last year, when on a cruise to Kotor, I accidentally left a personal belonging on our table at lunch. Luckily I realized my mistake before getting back onboard and the waiter recognized me and immediately handed me the belonging.
Fortunately the situation resolved itself without any issues, but it easily could have gone worse if I didn't realize I had left something or if someone else had taken the item before the waiter cleaned our table.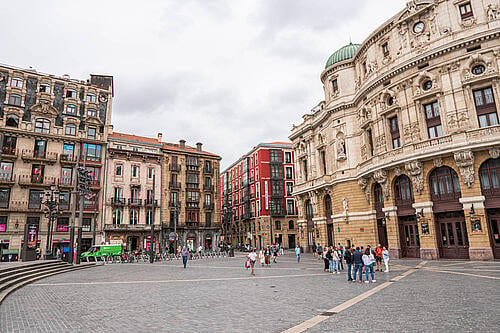 You should never keep valuables in your back pocket while sightseeing, especially in busy areas. Likewise, I recommend putting your backpack or purse at your feet or on your lap while dining outdoors—hanging it from the back of your chair makes it easier for pickpockets to snatch.
My favorite travel essential is an anti-theft backpack that only opens from a zipper against my back. I never have to worry about someone opening the bag without me knowing, making me feel secure when on busy public transportation or in tourist areas.
Related: 40 essential things to bring on a cruise
Not walking leading up to the trip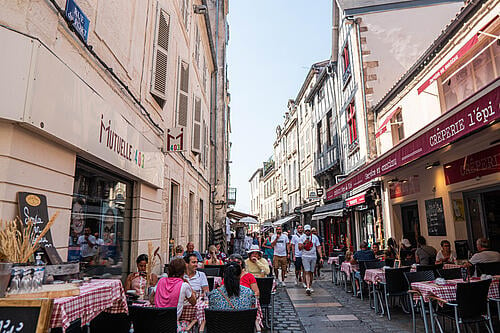 Most cruisers will experience a lot more walking on a European cruise compared to their day to day life at home. One of the most common mistakes on a European cruise is not realizing the amount of walking that may be required in your cruise ports.
Most places in North America are not nearly as walkable as European cities. This means that many Americans and Canadians, especially those living in the suburbs and rural areas, are not accustomed to walking long distances every day.
Because of this, many visitors to Europe find themselves (and their feet) exhausted from walking. To avoid feeling exhausted, one of the best ways to prepare for a European cruise is to increase your walking time while at home.
If you don't already, start incorporating daily walks into your routine. If possible, walk a few miles each day in the shoes you plan to wear on your European cruise. Although you might feel sore initially, it will make your time sightseeing in Europe more enjoyable.
Taking out currency ahead of time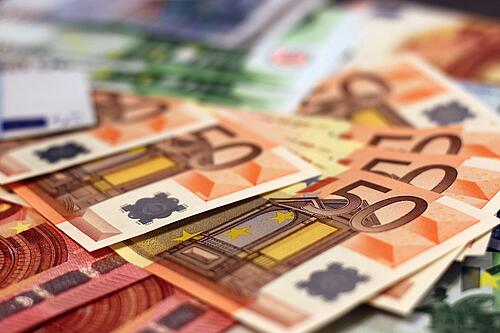 First time cruisers to Europe may assume they should take out European currency in the United States before flying to Europe, but this isn't necessary. In fact, it's almost an antiquated practice.
Avoid the hassle of figuring out where to order euros from the United States and visit an ATM once in Europe instead. ATMs are widely available in all European ports, and it's much easier to take out cash once you arrive.
Related: How much cash should you bring on a cruise?
Plus, you probably don't need much cash, either. Most places in port will take credit card payments, even family-owned businesses. In fact, some destinations, such as the United Kingdom, may have businesses that are completely cashless.
If you're cruising to countries using the euro, I still recommend taking out around 100 euros. It's possible you may come across small restaurants and souvenir stands that do not accept cards, so having cash on hand may be useful.
Disembarking the ship too late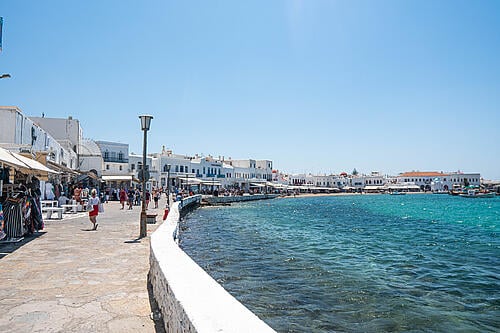 I've been to over a dozen diverse European cruise ports, but one thing remains the same in all of them: the earlier you get off the ship, the fewer crowds you'll experience.
One of the worst mistakes I see people making over and over when cruising Europe is disembarking the ship too late. Your experience in port can vary widely if you disembark at 8AM versus 11AM, so waking up early is completely worth it.
I always make sure to disembark the ship in port as soon as the gangway opens. During the morning hours, temperatures are more pleasant and crowds are far fewer. Even in a busy cruise port like Mykonos, which is known for huge crowds, I've had areas of the town completely to myself.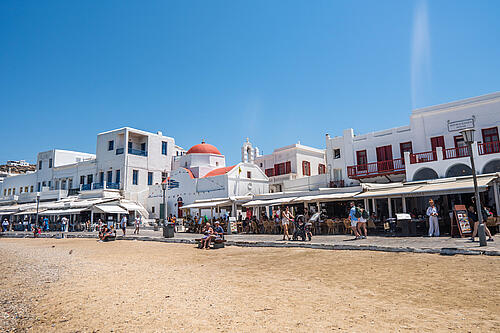 Around 11AM you will begin to notice huge crowds in many ports. Streets become crowded and hard to walk through, beaches fill up, and transportation from the port to the city center may require waiting in line.
If you wake up early and do your sightseeing in the morning, you can take the afternoon to relax, whether enjoying a glass of wine at a waterfront bar or swimming in the Mediterranean. Navigating crowds isn't fun for anyone, and getting off the ship early helps make your experience much nicer.