In:
Every cruiser's worst nightmare is running to the pier as your cruise ship sails away, leaving you stranded in a foreign place!
Videos of "pier runners" (people frantically running to the ship) are popular online and can provide a great laugh, but the reality is that missing a cruise ship is not something you want to deal with on vacation!
Paying out-of-pocket to travel to the next port and being in a foreign country without any of your belongings is not on anyone's vacation bucket-list. While you'll have extra protections when on a shore excursion booked through Royal Caribbean, missing the cruise ship can still be a stressful experience for any passenger.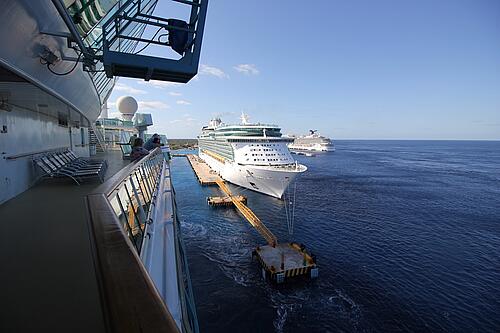 The good news is that missing the cruise ship is not as common as you might think, and with proper planning and responsibility, you'll be able to ensure you arrive back to the ship with plenty of time to spare.
Here's what happens when you miss your cruise ship and the steps you can take to avoid this mistake.
Will the cruise ship wait for you if you're running late?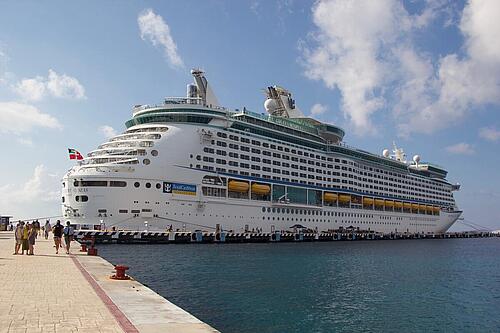 The general rule of thumb is that a Royal Caribbean cruise ship will not wait for you if you're running late and miss all-aboard time when not on a Royal Caribbean shore excursion.
Cruise ships run on tight schedules, and even a 30 minute to an hour delay can cause problems later on, whether arriving late in the next port or rearranging onboard schedules.
If all-aboard time is 5:30PM and you arrive at 5:35PM, the gangway will likely still be open. When a captain is notified that passengers have not made it back onboard, he or she will try to keep the gangway up as long as possible to ensure they can make it back to the ship.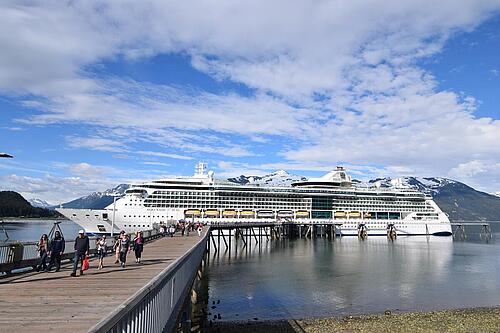 This wiggle room is not very much time, however, and if you're 30 minutes late for the ship, you should expect the gangway to be up and the ship ready to sail away.
Exact protocols can change depending on specific ports and scheduling situations.
What if I'm on a shore excursion booked through Royal Caribbean?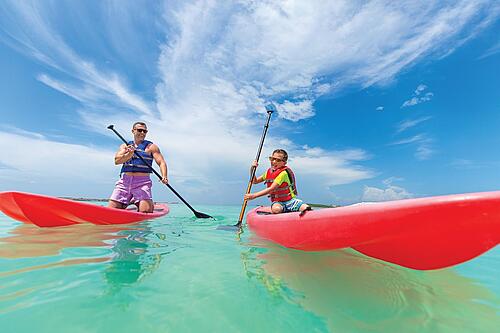 If you're running late but are on an excursion you booked through Royal Caribbean, you'll receive added protections and the ship will wait for you and your tour group for as long as possible.
If the tour is running extremely late due to an unforeseen event and the ship absolutely cannot wait for the tour group to return before leaving port, Royal Caribbean will cover the cost of transferring all tour group members to the next port of call.
Related: Guide to picking the perfect Royal Caribbean shore excursion
What happens if I miss the cruise ship when NOT on a Royal Caribbean excursion?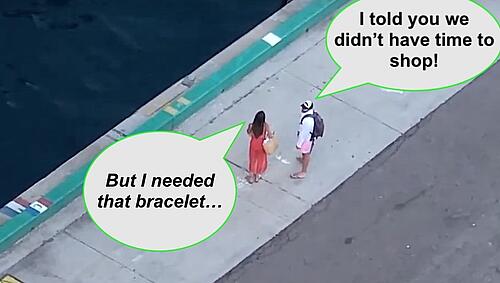 Once the ship realizes you have not returned, they'll often enter your stateroom to remove any essential items like passports and leave the items with the port agents on land. Keeping these items in an easy-to-find place (like the safe) can help crew members locate the items quickly in an emergency.
You'll be able to retrieve the items Royal Caribbean left with the port agents when you eventually show up to port, even if the ship has already left. Once at the port, the port agents can assist you with figuring out the next steps and contacting Royal Caribbean.
Once you are able to contact the ship/Royal Caribbean, you can discuss your options with them and they can assist you with booking any necessary travel arrangements. These travel arrangements will not be covered by Royal Caribbean and can be costly, especially when traveling from island to island at the last minute.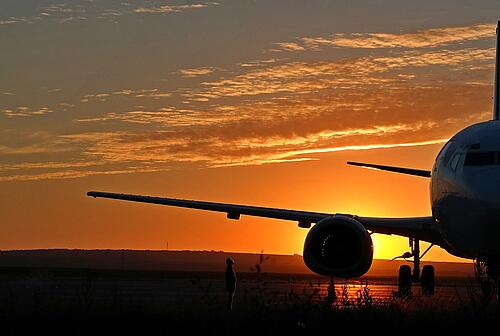 If you do not have a passport or other proper identification with you, you'll want to visit the nearest U.S. embassy to discuss next steps and receive replacement identification.
Passenger Vessel Services Act complications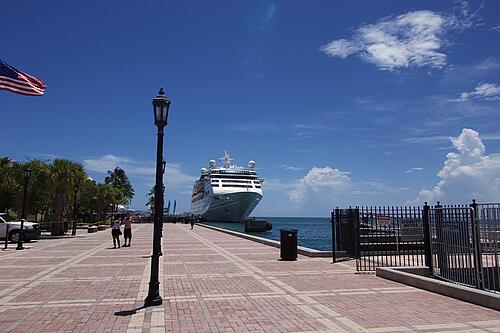 Missing the cruise ship gets more complicated when you miss the ship in a U.S. port of call and want to meet up with the ship in another U.S. port of call.
This is because of the Passenger Vessel Services Act (PVSA), which prohibits foreign-flagged cruise ships from transporting passengers from one U.S. port to another.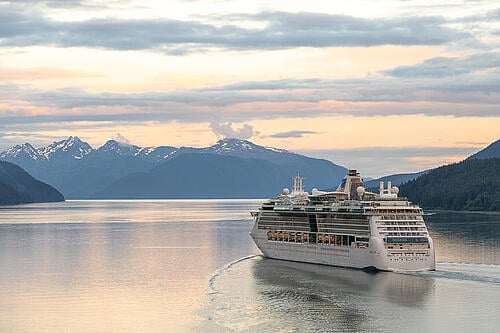 While there are a few exceptions to this rule (round-trip sailings from the U.S. that visit a foreign country and travel from one U.S. port to another U.S. port including a stop at a "distant foreign port" like Cartagena or Bermuda), cruise lines will violate the PVSA if you depart from Miami and miss the ship on a port day in Key West, for example. This is because the cruise line technically transported a passenger from one U.S. port to another. 
If you miss the ship in Charleston, South Carolina and the next port of call is Port Canaveral, Florida, you unfortunately will not be able to board the ship in Charleston without breaking the PVSA. Instead, you will have to meet the ship in the first foreign port of call, such as the Bahamas, but this can cause you to miss much more of the cruise than you'd like.
How to avoid missing the ship
Keep track of time
Setting an alarm on your phone for 1-2 hours before all-aboard time can be a fool-proof way to ensure you don't lose track of time.
Plan to get back onboard at least one hour before the ship's scheduled departure time, and it's a good idea to leave even more buffer room if you're further away from the ship while in port.
Make sure your phone is set to ship time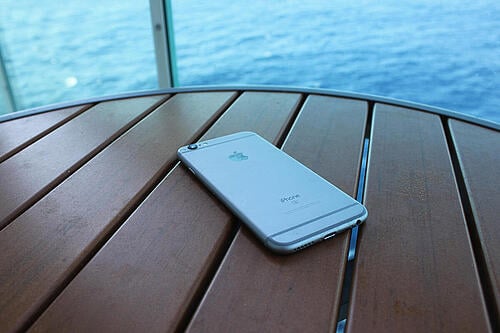 It's common for cruise ship itineraries to sail through several time zones, with some itineraries switching time zones nearly every day! To make time zones easier to navigate onboard, Royal Caribbean uses what they refer to as "ship time".
Ship time is the time used onboard a Royal Caribbean cruise, and it may or may not change when you enter/exit new time zones throughout the sailing. Any changes in ship time will be posted on the Cruise Compass.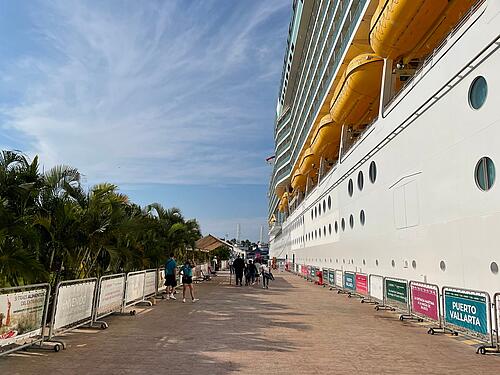 Before you disembark the ship in port, double check that your phone's time is set to the correct ship time. You don't want to think it's 5PM when it's actually 6PM on the ship!
In addition, be sure to switch your phone's time and date settings to manual time instead of automatic. This ensures your phone's time won't switch to the destination's time zone automatically when you switch on your phone service.
Book excursions through Royal Caribbean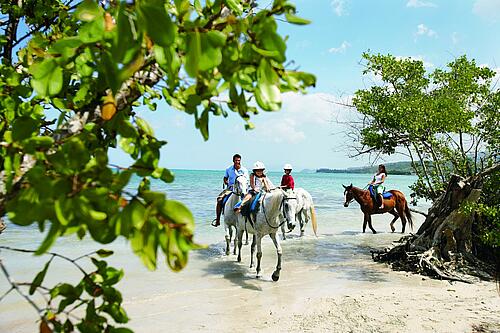 Perhaps the biggest benefit of booking shore excursions through Royal Caribbean is the added protection you'll receive in case your tour runs late. Your cruise ship will wait for your tour group as long as possible, and even cover the cost of transportation to the next port if the ship cannot wait.
Related: Is it better to book excursions through the cruise ship?
Fly to your departure port the day before your cruise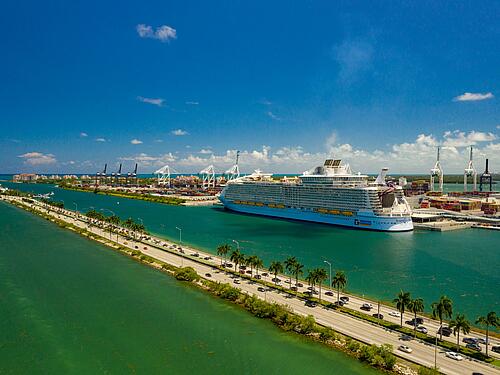 One of our top tips here at Royal Caribbean Blog is to avoid flying to your departure port the same day your cruise begins. While saving on hotel costs and PTO can seem appealing, there are way too many risks involved when flying the same day as your cruise.
Weather delays, flight cancellations, and missed connections can cause you to miss your cruise altogether. Flying in a day ahead of time allots extra wiggle room to help ensure you'll make it to the cruise port with plenty of time to spare.
Related: Why you shouldn't fly to your cruise the same day it begins
Don't travel too far
Another way to avoid missing the ship is by limiting how far you travel from the port.
If you're dreaming of visiting Chichén Itzá while the ship docks in Cozumel, as an example, it's probably best to book a Royal Caribbean excursion. Visiting the Mayan Ruins requires a 45 minute ferry each way followed by nearly 2 hours by bus.
With so much travel time required, there's a higher chance something could go wrong along the way (ferry delays, traffic, bus breaks down, etc.).
Avoid drinking too much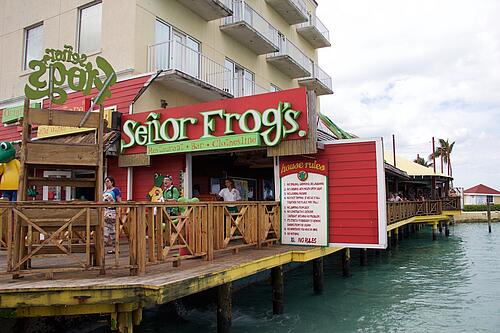 Indulging in cocktails, beer, and wine in your port of call may be a fun way to spend the day, but take precautions if you plan on drinking excessively.
Many passengers that find themselves running back to the ship–and even missing the ship altogether–may have spent the day having too much fun and losing track of time.
Have you ever missed the cruise ship (or witnessed the aforementioned 'pier runners' running to the ship)? Share you stories below!