In:
I recently went on my first cruise from the United Kingdom after previously only sailing from ports in the United States. While planning my cruise, I wasn't sure what differences I should expect on a cruise departing from the UK vs. the US.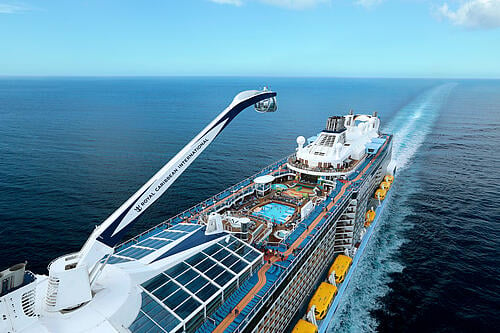 Once I got onboard, I realized that while there were a few slight differences, the Royal Caribbean experience was nearly exactly the same whether sailing from the UK or the US. However, it was fun to spot the ever so slight differences onboard, from certain foods available in the Windjammer to being able to brew tea in my cabin.
After all, while you may be on a Royal Caribbean cruise from the UK, you're still with an American cruise line. Therefore you may not see as many differences onboard as opposed to if you would sail with a British cruise line.
For example, British cruise lines, including Cunard and P&O Cruises, offer an afternoon tea service, where you can enjoy a variety of teas, sweets, and savory bites. This is something you won't find on a Royal Caribbean cruise departing from the UK.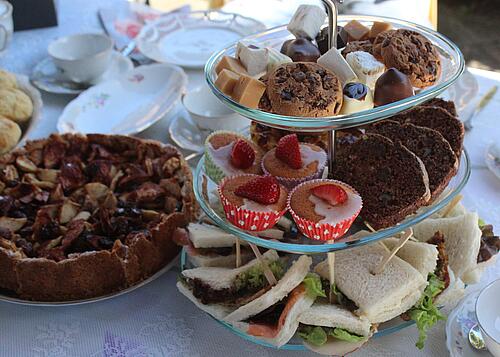 Nonetheless, let's take a look at the top differences I noticed between my UK and US cruises with Royal Caribbean, and some general differences you'll see when planning your UK cruise.
Tea kettles in the cabin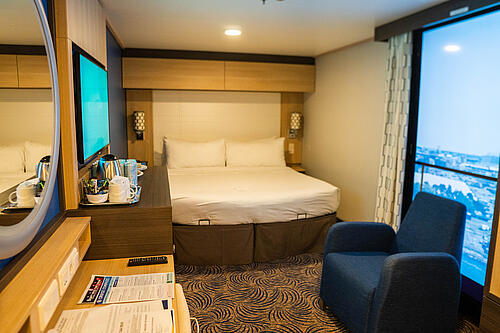 Something you'll notice when entering your stateroom for the first time on a UK cruise is an in-cabin electric kettle for coffee and tea. You can make instant coffee and tea directly from your room, which can be nice when you are having a relaxing morning in the cabin.
While you may encounter this on Alaska cruises leaving from the US or Canada (as I did on Ovation of the Seas last year), it's not guaranteed.
Attitude toward the weather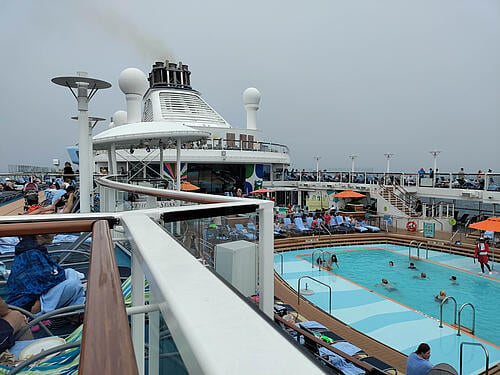 The most "culture shock" I had on my cruise from Southampton was on our first sea day. As we began traveling toward France, the weather was not cooperating. The sky was completely gray, winds were not ideal, and the temperature did not feel like mid-June.
I had to walk from one side of the ship to another, so I decided to walk on the pool deck. I was shocked when I walked outside and saw tons of passengers on the pool deck... with several even swimming outdoors! Some passengers were using towels as blankets, others in full winter jackets, and some "sunbathing" in just a swimsuit.
I couldn't help but imagine how empty the pool deck would be if we encountered similar weather on a cruise from Florida! I appreciated the determination of the passengers onboard my cruise from the UK to enjoy their vacation no matter the weather. Luckily the weather improved later on in the week, but it was a fun difference to note.
Time of year to sail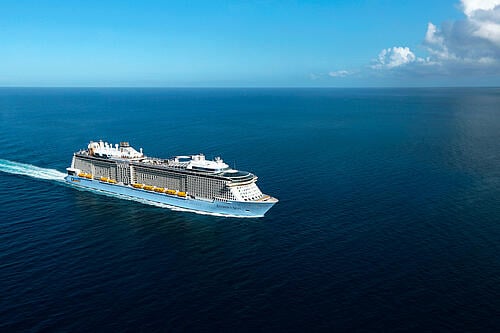 You can cruise with Royal Caribbean year-round on itineraries leaving from the United States. Whether January, July, or October, you'll find a wide range of itineraries available. While certain destinations are seasonal, such as Alaska and Northeast/Canada cruises, the majority of sailings are offered any time of the year.
Royal Caribbean's UK cruising season typically runs from May to October each year. If you're looking to sail on Anthem of the Seas in, say, January, you'll have to fly over to the US.
Outlets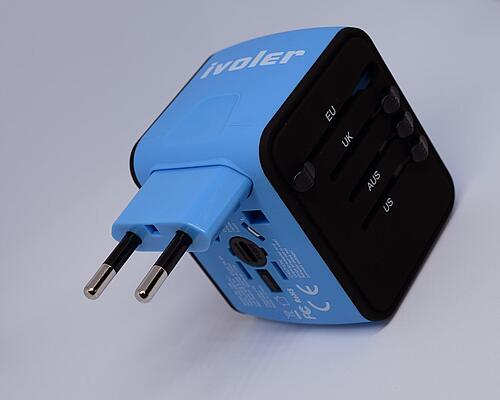 One minor difference that UK cruisers should know before booking a Royal Caribbean ship is that there are no Type G (UK) outlets onboard, so it's important to pack a few plug adapters in your bag.
Royal Caribbean ships have both Type C (Europlug) and Type A/B (USA) outlets available in cruise ship cabins. 
Drink options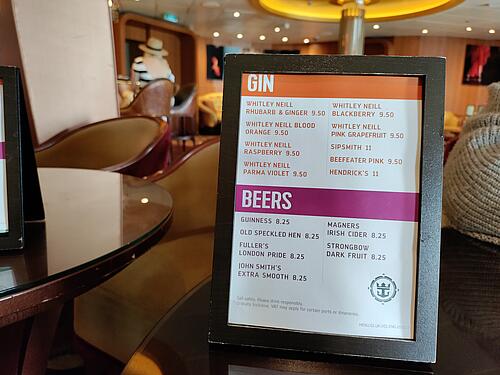 Royal Caribbean works hard to cater cruises to passenger demographics onboard. On cruises departing from China, for example, you'll find more Chinese-influenced cuisine and beverage options.
Similarly, one thing you'll find on cruises leaving from the UK is a menu of gins and beers available. I was surprised to find a menu of gins and beers set up on tables throughout the ship, as I had never seen this on a US cruise before!
Menu differences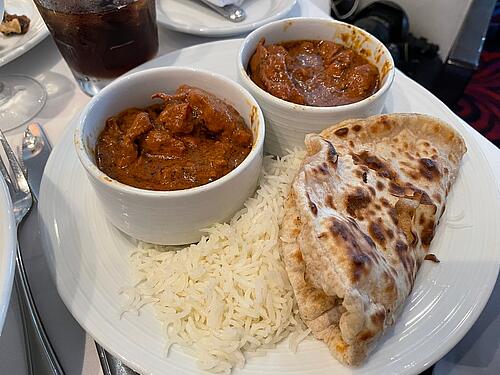 One thing you're bound to notice on a UK cruise is the additional menu options available in the Main Dining Room. Each night, you'll find two additional menu options: an English-style main (Guinness pie, chicken and leek pie, etc.) and an Indian curry.
While you can technically order Indian food in the Main Dining Room on cruises departing from the US, you won't find it on the menu. Instead, you'll have to inquire with your waiter about what Indian options are available that day.
On UK cruises, though, an Indian option is listed on the main courses section of the dining room menu each evening. Curry options are quite diverse, too, from a classic chicken tikka masala to lamb and fish curries.
You may also find English-influenced cuisine in the Windjammer, from dessert puddings to savory pies and English breakfast.
Ports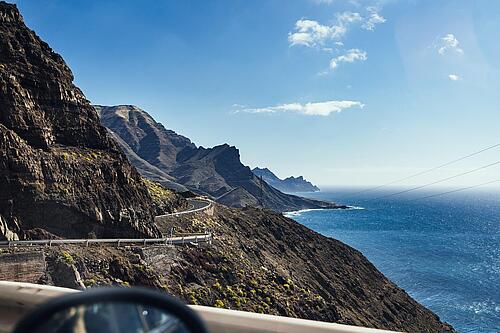 Cruise ports on a sailing departing from the UK are, unsurprisingly, quite different from where you'll visit on a cruise departing from the US.
Cruises from the United Kingdom visit the following destinations:
Norwegian Fjords
Northern Spain & France
Mediterranean
Canary Islands
There are also several itineraries that visit the British Isles, although they usually do not depart from Southampton. Jewel of the Seas, for example, will be offering British Isles cruises departing from Amsterdam and visiting ports in England, Scotland, Wales, Northern Ireland, and Ireland.
Most cruises from the US, on the other hand, visit the following destinations:
Eastern, Western, and Southern Caribbean
Alaska
Bermuda
Northeast & Canada
Mexican Riviera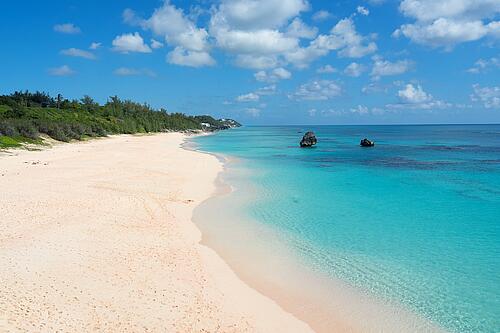 Both UK and US cruises offer a range of landscapes, cultures, and history to discover. If you're looking for a warm, sunny beach day, you'll be able to find that on a Mediterranean or Canary Islands cruise from the UK or a Caribbean cruise from the US.
Likewise, if mountains and fjords are more your style, a Norwegian fjords cruise and an Alaska cruise will both offer unbelievable scenery and cooler temperatures.
Ships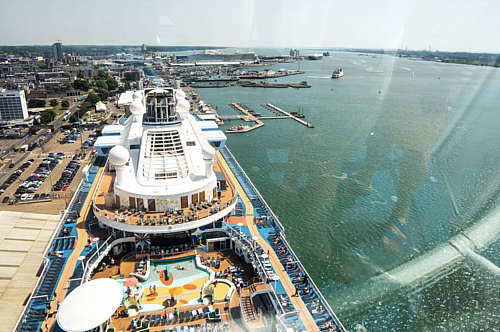 You'll have many more options when it comes to picking a ship when sailing from a US port. Most Royal Caribbean ships are sailing from a US port at some point during the year, so you won't have trouble finding a ship that matches your cruising preferences.
You'll typically have only one option when cruising out of the UK. Anthem of the Seas is the primary Royal Caribbean ship that sails from Southampton, England.
Even though there's only one ship option, Anthem of the Seas is a favorite among Royal Caribbean fans. As a Quantum Class ship, she is designed to sail in the cooler temperatures you may encounter on a UK cruise, with indoor relaxation and activity spaces for guests of all ages.
Among her features are the North Star observation pod, RipCord by iFLY indoor skydiving, and a full-length musical production of We Will Rock You.
Guests & crew onboard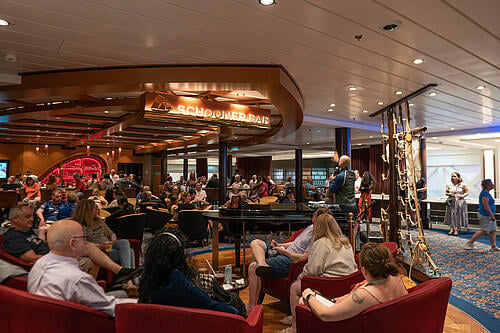 Generally speaking, the majority of guests onboard a cruise departing from the US are from the United States, Canada, or Latin America. Cruises departing from England tend to have a primarily UK passenger makeup, although you'll also find passengers from all over the world.
I estimated that around 80% or more of the passengers on my Anthem of the Seas cruise were from the UK or Ireland. I was definitely in the minority with my American accent!
I also noticed more staff from the UK on my cruise from Southampton compared to sailing from the US, including the cruise director and pub singer (although this could have just been a coincidence).
Read more about cruising from the UK: