In:
I recently returned from my first ever cruise from the United Kingdom, a 7-night Spain & France cruise on Royal Caribbean's Anthem of the Seas. Taking a cruise from the UK came with several differences than what I've experienced on cruises from the US.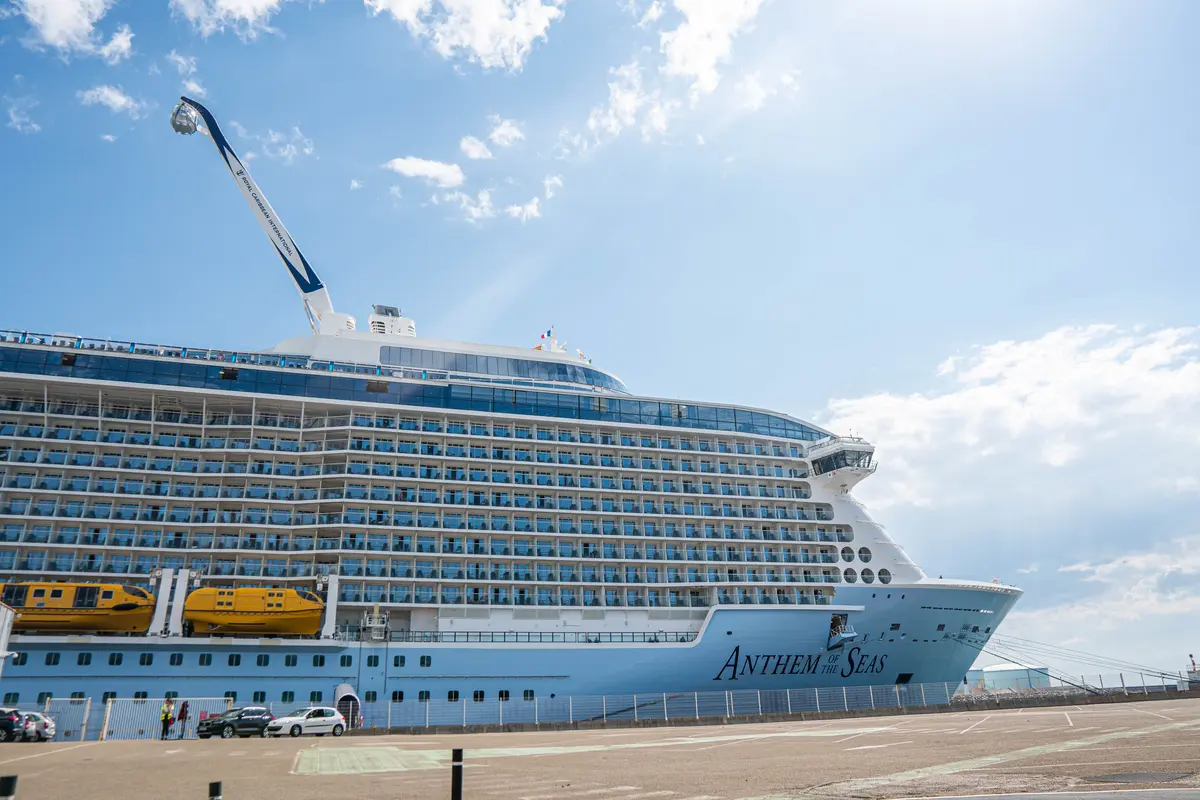 From Main Dining Room meals to port options and expanded drink menus, it was fun to spot the differences in a Royal Caribbean cruise experience when departing from across the pond.
If you're interested in booking a cruise from Southampton, here's what you need to know about sailing from the UK.
Limited ship choices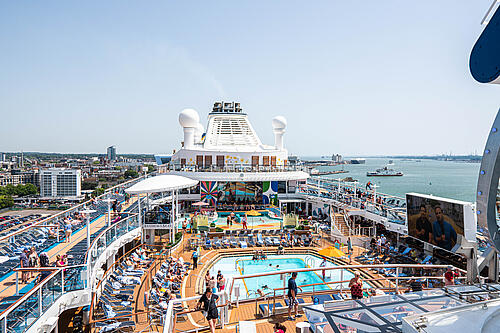 Anthem of the Seas, a Quantum Class ship, calls Southampton home in the summer months, offering cruises to Norway, Spain, France, the Canary Islands, and the Mediterranean.
While having only one ship to book is very limited compared to what you'll find in the United States or Mediterranean, the good news is that Anthem of the Seas is one of Royal Caribbean's most modern cruise ships.
As a Quantum Class ship, Anthem was built to sail in many types of weather conditions, and you'll find a variety of indoor spaces throughout the ship, from multiple indoor pools to an indoor SeaPlex offering activities like bumper cars and volleyball. The entertainment on Anthem of the Seas is sure to impress, too, with a full-length Broadway production of We Will Rock You.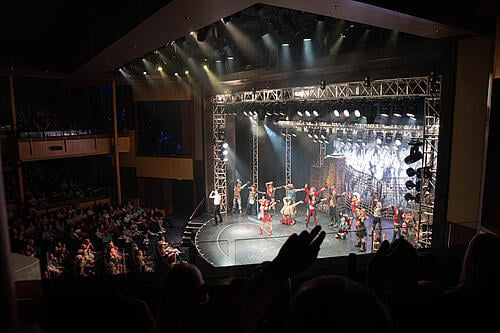 The ship has plenty of complimentary and specialty dining venues to enjoy as well, including Jamie's Italian, Izumi Sushi, Wonderland, Chops Grille, Johnny Rockets, Solarium Bistro, and Cafe @ Two70.
Royal Caribbean's newest ship, Icon of the Seas, will be debuting in the United Kingdom in fall 2023 prior to being homeported in Miami, Florida. If you're hoping to sail on the latest and greatest ship offered by Royal Caribbean, keep an eye out for when Icon of the Seas will be available to book.
Main Dining Room menu differences
Something unique about cruising from the United Kingdom is that the Main Dining Room menu will offer two additional menu options each day: an English-style option and an Indian option.
Menu items include shepherd's pie, chicken tikka masala, chicken and leek pie, and fish curry. You'll definitely have the opportunity to taste diverse Main Dining Room meals when sailing from the UK!
More gins and whiskeys available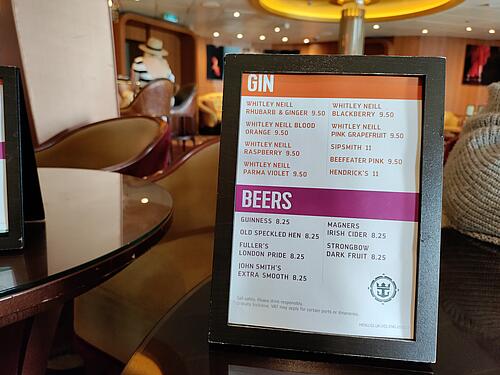 One interesting find on my Anthem of the Seas cruise was a menu of gins and beers located at bars around the ship. This is another way in which Royal Caribbean caters its offerings to guests from the UK, and it was a fun difference to spot onboard!
Menu items include Guinness, Magners Irish Cider, Old Speckled Hen, Hendrick's, Whitley Neill Rhubarb & Ginger, and Sipsmith.
Getting to the Mediterranean will take more time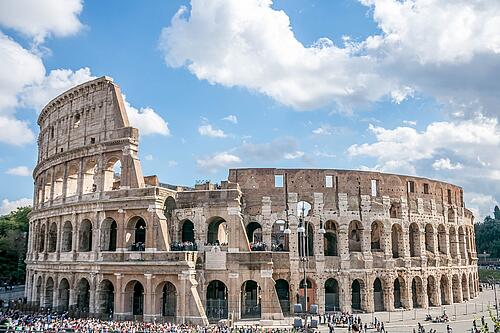 If the idea of a sunny Mediterranean cruise sounds appealing to you, keep in mind that the United Kingdom does not have the most convenient access to the Mediterranean sea.
Reaching destinations like Rome and Barcelona from Southampton can take quite some time, so you won't find any 7-night cruises visiting Mediterranean ports from the UK. Many Mediterranean cruise itineraries will be around 14 nights instead!
The Bay of Biscay can be choppy

If you're on a cruise itinerary leaving from Southampton that travels to France, Spain, the Canary Islands, or the Mediterranean, your ship will be passing through the Bay of Biscay. The bay is located above northern Spain and to the west of France.
The Bay of Biscay is a body of water that has been feared by sailors for centuries due to its proximity to the open Atlantic waters and storms in the winter months. While today's modern navigation technology and ship construction has no problem passing through the Bay of Biscay, you may still encounter choppy waters.
If you're prone to motion sickness, be sure to pack seasickness remedies with you to ensure you can remain comfortable throughout the cruise.
Visiting unique ports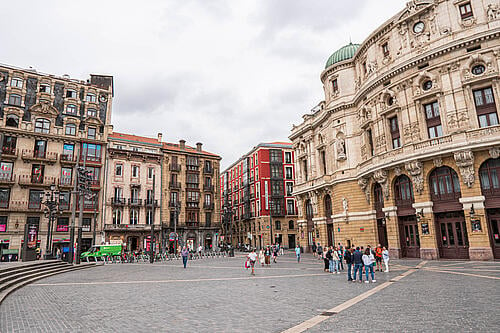 One advantage of cruising from the United Kingdom is that you'll have the opportunity to visit less common cruise ports.
As an example, cruising from Southampton will give you the chance to visit ports like La Coruña, Vigo, and Bilbao in Spain along with La Rochelle and Le Havre in France.
These ports receive far fewer tourists and cruise ships compared to the most popular European cruise destinations. This can lead to a much more relaxed feel while in port, giving you more opportunity to immerse in local culture and lifestyle without hoards of other tourists around.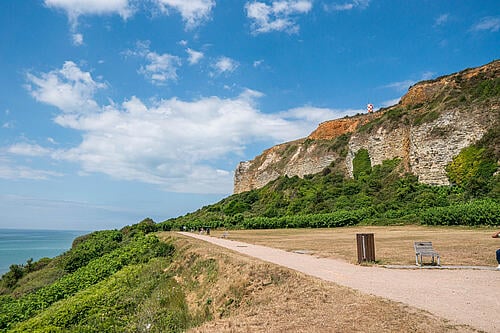 If you have more time to spare, you can also book a longer cruise visiting the Canary Islands along with ports in Portugal and mainland Spain. Cruise itineraries to the Canary Islands are not very common, but you'll typically find a few itineraries on Anthem of the Seas every year.
Weather is unpredictable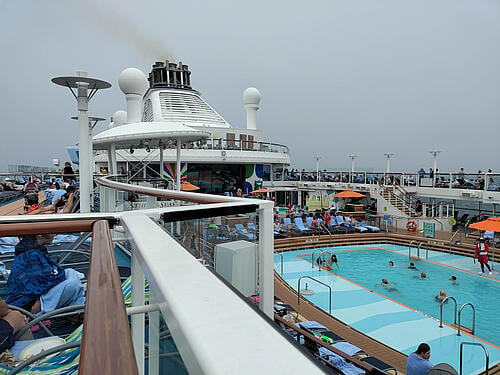 While this may not be surprising for those who call the United Kingdom home, don't be shocked if you encounter cloudy skies and chilly weather when cruising from Southampton. The weather on my June UK cruise was far from ideal for much of our time at sea, and I found myself wearing jeans and a jacket nearly every day.
This may not always be the case, however. When we arrived in our first port of call in France, we encountered lovely temperatures in the 70s. Just a day or two before, though, a heat wave passed through with temperatures over 100 degrees!
Weather is likely to be unpredictable, so remember to check the weather forecast before packing for your cruise!
You can visit Paris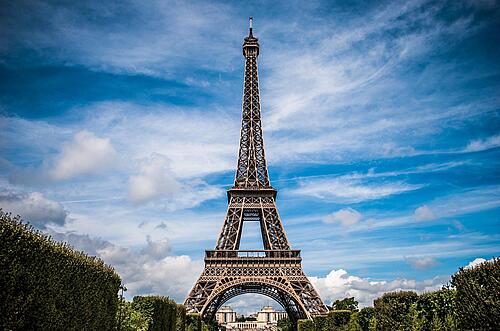 If visiting Paris is on your bucket list, look for cruise itineraries that visit the port of Le Havre, located around 2.5-3 hours from the city center of Paris. Royal Caribbean offers excursions visiting popular spots in the city, from the Eiffel Tower to the Louvre.
Be prepared for a long port day in Le Havre, as excursions to Paris will likely be over 10 hours! They also tend to be quite expensive, with some tours costing several hundreds of dollars.
You can choose to visit Paris on your own instead of on a Royal Caribbean excursion, but keep an eye on the time. With such a long travel time required to reach the city from Le Havre, you don't want to risk missing the ship!
Gateway to Norway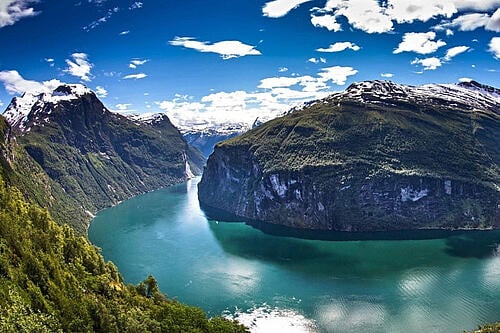 If you're hoping to visit Norway, cruising from Southampton will offer the chance to visit the country's stunning fjords and charming towns. Royal Caribbean regularly offers 7-night Norwegian Fjords cruises visiting ports like Geiranger, Bergen, and Alesund.
A Norwegian cruise is arguably one of the most scenic in the world. If the idea of sailing past colossal mountain peaks on both sides of your cruise ship seems intriguing, don't hesitate to book a cruise to Norway.
More guests and crew from the UK onboard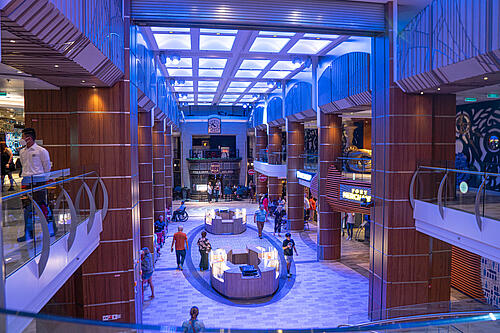 A Royal Caribbean cruise departing from Southampton will likely have a higher percentage of crew and guests onboard from the United Kingdom and Ireland. On my recent cruise on Anthem of the Seas, I'd guess that upwards of 80% of guests were from the UK! This was a huge difference compared to cruises leaving from the United States, where a large majority of guests are from the US or Latin America.
I enjoyed the shift in guest makeup on my UK cruise and it was fun talking to other guests on Anthem of the Seas, as I was able to learn more about the lifestyle in culture in different areas of the UK.
Cruising from Southampton is convenient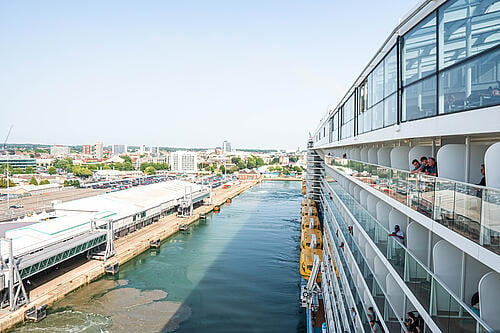 One aspect I really appreciated on my cruise from Southampton was how accessible the port is from London via public transit. The United Kingdom has an extensive train network, and there is a direct train from London's Waterloo station to Southampton.
I paid $70 for my roundtrip train ticket on the app Trainline, and it only took around 90 minutes to reach Southampton from central London.
Not only that, but the port in Southampton is within walking distance of the train station! While I took an Uber on my way to the ship, I decided to walk to the station on disembarkation day to avoid a long wait for a taxi or Uber. It only took around 15 minutes!
Have you ever cruised from the United Kingdom? What tips and tricks do you have for those cruising from Southampton for the first time? Let us know in the comments below!