In:
Choosing a cruise cabin is an important part of the planning process, but how do you decide which type of cabin to book? We booked every type of cabin on our recent Royal Caribbean cruise to see how they compare.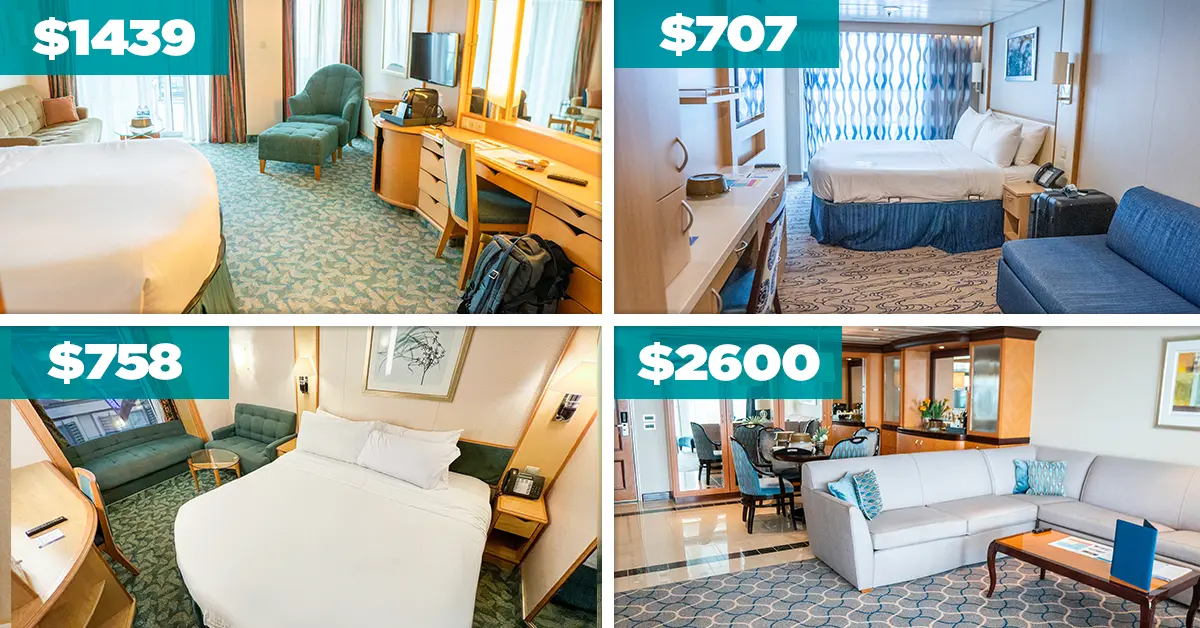 Everything from budget-friendly interior cabins to multi-bedroom suites are available on a Royal Caribbean cruise. Unsurprisingly, these cabins can come with drastically different price tags, from $50 per person, per night to well over $1000.
And whether you're booking your first cruise or 50th, the type of cabin you book can make or break your cruise vacation. Some passengers prefer saving money by booking the cheapest cabin they can find whereas others prefer the privacy of booking a room with their own private balcony.
The Royal Caribbean Blog and Cruise Blog team recently sailed on Liberty of the Seas for a 3-night Bahamas cruise. With 9 staterooms to book, we decided to try as many types of cabins as possible to see how they compared.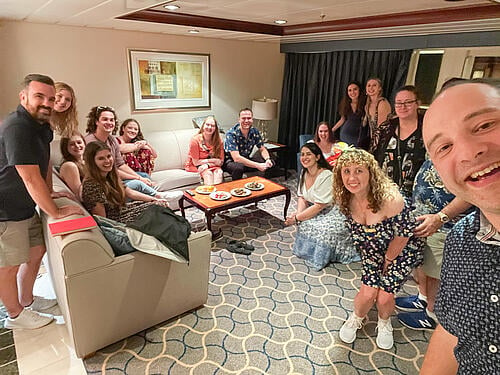 These cabins ranged in price from $670 to over $2600, and we wanted to look at the advantages, disadvantages, and overall experience each team member had in their cabin to see which cabins were worth it—and which we'd skip next time.
Owner's Suite
Total cost: $2,612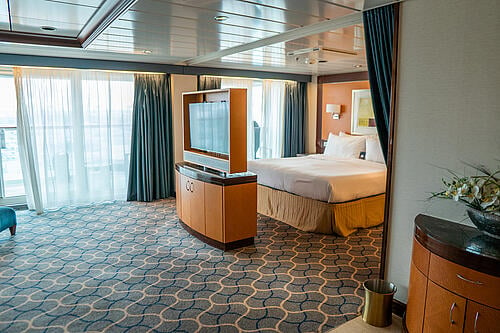 Staff member Jenna stayed in the Owner's Suite on Liberty of the Seas during our 3-night sailing. As one of the biggest cabins on the ship, the Owner's Suite was, undoubtedly, an incredible place to spend the weekend.
Like any cabin, though, it came with a few pros and cons.
Jenna noted the best benefit of the Owner's Suite as the cabin's ample space. With 624 square feet in the room and an 160 square foot balcony, the cabin is around 4 and a half times larger than the smallest interior cabins onboard!
Related: I stayed in a luxurious cruise ship suite for $870 per night—see what my room looked like on Royal Caribbean's Liberty of the Seas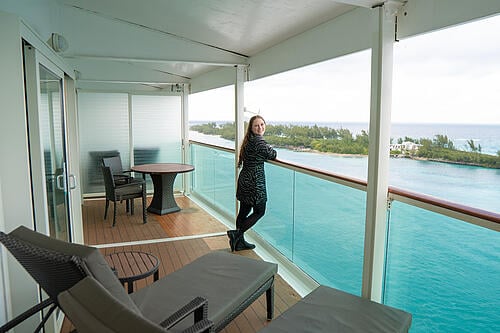 "With so much space, the Owner's Suite worked perfectly as an entertaining space during our cruise," Jenna mentioned. "We hosted our whole group for an after-dinner get-together two of the three nights of the cruise, and it was a lot of fun."
In addition to the cabin's size was the location, which Jenna found to be another huge benefit. Her Owner's Suite was located right outside the elevator lobby, making it convenient to get anywhere onboard quickly.
Of course, suite benefits come with an Owner's Suite, and these were a massive advantage of the added price tag.
"I loved going to the Suite Lounge each evening for drinks and appetizers. Having priority boarding was another plus, and added perks like a private breakfast at Chops Grille in the morning made our 3-night cruise extra special."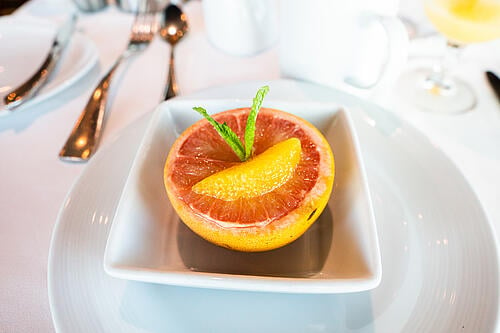 Related: I cruised in a suite for the first time. Here are 5 things I learned from the experience—and 3 I'd do differently next time
There were a few cons to Jenna's Owner's Suite experience, however. The cruise's short length of three nights combined with a port-intensive itinerary meant there was little time to spend in the cabin. Furthermore, the cabin came with a hefty price tag, which Jenna mentioned as a reason she would probably not book a suite for every cruise.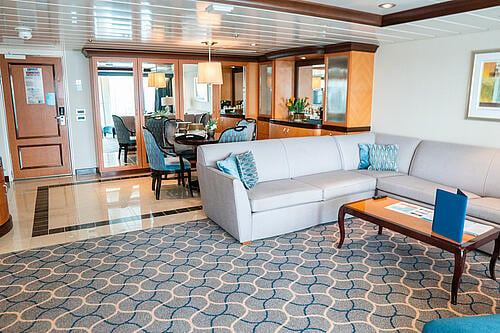 "After my first suite experience, I totally understand why suites are so popular on cruise ships: they add a level of luxury to a Royal Caribbean cruise that's simply unattainable in a normal stateroom category.
"However, I felt that, while my weekend onboard was memorable, booking an inside, oceanview, or balcony cabin is perfectly fine with my travel style," she continued. "I can easily save hundreds (or even thousands) of dollars by booking a lower-category room instead of a suite, and can put the savings toward other add-ons like shore excursions, dining packages, and spa treatments... or even a longer cruise itinerary!"
Junior Suite
Total cost: $1,439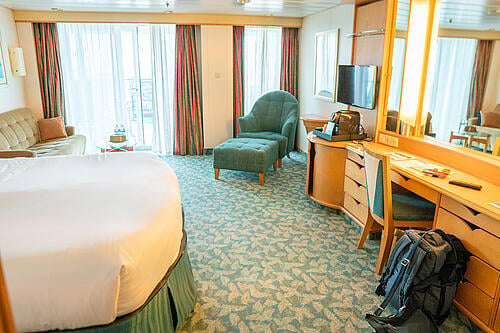 Cruise Blog writer Chantal spent the weekend in a Junior Suite.
She found the cabin to be very spacious, with a large living space and balcony. Her walk-in closet was so large, in fact, that she joked how she could have rented it out in New York City!
Her main complaint with the Junior Suite, though, was the price versus benefits received. Chantal explained how she paid a premium for a Junior Suite compared to a regular balcony room, but did not receive any of the elusive suite benefits she would have received in a higher category suite.
Related: Royal Caribbean's Junior Suites: What you need to know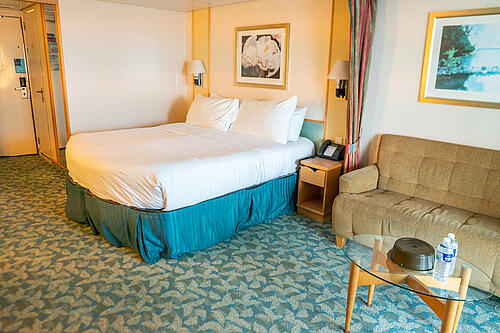 Receiving double Crown & Anchor Society points for the sailing was a major plus, though, and the location was great. Despite being located right below the pool deck, Chantal mentioned she heard little noise.
The funniest part of her cabin experience? The bathroom. "It was like an Italian Nonna had sent her 60s era bathroom to the future! I say this lovingly as my husband is half Italian," she joked. "Everything worked as it should but I remain puzzled by the design choice."
Ben & Jerry's Sweet
Total cost: $753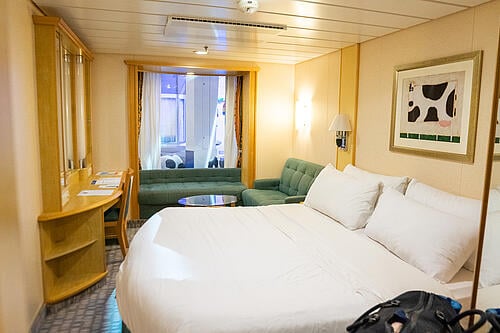 Guest writer Allie stayed in one of Royal Caribbean's most unique cabins during her Liberty of the Seas cruise: the Ben & Jerry's Sweet. As the name implies, this cabin is located directly above the Ben & Jerry's ice cream parlor on the Royal Promenade.
Technically a Promenade view interior room, this cabin's view is partially blocked by a cow statue. Because of the obstructed views, guests in the Ben & Jerry's Sweet receive complimentary Ben & Jerry's vouchers each day and access to the Suite Lounge.
Allie mentioned Suite Lounge access as one of the best benefits of the Ben & Jerry's Sweet. With complimentary drinks each evening during happy hour, breakfast, and hors d'oeuvres in the evening, it's hard to beat the value you receive in the Ben & Jerry's Sweet.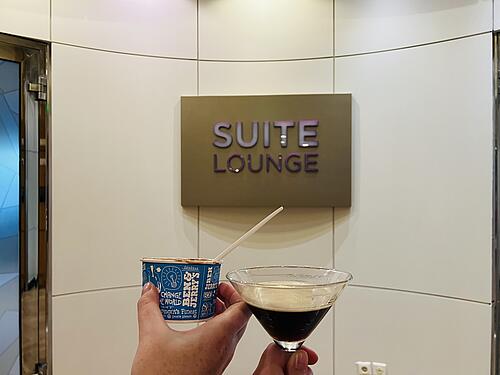 Related: A suite that's sweet! I stayed in the weirdest cabin on Royal Caribbean—it included free ice cream and cow-themed decor
Of course, the free Ben & Jerry's ice cream was a plus, too, but Allie noted that the crew members at Ben & Jerry's didn't always know how the vouchers worked.
"It seemed like most crew members didn't know the protocol of what's included in the Ben & Jerry's Sweet. For example, I got different answers each day as to what the ice cream vouchers include, our cards didn't work to get into the Suite Lounge initially, and there was a weird ambiguity with the cabin about whether we were actually suite guests or just received a few fun suite perks."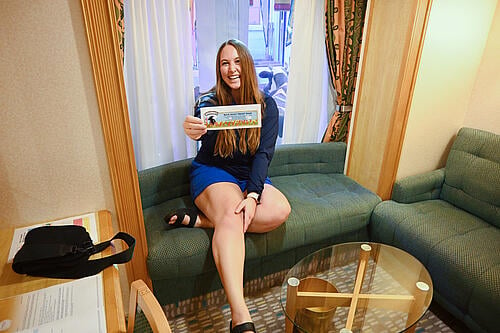 In addition to ambiguity, Allie didn't totally love the cabin's location. She explained how, due to its location on the Royal Promenade, the room was noisy at night, especially during parties. And, if you wanted to keep the curtains opened to the Promenade below, there was little privacy in the room.
Regardless of these few cons, Allie wouldn't hesitate to book the "suite" again.
"I'd do it again just for the happy hour and free ice cream!"
Balcony
Total cost: $707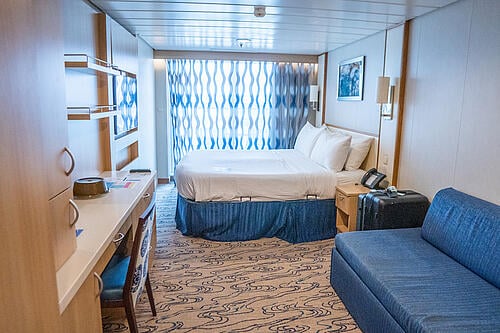 Social media strategist Nicole booked a balcony cabin on our 3-night cruise. Nicole's cabin was room 1878, one of the new cabins added to Liberty of the Seas during the ship's 2016 refurbishment.
With updated decor and furnishings, Nicole felt the updated room was a major plus of staying in her particular cabin.
"There was an updated closet system with plenty of storage and it felt larger than other balcony rooms we've stayed in."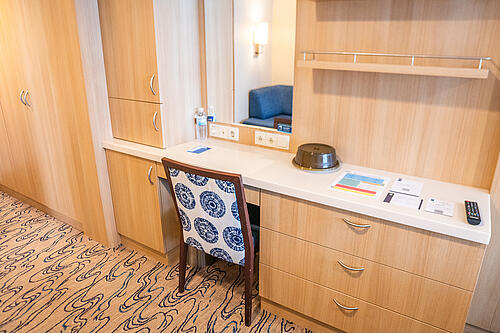 The location of her room had pros and cons, however. It was conveniently located near the elevators and close to the deck 12 running track and Solarium, but its location above the gym made the cabin slightly noisy. In addition, there was a security camera on their balcony, as it was the last balcony room before turning into oceanview cabins.
Despite a few disadvantages, having a balcony cabin is a must for many cruisers, and Nicole didn't regret booking a balcony cabin for her short cruise.
Oceanview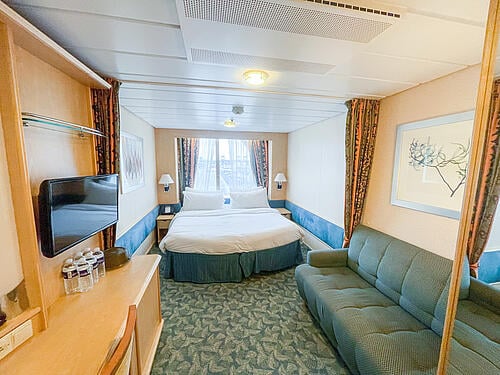 Three members of our group spent the weekend in oceanview cabins, each of whom had their own unique takeaways from the cabin experience.
Ocean-facing oceanview cabin: $785
Guest writer Marcy booked an oceanview cabin on deck 3, providing an unobstructed view of the ocean from her room's private porthole.
Marcy enjoyed her cabin's location, as it was located right near the elevator yet was surprisingly quiet. It provided easy access to the ice skating show in Studio B, and the cabin's lower deck location wasn't prone to any ship movement.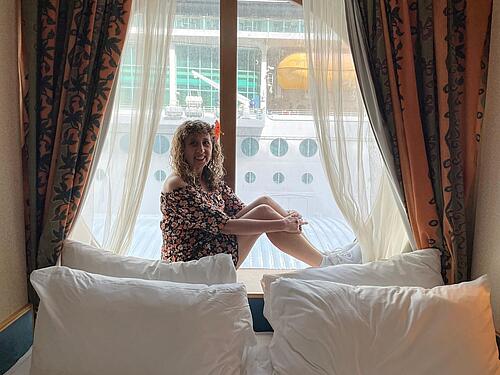 The main con of her cabin was the small size, but that is to be expected in an oceanview cabin unless she were to upgrade to a spacious oceanview cabin category. And, of course, Marcy missed having a balcony, but appreciated the outdoor views from her stateroom's window.
Helipad oceanview cabin: $821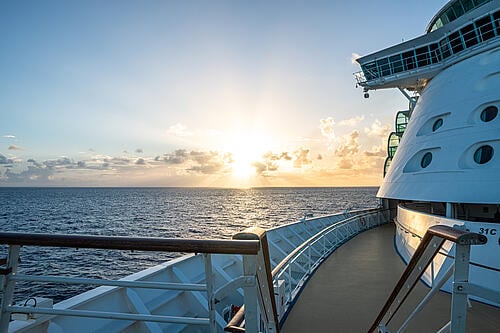 Guest writer Haley and Social Media Strategist Angie both stayed in oceanview cabins overlooking the ship's helicopter pad.
Angie found her cabin to be quite spacious, with a lot of closet space and drawers. She enjoyed the deck 7 location as it was close to the Royal Promenade and other lower-deck activities, and found her stateroom attendant to be excellent.
Similarly, Haley found the cabin's size to be adequate, noting there was extra space for getting ready in the evenings due to the ship's interesting layout. The view of the helicopter pad was also a plus.
Related: Inside cabin vs. oceanview cabin: are the differences worth an upgrade?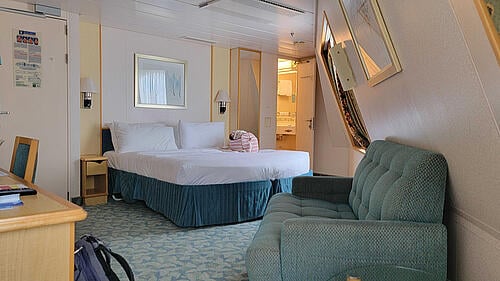 However, she thought the angle of the room made the bathroom's layout rather uncomfortable, and mentioned how the room lacked privacy due to facing the helipad.
"Make sure to close the curtains when not using that porthole," she advised, "or else everyone can see directly into the prime changing spot in the room!"
Despite the two rooms being located just a few doors down from each other, Angie and Haley had contrasting experiences when it came to movement and noise in the cabin. Haley found the cabin to be quiet and did not encounter any issues with seasickness.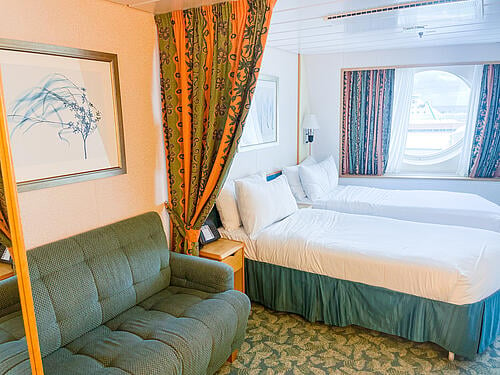 Angie, on the other hand, was woken up by the ship's anchor at 6AM each morning when the ship docked, and said she could really feel the waves on the first night of the cruise when seas were rough.
This goes to show that your experience in a cabin can vary drastically from someone else's even if you're located right next door!
Promenade View Interior
Total cost: $758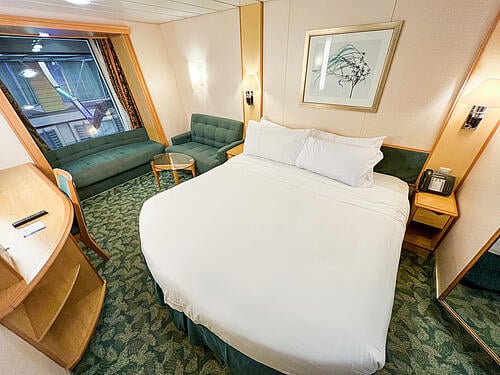 Cruise Blog writer Hayley spent her weekend cruise in a Promenade view interior cabin, which looked into the ship's Royal Promenade below.
Her cabin was identical to Allie's Ben & Jerry's 'Sweet', albeit without complimentary ice cream and suite lounge access. One of the major benefits of Hayley's Promenade View Interior cabin was having two couches in the room.
"Having two couches in a small living room space meant more room to spread out than a standard interior room," she explained.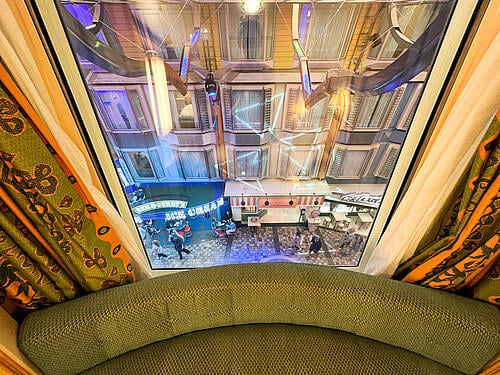 Her centrally-located cabin meant she didn't feel any motion during the sailing while being close to the amenities and activities near the Royal Promenade. She found it interesting and fun to experience a unique type of cabin, and mentioned how she hadn't seen anything similar on other cruise lines she's experienced in the past.
The cons? Being on the Promenade meant the cabin could potentially be noisy during the evenings, but mentioned how most of the loud music seemed to end around midnight each night.
Interior
Total cost: $670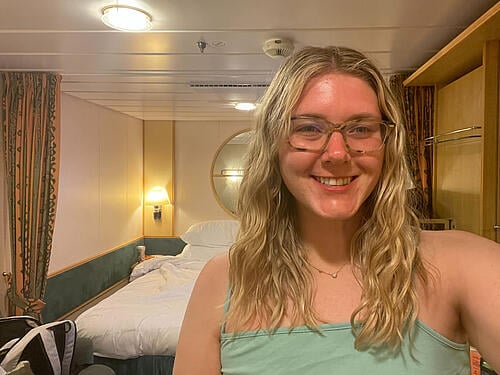 Staff member Elizabeth booked an interior cabin for her 3-night Liberty of the Seas cruise. 
For such a short cruise, Elizabeth decided against unpacking. Luckily, her stateroom had a couch where she and her cabin mate could place their carry-on suitcases with no issue, and without compromising floor space.
Outside of having no window or balcony, Elizabeth encountered a few disadvantages when staying in her interior cabin. First was wear and tear, and she explained how the room's condition made her want to spend less time in the cabin.
Related: I tried the best inside cruise ship cabin hacks to see how well they worked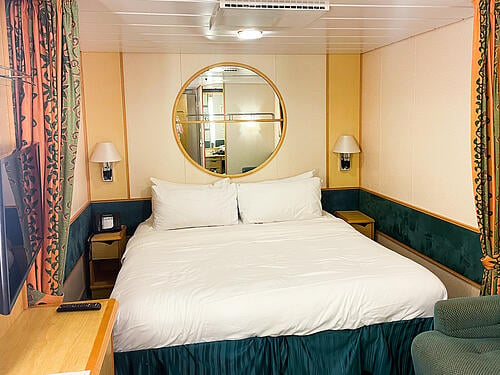 "Paint was chipping in our bathroom, and there was a hole in our shower hose. This isn't exclusive to an interior stateroom, and could have happened in any cabin, but it just happened to be my experience."
Booking a guarantee cabin meant Elizabeth could not pick her room location, and the room she was assigned to (#8401) was located in the ship's aft. Because of this, she had a long walk down the hallway to reach her cabin.
"I think I'll always opt for an interior stateroom on short weekend cruises," she explained. "I'm glad we didn't spend any more than we did. For three nights on a cruise with no sea days, it just didn't feel necessary. We were literally only in the room to sleep. There wasn't any real resting time like on longer cruises."
Extra cost vs. extra space: what were our takeaways from staying in nearly every type of cabin on Liberty of the Seas?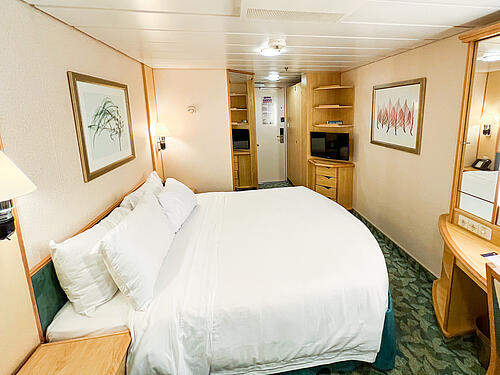 It's no question that every member of our group encountered different experiences onboard depending on which cabin they booked, but just how much did the cabin selection affect the overall cruise experience?
Here were our main takeaways after comparing our experiences in these cabin types.
Compare prices of all cabin types before booking
Before making a decision on which cabin to book, be sure to compare the price of the cabins against each other. We were surprised to see cabins in higher categories, such as Nicole's balcony room, priced the same (or even lower) than interior and oceanview cabins.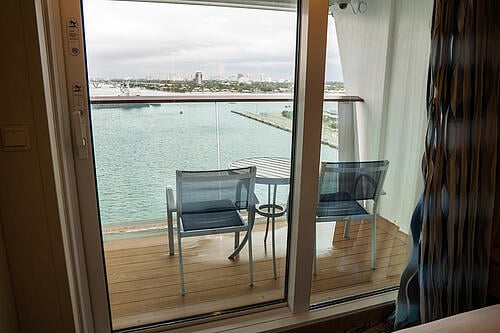 Here's an overview of what we paid for these 8 cabin types on our 3-night cruise. Prices show the total for 2 adults and include taxes, fees, and gratuities:
Owner's Suite: $2,612
Junior Suite: $1,439
Ben & Jerry's Suite: $753
Balcony: $707
Ocean-facing oceanview: $785
Forward-facing oceanview: $821 
Promenade view interior: $758
Interior: $670
It's clear that some team members got much more value from their cabin than others. Nicole's balcony cabin was $78 less than Marcy's oceanview cabin, and she had access to a private balcony along with updated decor and furnishings.
In addition, Allie's Ben & Jerry's Suite was $5 less than Hayley's regular promenade view interior cabin. Despite the cabins having the exact same size and layout, Allie received access to the Suite Lounge in addition to complimentary ice cream!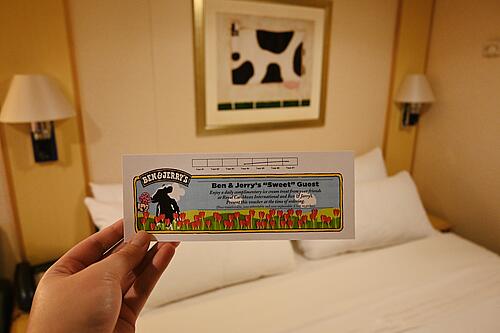 On the contrary, Jenna's suite was four times more expensive than Elizabeth's interior cabin, so she could have booked 4 separate cruises for the same price as one in her Owner's Suite. Although it's not so black and white when comparing the value of a suite versus an interior cabin, it's important to consider how much value you'll get from the suite before booking.
When cruising with a large group, you'll spend little time in your cabin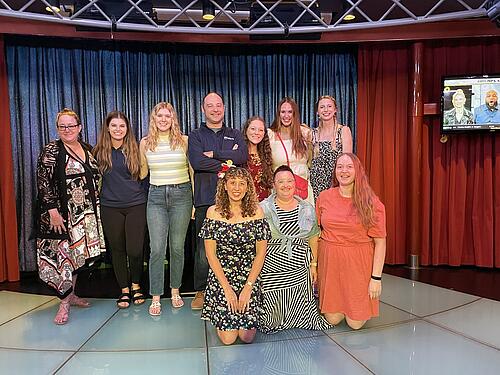 One of our group's main takeaways from our Liberty of the Seas cruise was that, when sailing with a large group, you're unlikely to spend much time in your cabin.
From eating together in the Main Dining Room each evening to group activities onboard and in port, we found ourselves with little free time to hang out in our cabins. And even if we did have time to spend in our rooms, it was hard to justify sitting alone in our cabins when we could be having fun with the group elsewhere onboard!
Therefore, when booking a cruise cabin, be sure to consider who will be onboard with you. If it's just you and your spouse, for example, you'll likely spend more time in your cabin compared to sailing with your entire extended family!
In these cases, booking a cheaper category could be better than splurging on a balcony or suite so you don't feel pressured to spend time in the cabin to "justify" the price you paid.
There's no 'best' or 'wrong' cabin to book for a Royal Caribbean cruise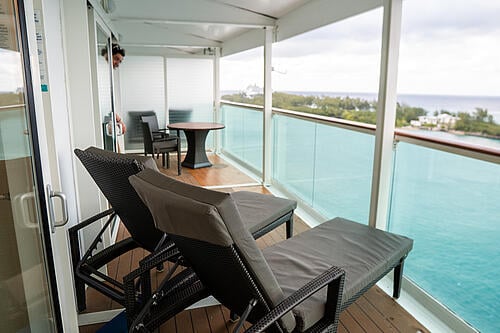 Like anything in life, a "perfect" cabin for one cruiser may not work well for another. Some passengers may love saving money by booking an interior cabin whereas others would rather not cruise at all than book an inside room!
On the flip side, some cruisers swear by booking a suite on every sailing whereas others don't find the extra space and added benefits a necessity.
If there's anything we learned from our experience booking nearly every type of cabin on a Royal Caribbean cruise, it's to always try something new! It's easy to get in the habit of booking the same type of cabin over and over again, but on your next cruise, consider trying something new.
Whether you book a balcony for the first time or score a booking on the unique Ben & Jerry's "Sweet", you might be surprised to find a new favorite cabin on your next Royal Caribbean cruise.