In:
When someone thinks about taking a Royal Caribbean cruise, odds are they imagine staying in a stateroom that has a large sliding glass door that opens up onto a balcony with a gentle breeze flowing in.  Of course, that is because balcony staterooms have become the idealized way to enjoy a cruise and there is no question that a balcony stateroom offers guests a lot.
We recently looked at the reasons to stay in an inside stateroom but today we are moving on up to a balcony stateroom and listing our top reasons to stay in a room where you can enjoy the outdoors just as much as the indoors!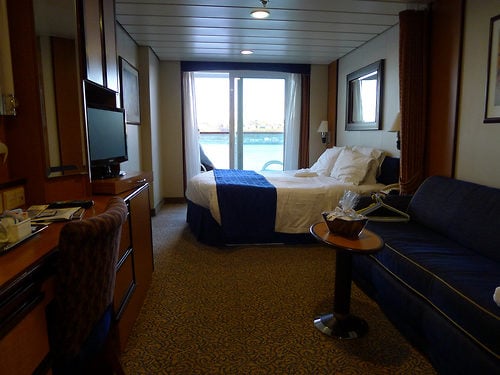 6. It may not be that much more money
Once upon a time, balcony staterooms were not as common as they are today, and so, prices for balcony staterooms were significantly more than an inside stateroom.
Today, Royal Caribbean is offering more balcony staterooms on its ships than ever before and that means the price difference is generally not as great as it once was.
Odds are you will still pay more for a balcony stateroom compared to an inside or oceanview stateroom, but the cost difference may only be a couple of hundred dollars difference.
It is always worth pricing out a balcony stateroom to see how much more it will cost, because in many cases there is not a large price discrepancy.
5. Some itineraries make a balcony a must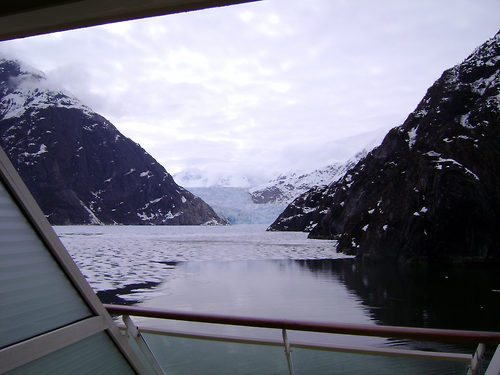 Photo by moknits
The view you get from a balcony stateroom is always impressive but on certain itineraries, past cruisers will tell you a balcony is a must.
Sailings that go to Alaska, the Mediterranean or other scenic destinations mean having a balcony gives you your own private spot to watch glaciers go by or be able to see beautiful ancient architecture.
Having the ability to simply walk out of your stateroom at any time and enjoy the view is an important factor for reserving a balcony stateroom. 
4. Balcony staterooms are bigger
At its core, a balcony stateroom will usually offer more living space than inside or oceanview staterooms.
This means more space to spread out and enjoy the room.  
Instead of doing that "inside stateroom shuffle" to get around people and objects, a balcony stateroom can allow you the space to more casually walk around your stateroom.
In addition, the balcony itself gives you extra square footage of living space to enjoy beyond what you will find inside.
3. Crown and Anchor Society members can get discounts on balcony staterooms
If you are a Platinum or higher member in Royal Caribbean's customer loyalty program known as Crown and Anchor Society, then you can qualify for a balcony discount.
Royal Caribbean offers its repeat customers balcony discounts, with the exact amount depending on your status in the program.
The special rates get you a per stateroom dollars off discount that is open to Platinum, Emerald, Diamond, Diamond Plus, and Pinnacle Crown & Anchor Society members.
The exact discount depends on the length of your cruise, how far in advance you book and your standing in Crown and Anchor Society. 
2. Royal Caribbean balconies are more than the ocean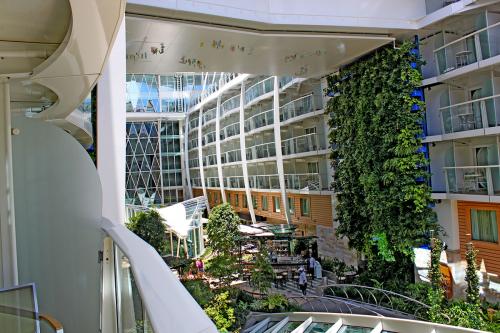 On Royal Caribbean's Oasis class cruise ships, staying in a balcony can be more than just a view of the ocean.
On these ships, guests can also book balcony staterooms that overlook Central Park, the Boardwalk or the AquaTheater.  
Instead of looking at out the ocean, guests can enjoy the ambiance of these amazingly decorated neighborhoods and get a view that is completely unique to these ships.
These staterooms are perfect for people watching and enjoying a view of what is happening onboard the ship at that moment.
1. Having your own private space outdoors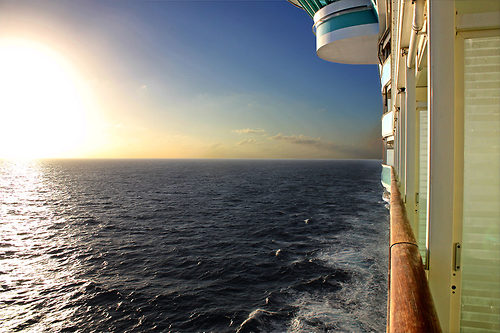 Most guests that book balcony staterooms over and over again will tell you the reason they do so is to have your own spot outdoors, away from the crowds.
You can have room service bring your meals out there, or perhaps enjoy a nice cup of coffee or tea in the morning and enjoy the sunrise.  
Balconies are also great spots for a nap, reading a book or having the door open to let in the ocean breeze.  These are just some of the experiences that bring balcony cruisers back again and again.
Do you prefer staying in a balcony stateroom? Post your thoughts in the comments!