In:
Royal Caribbean offers staterooms at different price points to cater to all kinds of budgets: inside, ocean view, balcony and suites.  
Inside staterooms are usually the least expensive option and here are six reasons why an inside stateroom is a great idea.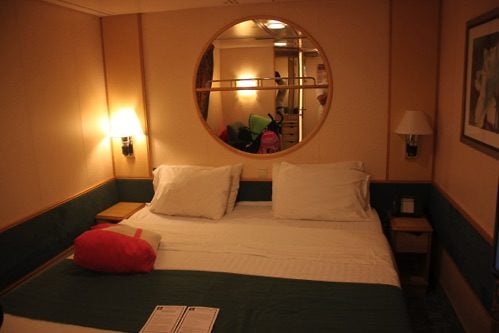 6. You may not spend that much time in your stateroom
Royal Caribbean offers so much to see and do onboard its ships and in the ports you will visit that often, many guests feel they do not spend that much time in their staterooms.
If you will be busy spending time away from your stateroom most of the day, then an inside stateroom would make sense because why invest in a space you will not spend a lot of time in?
All of Royal Caribbean's staterooms offer the same basic ammenities, so if you plan on enjoying every second of your cruise experience, an inside stateroom can make a lot of sense.
5. Can be a good choice if you get motion sick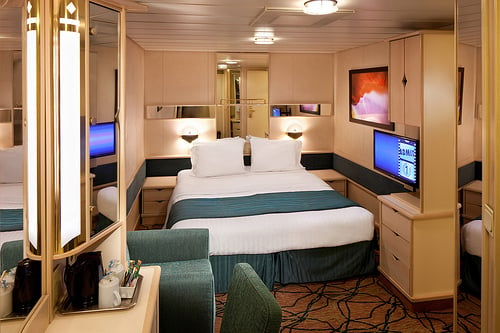 If you are prone to motion sickness, the best location for a stateroom is low and at the center of the ship to reduce the sensation of movement.
When you talk about staterooms on a lower deck and in the middle, that is usually an inside stateroom.
Obviously an inside stateroom at this location is not a guarantee to avoid getting motion sickness, but everything you can do to lessen the triggers of motion sickness will be a benefit.
4. Inside does not always mean small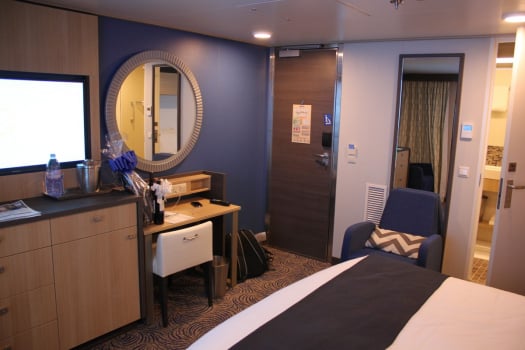 When folks hear an inside stateroom, usually they start imagining a small stateroom.  The truth is, not all inside staterooms are necessarily small.
Royal Caribbean offers a few different sub-categories of inside staterooms and some do offer quite a bit of space.
The Large Interior Stateroom category can offer up to to 178 square feet of space.
The Family Interior Stateroom ranges in space between 260 square feet to 324 square feet.
3. Great for sleeping
Maybe this is just me, but sleeping in an inside stateroom is perfect if you like somewhere that is pitch dark, lots of air conditioning and the movement of the ship to rock you to sleep.
Sometimes, when the sun rises and light starts to peek through the windows of a stateroom, it becomes hard to sleep in.  With an inside stateroom, it will look the same in the room whether it is 9am or 9pm.
When you add the gentle movement of the cruise ship, it adds up to being a great sleeping spot for naps or at night.
2. Some have a (virtual) view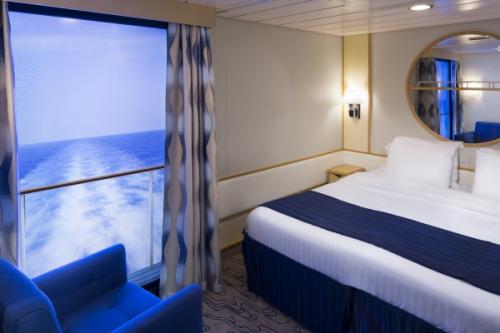 One of the most exciting innovations to come to Royal Caribbean in recent years is the virtual balcony.
The saying goes, "if you can't beat 'em, join 'em" and so on newer Royal Caribbean ships (as well as some refurbished older ships), inside staterooms have been transformed with the addition of a virtual balcony.
Virtual balcony staterooms are inside staterooms that have an 80-inch LED television that provides a live feed of outside your ship, to give guests a view just like a real balcony stateroom would offer.
This is a really cool technology and once you see it in person, I think you will be impressed by the option.  You may never look at an inside stateroom the same way again!
1. Cost savings
Without a doubt, the best reason to book an inside stateroom is for the cost savings relative to other stateroom categories.
Often inside staterooms are the least expensive option, which means guests can spend less money on their cruise vacation or have more money to spend during the cruise on things like drinks, shore excursions, specialty restaurants or anything else for sale.
Unfortunately, not all of us have budgets that can allow booking the other stateroom categories.  Nonetheless, an inside stateroom will get you onboard the same ship as someone in a pricier stateroom category and any cruise vacation is better than no cruise vacation!
Do you like staying in an inside stateroom? Post your thoughts in the comments!